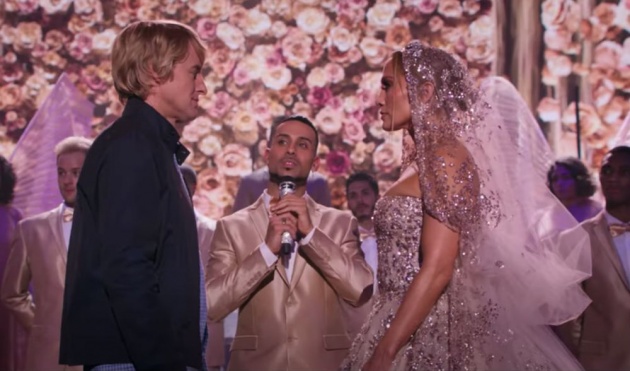 Pictured: 'Wow, I thought I was too late for my shot on 'The Bachelor'.' Charlie (Owen Wilson) weds Kat (Jennifer Lopez) in the 'marry in haste, post pictures at leisure' romantic comedy, 'Marry Me', directed by Kat Coiro. Still courtesy of Universal Pictures
Marry Me started life as a comic book, written by Bobby Crosby and illustrated by Remi 'Eisu' Mokhtar, that was spotted in 2008 by screenwriter John Rogers. 14 years later, it is Universal Studios' big Valentine's Day release, a vehicle for producer-star Jennifer Lopez, straight from her $100 million-grossing hit, Hustlers, and directed by Kat Coiro, who previously helmed the independent films, Life Happens and A Case of You.
The premise of the comic book is ridiculously simple. An international pop star discovers that her husband-to-be has cheated on her and marries a fan instead. In the film, scripted by Rogers, Tami Sagher and Harper Dill, the substitute groom, maths teacher Charlie Gilbert (Owen Wilson) isn't really a fan. He ends up going to the concert with his twelve-year-old, no longer daddy's girl daughter, Lou (Chloe Coleman) to accompany a colleague, Parker Debbs (Sarah Silverman) after she had split from her girlfriend; gay best friends can be female as well as male.
The eyes-across-the-stadium moment is clunkily staged. There is no logical reason why Charlie, a divorced co-parent, would be holding up a sign with the title of singer Kat Valdez's latest hit, 'Marry Me'. Yet, Kat (Lopez), staving off heartbreak and meltdown, picks him. Charlie ascends the stage like a dazzled game show contestant and assents to an on-stage marriage ceremony with neither gifts nor cake. He becomes a show husband, wheeled out for talk shows and special events. Kat, who has her life video-graphed for a reality television show that otherwise isn't mentioned – less E! TV than 'meh TV'- spends time with the fairly unruffled Charlie, who is more or less content with his life as a maths teacher, in particular with his after-school club, the Pi-thons – favourite number 3.14159265. However, he proves to be entirely suitable husband material, completely understanding of Kat's world but not making any assumptions about his part in it. He even starts to be appealing to her Instagram followers. But at a certain point, Kat receives an offer from her ex-fiancé, Bastian (Maluma) that she doesn't refuse. Kat has never won anything; now she and Bastian have been nominated for a Grammy. Charlie knows that being a part of a Latina power couple is Kat's destiny, never mind that Bastian has had an affair with one of Kat's assistants.
We all know how these feelgood romantic comedies go. Yet I found myself reduced to tears, mainly because the climax is a maths competition in which Lou is picked on by the opposition, Lou having 'choked' on a previous occasion, a fact exploited by Numerators' coach, Manny (Utkarsh Ambudkar). To be sure, this isn't the big finish that you expect from the genre – though there is a race against time – but there's no denying that it works. The film has generated some enthusiastic responses online from people who don't have numbers at the end of their names or a profile picture of a kitten. To send us away with a smile, there is even a montage of fictional characters and real-life couples talking about their longevity ('we met in a maternity clinic in diapers; now after 81 years, we're back in them').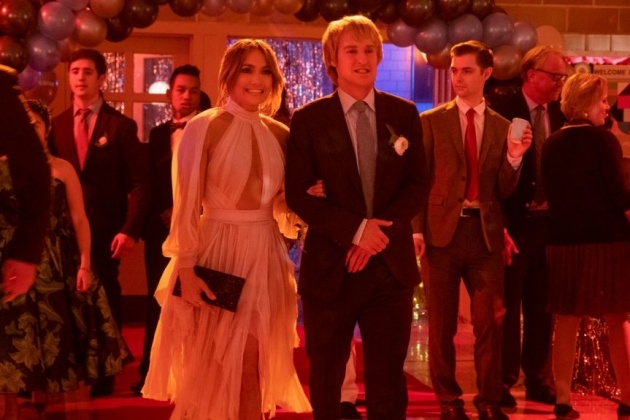 Pictured: 'Are we over-dressed? Why does the lighting remind me of Gaspar Noe's 'Climax'?'' Kat (Jennifer Lopez) takes Charlie (Owen Wilson) to a school 'formal' in the feel-good romantic comedy, 'Marry Me', directed by Kat Coiro. Still courtesy of Universal Studios.
Lopez is a curious star performer. Her persona is that of an outsider from a lower socio-economic background who has risen to the top through hard work. She has been an above-the-title name for almost a quarter of a century, since her breakthrough in the 1998 Steven Soderbergh-directed thriller, Out of Sight. After some questionable choices from Gigli to The Boy Next Door, she has maintained her connection to an audience by never insisting upon or drawing attention to her celebrity. She has taken this quality to her role in Marry Me. Kat Valdez never seems in control of the image management machinery that surrounds her. It is as if the decision to get married in front of 20 million viewers was made by someone else. Her on-screen manager, Colin Calloway (John Bradley), is an unthreatening, nice-guy Englishman who has broad shoulders for Kat to cry on. He's like a human throw cushion. When Kat arrives at her retreat and can't find the front door key – Charlie has challenged her to live without assistants, but everyone needs accountants, right? – she smashes a glass door and sets off an alarm. It is as if she doesn't care about the damage. Kat can flash the cash, pleading to buy an airline ticket for a sold-out flight at one point, and after getting a seat in coach, offers to buy the entire plane champagne – only Michelob and hand towels are available – but she doesn't display diva-like behaviour.
Lopez and Wilson previously starred together in the risible snake thriller, Anaconda back in 1997, a film that was entirely stolen, nay, kidnapped for ransom by a gleefully hammy Jon Voight. You would never guess that they were destined to be reunited. Wilson is only really a star when a dog is involved (think Marley and Me). Here, he has canine support in the form of Tank, an English bulldog, who gives up when out of a walk, almost like the film at some points, and has to be carried. The dog even gets its own outtake - frankly, a montage of these would have been fine by me. At one point, Charlie tells Lou about Tank's failing eyesight and genuinely upsets his daughter. Wilson's inability to vary his tone is exploited by Coiro for comic effect. There is an aspect to him that is inscrutable. Wilson doesn't exude hard-won celebrity. He looks like a guy who was hit in the nose while receiving a ball without a helmet and never quite recovered. He complements Lopez, which is no bad thing.
We are led to believe that Kat is a superstar who requires minimal personal protection, whether out with Charlie in the street or visiting his maths club. Charlie tells his daughter that she needs to sit in the middle of a problem in order to know how to solve it. No, I don't understand that either. Kat is more direct. She tells Lou that to overcome stage fright, she needs something else to concentrate on, so that she will never again forget a song that she wrote. (I on the other hand have no problem forgetting the songs that Kat wrote - they are bland and unmemorable.) Kat doesn't discuss her heartbreak. Rather she treats her response as diving off a cliff without seeing the bottom. Does she think she is Wile E Coyote?
Set pieces include Kat getting Charlie's maths class to dance – live-streamed, of course – and giving a private concert of one song at Charlie's school. Charlie can't dance – we just think he should – but Kat coaxes some steps out of him in the privacy of an apartment. She also takes him on a 'Wishing Wheel'.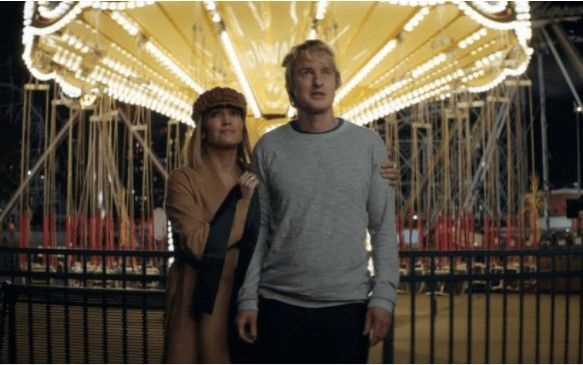 Pictured: 'Abre los ojos'. Kat (Jennifer Lopez) shows Charlie (Owen Wilson) a wishing wheel in a scene from the romantic comedy, 'Marry Me', directed by Kat Coiro. Still courtesy of Universal Studios.
Early on, Lou tells Kat that her mother would like to meet her. We only get one brief glimpse of Charlie's ex-wife, but she looks as though she was cut out of the picture. The screenplay appears to have gone through one too many re-writes, in which potential plot developments, like Charlie moving in with Kat, were discarded.
In the early part of the film, we see Jimmy Fallon on 'The Tonight Show' ridiculing Kat about her number of marriages (actually only four, including Charlie). The NBC talk show host has a scene with her as Kat and Bastian guest on his show. Kat experiences an epiphany and walks out of the recording, but the scene is spoilt by Fallon's lacklustre delivery of the line, 'so there is no power ballad'. It is as if Coiro used the take with the least amount of energy.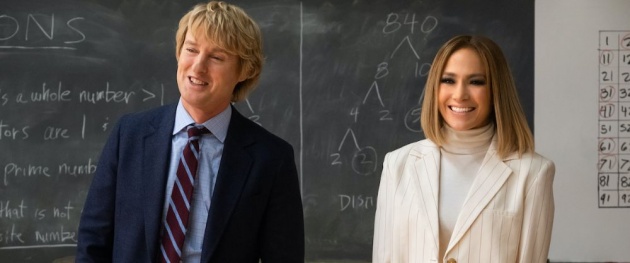 Pictured: 'May I present my new teaching assistant? She does long division and the Lambada.' Charlie (Owen Wilson) and Kat (Jennifer Lopez) in a scene from the romantic comedy, 'Marry Me', adapted from Bobby Crosby's 2008 comic book by John Rogers, Tami Sagher and Harper Dill and directed by Kat Coiro. Still courtesy of Universal Studios.
Kat coaxes Charlie into opening a social media account to make him more like her. She misses an opportunity; she should have got Tank to open an Instagram account instead. The film makes a point about the democratization of social media, how it can turn ordinary people into celebrities. It cannot, however, make them more interesting.
Whilst undoubtedly leaving the audience feeling good, Marry Me feels like it squandered its premise. Though it started as a male-written fantasy, it is undoubtedly a film by women, with Lopez preserving her underdog, outsider screen persona. She is in great physical shape for a fifty-year-old; at one point we see her exercising. In another scene, we see her in red latex. A musical number even features her flanked by nuns, as if auditioning for a Sister Act reboot. She absolutely marks her territory. In a supporting role, Silverman makes a comeback of sorts – over the last decade she has voiced characters in animated series. Her use of a fire extinguisher on the media scrum is a high point. She really sells the moment when Parker has to persuade a courtesy driver to make a positive contribution to the course of true love to get Kat to the maths competition, though in reality he would have closed his doors to protect his pension benefits.
Reviewed at Cineworld Dover, Kent, Saturday 12 February 2022, 19:30 screening