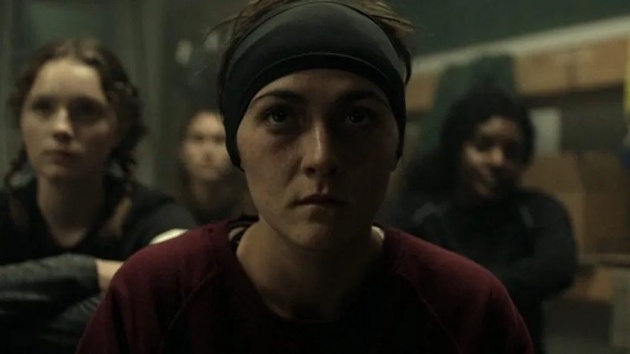 Pictured: 'Legs, body, arms, arms, body legs.' Rowing student Alex Dall (Isabelle Fuhrmann) receives instruction in the college drama, 'The Novice', written and directed by Lauren Hadaway. Still courtesy of IFC Films (US) / Vertigo Releasing (UK)
American writer-director Lauren Hadaway based her feature debut, The Novice on four years of rowing and, as she described in an interview with The Queer Review, 'ten years of coming of age'. The film is intense, visceral and as compelling a tale of self-mortification that you can find outside Catholicism. Her protagonist, Presidential Scholar Alex Dall (Isabelle Fuhrmann), usually referred to by her surname, which in turn is pronounced 'doll' – but never dull – throws herself at tasks and puts the hours in as she attempts to become the best college rower, that is 'student athlete', ever. What she lacks in natural gifts she makes up for in grind. She doesn't cheat or sabotage others. She inflicts pain on herself to get results and sometimes just inflicts pain on herself, period.
The Novice is an uncomfortable watch because it turns being the best into an abstraction. Alex is not just obsessed with rowing practice and getting ahead. It defines her. It doesn't make her happy. One of the biggest laughs in the film – and there aren't that many – is generated by Alex's response, late in the drama, that someone has set a record. 'What record?' Just when we thought she couldn't drive herself hard enough, there's something else.
The film begins with a spiralling overhead shot of a single-rower canoe in dark water. At first, we think we're seeing a satellite orbiting the Earth, but instead it's a rower with her oars stretched out. Hadaway doesn't film the rowing scenes as competition in which we can become involved, willing a team or an individual on, rather as depictions of effort. She does not fetishize Alex's muscles, which surely develop with all this practice. There is little visual pleasure in what we're watching. If that wasn't uncomfortable enough, Hadaway jabs us with jagged, cut-before-you-need-to editing. If my memory serves me correctly, the picture even rolls at one point, like a cathode ray television that has lost its signal.
Signals are important. Alex gives the impression of being a poor girl who doesn't have it easy like the 'silver spoon' young women who seem to automatically qualify for the team. This, as we discover late in the drama, turns out to be fake. She does however become fast friends with Jamie Brill (Amy Forsyth), who is just such an impoverished student who needs to do well at rowing to bring her grade point average up. Sporting performance in US colleges is inextricably linked to academic performance to determine a student's final result; this system does not exist in British universities, where sports are an add-on. Otherwise Alex keeps her head down and effort focused on her academic work, where she is often the last student to complete a paper, begging to have the final six minutes of a test period to go over her answers (or perhaps complete them) one more time.
Early on, Alex takes Jamie to a party in order to get the drunken college one night stand with a guy out of the way. She steals her courage with a glug from a hip flask, which she offers to Jamie ('take another') before they enter the melee. Once her passage has been righted – sex is loud, brief and the source of the film's other laugh - Alex gets on with the business of training and completing exam papers, but not studying, because Alex with her head over a book without a pen in her hand does not make cracking cinema in Hadaway's eyes.
Captions are drawn onto the film's frame to indicate months passing. Their style reflects Alex's intense note taking. She receives an early lesson from the all-women's team rowing coach, Pete (Jonathan Cherry). 'It's a mistake to believe that a rower's power is in their arms. 70% of movement is generated through their legs.' He then leads into a chant of 'legs, body, arms; arms, body, legs' which I must confess I recited to myself on my way back from the cinema. Alex spends a lot of time – I mean a lot – on the rowing machine, vigorously moving back and forth. Hadaway shows us what the effort costs her, lying next to the rowing machine after a training session in a grey, seemingly subterranean exercise room, drenched in sweat. At various times, we see the rowers pass through a low ceiling corridor to get to the exercise room, a recurring image that emphasises the oppression of their endeavour. Throughout, Pete tells Alex that it takes 10,000 hours to become an expert. The inference is that whatever she is able to achieve in her first year, she won't have put in the time to call herself an expert.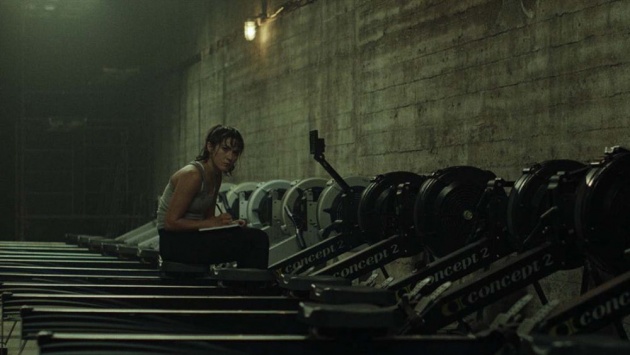 Pictured: The exercise room. Alex Dall (Isabelle Fuhrmann) in a scene from the college drama, 'The Novice', written and directed by Lauren Hadaway. Still courtesy of IFC Films (US) / Vertigo Releasing (UK)
In her studies, Alex is supervised by an older student, Dani (Janiece Altagrazia Dilone, otherwise known by her fashion model moniker, Dilone) with whom she begins a relationship. Like Jamie, Dani is impressed by Alex's dedication, though she would be happier if her lover slowed down. For Alex, her practice is a form of self-harm, evidenced by the blisters on her hands. At one point, she slashes at her chest with a blade.
In contrast with Charlène Favier's 2020 film, Slalom, another female-directed sports film, Alex does not have an affair with her coach or is exploited by him. Rather her struggle is from within. She feels under constant pressure to prove herself. Even her imposter syndrome has imposter syndrome. Every gesture she makes is towards getting ahead, staying on at college during the Christmas break and convincing the Varsity team Coach Edwards (Kate Drummond) to allow her to practice solo rowing. 'You've done it before?' Coach Edwards asks her. 'Yes, of course,' replies Alex.
As we watch Alex handle a single canoe, sliding it out on a trellis and then bending down to carry on her shoulder, we really feel the weight of that canoe as well as the relief when Alex drops it into the water. It is at this point that we think Alex is superhuman. She trains on her own in the morning, relying on Coach Edwards to open up. To get more practice minutes in, she turns up at Coach Edwards house to fetch the key, to the discomfort of the older woman.
Alex and Jamie are invited to join the Varsity team of older students. They are treated as juniors. When one of the students tells Alex to sit at the back of the team bus, she does so. When Jamie is instructed to do so, she refuses. Jamie asks Alex to come forward, but the conformist part of Alex won't let her. We sense that Alex feels that she hasn't earned it.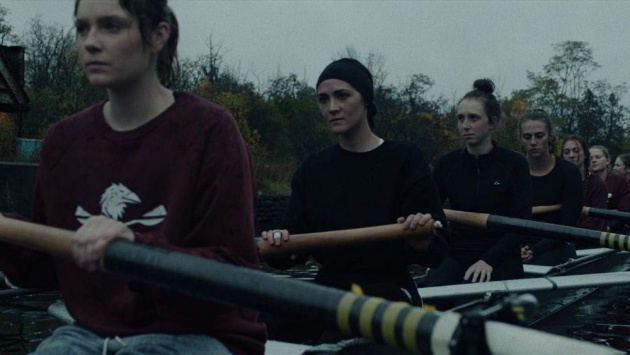 Pictured: Race Day. Alex Dall (Isabelle Fuhrmann, second from front) in a scene from the college sports drama, 'The Novice', written and directed by Lauren Hadaway. Still courtesy of IFC Films (US) / Vertigo Releasing (UK)
Alex becomes part of a winning team. She considers forces and friction, combing her academic and rowing knowledge. Coach Pete tells her not to overthink it.
In spite of her success, Alex isn't happy. Jamie shifts from 'friend' to 'competition'. She finds out about Alex's Presidential Scholarship, which makes her a 'silver spooner'. Alex counters that she works for everything. In this argument, we are with Alex because we've seen it. Alex and Jamie end up in different boats, competing against each other. Jamie wins because she sabotaged Alex's team, exploiting Alex's unpopularity. ('No one wants to win for you.') Alex has no answer; we feel her sense of betrayal.
In two instances in the film, rowers are warned against being on the water when lightning strikes. In the film's climax, Alex competes during a lightning storm. I won't give away what happens, but it is not what you expect. The final scene has real power.
The Novice is as muscular as any film by a male director. Hadaway batters the audience for ninety-minutes to the extent that we feel that we have been immersed in choppy waters. Her use of focus to represent Alex's interiority pays dividends. Fuhrmann is incredibly committed. Her performance is as monumental as Hilary Swank's Oscar winning turn in the boxing drama, Million Dollar Baby. After watching The Novice, you might be inclined to have a swift drink or take up running again. Hadaway offers a portrayal of obsession that is difficult to shake.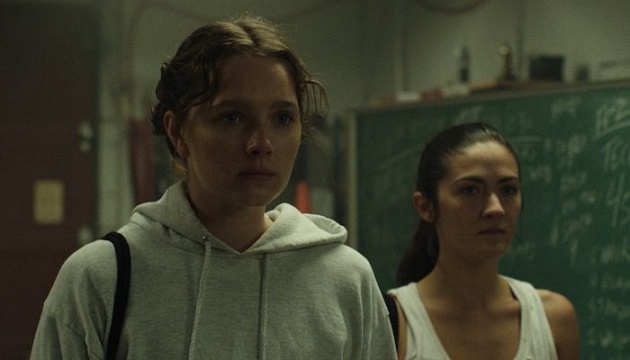 Pictured: Friends turned rivals Jamie Brill (Amy Forsyth, left) and Alex Dall (Isabelle Fuhrmann, right) in a scene from the college sports drama, 'The Novice', written and directed by Lauren Hadaway. Still courtesy of IFC Films (US) / Vertigo Releasing (UK)
Reviewed at Glasgow Film Festival, Wednesday 9 March 2022, Glasgow Film Theatre screen one, 20:15 screening, 'surprise film'