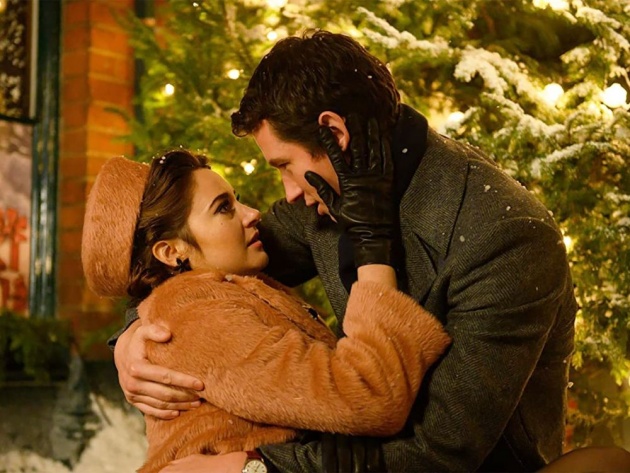 Pictured: Unhappily married Jennifer Stirling (Shailene Woodley) embraces hardy journalist Anthony aka 'Boot' (Callum Turner) in the fashion-tastic romantic drama, 'The Last Letter from Your Lover', directed by Augustine Frizzell. Still courtesy of Studio Canal (UK) / Netflix (US)
Me Before You, the 2016 film of Jojo Moyes' 2012 novel, grossed over $200 million from a $20 million budget. Hardly surprising then that film producers would look to Moyes' back catalogue for a potentially lucrative follow-up. Two production companies, The Film Farm (Simone Urdi and Jennifer Weiss) and Blueprint Films (Graham Broadbent, Pete Czernin) collaborated on a film adaptation of Moyes' 2008 novel, The Last Letter from Your Lover, set in 2003 with flashbacks to the 1960s, to capture some of that Moyes' magic. By magic, I mean a slightly scatterbrain but headstrong and forthright female protagonist who wakes up next to a stranger and orders him to leave – only it is his flat.
The modern scenes in director Augustine Frizzell's film take place in a hybrid of 2003 and 2019, being neither entirely period nor modern. Moyes' hero, Ellie Haworth (Felicity Jones) is a reporter/columnist for the London Chronicle, a newspaper seemingly reminiscent of the London Evening Standard and its now defunct rival, London Evening News, but actually more like the Camden New Journal. After her ill-advised night out in which she got completely wasted and ended up Smug Parkinson with some tasty side-order, Ellie is given the task of writing an obituary. This leads her to letters exchanged between the American Jennifer Stirling (Shailene Woodley) and London Chronicle reporter, Anthony O'Hare (Callum Turner) aka 'Boot' – one of his missives is found in a copy of Evelyn Waugh's novel Scoop. Ellie's search leads her to the keeper of the archive, Rory McCallan (played in a piece of colour-blind casting by Nabhaan Rizwan) who insists on protocols, for example, booking through an online portal (very 2019).
I don't have a problem with changing the ethnicity of a character, but why not change the name as well? Perhaps fans of Moyes' book might object. The point is Anglo-South Asian love stories are now embedded into the modern British movie –think Yesterday, written by Richard Curtis and directed by Danny Boyle or Gurinder Chadha's Blinded by The Light – in a way that romances between black and white English romantic leads are not. John Boyega and Emma Watson were once cast together in an American movie, The Circle, and they did not kiss. Perhaps Anglo-South Asian love stories are a bridge for a more daring movie – a means to an end. One imagines that British Asians might object to not seeing their reality on screen. In trying to make Rory halfway credible, he is denied a support network, a group of friends, of any significance.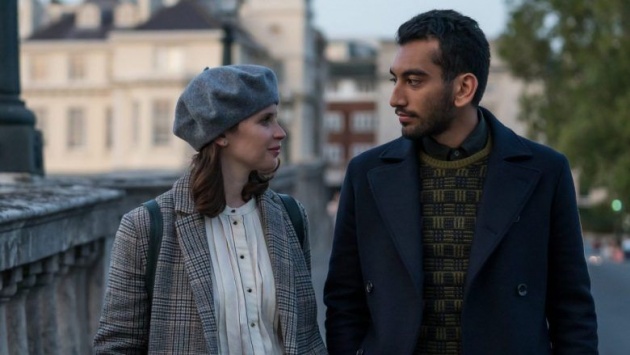 Pictured: 'Beret nice to see you.' Ellie (Felicity Jones) and Rory (Nabhaan Rizwan) in a scene from the romantic drama, 'The Last Letter from Your Lover', adapted from Jojo Moyes' 2008 novel and directed by Augustine Frizzell. Still courtesy of Studio Canal (UK) / Netflix (US).
Frizzell's film actually tells two stories, neither particularly well. However, the 1960s scenes have an energy of their own. There is something pleasurable about seeing Shailene Woodley in black eyeliner channel Doris Day and Audrey Hepburn, wearing a scarf over her hair as she is driven in an open top luxury car. At one point, a strand of her hair is blown above her eye, and it assumes the haughty disregard of a quizzical eyebrow. The 1960s scenes indulge a love of production design, harking back to an era in which men pressured women into sex, there were unwanted children and – well, let's not go there. It was also a time of indecently acquired glamour, lifestyles fuelled by inherited wealth and the plundering of the earth's resources.
Woodley is an unpretentious, likable actress, more intern than ingenue. She struggles to make an impression as the trophy wife of Laurence Sterling (Joe Alwyn). At the beginning she is taken home after an unspecified accident. Only gradually do we understand what happened one rain-swept early evening as she cadged a lift to Marylebone Station from a remarkably obliging restauranteur to rendezvous with her lover.
Alwyn has a fairly thankless role as the stiff, controlling husband who busy lifestyle leaves Jennifer with occasion for swimsuits and books. Anthony turns up at a chateau, ostensibly to interview Laurence, but in time-honoured fashion, spends more time with his wife. Woodley isn't given the dialogue to articulate a dilemma – Jennifer falls for Anthony straight away. It is Anthony who prevaricates, fending her off when a line is crossed.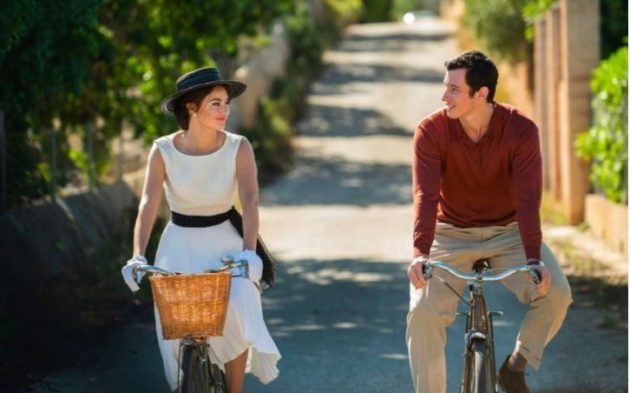 Pictured: Jennifer (Shailene Woodley) goes for a bike ride with Anthony (Callum Turner) in a scene from the romantic drama, 'The Last Letter from Your Lover', an adaptation of Jojo Moyes' 2008 novel directed by Augustine Frizzell. Still courtesy of Studio Canal (UK) / Netflix (US)
While the 1960s menage-a-trois told in broad strokes, with barely a hint of humour – glamour and laughs are separated with a pastry chef's sieve – the lively 'modern' love story is a mixture of text messages and paper archives. Felicity Jones is less of an intern and more like the school swot who would correct another person's homework as if righting an egregious wrong. Jones has not yet had the role to catapult her to super-stardom, even after taking the lead in Star Wars: Rogue One. She is also playing parts younger than her age, which is fine for comedy, but may mean she is over-looked by casting directors later on. Ellie gets really annoyed with Rory's rules as he objects to her bringing food to the reading room. At this point, Ellie/Felicity eats a croissant in almost one gulp right in front of him, which ought to be included as a category in the MTV movie awards. I sincerely hope Jones didn't have to do too many takes; I know what it is like to over-indulge at the breakfast buffet.
Moyes' novel had readers in floods of tears. The film Me Before You had me shedding buckets. The movie The Last Letter from Your Lover not so much. Ellie sets herself the goal of completing the narrative, giving Jennifer and Anthony the ending they should have had. Only the poignancy of a late autumn reunion doesn't come through. The late Ben Cross (of Chariots of Fire 'I am an Englishman first and last' fame) makes a fleeting appearance in his penultimate role and that ought to have been poignant, only I didn't quite recognise him. Diana Kent turns up too and I briefly mistook her for Blythe Danner. In balancing the two stories, each one making us eager to get back to the other but neither being substantial on their own, Frizzell and her screenwriters, Nick Payne (who adapted The Sense of an Ending) and Esta Spalding (showrunner of the TV series On Becoming A God in Central Florida) don't make us forget the story's problematic elements – that interfering in someone else's life as a journalist (or columnist) crosses an ethical line, that romantic gestures don't always lead to satisfying relationships. One problem is briefly addressed, when whilst enquiring after a Post Office box, Ellie is given a roasting over data protection; I'm sure this isn't in the novel. Overall, you emerge from The Last Letter from Your Lover feeling quite the curmudgeon, which I'm sure wasn't anyone's intention.
Reviewed at Ashford Picturehouse (Kent), Screen Six, Sunday 1 August 2021, 11:00am screening