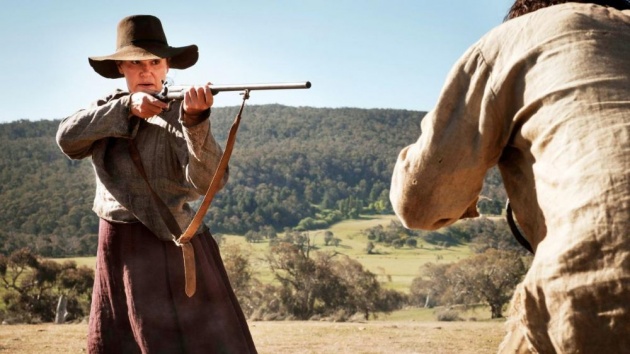 Pictured: 'Take a step and you'll sleep with the dingos!' Molly (Leah Purcell) faces a fugitive aboriginal, Yakada (Rob Collins) in a scene from the Australian period drama, 'The Drover's Wife: The Legend of Molly Johnston', adapted from Henry Lawson's short story and directed by Leah Purcell. Still courtesy of Roadshow (Australia) / Modern Films (UK)
Completed in 2020, pre-pandemic, but released in 2022, writer-director-star Leah Purcell's Snowy Mountain-set period Australian outback western, The Drover's Wife: The Legend of Molly Johnson, is a labour of love. Adapted from Henry Lawson's short story, published in 1892, the film boasts arresting production values, though not much droving, addressing instead the twin evils of racism and domestic violence. Given that it is set in the late 19th Century, justice isn't served. However, Purcell's film presents prototypical Australian suffragettes, who protest as a hanging takes place, though there isn't an equal protest for the rights of indigenous people. The film is ragged and raw, working with genre elements, but withholding the pleasure of righteous acts – the sort of standing up to menfolk that make you whoop with approval. No – catharsis isn't put before the horse. This is a film that reflects on the journey to come and on women like Molly who took brave steps.
When we first meet her, Molly (Purcell, seizing the title role as if by birth right) is driving a cart, her eldest son next to her, face blackened with dirt. A man pulls a gun on her. Just before we hear the cocking of a pistol, we see a solitary, barren tree in the centre of the frame, branches twisted like snakes, petrified white. It is photographed from a low angle to exaggerate its stature. The tree is a proxy for the landscape; it offers nothing.
Cut to an earlier period. Heavily pregnant Molly is outside. Her children are playing. She is surprised by the appearance of a stray bullock. Ordering her children inside, Molly seizes her rifle. She isn't about to let the animal stay for tea and crumpets. A shot rings out. When next we see the bullock, it is in strips being roasted. The aroma draws two visitors, an Englishman, Nate Klintoff (Sam Reid) and his wife, Louisa (Jessica De Gouw). Neither are in a fit state. Travelling from England to Nate's new place of work has taken its toll; Nate, we learn, had served in the army in South Africa. Louisa begs for food. Molly wants to send them on the way. However, when the Klintoffs interact with her children, Mrs Johnson opts for hospitality.
'Are you looking forward to your husband being home?' asks Nate. 'Yes, nothing pleases me more than the smiles on my children's faces as Joe [her husband] runs towards them,' replies Molly. Enthusiasm is as alien to Molly as letting her rifle stray from her sight. 'Do you think she really welcomes her husband?' Nate asks, later. Nate appears to be drawn to her; after all Molly can wield a firearm while his wife simply has literary ambitions. Louisa wants to start a newspaper, though it is unclear who will read it.
Molly begs a favour from the Klintoffs, to take her children into town. The eldest, Danny (Malachi Dower-Roberts) will fetch supplies and return with the others, though that isn't exactly what happens. The children are told to behave. Molly's daughter drops her doll; Louisa picks it up. When a filmmaker draws attention to an object, it is usually because that object plays a part in the story later on. However, Molly's daughter drops the doll simply for the sake of dropping a doll. The doll isn't left someplace causing a character to retrieve it and place themselves in danger. It is as if Purcell is unaware of filmic convention.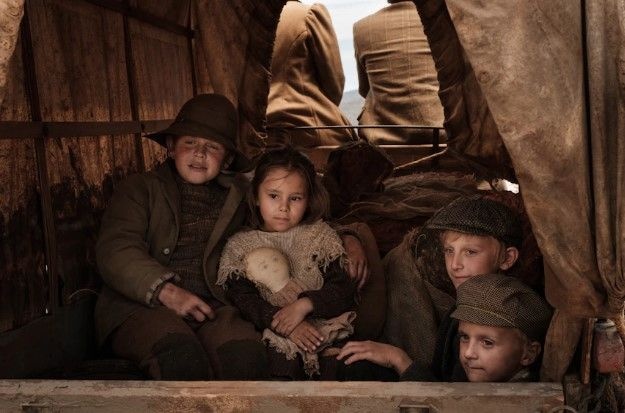 Pictured: 'Look after your brothers and sister,' Danny (Malachi Dower-Roberts, left) and siblings in the back of a cart in a scene from the film, 'The Drover's Wife: The Legend of Molly Johnson', written and directed by Leah Purcell. Still courtesy of Roadshow (Australia) / Modern Films (UK)
No sooner have the Klintoffs left than Molly is faced with another visitor, an aboriginal man lying face down on the ground. He is Yakada (Rob Collins), a man on the run with a shackle around his neck. Clearly the aroma of cooked bullock draws folks from far and wide. As Yakada stands up, there is a fleeting flashback of a man approaching Molly at night with hostile intent. At that exact moment, facing Yakada, Molly's water breaks. She stretches out her arm, wincing in pain, fingers spread apart. She needs help – and quickly.
We see the aftermath of the delivery. Molly's baby is dead. Yakada pleads for shelter. Molly needs her child to be buried. Yakada volunteers for the task. 'What's your crime?' Molly asks him. 'Being black,' Yakada replies. 'You can stay one night,' Molly responds tersely. 'Two,' Yakada responds, by way of counter proposal. Molly has some chores for him, so agrees, removing the neck shackle with a single blow.
We learn that Nate has been recruited as sheriff of the market town of Everton. He isn't the first. 'If you last the week, I'll swear you in on Friday,' says the town judge (Nicholas Hope), hedging his bets. Everton owes its existence to a rich businessman (no, not Bill Kenwright) – Johnson. If the Johnsons leave Everton, the town will collapse. By contrast, Everton Football Club has guaranteed itself another season in the English Premier League, following a spirited game against Crystal Palace on 19 May 2022. I realise that means nothing to most readers, who doubtless support Liverpool. There is a clunky scene in which Nate is lured into a fight with local towns people. It is a true movie set piece, by which I mean Nate manages to fell men who are physically his superior. The last of them naturally ends up in the horses' drinking trough; Purcell has watched TV westerns like Bonanza and The High Chaparral.
Molly tells Yakada to dig deep to bury her child. Before committing the stillborn baby to the ground, she blows on the swaddled corpse. This is an aboriginal tradition. Yakada takes note. It turns out that Molly has more in common with Yakada than first appears.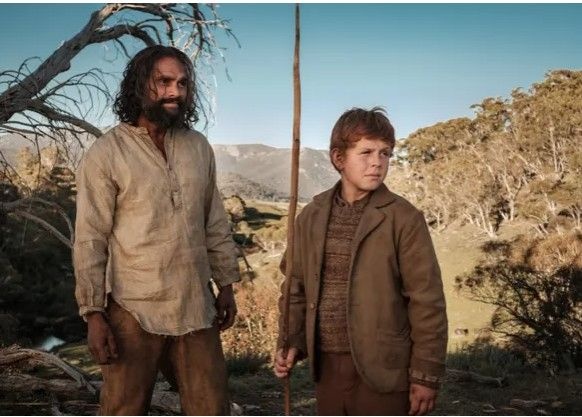 Pictured: 'Stick with me.' Fugitive aboriginal Yakada (Rob Collins) and Drover';s son Danny (Malachi Dower-Roberts) in a scene from the Australian western, 'The Drover's Wife: The Legend of Molly Johnson', written and directed by Leah Purcell. Still courtesy of Roadshow (Australia) / Modern Films (UK)
When we next see three of Molly's children – Danny is on his way back to his mother – they are in smart attire. This is initially confusing – Molly can't afford such clothes. However, it is explained later on. Molly and her husband are considered a bad influence; a couple wish to adopt them.
Where is Joe Johnson? His horse is tied up in town. Purcell builds the drama to a reveal. We expect a formidable figure who will dominate the narrative. There is however a twist.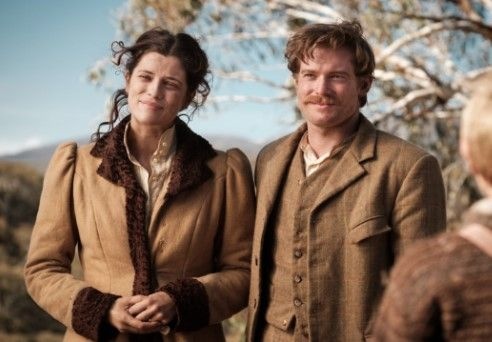 Pictured: 'We desire to partake of your aromatic bullock.' Louisa (Jessica De Goew) and Nate Klintoff (Sam Reid) trade victuals for a ride in the Australian western, 'The Drover's Wife: The Legend of Molly Johnson', written and directed by Leah Purcell. Still courtesy of Roadshow (Australia) / Modern Films (UK)
Nate Klintoff's scenes are as clumsy as his name; I doubt if any educated Englishman would spell 'Clint' with a 'K'. He converses with his deputy who is not so good at riding. 'So I have been informed,' replies Nate, though it isn't clear who advised him. Nate decides to gather a war party to apprehend the fugitive; if he does not, locals may take justice into their own hands.
Back at the Johnson shack, Danny reappears. He is initially hostile towards Yakada, but his mother calms him. Yakada and Molly's eldest son gradually bond. Yakada shows Danny how to use a spear. The aboriginal appears to be a better father figure to Danny than Joe. Molly gives Yakada her husband's boots. Yakada also tells Molly who she really is; a revelation that prompts her to ask him to leave, until she calms down. He also tells her of a place where his people live, an aboriginal settlement that would take her family in.
Molly also has to contend with other visitors. At this point, things get nasty. Joe's apparent disappearance is explained. Molly is forced to defend herself.
Purcell is sensitive to the impact of showing violence against women; that is, it could be a source of pleasure. The scenes of Danny seeing Yakada and his mother being attacked aren't easy to watch. However, sexual violence takes place off screen.
Molly has the last say. Her job is to rescue her children who are being adopted – there is an implicit reference to the 'stolen generation' – aboriginal children raised by white families.
Towards the end, Molly and Louisa Klintoff speak. Louisa shows Molly her newspaper, in which she discusses domestic abuse. 'I hear your voice in it,' says Molly, unimpressed. 'Then tell me your story, so that others may hear your words,' replies Louisa. Molly rises to the suggestion.
The Drover's Wife: The Legend of Molly Johnson tells the story of a domestic abuse victim who fought back. The story is not framed as a fantasy narrative in which Molly is turned into a dynamic hero. She endures, hardened by experience. However, for all her terseness, she never stops being a loving mother. She isn't a caricature either and has the same impulse as menfolk to treat alternative ideas with hostility, notably the circumstances of her birth. The publicity for the film focuses on Molly holding a rifle. However, a woman with a gun doesn't act the same way as a man. In a world of gender-based violence and gun-related massacres, the film suggests that if laws on self-defence were changed and women were given guns while men were denied them, there might genuinely be less violence against men, women and children.
Reviewed at Stratford Picture House, East London (Screen Four), Monday 16 May 2022, 18:40 screening (audience of one, sadly)