Pictured: 'I always thought of myself as a dog person.' Tinja (Siri Solalinna) consoles an exponentially growing egg in the Finnish horror film, 'Hatching' ('Pahanhautoja'), written by Ilja Rautsi and directed by Hanna Bergholm. Still courtesy of Sundance Institute / IFC Midnight (US) / Picturehouse Entertainment (UK)
One of the desperate gaps in my film knowledge is Finnish horror, a void partially filled by Hatching (Pahanhautoja), in which Tinja (Siri Solalinna), the twelve-year-old gymnast daughter of a would-be social media influencer (Sophia Heikilä) nurses into life – well, that would be telling. Tinja finds a great use for a large cuddly toy as a nest substitute after finding an egg belonging to a distressed blackbird, whose suffering – after many, many attempts - she ends with a rock. Directed by Hanna Bergholm, whose story was developed into a script by Ilja Rautsi, it ends up at a familiar place but offers plenty of pleasures for horror lightweights like me. I am all too aware that genre aficionados are hard to please, with a desperate desire for something new - or at least Scream 5.
The film opens with wobbly camerawork as video footage for the blog 'Lovely, Everyday Life' is collected. Tinja and her mother tickle one another. They surprise Father (Jani Volanen) who is busy painting a model (I would be annoyed). Bespectacled younger brother Matias (Oiva Ollila) joins in on the action. The house is beautiful. Sunlight streams through the window. Happiness - until bird strike. Tinja makes the colossal mistake of opening the window and a blackbird flies in, knocking over wine glasses and valuable trinkets. The bird's destructive fluttering culminates in the candelabra shattering as it hits the floor. Tinja throws a towel on top of the bird and passes it to Mother who, of course, breaks its neck. 'Put it in the trash,' she commands, adding, 'the organic waste'. Tinja places the dead bird on top of discarded food scraps with a degree of sadness. The lid won't close; Tinja doesn't force it.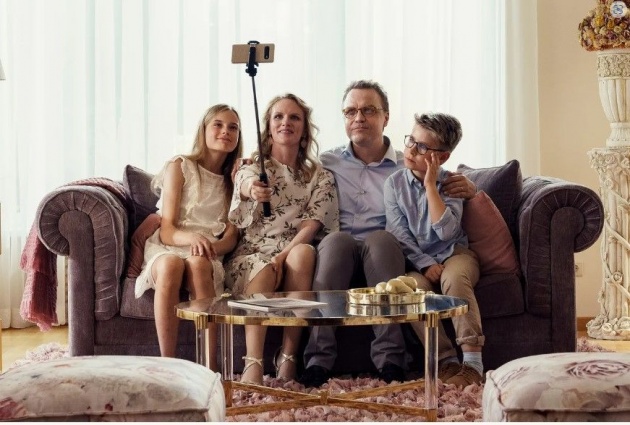 Pictured: 'Lovely, Everyday Life'. Tinja (Siri Solalinna, left) and her family (Sophia Heikilä, Jani Volanen and Oiva Ollila) pose for a selfie in the Finnish horror film, 'Hatching' ('Pahanhautoja'), directed by Hanna Bergholm. Still courtesy of Sundance Institute / IFC Midnight (US) / Picturehouse Entertainment (UK)
Tinja meets the neighbour's daughter, Reetta (Ida Määttänen), who has a cute cuddly dog. Tinja tries to pet it, but the dog reacts angrily. 'He doesn't normally bite,' insists Reetta, who announces that her family has just moved in – boxes have been unloaded behind her – 'well, you can see that'. She is Tinja's age, a potential friend for life, except that Tinja doesn't make friends for life, encouraged to be super-competitive by her mother, a former skater whose career it is implied was cut short by injury, evidenced by the scar on her leg.
Tinja tries very hard in her gymnastics classes, coaxed by her teacher (Saija Lentonen). Only she hasn't perfected the final turn. 'You can't compete without doing so,' her teacher insists. Later, she practices landing and does so awkwardly each time. Three of the girls in her class ask if she wants to hang out later. 'I have to go for a run,' Tinja tells them. 'She never goes out. I don't know why you ask her,' one of the girls tells the others.
Arriving home, Tinja sees her mother fondling a man's leg as he fixes the candelabra. It belongs to Tero (Reino Nordin). It is fair to say that Tinja's mother likes Tero very, very much. There is a later scene when her mother tells Tinja that she is in love. Tinja is very disappointed to learn that her mother isn't referring to her father. Afterwards, Tinja's mother has a quiet word with Tinja, insisting that her feelings for Tero are 'our little secret'.
A noise outside startles Tinja. She goes outside to investigate. She notices that the blackbird is no longer in the organic waste bin – and it isn't collection day. Tinja follows the sound until she discovers the distressed blackbird. She pummels it, blood spattering her nightdress. Then she notices the egg and brings it into the house.
The egg grows exponentially for reasons not explained. The first rule of horror films is 'just go with it'. There's a killer murdering college students. Why? You can only work under-eighteens for a certain number of hours after dark. Tinja reaches a particularly low point. Tinja's mother says she's spending a weekend at a blogging seminar, but we deduce that she's with Tero. After her return, Tinja speaks to her father, who is in his mancave playing with a new guitar. 'Your mother told you about her weekend?' 'Yes,' lies Tinja. At this low point, with the egg the size of a baby elephant, tears fall from Tinja's eyes onto the shell. The egg starts to crack. Out pops a surprise. Terrified, Tinja hides in the wardrobe and watches through a crack in the door. Where is the hatchling? Suddenly, there is an eye directly in Tinja's vision.
To describe what exactly has emerged from the egg spoils some of the film's pleasure. It doesn't feed like a normal creature - in fact, it snacks on Tinja's vomit. Tinja has to try super-hard to hide it. In one scene, Tinja's father bursts into her room, after Matias wets his bed, Tinja having locked her younger brother out of the bathroom while she bathed the hatchling – and the hatchling drinks the bubbly bathwater. Father sees blood on Tinja's sheets and thinks he understands.
But the creature that subsequently shatters Tinja's window – Tero isn't called to fix that one – has strange tastes, including Reetta's dog. Tinja is forced to bury the animal in the garden, but a masked figure watches – Matias, of course. He begins to resent the attention his sister gets, notably when Mother gifts Tinja a hairbrush but brings him nothing. He disappears and returns with the decapitated corpse of Reetta's dog which he dumps on the glass coffee table.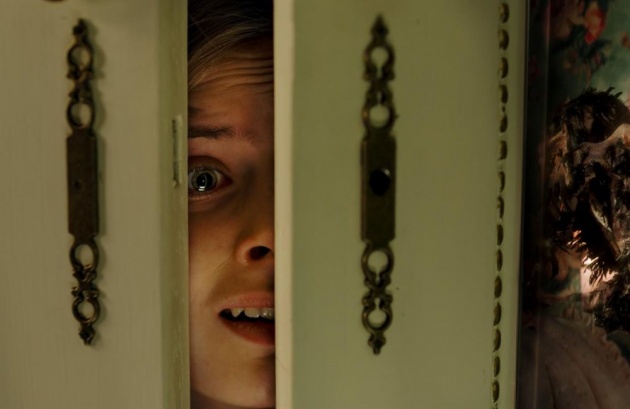 Pictured: Tinja (Siri Solalinna) hides from the hatchling in a scene from the Finnish horror film, 'Hatching' ('Pahanhautoja') directed by Hanna Bergholm. Still courtesy of Sundance Institute / IFC Midnight (US) / Picturehouse Entertainment (UK)
Matias is a big fan of the song 'Alli's Mother' - as opposed to Death Metal, which he doubtless will enjoy as a teenager. He begs his mother to sing 'Alli's Mother' louder and louder. Tinja joins in. When the hatchling has trouble sleeping – we see it peep through the cardboard repairs on Tinja's window – Tinja sings 'Alli's Mother' and the hatchling is oddly soothed. It even responds to the name Alli and starts to speak.
'There's only one way to settle your nerves,' Tinja's mother tells her, 'That is to win.' However, the hatchling has torn Tinja's new gymnastics one-piece to shreds. Mother expresses disapproval. Reetta also attends Tinja's gymnastics class and she's very good, with none of Tinja's landing difficulties. In one scene, she does not even require a spotter. Reetta enlists Tinja's help in finding her missing dog and later turns down a lift home. Tinja has a premonition about Reetta, who we see at night walking down the middle of the road. We have a premonition too – that the girl will be run over. The hatchling definitely acts on the family's baser instincts.
Matias thinks his sister is a monster. For reasons not entirely explained, Mother takes Tinja to Tero's house, a far cry from the perfection of the family home. 'It's a fixer-upper,' Tinja's mother says charitably. We expect Father to complain. He describes Tero as a 'good man – person', swiftly correcting himself. Tinja is surprised to hear a baby crying – Tero has a baby son. 'He's a widower,' explains Mother. 'His wife died in childbirth.' Mother lavishes love and affection on the baby – the infant could almost be her own. Tinja is perturbed. She is also anxious that the hatchling has followed her to Tero's house. She can't hate Tero. He fools around at the breakfast table, Tinja gobbling her food with the intention of feeding the hatchling. He also demonstrates his own lack of gymnastic prowess – 'see my cartwheel' – after Tinja almost injures herself while practicing in front of him.
There is an incident. Tero can't wait to see the back of Tinja. Tinja and the hatchling are psychically connected to the extent that she injures herself at the gymnastics competition to prevent the hatchling from harming Tero's child.
There is only a matter of time before the family understand the true nature of the hatchling after Tinja's mother discovers sticky stuff all over her hands and on her scarred leg. The ending is generic and predictable.
The sound design – an ominous purring – contributes to the sense of impending horror. We understand what the hatchling represents - a literal eruptive id. It does not represent Tinja's emerging sexuality – Bergholm isn't that obvious – rather a latent maternal instinct that is absent from her shallow, superficial mother. Tinja's mother doesn't come out of the film well, Bergholm extending no sympathy towards her whatsoever.
Ultimately, Hatching offers a critique of the avatar, a being created as a substitute for its originator's hopes and expectations. It contains some great creature effects – I'm partial to an expanding iris – with a series of yuk-making sequences. It is never gratuitous, which is in itself a recommendation. It is worth remembering that in creating social media profiles, individuals create avatars of themselves. These sometimes bear little relation to the truth.
Reviewed at Picture House Central, Screen Three, Shaftesbury Avenue, Central London, Tuesday 8 June 2022, 15:00 screening (Sundance London press show)