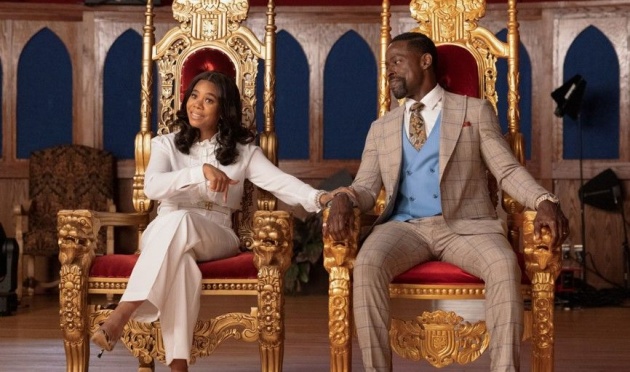 Pictured: 'Where's the Messiah? There he is.' Trinitie Childs (Regina Hall) shares a moment with her husband Pastor Lee-Curtis Childs (Sterling K. Brown) in the comedy, 'Honk for Jesus. Save your Soul', written and directed by Adamma Ebo. Still courtesy of Universal Pictures / Focus Features / Pinky Promise
At its heart, the comedy-drama Honk for Jesus. Save Your Soul, written and directed by Adamma Ebo and produced by Adanne Ebo, the director's sister, is about a showbusiness marriage on the rocks. The couple are determined to make one last go of it, one final throw of the dice, a big re-launch. By showbusiness, I am referring to religion. Pastor Lee-Curtis Childs (Sterling K. Brown) and his wife, 'First Lady' Trinitie (Regina Hall) previously administered blockbuster sermons at their Southern Baptist 'mega church', Wander the Greater Paths (capacity: 25,000). They entertained local politicians and amassed a small fortune – their wardrobe could cloth a small town. I'm exaggerating; so do they. But sometimes you have to know when to quit, when something you did so tarnished your reputation, there's no coming back. You got to accept that if there's a job at the car dealership and someone willing to pay good money for your big expensive wardrobe, you take it.
Ebo's film started life as a short. However, in trying to preserve what made the short work – the cast list is surprisingly small – Ebo limits the dramatic possibilities of her feature. What it has going for it are two performers in Hall and Brown with solid comedy chops. Hall 'goes there' in a scene towards the end of the film that makes you ask, 'what was Trinitie thinking?'
The film opens with a black Jesus. Every film should open with a black Jesus - it would cut down on excessive logos. This black Jesus is a model, obviously – a modern day messiah would preach from the catwalk – and wears his heart like a medallion. His stigmata look like Honey Loops. This is a roadside Jesus, hands out in supplication, saying to motorists, 'I feel your suffering – the fumes I would inhale if in human form are something else.' Gas prices are, at time of writing, skyrocketing.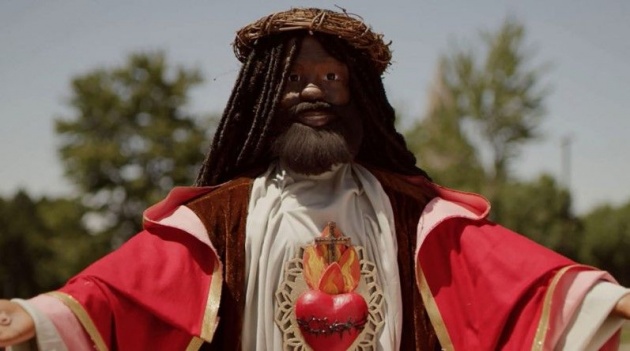 Pictured: 'Abide with me. My crown of thorns is like a bird's nest.' The opening image of the comedy-drama, 'Honk for Jesus. Save your Soul', written and directed by Adamma Ebo. Still courtesy of Universal Pictures / Focus Features / Pinky Promise
The model stands outside the aforementioned church, in which Trinitie is being interviewed. She is very aware that the big scandal threw the Childs off course. There is a montage of the church in its pomp but no description of that scandal and subsequent financial settlement. The big reveal comes near the end in an impactful scene that tips the film from comedy into drama. The confrontation is the best thing in it, making you re-think everything you have seen before, even though what you have watched is tired and dragged out.
Ebo introduces an element of the mock documentary so that some of what we see is photographed by an unseen famous female director, who, early on does not speak when addressed by Lee-Curtis on camera. 'Oh, I see, this is one of those fly on the wall documentaries,' he remarks. It is not always obvious when a scene is part of the documentary – it is fair to say a bedroom scene probably isn't – but after a while I stopped caring.
By themselves and without much of a supporting cast, Lee-Curtis and Trinitie aren't interesting enough to hold our attention for 102 minutes. The film's energy drains away; there is a reason that episodes of The Office are 27 minutes long. There is a scene in which Lee-Curtis imagines that the documentary will be his Rocky. 'Rocky doesn't win,' Trinitie reminds him. 'Well, then Rocky II,' responds Lee-Curtis. 'He wins in that one.'
The couple are set on relaunching their church on Easter Sunday. It isn't clear where they will get the funds – the electricity bill of a mega church isn't cheap. Cleaners are conspicuously absent. However, their plans are derailed by the Sumpters, Shakura (Nicole Beharie) and her husband Keon (Uchenna Echeazu, professionally billed as Conphidance), former members of the Childs' congregation, who plan to open their second church, Heaven's House 2.0, on the same day. Interrupting a session of marriage counselling run by the Sumpters, the Childs plead with them to change their opening date. However, Keon and Shakira are immovable. They are also vindictive.
There is a running joke about pink bubble gum. First, Lee-Curtis treads in some bubble gum on the way to the church door. He is trying to look purposeful and the gum messes with his sense of self-importance. In a later scene, Trinitie is by the road trying to encourage passing traffic to show support for her church by – you guessed it – honking their car horns in praise of Jesus Christ. A young woman looks at her, appearing to take a picture with her phone, and blows a bubble. Finally, on the big day, Trinitie treads in some gum, possibly left by the young woman who took her picture. Gum performs the same function as bird poop in other movies. It is a somewhat easy way to elicit a laugh. Except it is really a commentary on the Childs' bubble gum religion – nothing but air inside and pops very easily.
Ebo pokes fun at the Childs' lavish lifestyle, funded by their parishioners. They sit in twin thrones, which is hardly a way to connect with their audience. They have a formidable wardrobe, including Prada (the brand is pronounced in a sing-song voice) as well as expensive suits and watches. Lee-Curtis thinks that there is nothing in their wardrobe that they could possibly wear, before indulging in dressing up. They also have an indoor fountain, that is turned on by Trinitie with some fanfare. I expected liquid-based slapstick – Lee-Curtis squirted by an errant jet of water – but it doesn't happen.
The comedy is at its best in small but telling moments, such as Lee-Curtis chiding his wife as she scrapes her fork against her plate as she eats her eggs. 'That's Mee-Maw's china,' he reminds her. There is the hint of something more serious when – in a flashback – Lee-Curtis is seen preaching against homosexuality, a reminder of the church's destructive power in reinforcing conservative values.
Lee-Curtis and Trinitie have five loyal Parishioners who simply won't join another church. This includes a young girl, Aria Devaughn (Selah Kimbro Jones) with a flair for the dramatic – Jones briefly upstages Hall.
Ebo doesn't really dig into why certain people become preachers just for the money. It is worth remembering that southern churches had a part to play in the struggle for civil rights. Ebo is sensitive to this, which is perhaps why the satire isn't as barbed as you might expect.
Hall and Brown are on screen almost throughout – understandable given their charisma – but they struggle to make some scenes work. There is a scene in a hat shop that doesn't go anywhere. In one scene, Ebo cuts between Lee-Curtis practising his big speech and Trinitie being berated by a woman holding a child. The effect is heavy-handed rather than comic. Somewhat better is the moment when the couple join in with a rap song on the car radio, forgetting the values they are supposed to represent. It is significant that the couple don't have children. Their surname suggests that each one is the only child the other needs. Another comic set piece that peters out involves the couple attempting to have sex.
The tone becomes progressively more edgy. Lee-Curtis hugs a litter picker in a yellow viz jacket, who praised the church's laser light. 'We were the first to have one,' Lee-Curtis brags. 'Others copied us.' A caption tells us that this former member of the congregation is currently incarcerated. In an extreme attempt to attract attention, Trinitie dons white-face and mimes for Jesus. This is initially successful, then has little effect.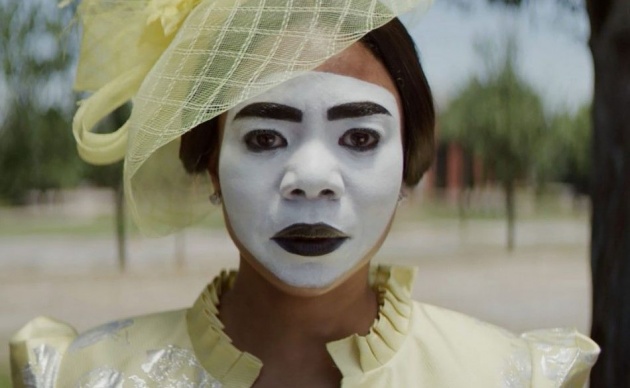 Pictured: 'I'll do anything for love. And I will do that.' Trinitie Childs (Regina Hall) in a scene from the comedy, 'Honk for Jesus. Save your Soul', written and directed by Adamma Ebo. Still courtesy of Universal Pictures / Focus Features / Pinky Promise
Of the supporting cast, Austin Crute deserves special mention for his one scene as Khalil, another former member of the congregation. The film ends with a protest by an unknown driver, turning circles outside the Childs' church.
It is difficult to imagine the film having much impact when it is released in September [2022]. The film consolidates Brown's status as a leading man, evidenced by his casting in Joe Carnahan's next film, Shadow Force. Following a series of performances in comedies and dramas, Hall has capped her career by co-hosting the 2022 Academy Awards. All she needs to do now is be nominated for one. The Ebo sisters have proved they can work with talent but haven't yet demonstrated a style. Let's hope they get to develop a script from scratch without the legacy hangover of an acclaimed short.
Reviewed at Sundance London, Picturehouse Central, Screen Three, Central London, Wednesday 8 June 2022, 14:00 screening (press). No trailer available