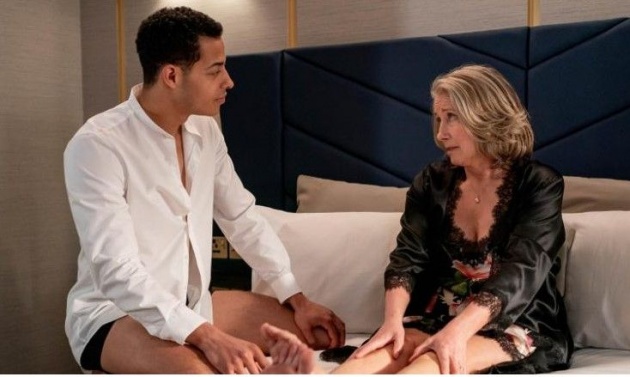 Pictured: 'Not to challenge you, but I've never had an orgasm.' Irish gratification assistant Leo Grande (Daryl McCormack) hears the confession of retired school teacher Nancy Stokes (Emma Thompson) in a scene from the British comedy, 'Good Luck to You, Leo Grande', written by Katy Brand and directed by Sophie Hyde. Still courtesy of Lionsgate (UK) / Hulu (US) / Sundance Institute
Good Luck to You, Leo Grande is about the pursuit of female pleasure. Pleasure without guilt, in which the transaction isn't just financial. It is also about the danger of being a surrogate mother in the bedroom experienced by the protagonist, fifty-something widow, Nancy Stokes (Emma Thompson). Reconciled to never having an orgasm, Nancy wants to experience sex with a much younger man and hires a male prostitute, twenty-something Leo Grande (Daryl McCormack) to please here. Structured around a series of meetings in a luxury hotel in Norwich, the film 'written and created' by comedian Katy Brand and directed by Sophie Hyde, explores the tension between buttoned-down former Religious Education teacher Nancy and easy-on-the-eye fantasy plaything, Leo. The performances by Thompson and McCormack are terrific, but what catches the eye are the open curtains in the hotel room, allowing them to be seen from the outside. The curtains are only closed when – well, that would be telling.
Brand's screenplay resembles a stage play. For the majority of the film, we are stuck in the hotel room, with Nancy complaining about her boring adult son and his boring girlfriend. 'Just like his father,' she explains. Nancy hasn't had sex with a man since her husband, Robert, died. Sex with him was a perfunctory act – lying next to her naked, mounting her, a modest amount of breast manipulation, a series of thrusts, discharge, put on his pyjamas and out like a light. Nancy yearns for something different. 'I don't want to be young,' she explains, 'that would be horrible. I want to feel young.' She wants what Leo can give her but is simultaneously afraid of it.
The film elicits a fair number of chuckles, but actually sacrifices Nancy's real desire in the cause of a saucy joke. 'I've got feedback and some attainment goals,' she tells Leo, seeking a 'blow job', sex 'doggy style' and 'something called a 69, if they still do those'. Leo smiles appreciatively. At no point does Nancy ask, 'can you help me locate my erogenous zones?' Nor does she confess, 'I'm having trouble stimulating my clitoris'. In other words, a film about elusive female sexual pleasure is afraid of naming the drivers of female sexual pleasure.
Nancy's choice of profession is Brand's way of tackling the question, 'how can I make my protagonist seem sexually uptight?' Nancy is jaded and cynical about having been a teacher, unable to deviate from the curriculum, essentially coaxing young girls to pass their exams, though she refers to 'Year 8's', who would be 14 at the eldest and not likely to take any exams of note. I would have thought a Religious Education teacher would be familiar with the Kama Sutra, but we'll let that one go. Predominantly, the film is about the fear of gratification, which is a polite way of saying, it takes its time.
Nancy quizzes the mixed-race Leo as a means of deferring intimate contact, asking about his mother – but, pointedly, never about his father, one of those omissions that says something about Brand's perception of mixed-race children – the father is never around. Isn't this racist? Isn't it, just! For his part, Leo is determined to put Nancy at her ease, though I didn't believe he would help himself to the mini-bar when Nancy's back is turned – she is in the bathroom, changing into an exotic nightie. This is supposed to say something about him but is at odds with his professionalism. He gets caught out eating half a Mars Bar. Nancy has paid in advance for his services; she is entitled to a refund if a paid sex worker incurs additional hotel charges. 'I'm not rich,' she tells him, when Leo describes how he has a set of regular clients. Indeed, she positively bridles at what she calls Leo's 'sales pitch'.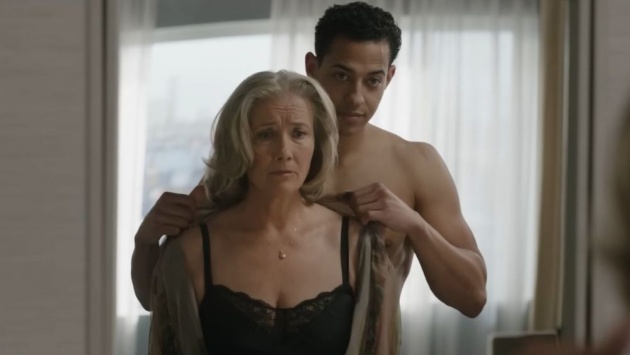 Pictured: 'It is time for me to give you what you really want.' Leo (Daryl McCormack) prepares retired school teacher Nancy (Emma Thompson) for a good time in the comedy, 'Good Luck to You, Leo Grande', written by Katy Brand and directed by Sophie Hyde. Still courtesy of Lionsgate (UK) / Hulu (US) / Sundance Institute
The Mars Bar moment is a way of Brand telling us, she doesn't quite know how to write Leo's character. He explains that he told his family that he worked on an oil rig, but of course it's a lie. Late in the film, he explains what his mother thinks of him. I found the source of their estrangement – Leo being caught having naked fun with a bunch of his friends – not entirely credible. At that point, Leo tells Nancy, 'I was dead to her.' No, Leo/Brand – try again. Judging by the pink sweatshirt Leo rocks towards the end of the film, we are meant to infer he is gay or at least bi-curious.
The performances in what is basically a two-hander keep us interested. Thompson, an experienced comedian, knows how to use her body to convey awkwardness, stooping slightly as she waits for Leo to arrive. The first image of Leo, hands behind his head, wearing a yellow woolly hat, humming to himself whilst sitting in the window of a coffee shop, sends a series of mixed messages. He looks at a man emerge from a door pushing an empty goods trolley, the camera swirling around him. Leo appears to give the trolley man an admiring look. He certainly pauses to check his own reflection. Nancy is repressed but Brand, Thompson and Hyde try to ground the character in her anxiety about how she looks and her forthright rejection of men her age who desire her. 'They're old,' she complains.
Nancy's backstory involves a family holiday to Greece, at which she was kissed and fondled by a waiter who found her attractive – the Shirley Valentine effect. The headlamps of a car caused the young man to run away. 'I wish we could have stayed another day,' Nancy whimpers.
Leo objects to Nancy's persistent questioning and her revelation that she knows his real name – Connor – finding it on Companies House website. (And yet the clitoris eludes her.) She breaks Leo, arguably a worse exploitation of him than any sex act they could perform. For his part, storming back in the room to find his phone, he's destructive. The scene makes what happens next somewhat surprising. We don't really believe Leo and Nancy will see each other again.
There is a comic cameo from Isabella Laughland as Becky, who recognises Nancy as her former teacher, Susan Robinson. 'Mrs Robinson,' smirks Leo, when he meets Becky. Laughland is a ringer for a young Katy Brand – it is a neat way for Hyde to reflect the sensibility of her writer. Becky plonks herself down and tells Leo how Mrs Robinson 'called us all sluts' for the pupils' dress sense. 'She also taught me a word: concupiscence.' What does it mean? Becky and Nancy answer in unison: sensual longing. (Actually, I forgot their definition. I had to look it up.)
Nancy's interest is piqued by his vocabulary: his use of the word 'empirically' to describe Nigella Lawson. 'You must be a clever person,' she notes. 'Why are you doing this?' Leo doesn't want to answer that question and neither does Brand. When Leo describes his customers, we get what draws him to the job, acting as a therapist or nurse. He describes how he bathes a disabled woman while talking dirty to her and then getting into the bath. And they say Disabled Living Allowance is too low. 'Another man has me dress up as a cat.' I should have thought Leo would be duty bound not to describe his other clients, but the inference is that they stimulate him. This is the only explanation for the final encounter between Nancy and Leo, though I didn't believe he would really want to see her.
In the first two meetings, pity is definitely a factor. Mars Bar lapse aside, Leo tries to please Nancy, helping her overcome her own inhibitions about her aged body. Nancy gets quite aggressive, insisting that her list should be met. There are points where we lose sympathy for her.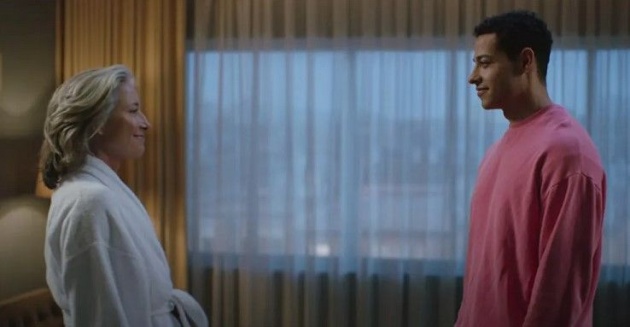 Pictured: At last, the curtain is closed. Nancy (Emma Thompson) and Leo (Daryl McCormack) in a scene from the British comedy film, 'Good Luck to You, Leo Grande', written by Katy Brand and directed by Sophie Hyde. Still courtesy of Lionsgate (UK) / Hulu (US) / Sundance Institute
Finally, there is an explosion of sex. Stretching every sinew, Thompson looks younger. Only in the final scene, when she looks at her body, does the opposite seem true. Thompson throws away her vanity to remind us of a real woman. You can't imagine Meryl Streep doing the same.
In the first section of the film, Thompson is lit to appear pale. Only gradually do her cheeks become red. There are subtle changes to her wardrobe – flowery attire in the first and second meetings, giving way to a simpler, less busy design, as Nancy gets closer to sexual ecstasy. Leo's shirts get less formal. In the first scene, he wears an ironed white shirt. By the end he is wearing a pink sweatshirt. Occasionally, Hyde photographs Thompson so that we see the rings around her eyes.
The farewell of the title is the film's clunkiest moment. Leo's problem has been revealed but not solved. We see him walk down a street with a jaunty stride, but it isn't credible. Does he think his job is done? Perhaps. Is that enough? Perhaps not. He is, to a certain extent, idealised, a twerk-es-machina who dances with Nancy to get her to relax – calls from her daughter agitate her. Although there is an obvious climax, the film isn't completely satisfying. Each character isn't given equal weight.
Reviewed at Sundance London, Picturehouse Central, Shaftesbury Avenue, Tuesday 7 June 2022, 11:00am (press screening) and Curzon Canterbury, Kent (Screen Three), Wednesday 22 June 2022, 17:40 screening