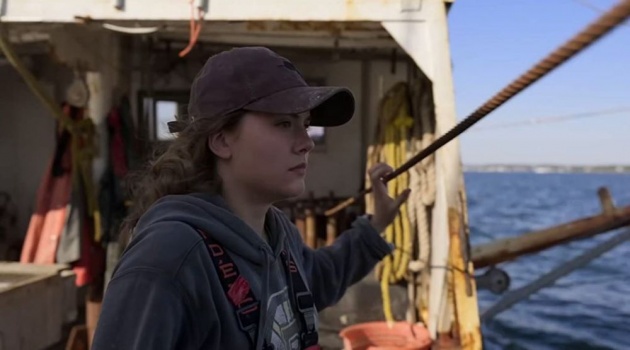 Pictured: 'Catch me if you can.' Ruby Rossi (Emilia Jones) looks wistfully out to sea in CODA, writer-director Siân Heder's joyous remake of the 2014 French film, 'La Famille Belier'. Still courtesy of Apple TV +
American remakes of French language feel-good hits usually lose something in translation. The Upside, director Neil Burger's 2017 remake of the 2011 film The Intouchables, couldn't reproduce the audience-pleasing relationship between characters played by Omar Sy and François Cluzot – as carer and quadriplegic respectively – because racial dynamics in France are different from those in the US. It is hard to watch Kevin Hart (Sy's substitute) in a subservient role, especially given that Hollywood has finally allowed African American actors to flourish. Bryan Cranston (filling in for Cluzot) has also had his best years on screen, so we don't feel his character's loss so acutely. At any rate, Burger and his screenwriter John Hartmere did themselves a disservice by sticking slavishly to director Éric Toledano and Olivier Nakache's original and relegating Nicole Kidman to a thankless supporting role. Similarly, The Next Three Days doesn't pack the punch of the French thriller, Anything for Her. Vincent Lindon is far less likely to break his wife out of prison than Russell Crowe.
CODA – the title stands for 'Child of Deaf Adults' – is a far more successful remake of the 2014 French film that inspired it, La Famille Bélier. For starters, writer-director Siân Heder uses deaf actors to portray the family of the central character, Ruby Rossi. This was on the insistence of Marlee Matlin, the Oscar-winning deaf actor hired to portray Ruby's mother, Jackie. Matlin threatened to quit if deaf actors weren't hired to play her husband and son. Heder also did not try to reproduce the farm setting of La Famille Bélier. Instead, the Rossi family run a fishing business. The central drama in CODA shines through. Should a hearing child of deaf parents abandon the family business to pursue dreams of their own? How should the family respond?
Ruby is played by British actress Emilia Jones, the daughter of former choirboy Aled Jones of The Snowman 'Walking in the Air' fame. Jones has been acting for over ten years in films as diverse as What We Did On Our Holiday (an improvised British comedy) and Brimstone (a violent Dutch western). For CODA, she learned to sing and use sign language and has to convincingly hold her own alongside a deaf cast – a tough ask, but one she meets spectacularly well.
The Rossi family struggle to make a living. They don't get market rate for their catch and when Ruby's brother, Leo (Daniel Durant) is negotiating, they are more likely to end up with less. At the start of a new school term (or so it seems), Ruby signs up for choir, only during the first meeting, when music teacher Bernardo Villalobos (Eugenio Derbez) aka 'Mr V' invites her to sing, to find out what kind of voice she has, Ruby flees the class. Ruby is definitely from a lower socio-economic background than most of her fellow students, but what affects her is something akin to shame – doing something that her family cannot. They experience music differently. Ruby's father, Frank (Troy Kotsur) listens to heavy bass because he can enjoy the vibrations – though they are a little too loud for Ruby.
Ruby does return to Mr V's music room and impresses him. He pairs her up with the best male singer, Miles (Ferdia Walsh-Peelo of Sing Street fame) in order to perform a duet, 'You're All I Need To Get By'. This is, of course, a form of matchmaking and Ruby would much rather practice her part of the song on her own. She can't even look at Miles. Fortunately they discover harmony with their backs against one another in one of the film's sweetly charming moments. It isn't long before they spend time together, leaping from a high promontory into the water below. There are signs warning them of the danger – but still. I kept expecting this to result in a dramatic moment. However, the drama really comes from Ruby neglecting her role as family translator.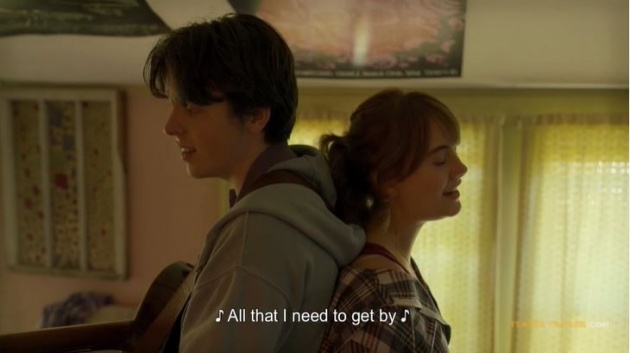 Pictured: Miles (Ferdia Walsh-Peelo) and Ruby (Emilia Jones) taking backing singers to a different level in the charming and uplifting drama, 'CODA', written and directed by Siân Heder. Still courtesy of Apple TV +
Not only does Ruby have to go with her parents for medical consultations – in one humorous sequence she translates her father's symptoms for jock itch (testicles like stones and the like). She also represents the family at fishermen's meetings, where businesses are told that they have to pay to have monitors on board to ensure that they are not over-fishing. This is a detail based in fact. The National Marine Fisheries Service has forced fishing businesses to comply with this regulation. A group of New Jersey-based herring fisherman brought a lawsuit in protest but had their bid to block the regulation denied. When Ruby fails to turn up for an early morning fishing expedition, with the monitor on board, the trip ends in disaster. The Rossi boat is signalled by another vessel. Frank and Leo fail to hear. The result is a heavy fine. However, the Rossis are resilient. They break away from selling their catch from the fish vendors that exploit them and instead start their own cooperative, prompting other businesses to join them. The film's portrayal of small business enterprise sets it in sharp contrast to the accepted American corporate model, though, ironically, after its successful premiere at the 2021 Sundance Film Festival, CODA was purchased by Apple TV, just such a corporation.
The Rossis don't just go against the grain. Frank and Jackie are very frisky. When Miles visits Ruby's house, he is amused to hear them making love. The incident reverberates around the school, creating a source of tension between Miles and Ruby. 'I only told one person,' protests Miles. Unfortunately that one student blabbed to many others.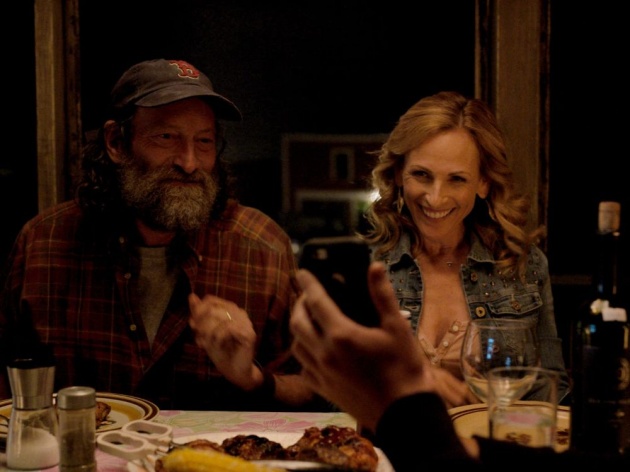 Pictured: 'Tinder is something we can do together.' Frank (Troy Kotsur) and Jackie (Marlee Matlin) in a scene from the uplifting drama, 'CODA', a remake of the French film 'La Famille Belier' by writer-director Siân Heder. Still courtesy of Apple TV +
In a film that builds to a school concert, there are some generic tensions. Ruby cannot always make it to practice on time and Mr V complains that she doesn't respect him. Inevitably, after helping with the family business, Ruby is late once too often. Mr V shuts her out.
There is also tension between Leo and Ruby. Leo doesn't want Ruby always to be the one to bail the family out. He wants that role. He has his own difficulties fitting in, getting into a fight in a local bar, but then attracts the local barmaid – cue a very frantic sex scene. There is an amusing scene when Leo logs onto his Tinder account. Ruby objects. 'Tinder is something we can do as the whole family,' says her mother. The family cannot enjoy Ruby's singing in the same way as the rest of the audience – in the musical performance, Heder cuts the sound. However, they can respond to other audience members' enjoyment. Nevertheless, they feel alienated by Ruby's decision. Though after Ruby's performance, Leo asks his daughter to sing again for him and feels her voice.
The musical performance is not the climax of the film. Ruby has a shot a scholarship if she passes the audition. Only she has forgotten her sheet music for the Joni Mitchell song, 'Both Sides Now'. Fortunately, in time honoured movie tradition, she has a saviour.
The film pushes many emotional buttons. So whether you are a parent who recalls that sad moment when your child finally left the nest (check) or a young person embarking on a new adventure (check) you will – like me – be resorting to pocket hankies. CODA is eminently relatable. Were it not destined for streaming it surely would have proved a word-of-mouth cinema hit!
It also features a charming turn by Derbez, whose Mr V is in the long tradition of inspirational teachers. Heder successfully juggles a series of emotional registers; humour and warmth come out on top. Having earned awards at Sundance and Haugesund film festivals, I'm pulling for CODA to be the little Oscar contender that could.
Reviewed at Sundance London, PictureHouse Central, Piccadilly Circus, Screen Three, Wednesday 28 July 2021, 12:00 screening