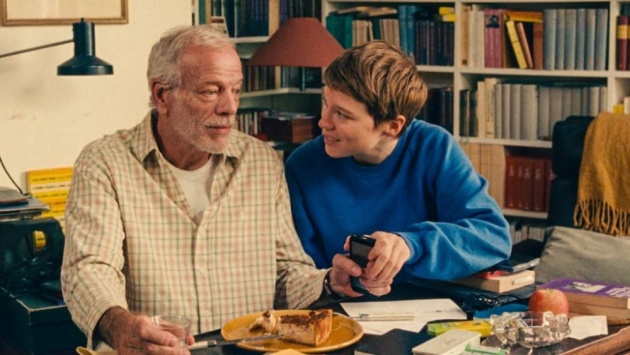 Pictured: Georg (Pascal Greggory) has his mobile phone taken from him by his loving daughter Sandra (Léa Seydoux) in the French family drama, 'Un Beau Matin' ('One Fine Morning'), written and directed by Mia Hansen-Løve. Still courtesy of Les Films du Losange (France) / Mubi (UK)
Contains spoilers
'There are films I want to make. There are films I have to make. This is a film I had to make.' This is how writer-director Mia Hansen-Løve introduced her latest Paris-set family drama, Un Beau Matin (One Fine Morning), a film whose optimistic title suggests its tone if not its subject. The logline might be, 'as she tries to arrange long-term care provision for her ailing, near-blind father, single mother Sandra commences an affair with a married man'. It is the affair, with all its difficulties, that gives cause for optimism, without detracting from the heartbreak of seeing one's parent being transferred to an anonymising environment, one that reduces them to their most basic bodily impulses, to sleep, eat, wander, perhaps to sing, untethered from the life before.
I boarded the Hansen-Løve train after watching her long-delayed, very enjoyable English language relationship drama, Bergman Island. She is an intimate director, dealing with emotional situations and milieux of which she has some experience. Yes, her work is middle class, academic, perhaps a little bourgeois for some tastes, but it feels honest and resonant. Hansen-Løve is not interested in portraying societal problems – say, the climate emergency or the gap between rich and poor - in order to affect change. She is interested in trying to find the best solution within existing systems.
It opens, in a typically low-key fashion, with its protagonist, translator Sandra Kienzler (Léa Seydoux) walking down a Paris backstreet, one that blends houses and businesses. She enters an old building and climbs a set of stairs. So far, so normal, until she knocks on a door and waits for her father, Georg (Pascal Greggory) to answer. He struggles to let Sandra in for reasons that reasons that we only gradually discover. 'Where is the key,' Georg asks. 'The key is in the door,' Sandra reminds him. 'Where is the door?' Georg asks. 'Right in front of you,' Sandra replies. Only after a few awkward moments does the door tentatively open. Georg lives alone in his apartment amongst books he cannot read. Once he taught philosophy – we discover he was active until a year ago. Now he has succumbed to a degenerative disease, Benson's, otherwise known as posterior cortical atrophy. It affects the back of the brain, resulting in difficulties with processing visual information. As is explained later, the eyes still work, but the brain does not. Those with Benson's can expect to live 10 or 12 years from the date of its onset – perhaps longer.
Georg is sanguine, anticipating the arrival of his some-time girlfriend, Leïla (Fejria Deliba), who does not live with him 'as she has health problems of her own'. He clutches his mobile phone, reluctant to put it on the table. Sandra serves her father some quiche, cutting it up and attempting to feed him, before he has a bathroom emergency – Sandra guides him to the salle de bain. This short scene sets up the issue Sandra has to deal with – ensuring her father receives care. We see her at work, translating the words of an American veteran during the commemoration of a World War Two battle and ensuring veterans understand the wines they are invited to taste at a distillery that forms part of their visit. She also greets her young daughter, Linn (Camille Leban Martins).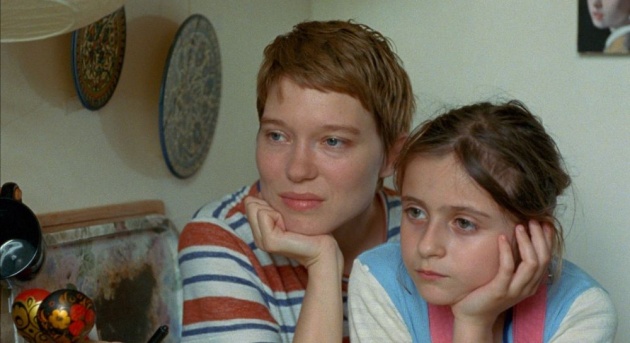 Pictured: Mother Sandra (Léa Seydoux) and daughter Linn (Camille Leban Martins) in a scene from the French drama, 'Un Beau Matin', written and directed by Mia Hansen-Løve. Still courtesy of Les Films du Losange (France) / Mubi (UK)
One day – it could be a morning – Sandra is at the park with Linn when she runs into an old friend, Clément (Melvil Poupaud), who is there with his young son. Clément is a Cosmo-chemist, examining the debris from other stars and asteroids deposited on Earth, travelling to places like Antarctica to assess specimens - very much a 'first world' profession. There is a running joke in which he has to correct others about the name of his profession. His work takes him away from his family for months at a time. At some point in the past, Sandra and Clément were intimate, but then he left, or perhaps succumbed to the demands of his job. Given the choice between Léa Seydoux and space debris, one might find it odd that Clément chose the latter – but this is the movies, a mirror realm in which people are far braver than their real-world counterparts. Sandra describes putting her planned biography of Annemarie Schwarzenbach (1908-1942), a bisexual friend of the writer Klaus Mann, son of Thomas Mann, on hold. The only thing Sandra has in common with her subject is a pretension to androgyny; Sandra has short, pageboy hair. As we discover, she does not keep her sexuality in check.
Sandra is not alone contending with the living arrangements for her father. Her mother, Françoise (Nicole Garcia, a director in her own right) also has an interest, when not describing her own acts of civil disobedience. She is of an age where she can contest business's role in producing a climate crisis without having to worry about the impact on her family. She later describes how she was arrested on her way to a protest but was released after four hours. While Hansen-Løve is not directly concerned with environmental issues, she portrays a world in which they are discussed. People debate the issue at dinner parties in the way they used to argue about politics or philosophy; scientists are undoubtedly the new artists. Françoise provides welcome comic relief, describing herself as voting for Macron yet protesting against him. 'There wasn't much of a choice,' she pleads.
After visiting Clément at work, it isn't long before Sandra is slammed against a wall by him in a passionate 'I cannot keep my hands off you' kind of way. Un Beau Matin is a very frisky movie. Sandra's desire coincides with the sensory departure of the other man in her life. At one point, Sandra asks her father whether her hair is long or short. 'Long,' Georg replies incorrectly. Packing his books into crates, Sandra remarks that Georg's library gives a better account of him as a person than the physical man; his library expresses his passions and interests. Françoise, who spent twenty years with Georg before leaving him, baulks at this.
Georg's removal from his apartment is a crowded affair. Two ambulance men prepare to carry him downstairs in a wheelchair. Sandra and her mother are present. Walking into another room, Sandra bursts into tears. The family waits in the hospital to ensure Georg is settled. Sandra goes to see him. Georg asks for Leïla. During discussions with Françoise, the question of a suitable nursing home is raised. Some have year-long waiting lists. Others are outside Paris. Others still are 'cash-cows'. Georg's pension won't cover the fees. Then there is the question of Georg's library. In the park, Sandra is recognised by one of her father's former students, Esther (Elsa Guedj). She asks if she can get in touch with him. Knowing her father cannot read emails, Sandra offers Esther her email address. 'Write to me and I'll read it to him.' Having provided this information, Sandra is overwhelmed with emotion. However, Esther and one of her friends relieves Sandra of some of his library. 'You'd better be quick,' Françoise tells them. 'My daughter already has the best ones.'
Having spent the night with Clément, Sandra threatens to keep him in her bedroom. Clément prefers to go out. They visit the Musée de l'Orangerie, which has a huge 22-panelled mural of Water Lilies by Claude Monet. Afterwards, they chase each other in the maze-like garden, Sandra losing Clément and then being surprised by him. Paris is romantic. Who knew?
Georg and Sandra have an awkward conversation. The suggestion is that Sandra somehow put him to sleep – by implication, facilitating an assisted death. The topic lingers. Georg backtracks. Sandra asks Clément if he would put her to sleep if she contracted Benson's. Clément responds by asking if she would end his life in similar circumstances. However, they have more immediate worries. First, Georg is transferred from the hospital to a nursing home. Second, Sandra doesn't want to be Clément's mistress.
What say does Linn have? She likes Clément. At one point, she jumps into her mother's bedroom, only to find Clément 'hidden' behind her mother. Clément buys Linn a miniature cardboard house with solar panels on it. If Linn keeps it in the sun, it will act as a light in the dark. However, Clément has his own family. He leaves Sandra, then finds he cannot be without her.
Hansen-Løve fills the nursing home scenes with genuinely old, frail looking individuals. There is another running joke in which old people keep wandering into Georg's room – Sandra has to keep them out. She introduces Clément to him. We also meet Linn's great grandmother. When she is told by her mother that she will be visiting her great grandmother and her grandfather in an early scene, Linn pulls a face. 'You can't do this to me.' She draws a picture for Grandfather Georg but of course he cannot see it. Nevertheless, he thanks her.
Sandra puts on a piece of music by Franz Schubert (Sonata Number 20 in A Major, D.959) for Georg that we hear throughout the film. He is disturbed by it. 'Should I put on some jazz?' asks Sandra, horrified by her father's change of mood. 'No,' he replies. Later, towards the end of the film, he joins other residents in a second nursing home (much nicer, near Montmartre) for a group performance of 'Mon amant de Saint Jean'. Georg, Clément, and Finn sing along. Sandra cannot. She leads Clément and Finn outside. They climb some stairs that lead to the top of Montmartre. Clément asks Finn to name the recognisable landmarks. Finn points out the Eiffel and Montparnasse Towers but then struggles. 'St Vincent de Paul', suggests Clément. By this point, the on-off relationship between Clément and Sandra is resolved.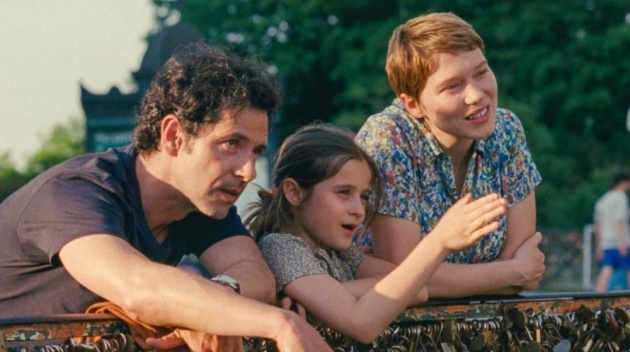 Pictured: 'Which parts of Paris do you recognise?' Clément (Melvil Poupaud) quizzes Linn (Camille Leban Martins) with her mother Sandra (Léa Seydoux) in attendance in a scene from the French family drama, 'Un Beau Matin', written and directed by Mia Hansen-Løve. Still courtesy of Les Films du Losange (France) / Mubi (UK)
The high point of the film comes a little earlier, with Finn and her cousins asked to stand behind a curtained glass door whilst Père Noël (Santa Claus to you) visits. The adults them act out all of the commotion of Santa's arrival, the consumption of food and his departure, as presents are placed under the tree. The children are then released to see what has been left for them. It is an excessively charming moment offsetting the grim nature of Georg's isolation. He will never again take part in such a joyous charade.
Sandra never has to choose to be the other woman. That choice is made for her. Clément's wife throws him out after he confessed his betrayal. At no point is Sandra asked to stay away from her husband. She is however overcome with emotion during one of her interpreting assignments, asking the speaker to repeat himself and apologising for doing so.
Hansen-Løve's view that loving relationships will get you through the most violent emotional turmoil makes for an uplifting rather than depressing one hour and fifty-two-minute film. Add to this the Austrian and French cultural references and you have a spectacle that flatters its financiers. For every scene that veers towards the kitsch, there is another in which we are told that there is suicide in Sandra's family. Sandra's distress never disappears, but it is bearable when she is among the people she loves.
Reviewed at London Film Festival, BFI South Bank, Waterloo, London, Thursday 13 October 2022, 20:40 screening