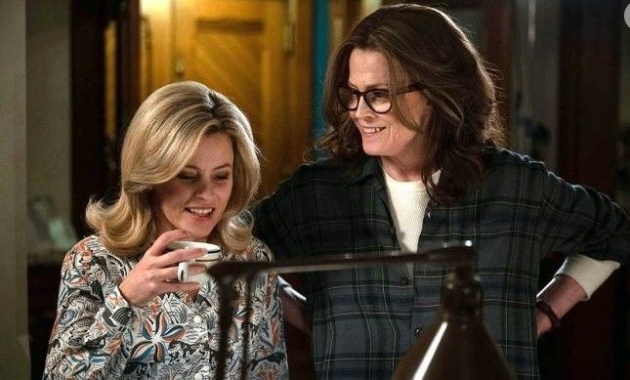 Pictured: 'You really do make a fine cup of coffee.' Joy Griffin (Elizabeth Banks) receives post-service care from activist Virginia (Sigourney Weaver) in a scene from the 1960s set US- abortion drama, 'Call Jane', directed by Phyllis Nagy. Still courtesy of Roadside Attractions (US) / Vertigo Releasing (UK)
Lately, I've been sensitised to a new genre, 'abortion porn' - films that focus on women's distress as they attempt to rid themselves of unwanted pregnancies. Andrew Dominik's recent Marilyn Monroe drama, Blonde, took this to sickening effect. Other films that attract this descriptor include Audrey Diwan's L'Événement and Eliza Hittman's Never Rarely Sometimes Always. The phrase 'unwanted pregnancies' strikes me as too polite, likening the process of neutralizing the aftermath of rape to exchanging a pair of shoes. I propose the term, 'invasive pregnancies' – pregnancies resulting from enforced sex or that could seriously harm the life of the mother. An accepted change of terminology could, over time, change people's minds over the issue, in the year that the 'Roe vs Wade' judgment has been overturned. The 1960s set drama, Call Jane, directed by Phyllis Nagy from a screenplay by Hayley Schore and Roshan Sethi (writers on the medical series, The Resident), is only partly 'abortion porn'. It is a fiction inspired by the work of the real-life Abortion Counselling Service of Women's Liberation located in Chicago. Joy Griffin (Elizabeth Banks) avails herself of the service as a last-last resort after spurning a backstreet abortionist and having been denied a legal termination by an all-white, all-male medical panel.
In the first half of the film, Joy is in every scene – a maxed-up (or Max Factored up) principal viewpoint character. We are introduced to her from behind, cinematographer Greta Zozula tracking her intricately bobbed hair as she leaves the Women's Room, descends a flight of stairs, passes a room full of partying lawyers and heads for the front of the venue. She finds herself standing behind a police line as a crowd of protestors – so-called 'Yippies' - can be heard approaching, shouting 'The world is watching'. We don't know their cause – police brutality, Vietnam, African American rights – but it hardly matters. The world might be watching, but Joy isn't, advised to retreat back inside the venue. A protestor is spread eagled against the opaque glass door, causing her to shudder.
Her lawyer husband, Will (Chris Messina), recently made partner, takes her home. We note how he obeys the solicitous convention of the time – driving, parking the car, getting out, opening the passenger door to offer his hand before she steps out of the vehicle. She calls on a neighbour, Lana (Kate Mara) who is teen-sitting Joy's fifteen-year-old daughter, Charlotte (Grace Edwards). They are watching the TV show, Green Acres, starring Eddie Albert and Eva Gabor as a New York couple who move to a country farm. The show is helpfully explained to Joy without the need to show a clip. Green Acres is a world away from the turbulent 1960s. Later, Joy will reveal that she would have voted for Hubert Humphrey only she forgot; an understandable lapse, since no one remembers Hubert Humphrey. 'You're a Democrat!' shrieks Lana in disbelief as she refills Joy's glass with gin. Lana (of course) voted for Richard Nixon.
'Is it any good?' Joy asks Lana, who is reading Sue Kaufman's novel, 'Diary of a Mad Housewife', later turned into a film starring Richard Benjamin and Carrie Snodgress. Lana offers a synopsis. It is clear that Joy is posited as an alternative to Kaufman's belittled and loveless housewife who chooses medication, infidelity, and group therapy to little effect. Joy chooses the women's movement – not something that a 1970s film would showcase.
'Those protestors were Charlie's age,' Joy remarks to Will, looking at herself in the bedroom mirror. Yet their daughter isn't the radical type. Nevertheless, Charlotte has a poster of Jimi Hendrix on her bedroom wall and a plastic model of Snoopy (if you don't recognise one '60s icon, you're sure to know another). Charlotte has a well-stocked record collection. Joy, who is revealed to be pregnant, dances round the kitchen to a Velvet Underground song. 'No one dances to the Velvet Underground in the kitchen,' remarks Charlotte before joining in. Joy is giddy with pleasure, then collapses. Cue the reverse of a needle drop as Will rushes down a hospital corridor to be greeted by his daughter.
It is then that we learn that Joy's pregnancy places her life in danger. Joy appears in the centre of the frame, Will and the medical consultant on either side in the background. Her only option is termination, but this requires Hospital Board approval. You know how that goes. 'I'm here, you know,' Joy protests in vain. Of course the doctors aren't going to rule in her favour. They only care about the baby not the mother and if there's a slim chance that they could both survive, well, let's take it. 'The Board has only authorised one termination before.' Did her doctor know that? He did, apparently. Joy is however given some advice. If she gets two psychiatrists to pronounce her suicidal then a termination will be allowed. However, Joy is insufficiently convincing, even as she is told what is required to kill herself using a shotgun under her jaw. (One UK cinema chain billed the film as a 'comedy drama' and I could see how they might arrive at that conclusion.) She is also advised to throw herself down a flight of stairs. We see her hover at the top step, summoning the courage to fall forward. She then slips and grabs the handrail. Will and Charlotte rush out. 'It's all right,' she tells them, half-cheerfully, 'I didn't do it'.
The receptionist of one psychiatrist slips her a number. Here, we approach 'abortion porn' as Joy fakes her husband's signature and cashes a cheque for $100 – the camera panning to follow a clerk as he takes the cheque away and consults a colleague before returning to give Joy an envelope. 'You want me to count it?' she is asked. 'I'm sure it's all there,' Joy replies. She then enters a dingy building watched by a man outside, who casts a scolding glance – we guess he sees many women enter that building; it's a hobby for him. The camera pans from Joy's face to a group of anxious looking women, to a door cracking open and a beckoning finger, before the camera pans back to Joy. She bolts, clutching the envelope full of money to her chest. The man outside watches her. We guess he has seen a lot of women flee in disgust. Just then it rains. The camera follows Joy as she holds her petite handbag over her head in a vain attempt to shelter from the downpour. She arrives at a lamppost, and we see the number for 'Call Jane'. (555 0144, if I remember rightly.)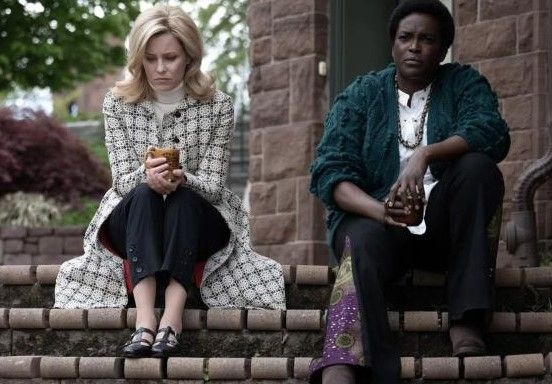 Pictured: Step change. Joy (Elizabeth Banks) and Gwen (Wunmi Mosaku) in a scene from the 1960s-set abortion drama, 'Call Jane', written by Hayley Schore and Roshan Sethi and directed by Phyllis Nagy. Still courtesy of Roadside Attractions (US) / Vertigo Releasing (UK)
The real advert reads: 'Pregnant? Don't want to be? Call Jane.' Nagy and her collaborators approximate this. Cue two nervous phone calls to 'the service'. Joy is told where to go. An African American woman, Gwen (Wunmi Mosaku) collects her. 'Are you Jane?' Joy asks as she opens the back door. 'This isn't a taxi service', Gwen tells her. 'You sit in the front.' Then, surprisingly, Joy is advised to wear a blindfold. You'd think that a black woman driving a white woman wearing a blindfold might attract attention. I started to doubt the film's veracity. At any rate, Joy makes her way inside another building where she is taken to an elevator, one of those slam gate, pull-open numbers that you see in warehouses and edgy crime thrillers. (Abortion is a crime; this is edgy.) 'You can take off the blindfold and hand over the money,' Joy is instructed. She complies. 'It's all there,' she tells Gwen. 'I know,' Gwen replies, counting the notes. Joy is then shown into the operating room. She waits for the longest time, starting to look at the instruments that will be used on her and the chemical to be injected into her. She then straightens the sheet on which she will lie. Doctor Dean (Cory Michael Smith) catches her. 'Don't do that,' he tells her. 'We have someone who does that.' In this scene – the film's highlight – Nagy achieves real-time tension, Joy's anxiety barely eased by her clinician's bedside manner. She changes into a white smock behind a white screen, lies down and is talked through each step of the procedure, the initial examination, the insertion of a device and so on. She is instructed to hold her breath and breath out and on no account make a sound, a line we recall from other abortion dramas like Vera Drake.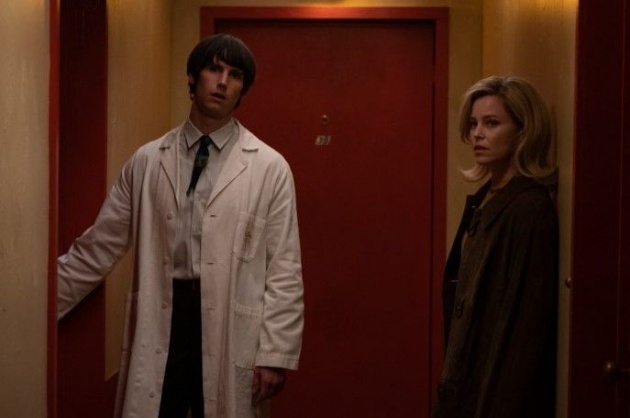 Pictured: 'You've heard of the red room, right?' Doctor Dean (Cory Michael Smith) shows Joy (Elizabeth Banks) the door in a scene from the abortion drama, 'Call Jane', written by Hayley Schore and Roshan Sethi and directed by Phyllis Nagy. Still courtesy of Roadside Attractions (US) / Vertigo Releasing (UK)
Afterwards, Joy is shown into a communal room where she is introduced to Virginia (Sigourney Weaver, with a shock of black hair) who offers her a cup of coffee and something to eat. One of the women is playing a word game. 'Let's ask the new girl. Hey, Joy, is 'hoaxy' a word?' Hooey certainly is. Joy replies in the negative. She thinks she can leave straight away, but Virginia advises her otherwise. 'Being pregnant means you have a lot of hormones. These make you happy. You've just lost your hormones. Your mood will change.' Virginia, a moderately radical feminist, who relies on men – the mob for protection, Doctor Dean for his surgical skills – is a tough-love den mother. In other words, a perfect role for Sigourney Weaver. Her low voice and clear diction – Weaver's the daughter of a newsreader – hasn't changed in forty years since she faced a Xenomorph in Alien. What Weaver lacks in range she compensates for in authority. She is convincing as the most tenacious person in the room, the sort who tells you to take the rest offered and then beat it. Banks and Weaver are cheese and sheet metal. They are the double act we never thought imaginable.
At this point, we are halfway through the film. Nagy and her screenwriters then offer a very surprising second act, one that tests credulity. It hinges on the Service's after-care programme, which involves Joy being asks to be the designated driver for another woman seeking an abortion (filling in for Gwen). This turns in to Joy accounting for her behaviour by saying she's at art class.
'When am I going to see your pictures?' asks Charlotte. 'They're not very good,' replies Joy. Nevertheless, she thanks her daughter for making her seem like Picasso.
The second half of the film features scenes that aren't always from Joy's point of view, including discussions about the women who cannot afford the service and, in particular, the black women who cannot pay for abortions. Gwen looks at Virginia accusingly. 'We marched together in Memphis,' Virginia pleads. This moment, in which race and justice are discussed, is the film's edgiest moment. The Collective deals with the dilemma by getting Dean to perform ten abortions at the chargeable rate and two for free – provided that Dean can see Virginia without her blouse on. 'Are you wearing a bra?' he asks her. 'No,' replies Virginia. This scene is super awkward and stems from a game of strip poker. Weaver is over sixty years old. Not all sixty-year-olds look like Tom Cruise. There is a comedy pay-off but that doesn't excuse something akin to audience embarrassment, that young Dean would make such a demand of an older woman. (Maybe I should rest and then get out.)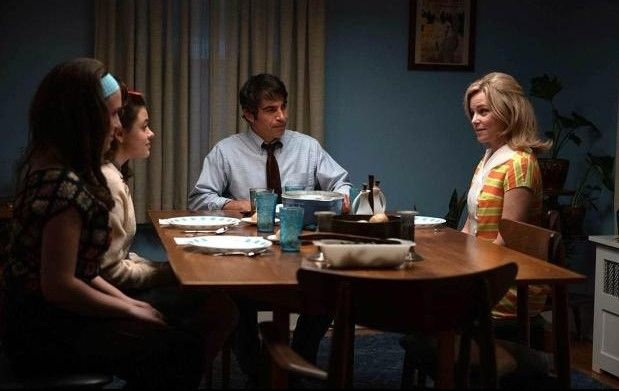 Pictured: Love in the time of frozen meat loaf. Dinner time with the Griffins (Chris Messina, Elizabeth Banks and Grace Edwards) in a scene from 'Call Jane', written by Hayley Schore and Roshan Sethi and directed by Phyllis Nagy. Still courtesy of Roadside Attractions (US) / Vertigo Releasing (UK)
In the second half of the film, Joy makes use of a stolen medical textbook and makes a discovery at the library. Tellingly, we see a row of portraits of elderly so-called distinguished men – no women. Joy stares at the list of graduates. Meanwhile Will complains of having heated meatloaf three times a week. She surprises him in his office with a hot sandwich, innuendo intended.
Given the secrecy of her first encounter with Jane's Abortion Service, Joy makes a surprising mistake that leads to discovery. 'I thought you having an affair,' she is told, before the individual adds, 'I wish you were.' There is a surprising – and confusing – visit by Detective Chilmark (John Magaro), who describes how she was contacted by a woman refused by the Jane service. This prompts Will to exclaim, 'I don't know my wife anymore.'
Is there a happy ending? Here's a hint: Joy's husband is a lawyer. The film leaps forward to 1973 – the year of the landmark (now over-turned) 'Roe vs Wade' ruling. There are some questionable behaviours that aren't addressed. One woman turns up for a second abortion. She is being abused by her manager at work. Yet the Abortion Counselling Service can do nothing about this. We see multiple abortions being performed but, even after a change in the charging policy, none on black women. There is a discussion on who is the most deserving of an abortion. Should it just be women who have been raped? The film has a singular narrative strand that struggles to respond to the moral issues raised. At least the filmmakers acknowledge those issues; reality isn't entirely sugar-coated.
Towards the end of the film, widowed Lana brings over some food for Will and Charlotte. There's a conversation about whether the best crockery should be used. 'Yes,' concludes Will. Charlotte is asked to bring it from the dining room. We sense that Lana might be making a move on Will. The last time I saw Kate Mara, she played a woman having an affair with Elliot Page in My Days of Mercy. Lana going for Will didn't seem right. This is one film in which a fleeting error of judgment is forgiven by all concerned.
Although paying tribute to a Secret Service whose existence is as necessary now as it was in the 1960s, Call Jane feels somewhat out of time, the lighter scenes not really reflecting current reality. The ending looks to other struggles, but men still continue to assert control over women's bodies and their reproductive rights. The struggle to allow women to decide how to deal with invasive pregnancies continues.
Reviewed at Cineworld Dover, Screen Five, Southeast England, Saturday 5 November 2022, 13:30 screening