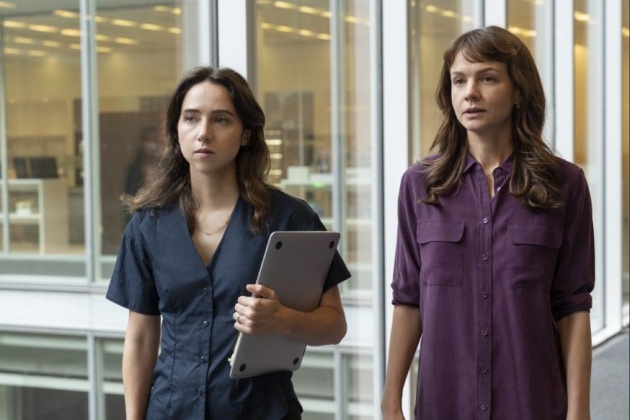 Pictured: Investigating the truth with a MacBook, New York Times reporters Jodi Kantor (Zoe Kazan) and Megan Twohey (Carey Mulligan) in the fact-based drama, 'She Said', written by Rebecca Lenkiewicz and directed by Maria Schrader. Still courtesy of Universal Pictures
One week on from its less-than-stellar opening in the United States ($2.2m three-day gross from 2,022 screens, 18-20 November), a consideration of the film She Said, adapted from Megan Twohey and Jodi Kantor's New York Times investigation by Rebecca Lenkiewicz and directed by Maria Schrader, is less of a review and more of a post-mortem. How did a drama about the disclosure of Hollywood producer Harvey Weinstein's sexual predatory behaviour from the 1990s to the 2010s become something that mainstream audiences did not want to watch? Moreover, did Hollywood want it to fail?
There is barely a Hollywood movie studio that hasn't been touched by allegations of sexual discrimination and harassment – even Disney, or more accurately Pixar. The movie business in which participants trade on their looks and their reputation is a ripe playground for exploitative movie executives who can break careers as much as make them. Even before the scandal broke, Harvey Weinstein was as famous as any director or actor in Hollywood, well-known for his ruthless and lavish Academy Award campaigns – successes included Pulp Fiction, The English Patient, Good Will Hunting, Shakespeare in Love, The Artist, and many others. The Academy Awards gave him a respectability that cloaked his compulsion to demand favours of women around him; financial success gave the means to silence those he abused.
The film She Said is emphatically not about the enablers – the Hollywood suits – who allowed Weinstein to cover up his abuse for twenty-five years. It's about a single takedown. Up until 2017, no producer had ever been held to account in the way Weinstein has. It was possible owing to a groundswell of activism from women, a desire to be heard.
She Said doesn't explore the moment that led to the exposure of Weinstein, but undoubtedly Donald Trump's triumph at the 2016 Presidential election played a part. Although Hillary Clinton had won the popular vote, Donald Trump got most votes through the caucus system. America was denied its first woman president. Moreover, the President was a misogynistic liar with scandals of his own, who rode a wave of so-called populism, appealing to voters' baser instincts to demonize others, at the same time exploiting his base. Trump is no longer in power, but the legacy of populism remains. The fear of a populist backlash has led to some very questionable decisions in Joe Biden's Presidency as well as contributing to the relative impotence of opposition in the United Kingdom, especially in mainstream media. At time of writing and for the past few years, the British Broadcasting Corporation has been a source of national embarrassment, allowing more space for right-wing views than liberal, humanist ones, willingly participating in fearmongering on behalf of the governing Conservative party.
The filmmakers behind She Said have looked to the film All the President's Men for inspiration. The integrity of the press is a given. She Said focuses almost entirely on the efforts to get women to talk, or more specifically, to go on the record. Many of the women fear that no difference will be made, that the testimony will more likely harm themselves. All the President's Men cast Robert Redford and Dustin Hoffman – charismatic heartthrob and nervy method actor respectively – as Bob Woodward and Carl Bernstein. She Said features the indie-movie pairing of Carey Mulligan and Zoe Kazan as Megan Twohey and Jodi Kantor. The absence of star names might have been a contributing factor to the moviegoing public's indifference. If Kazan had been replaced by Anna Kendrick, audience interest might have been piqued.
Redford and Hoffman put themselves entirely at the service of the story – the investigation into the break in at Democratic Party offices at the Watergate Building in Washington DC that led all the way to the White House. She Said was also made only a few years after the events it depicts. The difference in reception couldn't be starker. Audiences had not seen a film quite like All the President's Men. She Said could have just as easily been a cable television series.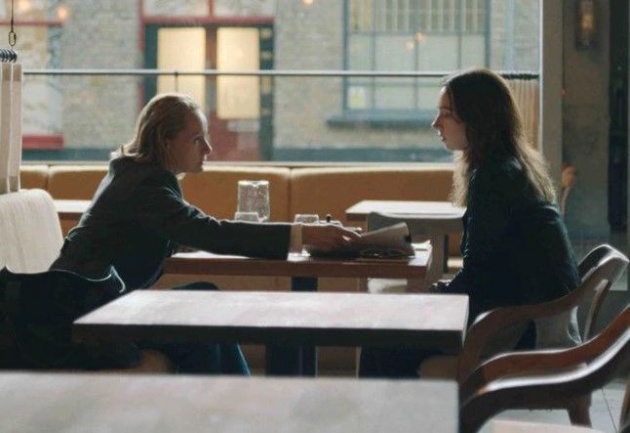 Pictured: 'Use them.' Zelda Perkins (Samantha Morton) hands over her non-disclosure agreement to Reporter Jodi Kantor (Zoe Kazan) in the fact-based drama, 'She Said', written by Rebecca Lenkiewicz and directed by Maria Schrader. Still courtesy of Universal Pictures
This is not to say that She Said isn't compelling. It is extremely well-paced and features testimony that is raw and visceral. Samantha Morton only has one scene as Zelda Perkins, Weinstein's former Personal Assistant, but she brings authenticity and power to the role. Jennifer Ehle conveys similar gravitas as Laura Madden, who as a young woman got a job as a runner on a Harvey Weinstein production and shamefully succumbed to his demands. At the time Madden is contacted, she is preparing for a mastectomy, comforted by her daughters. Both women – English and Irish respectively – take a great risk in providing documentation and testimony – Zelda talks about having 'visitation rights' on her settlement with Weinstein. It is a risk that their American counterparts – one big name aside – won't take.
Much of She Said deals with personal shame, with some of the women (incorrectly) blaming themselves for what happened to them. However, the film also incorporates real testimony. Gwyneth Paltrow speaks her own lines on telephone calls and Ashley Judd plays herself. When Judd appears, the film transcends drama. We look at her and consider the career she might have enjoyed had Weinstein not prevented her from being cast; the film also features a visual homage to one of Judd's most successful films, the pulpy thriller, Double Jeopardy, when the actress is seen running through a forest. In Double Jeopardy, Judd's character spends most of the movie on the run.
The supporting cast – Patricia Clarkson as Jodi and Megan's editor, Rebecca Corbett, and Andre Braugher as the New York Times' Executive Editor, Dean Baquet – are better known than the principals. Clarkson has very little screen time, but is there to say, 'we'll publish'. Braugher is utterly convincing as an editor who stands up to Weinstein and who has very little time for him. 'We'll give him two days to respond,' he says when the story is almost ready to publish, not the two weeks that Weinstein demands.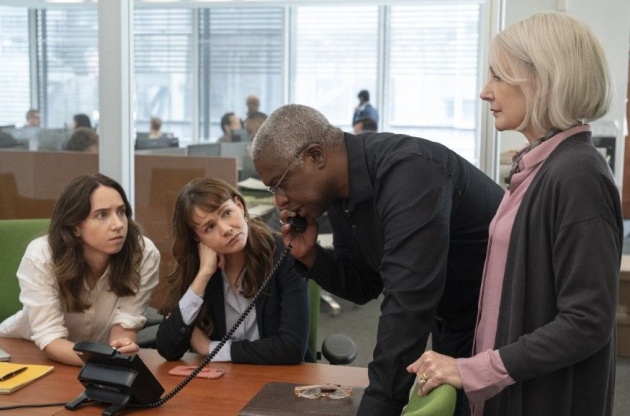 Pictured: 'No, we are not quoting Gwyneth Paltrow.' Dean Paquet (Andre Braugher) on the phone to Harvey Weinstein watched by Jodi Kantor (Zoe Kazan, left), Megan Twohey (Carey Mulligan) and Rebecca Corbett (Patricia Clarkson, right) in a scene from 'She Said', directed by Maria Schrader. Still courtesy of Universal Pictures
She Said ought to feel triumphant. However, there is no victory in speaking out and holding abusers to account. You have to change the culture of abuse, of sexual harassment. 'Me Too', a phrase never mentioned in the film but inspired by the Weinstein revelations, has led to some change, but there is a danger that underlying attitudes haven't shifted; that male movie producers and others in positions of authority are finding other, insidious methods to abuse their power.
Aside from the use of Paltrow and Judd, there is no tricksiness in Maria Schrader's direction. The film couldn't be more different from her last film, I'm Your Man, in which Dan Stevens played a robot. We are introduced to Megan and Jodi separately. Megan is working on a story about Donald Trump; Jodi about Bill O'Reilly, the latter going so far as to ask Jodi if she is a feminist and to broadcast that question on air. In spite of Megan's story, Trump became President. Jodi was far more successful, with O'Reilly leaving Fox TV. Megan then gives birth, returning to work on the Weinstein story. She is ambivalent about resuming her career, but Jodi is encouraging, revealing that after the birth of her daughter, she suffered post partem depression.
'How do you get women to go on the record?' Jodi asks her colleague, somewhat in awe. 'I tell them, we cannot change things for you, but we can save other women,' Megan replies. There are few moments of sparky interaction between the two reporters, though Jodi insists on being the more reassuring of the two owing to her height – Megan is taller than her.
There is the obligatory threatening phone call to Megan following the Trump story. Later, a car appears to follow Jodi. For the most part, the film dispenses with thriller tropes. One of the lighter moments features Jodi attempting to charter a flight from London to Cornwall. 'People usually travel by train,' a receptionist tells her. Jodi torturously mispronounces Newquay, which is funny only to an English audience.
Ultimately, only with male help does the story fly. The women are able to confirm that there were at least 'eight to twelve' payoffs – non-disclosure agreements and sums of up to $1 million paid to women. 'Eight to twelve' is confirmed by one source with a measured tone – the first suggestion is 'forty' – as if twelve is a low estimate.
The women are also supported by their husbands, who only occasionally bridle about their cooking and child-care responsibilities. Jodi's young daughter, Talia (Dalya Knapp) asks her about her story: 'is it about rape?' 'You're not supposed to know that word,' replies Jodi. 'Kids use it at school,' replies Talia. At this moment, the film reaches outside its investigation to discuss pervasive sexualising discourse. The film also features scenes in Hong Kong, with Rowena Chiu (Angela Yeoh), one of Weinstein's victims who went back to work for him, experiencing social isolation.
Mostly set in New York, She Said offers the occasional curveball, with young Laura Madden (Lola Petticrew) spotting a 17th Century sailing vessel at her local beach. She gets a job on the film but is next scene running down a street in tears. This scene is partially invented; Laura's experience occurred during the filming of Into the West, which did not feature such a vessel. The point of the scene is to show filmmaking as magical, so the invention can be forgiven.
One explanation as to why All the President's Men succeeded and why She Said has flopped is the internet. We are all too familiar with Weinstein's story. For the most part, the film isn't showing us something we haven't already seen. At the screening I attended – and there weren't many of us – the audience was predominantly male. For women, this isn't entertainment; it may even be triggering. She Said is simply too soon. Some distance might have made the film more relevant. That said, the scene in Megan fends off some unwelcome attention with a defiant expletive is entertaining in any era. As for whether Hollywood wanted the film to fail, one suspects the answer is 'yes'. No one will attempt to make a commercial film about the takedowns of other producers and executives if there is no box office.
Reviewed at Cineworld Dover (Kent), Screen Two, 16:50 screening, Saturday 26 November 2022