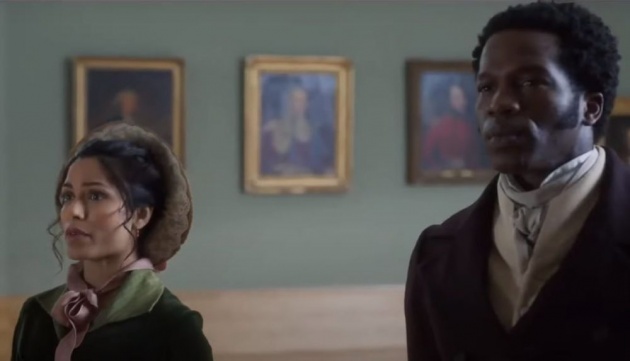 Pictured: 'Tell me, Miss Dalton, what is your opinion of the Corn Laws?' Selina Dalton (Freida Pinto) is tested by the exacting wealthy landowner, Jeremy Malcolm (Ṣọpẹ́ Dìrísù) in the Regency romantic comedy, 'Mr. Malcolm's List', adapted by Suzanne Allain from her 2010 novel and directed by Emma Holly Jones. Still courtesy of Bleeker Street (US) / Vertigo Releasing (UK)
Some call it 'colour blind' casting. The late Peter Brook preferred the term 'colour rich'. This is the selection of actors of different ethnicities to play roles that according to the setting would have gone to white Europeans. British-born, Los Angeles-based director Emma Holly Jones has opted for the 'colour rich' approach in her feature debut, Mr. Malcolm's List, screenwriter Suzanne Allain's adaptation of her 2010 Regency-era novel. Jones filmed a short, Mr. Malcolm's List: Overture with many of the same cast, but also Gemma Chan, in 2019 to prove the concept. The resultant feature benefits to some extent from its multi-ethnic cast but suffers from a fatal absence of chemistry between its leads. Did I wish for vicar's daughter Selina Dalton (Freida Pinto) to win the heart of wealthy bachelor Jeremy Malcolm (Ṣọpẹ́ Dìrísù)? No, reader, I did not.
Set principally in 1818, after the defeat of Napoleon, it stars Zawe Ashton as eligible London bachelorette, Julia Thistlethwaite, who after a single trip to the opera with the aforementioned Mr Malcolm, is the object of ridicule in a popular cartoon, in which Mr Malcolm is shown seated with Julia calling 'Next!' Julia, or I should say Miss Thistlethwaite – everyone else calls her – seeks revenge and calls upon the service of her poorer childhood friend, the aforementioned Selina Dalton, to visit her in London to play a part in Mr Malcolm's humiliation. Jeremy has a list of attributes that women must exhibit as a potential wife, along the lines of being an amiable and intelligent conversationalist, forgiving in nature, in possession of musical accomplishments and lacking in frightful relations. Not that Jeremy has these attributes himself, but he is (as the expression goes) in possession of a fortune, which wipes out any requirement to be nice. Julia learns that she failed the conversation test after her cousin, Lord Cassidy (Oliver Jackson-Cohen) discusses her with Jeremy and catches sight of the list. Julia's plan is to have Jeremy fall for Selina then, at the moment he is lovestruck, for Selina to present her own list of requirements that he has failed to meet. Assuming Jeremy to be perfectly rotten, the newly unemployed Selina submits herself to Julia's plan. She has some self-respect, having turned down wealthy (but much too old for her) landowner, Mr Woodbury (Gerry O'Brien) who visits her while her clergyman father is out and who ignores the cup of tea in Selina's hand to press his point. Mr Woodbury ends up being shown an open door and charging furiously through a gaggle of geese.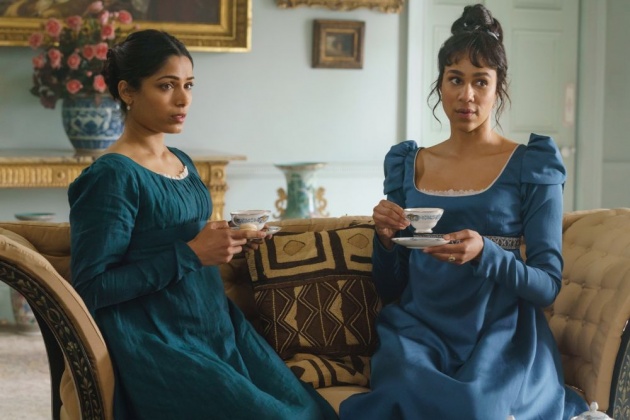 Pictured: Vicar's daughter Selina (Freida Pinto) shares a cup of tea with her childhood friend, Julia Thistlethwaite (Zawe Ashton) in the Regency era rom-com, 'Mr. Malcolm's List', adapted by Suzanne Allain from her 2010 novel and directed by Emma Holly Jones. Still courtesy of Bleeker Street (US) / Vertigo Releasing (UK)
If Selina was as discerning of women as she is of men, she would have told Julia where to stick her plan and stayed with her parents. After all, Julia is quite dismissive of Selina's letters ('oh, she has turned down Mr Woodbury again'). The pair were fast friends at Miss Finch's school for girls, but Julia is more concerned at her failure to secure a husband after four seasons (not to be confused with the hotel chain or Vivaldi's music) than her friend's loss of employment as former companion to the late Lady Ossory.
As a counterpoint to the goings on, Jones points her camera at Julia's servant, John (Divian Ladwa) whose silent rolling of eyes at Julia's stupidity cues us to laugh. (Reader, we resist.) When John is despatched to purchase all the copies of the cartoon on sale, he is invited into a carriage. 'I've never been in here before,' he remarks, passing Julia a huge pile. 'Is that all?' asks Julia frantically. 'All that were for sale.' John points to a copy of a cartoon in a shop window. Julia isn't going to escape her humiliation in a hurry, though if she had any perspective, today's cartoon is used to scoop up tomorrow's horse manure. (Jones is not in the least interested in Regency waste management.)
John is despatched to the club where Lord Cassidy gambles and is unexpectedly offered a drink at the top of the stairs before he enters the room, as if he is of some importance. He delivers his message prompting Lord Cassidy to seek out Mr Malcolm.
Selina's unprepossessing nature gives Pinto (best known for her role in Slumdog Millionaire) little to play. She submits herself to schooling from Lord Cassidy, ensuring that she knows something about the Corn Laws. By the time she is positioned to meet Mr Malcolm at a party, she is dressed in fine attire and instructed to remain in the orangery. There she unexpectedly meets him as he reflects on his disenchantment with luck. Selina quotes Samuel Johnson back at him and Mr Malcolm's spirits are, as the saying goes, revived. If she had quoted Samuel L. Jackson at him, that would have sent away at speed.
At least part of the problem with the film is the inability of Allain and Jones to address Julia's ignorance. At the opera, when told she is watching Rossini, she asks 'which one is he?' She remarks 'why are there so many foreign operas? We are in England, after all.' She further believes that the Corn Laws are related to diet. These don't land as zingers because Ashton looks like a fish out of water. The colour rich casting diffuses any desire to laugh at her. Rather, we imagine Julia as unschooled in art and politics. When Selina tells her that Bath is quite the destination for septuagenarians, Julia makes a remark about foreigners. The joke falls flat here as well.
What the colour rich casting allows is for us to desire an end to Julia's pretence. She clearly tries too hard. The screenplay makes it clear that when she relaxes, she is a much more intriguing companion, as when she displays a flair for pheasant shooting – a sequence that I confess made me cringe on account of its barbarism.
Allain and Jones acknowledge the conventions of Regency romances. There must be at least one ball, a scene at (gambling) tables, a horse market, afternoon tea, dinner, a trip to a picture gallery, a dress fitting, a rebuffed marriage proposal and a shoot. The budget didn't stretch to horse racing but, at the climax, a rider racers after a carriage. Oh, how painfully aware we are of the rider double.
After the orangery meeting, Jeremy and Selina are formally introduced, initially ruining Julia's plan to create an air of mystery about her friend. Lord Cassidy is especially pleased. Selina is invited to Dulwich Picture Gallery where fortunately art is not discussed. There Jeremy meets Captain Henry Ossory (Theo James), who, having returned from military service (though Napoleon was defeated three years prior) is seeking a place in town. Henry is wearing his military attire in a picture gallery which struck me as odd. Perhaps he was posing as a living portrait, stepping out from the frame to give elderly visitors a fright and perhaps accelerate their demise. Henry, who boasts a thick moustache I can only describe as suspect, as if his black cravat had leapt up from his neck to settle under his nose, declares that he knows Selina, who was until recently the constant companion of his late aunt. 'She spoke very highly of you,' explains Henry. I half-expected Selina to mutter, 'but not when she was drafting her will'. She responds inoffensively, 'she spoke very highly of you'. I half-expected Henry to mutter, 'but not when she was drafting his will'. Henry does not appear to need money. He does not make Jeremy feel guilty for avoiding the Napoleonic War either. The film doesn't touch difficult subjects, except the impossibility of servants to own their home. Even that is an aside.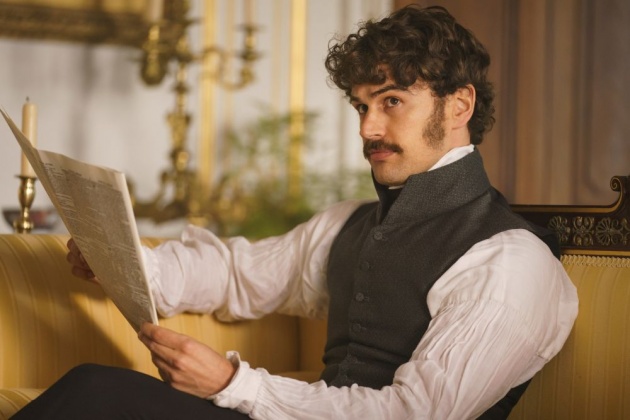 Pictured: Theo James models his moustache as Captain Henry Ossory in the Regency era rom-com, 'Mr. Malcolm's List', an adaptation of Suzanne Allain's 2010 novel directed by Emma Holly Jones. Still courtesy of Bleeker Street (US) / Vertigo Releasing (UK)
Before long Selina has a second suitor, who takes her for a turn around the water feature. 'My aunt desired that I should make a match with you,' Henry explains without a hint of flirtation. 'But how do you know?' asks Selina. 'She wrote, you should make a match with Selina,' Henry replies, straight-faced. This is perhaps the nearest the film comes to a zinger, but from the audience, there's nothing. The chemistry between Henry and Selina is non-existent, but wouldn't you believe it, they chance upon Jeremy.
Selina has plenty of opportunities to impress Mr Malcolm, though when she is at the piano, Lord Cassidy plays her notes for her. She has an opinion on laws affecting the church, which impresses him (an insert shot shows a quality on his list being ticked off). Henry spends some time with Julia and is impressed by her shooting, not requiring the advice, 'follow where the bird will be, not where it is.' Two dead birds later, we imagine Henry is secretly glad Julia didn't aim the rifle at him.
In one of the scenes that teeters on humour, Julia comfort-eats a large trifle and moves it away from Selina when she approaches it with a spoon. Julia is the sort of hostess who will offer Selina a macaron and then before Selina has taken a bite offer her a slice of cake. How many hands does she imagine Selina has? Does she think she is Saraswati?
Invited to Jeremy's mansion in Kent, Selina does indeed dress up as a god, Selene, at a masquerade ball; Lord Cassidy wears the attire of a Greek philosopher and finds that he much enjoys the breeze, the nearest the film gets to ribald humour. Before then Selina has impressed Jeremy by admitting that the giggly, grating woman introduced to Jeremy at the horse market, Gertie Covington (Ashley Park) is in fact her cousin and not Julia's – Julia is aware that Jeremy is judgmental of relations. Jeremy admires Selina's honesty.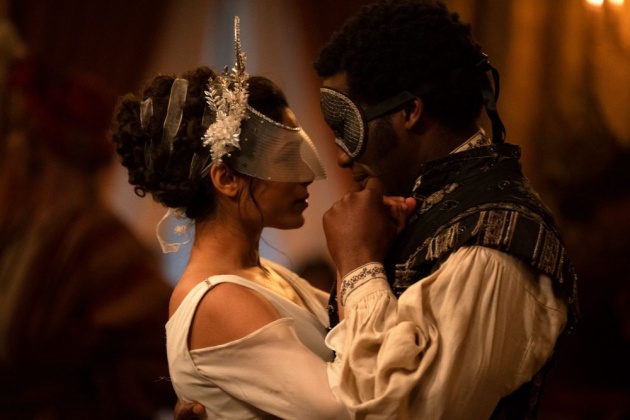 Pictured: 'I was not aware we had consented to appearing in a sequel to '365 Days''. Selena (Freida Pinto) and Jeremy (Ṣọpẹ́ Dìrísù) in a scene from the Regency rom-com, 'Mr. Malcolm's List', adapted by Suzanne Allain from her 2010 novel and directed by Emma Holly Jones. Still courtesy of Bleeker Street (US) / Vertigo Releasing (UK)
The pair do indeed dance at the ball, but then Selina is called away. Julia, also invited to the masquerade along with Henry Ossory and Selina's parents, arranges for Selina to be locked away while she (Julia) pretends to be Selina, handing Jeremy her list. (By this time, Selina wants no further part in the plan.) The result is Jeremy's wholesale rejection of Selina and Julia. Selina, angry with Julia, retires to her room. Julia is disappointed that her revenge has gone flat. Where is a trifle when one needs it?
Can happiness be restored? What harsh words will be spoken at the Rose Garden? Who was behind the notes given to both Jeremy and Selina?
Mr Malcolm's List is the sort of film when the title character stands on a woman's dress causing a rip just to be forgiven for his clumsiness and to tick off another virtue. I really felt for that blue dress. The film tootles along to a comic, twee score by Amelia Warner that cues the laughter that never arrives. The colour rich casting rarely enhances the film, except when Jeremy – full name Jeremiah – quotes a phrase from his homeland, the one acknowledgement of Africa. Aside from this moment, ethnic origin is not acknowledged. I wonder whether audiences from the Indian, Chinese, African and Caribbean diaspora will see themselves reflected in the film.
The production values afford some pleasure and there is a humorous series of cartoons over the end credits describing a bachelor party in France, a double wedding, double pregnancy and the footman inheriting a house (and marrying a maid). The intention appears to be to ignore the subjugation of the Colonies and imagine an integrated, pre-Victorian society. I call it a form of kitsch. There is in this flawed film the acknowledgement that English costume dramas are inherently problematic. Mr. Malcolm's List does not make us forget this.
Reviewed at Universal Pictures Preview Theatre London, Thursday 7 July 2022, and Cineworld Ashford, Kent, 14:00 screening, Saturday 27 August 2022 screening