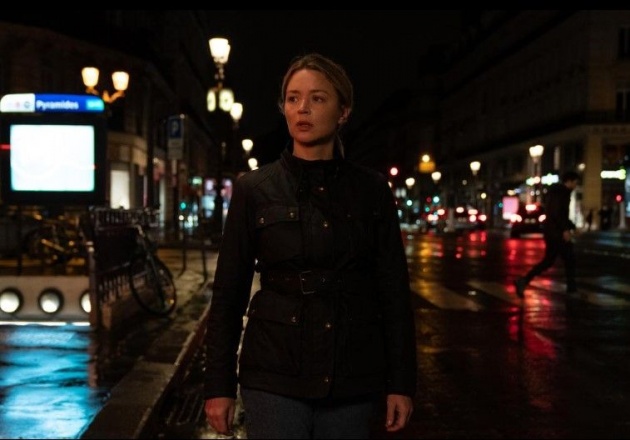 Pictured: The epitome of cool about to be shaken. Mia (Virginie Efira) in a scene from the terrorist attack-themed drama, 'Revoir Paris' ('Paris Memories'), co-written and directed by Alice Winocour. Still courtesy of Dharamsala – Darius Films – Pathé Films – France 3 Cinema (France) / Picture House (UK)
The traumatic effect of a terrorist attack is explored in French director Alice Winocour's fourth feature, Revoir Paris (Paris Memories). Co-written by Winocour, Jean-Stéphane Bron and Marcia Romano, the film stars Virginie Efira as Mia, a journalist turned translator, who having lost her appetite in one restaurant – her surgeon partner, Vincent (Grégoire Colin) having been unexpectedly called back to hospital ('my intern is swamped') – dines in another, L'Etoile D'Or ('Golden Star') – when, as she leaves, two women are gunned down in front of her by a terrorist, before more indiscriminate killing ensues. Mia survives but has lost some of her memory of the incident. Returning to the restaurant, she is accused by another traumatised survivor of locking herself in the bathroom and allowing others, unable to take cover, to be killed. Mia is determined to understand what she did that evening, even as it leads to the disintegration of her relationship and takes her into the world of undocumented workers and those not granted counselling.
Winocour has explored post-traumatic stress disorder before in her second film, Disorder. Clear-eyed and unsentimental, she is also no slouch in the action department. Playing to her strengths, Revoir Paris is inspired by the experience of her brother, who survived the attack on the Bataclan music venue in Paris on 13 November 2015, where Eagles of Death Metal were playing, that left at least 89 people killed and scores injured. Winocour does not recreate that attack, rather stages her fictional version inspired by the simultaneous attacks on the bar, Le Carillion and the nearby restaurant Le Petit Cambodge. Winocour doesn't associate her attack with supporters of Daesh (Islamic State). The attackers, bearing AK47 assault weapons, appear to be white and say nothing, killing mercilessly – Mia witnesses a mobile phone ringing and a man being shot.
Winocour is also not interested in the cause of the attack – growing Islamophobia, the blasphemous cartoons in Charlie Hebdo magazine and France's military commitment to the War on Daesh and counter terrorism efforts in general. In particular, she does not examine the relationship between freedom of expression and what some consider sacred. Her film is religiously agnostic. She is concerned with the experience of surviving an attack, divesting it from public outrage.
There have been some specific graphic responses in film and television to the attacks of 2015, including a series on Netflix. Winocour is interested in the personal. Specifically, the moments in which a crisis brings people together, the so-called diamond in trauma, the good thing that we take from it.
Revoir Paris begins portentously with the view outside Mia's apartment as Mia sweeps past, watering plants. The skyline is unremarkable - residential buildings of varying heights, with taller office buildings in the far distance. That Winocour focuses on an inactive space while music on the soundtrack (composed by Anna Von Hausswolff) hints at the approaching storm – and yes, there's rain later – makes us uneasy. In her kitchen, Mia opens a cupboard, and a glass falls out, shattering on the floor. Mia bends down to pick up shards with her hands, rather than sweeping them up into a dustpan. So far, so ever so slightly cliched. Her partner, Vincent pops in. With his surgeon hands, he has no desire to help out Mia. The intention of the scene is clear, to establish an atmosphere of edginess.
Wearing a black leather jacket, Mia zips through the Paris traffic riding a Triumph motorcycle – the epitome of cool. She parks outside Radio France and, striding with purposeful haste down an office corridor, arrives at a studio. A Russian theatre director is being interviewed. Mia translates his words and the questions asked of him. The piece he is directing is controversial. Is he worried? 'France is the country of liberation,' he replies. 'It can take it.' This is an oblique reference to the tremors caused by the Charlie Hebdo cartoons. As the drama plays out, we learn what 'taking it' really means.
Winocour incrementally increases our sense of dread. Mia sits in a bistro when someone (for fun) slams themselves against the plate glass window behind her. Her later meal with Vincent is interrupted by a phone call. We wonder: has he been asked to respond to an exceptional emergency? Our prior knowledge of the film's subject matter informs our anticipation. When Winocour finally shows violence, it is surprising. Mia and the other diners instinctively scream and hide.
Before that moment is the small matter of a fountain pen that Vincent leaves behind in the other restaurant. In L'Etoile D'Or, Mia opens it, then gets ink on her hands. She is watched, with some amusement, possibly desire, by another diner, Thomas (Benoît Magimel), who is sitting at a crowded table – a member of his group is celebrating a birthday. A cake with fizzing, sparking candles is brought to his table.
It is only when Mia rises to leave that the shooting starts. Winocour's camera stays with her as she recoils and hides. She witnesses killing close up and hear gunshots from an adjoining room. We are gripped by her fear.
Winocour doesn't explore how Mia escapes, whether the shooters are apprehended, or justice is served. Rather she focuses on Mia returning to the restaurant three months later. She is amazed that business has returned to normal, bearing no trace of the attack. She is told a member of staff that a day has been allocated for people like her to visit, to make sense of that evening. She returns to join others affected by the shooting, immediately asked to move from her seat by a young woman 'because my mother sat there'. It is then that Mia is accused of locking herself in the lavatory while others were killed. Mia has a feeling that she didn't do this, but neither she nor we can be sure. She is told that there is a someone outside who cannot enter who wants to speak to her. It is then that the injured Thomas becomes her therapy buddy.
The experience drives a wedge between Mia and Vincent to the extent that Mia rents an apartment overlooking the memorial to the attack in Republique. There is a poignant scene in which Mia watches from her window as flowers are taken away. Even if people cannot move on, the city must.
Mia spends time with Thomas as she continues her investigation. She recalls that she was helped by someone. She returns to the L'Etoile D'Or and speaks to a young woman, who explains that a number of undocumented staff who worked at the restaurant were fired or disappeared after the attack. Mia searches for one man in particular and meets with a rightly suspicious fixer who helps secure work for undocumented migrants. Mia's search takes her to the Eiffel Tower and the sellers of souvenirs camped outside, who flee the police when alerted to their presence.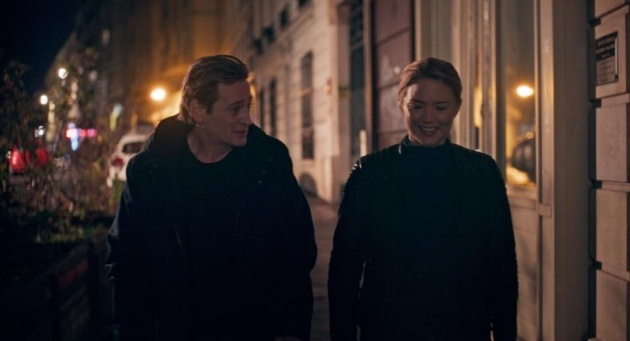 Pictured: On the boulevard of recovery, Thomas (Benoît Magimel) and Mia (Virginie Efira) in a scene from the drama, 'Revoir Paris' ('Paris Memories'), co-written with Jean-Stéphane Bron and Marcia Romano and directed by Alice Winocour. Still courtesy of Dharamsala – Darius Films – Pathé Films – France 3 Cinema (France) / Picture House (UK)
Revoir Paris goes far beyond the exploration of trauma. It explores perceptions of migrants and common humanity. Mia cannot change the life of the man who assisted her, but she bears witness to his compassion and dignity.
By separating the attacks from migrants and religion – the only icon is the Tour Eiffel itself – Winocour asks her audience not to taint migrants with the actions of a few, or those who claim to act for them in their protest against the West. This isn't a journey that Mia makes. Rather Winocour's intention is evident through virtues of omission.
There is a debate about the extent to which the media should report on the actions of terrorists, amplifying their achievements and the sense of fear that they produce. By mythologising terrorists, community tensions are exacerbated. Winocour has joined others, including former New Zealand Prime Minister Jacinda Ardern, in reframing discourse. Mia sees first hand the harm of projecting negative actions on an innocent individual. She also witnesses, in a service for those who were lost, an individual coming to terms with their actions, reclaiming their behaviour and attempting to make sense of it.
Mia also helps a young woman, Félicia (Nastya Golubeva) come to terms with the death of her parents by visiting Le Musée De L'Orangerie to look at Claude Monet's 'Water Lilies' paintings – it was the last place they visited before they died, mentioned in a postcard. This is the second appearance of this museum in a recent film – see also Mia Hansen-Løve's Un Beau Matin. The lilies themselves represent re-birth, a symbol of the two women finding closure.
Reviewed at Glasgow Film Festival, Glasgow Film Theatre Screen Two, Friday 3 March 2023, 20:40 screening