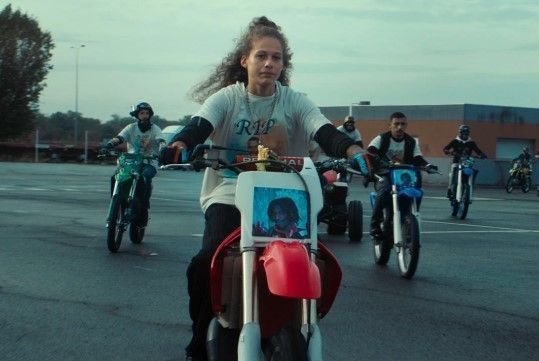 Pictured: Julia a.k.a. 'Inconnu' (Julie Ledru) takes part in a funeral procession in a scene from the French drama, 'Rodeo', directed by Lola Quivoron from a screenplay by Quivoron and Antonia Buresi. Still courtesy of Curzon Film (UK)
Contains spoilers
French director Lola Quiviron's debut feature, Rodeo, is four-fifths social realist drama, complete with drab lighting and tight camera work, and one-fifth genre movie, climaxing in a heist that the protagonist dreams of pulling off. It is unsatisfying on both counts, introducing for good measure some moments of magic realism – bikers see things that ordinary people do not. Almost held together by a committed lead performance by Julie Ledru as sympathy-testing, cadge everything if I can, bike-stealing, adrenaline-addicted Julia, the film points a sympathetic lens at a road-hogging group of wheelie-spinning first or second-generation immigrant dirt bike riders, known collectively as the B-Mores.
Julia, we discover, is a whirlwind of trouble, fleeing a couple of men in an early scene, having broken a door, following the theft of her bike. We aren't told the full story, but we guess that she thought she knew who stole her bike, kicked a door down to retrieve it and found out she was wrong. Julia doesn't apologise for anything, rather begging her brother, who is on the scene, to give her a lift. Nothing else is said about the broken door. Julia is a second-hand motorbike seller's worst nightmare, a young woman who fills her handbag full of stones, hands it to the seller as she tries his bike – she is only seen stealing from men – then rides away, giving the seller the finger. You'd think that the seller would notice the odd weight or feel of the bag, but this is a mile-a-minute drama that revs first, invites questions later. Julia barrels up to a stretch of road where young men practice tricks on their motorbikes. Helping herself to another rider's plastic jug of petrol, asking first whether it is pre-mix, before swiping it, and pouring more than a litre into her tank even when she is only permitted to use half, she fails to ingratiate herself with other riders. Only Abra (Dave Nsaman) takes an interest in her as she rides down the stretch of road, outclassed by the young men around her. 'Come, I'll teach you a trick,' he explains, and he does. Sadly, we hear the sound of police sirens, and the party is broken up. Abra falls off his bike. Julia offers to help but is ushered away. A second biker, Manel (Junior Correia) is also injured. Unafraid of blood, Julia helps patch up his leg, before being cursed by the macho rider. Unable to find her bike in the aftermath of their hasty getaway, effectively five hundred yards up the same stretch of road, but Quivoron keeps the pace up, so we don't notice, Julia learns the lesson of arriving at a meeting alone. She is given a barely sympathetic lift to the gang's hide-out, a garage where they repair bikes. Having told the group her name is 'Inconnu' (Unknown), she persuades them to let her stay the night. Having been told not to sleep in Abra's bed – the group finds out that he died in hospital – she does so anyway.
It is to Quivoron and Ledru's credit that we believe in any of the events so far – the double accident being implausible. We view the bikers' world through the prism of an agitated outsider, a young woman who sneaks home to change her clothes and who begs her brother to make a call to another seller. The next time we see Julia, she has another bike. She returns to the B-Mores in time for Abra's quasi funeral, a bike ride, many of the riders on quads, in which the crew all wear t-shirts bearing Abra's photograph.
If Julia wants to stay with the gang, she has to earn the approval of Domino (Sébastian Schroeder) first. He's in jail but directs the gang from inside his cell, bribing his way to use a phone – social realism starts to take a real hit by this point. He takes a look at Julia and is impressed by her brazen skill at theft. There's a bike for sale for which he has a buyer. If she can steal that to order, she can hang with the gang.
First, she needs some new clothes. She is introduced to Ophélie (Antonia Buresi), Domino's wife, who is home alone with Domino's tearaway tyke of a young son, Kylian (Cody Schroeder). Ophélie stays home for reasons not fully explained, though it becomes clear that she would like to leave Domino but can't and is none too keen on visiting him in prison with young Kylian. Part of the gang's duty is to shop for the family – some of the items are smuggled into prison, which appears to be Ophélie's main job. Julia offers to be the family's personal shopper.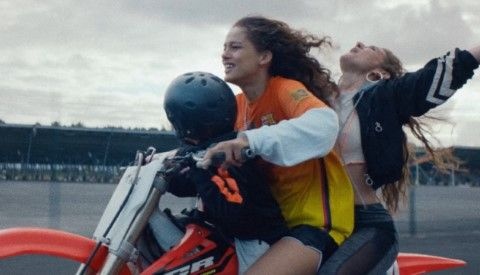 Pictured: Julia (Julie Ledru) takes Kylian (Cody Schroeder) and Ophélie (Antonia Buresi) for a ride in the French film, 'Rodeo', fourth-fifths social realism and one-fifth genre flick, co-written and directed by Lola Quivoron. Still courtesy of Curzon Film (UK)
Julia earns her stripes after stealing the bike with the aid of another member of the gang. First, she breaks into a house and steals a set of keys which she then gives to the seller (who is with his pal) for safe keeping, living him for dust. She shops for Domino's family too but on the way back at night, she is assaulted from behind, doused with petrol and shown a lighter. Someone in the gang wants her out – but who? Is it Kaïs (Yannis Lafki), superficially friendly and hoping Julia will fall for him. He feels that his confidence was betrayed when Julia slept in Abra's bed. Or is it Manel, the injured bike who was discharged from hospital and resents Julia for having helped him. We find out exactly who at the climax.
Julia socialises her dream plan to steal from a moving truck with Domino's crew. Early on, we see her watching the video of a heist in which riders open the back door of a truck while it is moving and drive its contents down a make-shift ramp attached to the back of the truck. Then she points out the blue truck to members of the gang as she delivers the bike she had stolen to Domino's buyer. Finally, the gang gets the nod from Domino to go ahead with the raid.
Meanwhile, Julia bonds with Ophélie and Kylian, firstly buying the former some hair gel, secondly offering to take them out of her bike. Ophélie is initially sceptical, but the troublesome Kylian is hyperactive and needs external stimulus. The young boy seated in front of her, Ophélie clinging to her waist, Julia gives the family the ride of their life. Word gets back to Domino. Later, Julia is told 'no more bike rides' with his wife and children. Ophélie enjoys the exhilaration, the sense of power between her legs.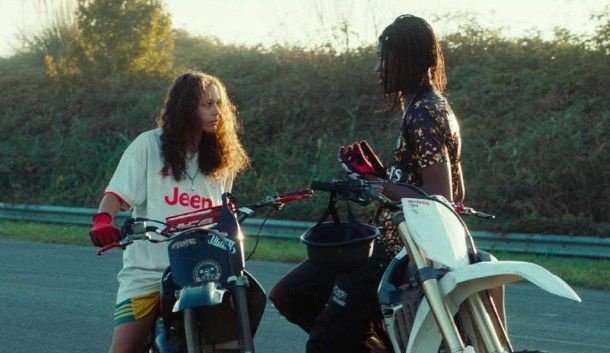 Pictured: Julia (Julie Ledru) and Abra (Dave Nsaman) in a scene from the French film, 'Rodeo', co-written with Antonia Buresi and directed by Lola Quivoron. Still courtesy of Curzon Film (UK)
There is a party. Julia confronts Manel, whom she thinks assaulted her. She has to be pulled away. Finally, there is the daring moving heist. Having assured the gang that the registration papers for the bikes are inside the truck, Julia gets into the back of it and is double-crossed. She discovers exactly who had assaulted her, taking him out in the chase that follows. One of the gang members witnesses events. He is surprised to see first spontaneous combustion, second the spirit of a biker leaving their bike behind and walking away. This is the second magic realist touch. The first was a dream in which Abra clung to Julia's waist. When she awakens, Julia discovers deep scratches on her chest.
At its heart, Rodeo celebrates the rebel spirit of a mixed-race woman who won't take no for an answer; Julia's family is from Guadalupe. The climax almost derails the film; watching it I found my interest waning, as I felt at a distance from Julia. In other sequences, it is her negotiation skill that is our main fascination. 'My father told me to try before I buy,' she tells sellers in order to talk herself onto their bikes. At the climax, she is supposed to be a daring stunt robber. Quivoron also perpetuates the myth of biker as transcendent being, able to achieve grace through their choice of vehicle; drivers of Citroën Dyans cannot hope to ascend to the traffic jam in the sky. In a coda, Kylian discovers that one of his toys is filled with money, the cash that Julia hid in her motorcycle gas tank. Kylian and his mother are, it is implied, able to escape.
Mixing naturalism and genre elements, working with a script co-written with Antonia Buresi, Quivoron impresses us with a portrayal of a woman who uses men rather than seeks a lover. Ultimately, Julia wants to belong and not to have to fight for space. There is an element of narcissism to her character, but she also wants to start again. The final image of her suggests a potential re-birth. Quivoron could have presented her as a tragic figure, but by introducing genre elements, wants to afford her a dignity of sorts. At no point does Julia apologise for her behaviour – a narcissistic trait – but she doesn't feign victimhood either. Rodeo may be imperfect, but its genre mix is an attempt to avoid the audience pitying the film's protagonist. We see the good in her – and that makes her a hero.
Reviewed at Curzon Soho, Central London, Thursday March 30th, 2023, 18:20 screening (with a Q and A session with Lola Quivoron)
'Rodeo' is available to watch in the UK on Curzon Home Cinema