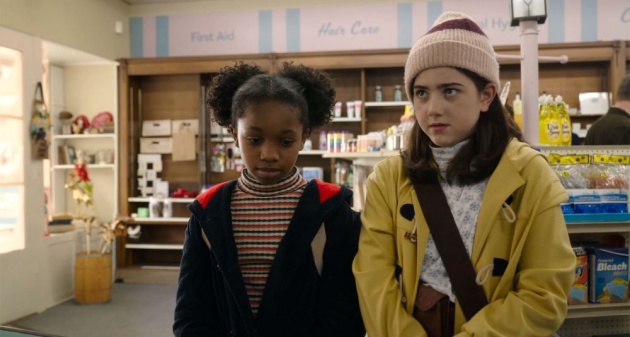 Pictured: Janie (Amari Price, left) and Margaret (Abby Ryder Fortson, right) navigate the terrors of buying sanitary pads (with tic tacs) in a scene from the pre-teen comedy-drama, 'Are You There God? It's Me, Margaret', adapted from Judy Blume's 1970 novel by writer-director Kelly Fremon Craig. Still courtesy of Lionsgate.
The release of the film adaptation of Judy Blume's novel, Are You There God? It's Me, Margaret, adapted and directed by Kelly Fremon Craig, raises some interesting issues about promoting girl-focussed family movies and, of course, grammar; there should be an additional comma between 'there' and 'God'. Films about boys being raised in dysfunctional households and encountering difficulties at school are marketed as family comedies and can spawn franchises – Diary of a Wimpy Kid grossed 75.7 million dollars back in 2010. Films about girls at school have to face an additional barrier – sexism in the movie industry. Both types of film negotiate issues of perception, acceptance, bullies, sexuality, and bodily discharges. But Are You There God is marketed a women's picture, focussing on the intergenerational bond between grandmother (in-law), mother, and daughter. The promotional image is of Sylvia (Kathy Bates), Barbara (Rachel McAdams) and the titular eleven-year-old Margaret (Abby Ryder Fortson) squeezing together in a group hug, displacing the fourth member of the cuddle, Margaret's father, Herb Simon (Benny Safdie). My initial impression is that the film was about a girl raised by a single mother, with occasional input from her grandmother, seeking religious guidance in the absence of a father. Herb is not only present but also the catalyst of the drama, prompting the family to move to New Jersey, having secured a new job. He's very loving and tolerant, and only loses his temper once. The main conflict involves Margaret's parents being respectively Jewish and Gentile. Margaret is raised without religion – better to have no faith than be forced into one – and this prompts a search for spiritual guidance. Essentially, Margaret speaks to God because she can't talk to her parents about the influence that her classmate, Nancy Wheeler (Elle Graham) has on her, encouraging her not to wear socks (cue her mother's cry, 'what about blisters?') and join a secret club whose one goal is to race to maturity, hence the exercise 'I must, I must, I must increase my bust', and as well as celebrate the start of menstruation.
The film is set in the school year 1970-71, which should not preclude it being a mainstream movie. Yet it is being marketed as a nostalgia piece. The trailer refers to that book you read as a child that amazingly has never been turned into a film – until now. In other words, it is explicitly marketed at parents and grandparents. The Diary of a Wimpy Kid movies made no such special appeal; there is no caption, 'from the visionary mind of Jeff Kinney' or similar nonsense. Children watching the trailer are invited to laugh at the slapstick and consequently willingly acquiesce to be taken to see it. This was not actually my experience as a parent; it couldn't compete with Marvel, Pirates of the Caribbean or '15'-rated movies, which had much more appeal to my then 13-year-old son.
Are You There God is set unironically in an era where outcomes for women were not great. The 1970s saw the growth of women's liberation but by the 1980s, Ronald Reagan was President and religious conservatism took hold. The adult Margaret would have been chastened by sexism in the workplace and the challenges of being recognised for her competence and talent. The best way to read the film is to relate to Margaret's growing pains and, having watched her overcome them, imagine her being a successful woman in the 2020s. Young viewers can do that; those who lived through the 1980s and beyond, not so much.
Not only is the film marketed at older viewers, it also downplays the Jewish element. This is why Benny Safdie doesn't appear on the poster. Safdie writes and directs films with his brother Josh (notably Uncut Gems) and supplements this career by acting in other people's movies. He's not a recognisable star. His absence from the advertising situates the film in a sub-genre of 'female resilience' movies rather than 'family comedies'. In other words, the advertising narrows the audience. That the film got made at all is due to producer James L. Brooks, who was big in the 1980s and 1990s, writing, producing and directing Terms of Endearment, Broadcast News and As Good As It Gets and producing the TV shows The Tracey Ullman Show and its long-running (and phenomenally successful) animated spin-off, The Simpsons. Brooks' films don't explicitly foreground Jewishness, but instead use bankable Gentile stars like Jack Nicholson and William Hurt as Trojan horses. His films generally give terrific roles for lead actresses (Debra Winger, Shirley MacLaine, Holly Hunter and Helen Hunt) and elicit both laughter and tears, a formula that Are You There God closely follows.
Fremon Craig brings a modern sensibility to the film. Specifically, she avoids making Nancy, whose micro-aggressive style of clique-making mirrors her mother, Jan (Kate MacCluggage), a villain. The writer-director recognises that such girls are products of social conditioning. In conventional family films, bullies are clearly sign-posted by their cruelty and are either punished or convert to goodness. Nancy is revealed to be a liar driven by envy. At the end of the film, she is left behind by Margaret, who forms a new group. Fremon Craig also downplays the search for spirituality. For Margaret, this is an attempt to feel something when communing with a deity. Margaret's prayers are more a rhetorical device – rather like diary entries – than a genuine appeal to an omniscient being. Not that she doesn't ask for stuff – for the move from New York to New Jersey not to take place or, if it does, for life in New Jersey not to suck, for the Jewish boy she's sweet on, Moose Freed (Aidan Wojtak Hissong) to be allowed to mow her parents' lawn for five dollars so she can see him. Moose is Jewish, has ginger curly hair and is the best friend of Nancy's brother, all qualities that supposedly make him undesirable to Nancy and others. Margaret's wishes are periodically granted, just enough to encourage her to continue praying.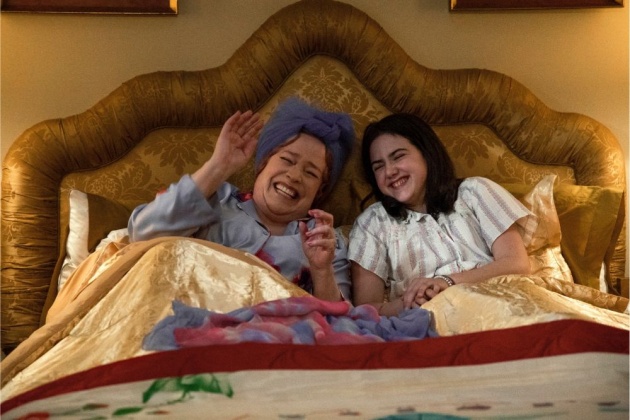 Pictured: 'You're the best company!' Grandma Sylvia (Kathy Bates, left) shares a laugh with Margaret (Abby Ryder Fortson, right) in a scene from the film, 'Are You There God? It's Me, Margaret', adapted from Judy Blume's 1970 novel by writer-director Kelly Fremon Craig. Still courtesy of Lionsgate.
Margaret's nominal search for religion – she attends a synagogue with Grandma Sylvia on a trip to New York City, views a gospel service for research (she doesn't find God, though the music makes her feel so good) and offers confession at a Catholic church in pursuit of a new friend, Laura (Isol Young) who she has offended – is really about accepting an ethnic identity. By desiring Moose, she is really embracing her Jewishness. However, after marrying Herb, Barbara was disowned by her conservative parents, Paul and Mary Hutchins (Gary Houston and Mia Dillon) who live in Ohio. Margaret thinks it is a shame that Barbara lost touch with her mother and father; she is unaware of their disapproval. However, when Margaret's planned trip to visit Sylvia in Florida is derailed by the unexpected visit of Paul and Mary, this becomes a source of tension between Margaret and her mother, solved by Sylvia bringing Florida to her only granddaughter – not to mention a new gentleman friend.
The Simon family dinner could have been a major comic set piece, with Paul and Mary being the butt of ridicule from the redoubtable Sylvia. However, Fremon Craig is more balanced. It does the fight against anti-Semitism no good at all if Gentiles are demonised – it would not do the film's box office much good either. In the end, the scene belongs to Margaret as she rails against a religion being chosen for her. By the end of the film, it becomes clear that she embraces Jewishness in the form of Moose, with Moose's opposite, the much-admired Philip Leroy (Zachary Brooks) being revealed to be odious, the nearest the film has to an actual villain. In one set-piece, Margaret is introduced to the game, 'Two Minutes in the Closet', in which a boy and a girl are paired up, left in another room (the so-called closet) and experiment with kissing or being kissed. Margaret ends up with Philip and enjoys being kissed, much to the chagrin of Nancy.
The rush to puberty is a source of the film's comedy – grown women know that menstruation is not to be desired. At one point, Margaret and her female classmates are shown an instructional film and are suitably appalled. Also a sixth-grader, aged 11, Laura has reached maturity faster than her classmates – when Margaret first sees her, she asks, 'is she the teacher?' Nancy spreads the lie that Laura allowed boys to fondle her, leading to her ostracization. When included in Laura's group for a class assignment, Margaret seeks to understand her better.
There is also the nominal overweight boy, Norman Fisher (Simms May) who is presented as spoilt but eager to establish his own identity. He invites his entire class to a party. Having told his mother to leave him to his hosting duties, Norman's formality slips to a game of spinning the bottle before Nancy proposes 'Two Minutes in the Closet'. Although he starts as a caricature, Norman acquires depth, though he disappears from the film after his party.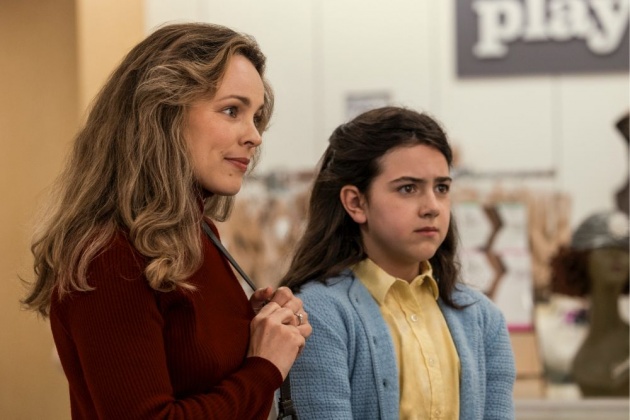 Pictured: Barbara (Rachel McAdams, left) takes Margaret (Abby Ryder Fortson, right) bra shopping in a scene from the comedy-drama, 'Are You There God? It's Me, Margaret', adapted from Judy Blume's 1970 novel by writer-director Kelly Fremon Craig. Still courtesy of Lionsgate.
Margaret's attempts to fit in are mirrored by her mother, Barbara, who gives up painting and teaching art – a decision she comes to regret – and throws herself into being a full-time wife and mother, albeit one who cannot cook; her only culinary success is the 'no fail pot roast'. Her neglect of her cooking is a trope, but we'll let it pass. Barbara signs up for all the committees and ends up cutting hundreds of fabric stars that we later learn burn to a crisp (in a set piece that we don't see). Barbara learns to accept her artistic tendencies and reject a life as an eager-to-please parent; McAdams embodies Barbara's fulsome can-do attitude rather well. Barbara is also an uncertain home maker, getting rid of a sofa but not replacing it. In one scene, Herb brings garden furniture indoors to bridge the gap.
Ryder Fortson emphasises Margaret's ordinariness. She is unexceptional in almost every way. She undertakes a research project on religion suggested by her teacher, Mr Benedict (Echo Kellum). Her essay is heart-breaking and speaks to worries beyond her years. By the end of the film, Margaret thanks Mr Benedict for being her teacher. Mr Benedict's African-Americanness is not commented upon, but Margaret's thanks are in support of racial harmony and societal integration.
The search to feel something is also a response to capitalism. While Margaret eagerly awaits puberty, Moose wants to earn as much money as possible by mowing lawns; the Simons are just another customer. Herb initially refuses Moose's offer, citing his recent purchase of a mowing machine. However, in a form of divine intervention – or plain bad luck - Herb cuts his hand; Moose's services are required after all. Herb notices the way that Margaret looks at Moose and approves. His tolerance as a father is by way of embracing Margaret's choice of ethnic identity. Margaret doesn't share Moose's desire to earn cash, though. She is used to her parents' paying for things – Barbara takes Margaret bra shopping in response Nancy's edict that every member of her secret club should wear a brassiere. Only in one scene, in which she purchases sanitary pads, does Margaret exercise her 'role' as consumer. Margaret is ambivalent about social mobility, which money buys; it separates her from her grandmother. So for her, earning (more) money isn't a means to an end. She attempts to learn what's important.
There is no reason why a film like Are You There God? It's Me, Margaret can't be a commercial success (in the US, to 11 May, it has grossed only $13,976,954 after two weeks of wide release) while being both thoughtful and compassionate. The film is enlivened by a ripe performance by Kathy Bates as the self-pitying - but not for long - grandmom. Bates isn't Jewish, but you accept her in the role, wallowing in her warmth. When Sylvia takes Margaret to an open-air performance of 'The Pirates of Penzance', we can believe it's a fun afternoon. Sylvia describes a good trip to the synagogue as short – 'in and out in two hours, it's the best in the city'. At heart, Sylvia is the architect of her own happiness, the opposite of a victim, and a terrific role model. Who needs God when you have her?
Reviewed at Cineworld Dover (Screen One), Kent, Southern England, Wednesday, 10 May 2023, 19:30 screening