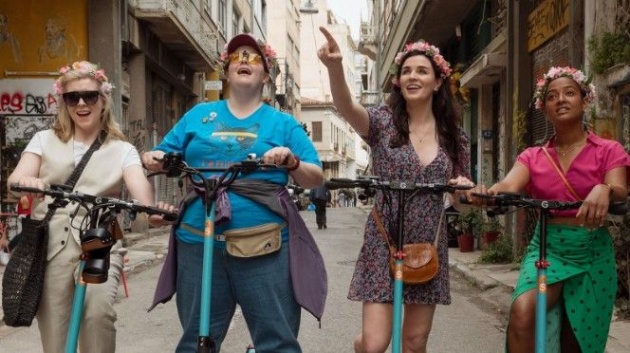 Pictured: The pointer sisters. Friends Heather (Alice Lowe, left), Claire (Jayde Adams), Rachel (Aisling Bea) and Zoe (Amaka Okafor, right) in a scene from the 'Take That' musical, 'Greatest Days', written by Tim Firth and directed by Coky Giedroyć. Still courtesy of Elysian Film Group (UK)
Jukebox musicals can be extremely lucrative. The hits of a popular artist are employed in the service of a flimsy plot. Audiences don't ask, 'what happens next', rather 'how will it feature my favourite song?' One of the most financially successful jukebox musicals of the latest twenty years is Mamma Mia!, directed on stage and screen by Phyllida Lloyd and utilising the songbook of the Swedish pop quartet, Abba. The film brought together Meryl Streep, Christine Baranski and Julie Walters - the triple act we never knew we wanted. Not quite as successful – and not yet turned into a film - is We Will Rock You, featuring the songs of Queen. Greatest Days, written by Tim Firth and directed by Coky Giedroyć, utilises songs made famous by the band Take That – Gary Barlow, Mark Owen, Jason Orange and Howard Donald. It is based on Firth's play, 'The Band', first staged in 2017 about a group of female pop fans who are spuriously reunited twenty-five years later. In the film, Radio Clitheroe, a local radio station that you can apparently receive in London, plays a part. The gimmick of the play is that the stage singers performing Take That songs were selected through a television show, Let It Shine. In the film, it is nine actresses who are showcased, led by the likeable Aisling Bea as children's nurse, Rachel O'Flynn. Bea is also credited as script editor which I think means she contributed some ward bants, whilst her character brings the radio to hospital – not to everyone's delight.
Having won a radio phone-in competition, Rachel is offered the opportunity to take three of her friends to Athens to see a reunion gig featuring 'the boys' (Take That or any of its members are never mentioned by name). Cue flashbacks to Rachel as a teenager in 1993 (Lara McDonald), hoping to catch her favourite band on the British chart show 'Top of the Pops' before her permanently angry father (Barry O'Connor) confiscates her television set. 'It's not important,' he barks. 'It is to me,' young Rachel replies. This is the sort of musical in which music is represented as a comfort blanket – fully dressed band members appear under Rachel's bedsheet and sing to her. (That's all they do – promise.) When she is in the kitchen preparing spaghetti hoops on toast for her young brother – they had young brothers, I mean spaghetti hoops, in 1993 – the band appear from inside cupboards and shelves in a musical number handing her a plate and buttering her toast. Angry dad naturally smashes a plate. 'No matter how much mum and dad don't love each other, they'll always love us,' Rachel assures her sibling, none too convincingly, as the young boy prods at his spaghetti hoops. Maybe, but will he eat better?
Young Rachel's friends include Debbie (Jessie Mae Alonzo), who tapes 'Top of the Pops' for her bestie. 'How did you do that?' asks one of the girls incredulously, as if we didn't have VHS machines in 1993? I think Firth is projecting back to when he was a teenager. Claire (Carragon Guest) is a promising competitive diver, supported by the truanting group bearing a poster, 'For f-s sake, just jump'. Clearly none of the girls are cut out to work for the Samaritans. Heather (Eliza Dobson) 'vogues', framing her face between her hands, because voguing is a thing. Zoe (Nandi Sawyers Hudson) is a Head Girl destined to go to university, so long as her friends don't keep pulling her away from her schoolbooks.
Much of the early part of the film is spent with the younger girls, when the adult Rachel is not fending off propositions from her live-in boyfriend, Jeff (Marc Wootton). Wootton is tarnished by his role as man-child Mr Poppy in the Nativity films – I think Rachel took one look at those movies and thought, 'I'm not marrying him'. After hearing that Rachel has won tickets to go to Athens, he's all for inviting another couple and missing the concert altogether. (He's not one for 'the boys.') Rachel knows who she wants to invite but cannot bear to call them. She asks the radio station, 'can you do it instead?'
Firth's gags don't exactly hit the mark. There is a line about a rescue dog stuck in its basket and you think, 'of course it's stuck – the dog is traumatised'. Rachel would rather buy a caravan than plan a wedding. Why not? A caravan has facilities. When we see Rachel looking down at a waste disposal unit – one of the rare examples of expressive camera placement – we long for it to be switched on, taking pages of the script with it. It takes a long time for friends to be reunited.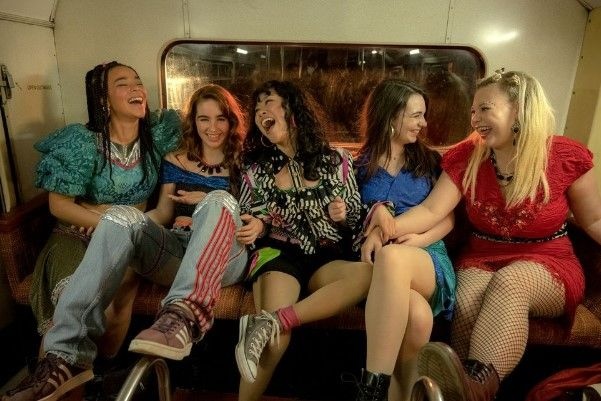 Pictured: Bus - ted. Friends Zoe (Nandi Sawyers Hudson, left), Claire (Carragon Guest), Debbie (Jessie Mae Alonzo), Rachel (Lara McDonald) and Heather (Eliza Dobson) in a scene from the musical, 'Greatest Days', written by Tim Firth and directed by Coky Giedroyć. Photo: Alex Bailey. Still courtesy of Elysian Film Group (UK)
In so much as the film has drama involving two or more consecutive scenes, this involves a trip in 1993 to see 'the boys' in Manchester. Debbie obtains tickets for the five of them as her sixteenth birthday present. In a scene loaded with meaning, each girl puts on a wristband and makes a pledge, one wristband touching another touching another, to keep in touch. It is a pledge they will break. (Not a spoiler.) They are mesmerised by the gig but skip out before the encore hoping to catch the band as they leave the venue. 'They've already left and are on that coach,' they are told, says backstage security pointing to a departing vehicle. 'We've missed the last train home,' exclaims one of the girls. Despondency is broken when one of them stands in front of a 43 bus. 'You've missed the last train and you can't get home,' says the driver, allowing them on, explaining – and we think it is a joke – that he used to be in Spandau Ballet. The girls start dancing on the bus as do a group of boys and the aisle widens to give them space to move. The driver himself appears in a red dress. It is lively staging, but the song isn't memorable. Eventually, they are ejected from the vehicle. The girls walk up a hill. Debbie then accompanies Rachel part of the way home but we immediately sense something is very wrong. Giedroyć does foreboding rather well, not to mention Ceefax, the happily defunct BBC digital news service, which has the 1993 headline, 'Britain is doing well in the EU'. That message is a bit late for modern audiences. In case, who remembers a Ceefax headline?
Having waited to see the friends as adults, it is disappointing to spend very little screen time with them. Alice Lowe plays fashion designer, Heather who speaks both Italian and Greek – 'I speak Italian for commerce and Greek for love,' she remarks, well aware which country has the stronger economy. Amaka Okafor plays Zoe, forever spelling her surname as 'two oh's, one 'e'' as if it were a wolf whistle. She never became a professor but has four children instead. Jayde Adams models cat t-shirts as singleton Claire. She has the best line. 'I had plenty of one-night stands. I slept with men, then ate them.' Her diving career was ended by 'Doritos and Monster Munch' – I don't recall Doritos being a popular fried potato snack in the 1990s. As Claire explains, the branded crisps were the friends who told her it was okay not to jump.
After hiring some motorised scooters, the friends decide to get their feet wet in a fountain – the statues come to life and start singing. This gets the women arrested – paddling in public rather claiming that the statues could hold a tune. As the clock registers half-past seven, Rachel is finally released from police questioning.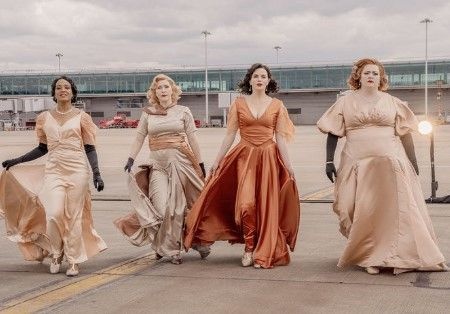 Pictured: Women on the verge of an expensive gown. Amaka Okafor, Alice Lowe, Aisling Bea and Jayde Adams in a scene - or Easyjet commercial - from the 'Take That' musical, 'Greatest Days', written by Tim Firth and directed by Coky Giedroyć. Still courtesy of Elysian Film Group (UK)
Did I say that one of the song and dance numbers resembles an Easyjet commercial? The film gives the misleading impression that passengers are encouraged to drink alcohol before boarding, that employees tap on the tarmac and the four women dance on the plane's wing. Utter nonsense. You have to pay for everything on an Easyjet flight. Early on, there is an homage to a seminal Jacques Demy musical, though the apostrophe somewhat spoils the shop front: 'Umbrella's of Clitheroe'. Points are awarded for effort; deducted for application.
Do the women make it to the concert in time? That would be telling. Home truths are exchanged in an amphitheatre, because why not? When in Greece, eh? There is a coda that results in dancing in the streets, because otherwise the film would be a real downer. The bearded bus driver in a red dress even reappears.
The best song in the film – as in the play – is 'Back for Good', sung by each character to their teenage self. Not only because the song is ubiquitous – apparently covered by 89 artists - but because each character reconnects and learns to respect the aspirations each held as teenagers. Not the bit where Rachel has one of 'the boys' children, but you wonder whether she is holding out for a Barlow. The song is performed at a poignant moment in the drama and for a brief moment the film comes to life. For me, there is a wallpaper blandness to the music, as if it were designed not to intrude on your deepest thoughts.
Greatest Days has so far achieved a modest success at the UK box office, earning £536,955 in its first four days of release (16-19 June 2023). It has moments of edginess, Heather explaining that she is a lesbian. 'Did you know back then?' she asked. 'Who knew anything then?' Heather replies, a remark that could be considered a commentary on the appropriateness of gender reassignment surgery for teenagers. Would they know what their sexuality was at that age? The film suggests that Rachel's aversion to marriage is related to her upbringing. The ending suggests that trends can be bucked. The drama also reflects on Rachel's guilt. If she hadn't insisted on being walked home. This does not account for the driver's part in Debbie's accident.
What the film really lacks are star-making moments when the characters on screen truly own a song and give it depth and meaning. The best musicals are exhilarating. Giedroyć fills the frame with business but very little surprise. She shows young Rachel sweeping up the broken plate but doesn't illuminate the failure of Rachel's parents' marriage. Neither does Giedroyć use a musical sequence to illustrate the dynamic between two or more characters. Songs can give characters a power than their non-singing selves don't possess. Giedroyć puts plenty of coins in the jukebox but cannot make us dance.
Reviewed at Vue Westwood Cross, near Margate, Southern England, Screen Two, Saturday 24 June 2023, 13:35 screening