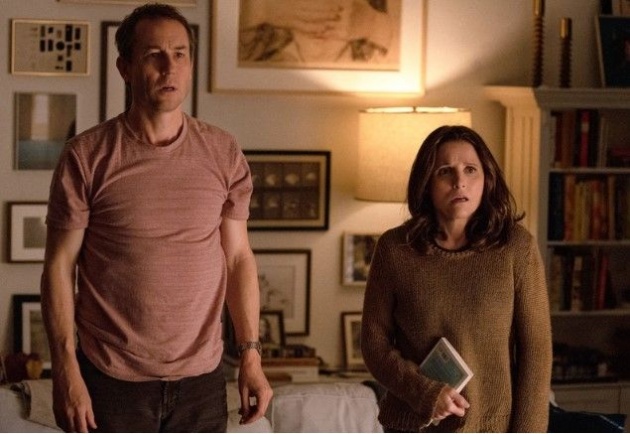 Pictured: Don (Tobias Menzies) and Beth (Julia Louis-Dreyfus) express horror in a scene from the New York-set comedy, 'You Hurt My Feelings', written and directed by Nicole Holofcener. Photograph: Jeong Park. Still courtesy of A24 Films (US)
People are more worried about giving offence than climate change. Perhaps that it isn't true, but it feels like it. We are hyper-sensitised by other people. No touching, respect the pronouns. Praise don't criticise. As a parent, you skirt around the big issues out of respect for your children's choices. How do you use the lessons that you've learned if you cannot say 'no'? How do you address poor performance at work if you have to overlook incapability? Someone says they can do the job without evidence; you have to take their word for it. We live in an age of assertive dishonesty. People lie and you cannot call them out in one-to-one interactions. This behavioural kitsch feels like a bubble about to burst. You have to confront objective facts.
In her latest film, You Hurt My Feelings, writer-director Nicole Holofcener (Lovely and Amazing, Enough Said) tackles a zeitgeist subject in a domestic setting. She examines a testing point in a marriage, when one partner isn't being completely honest with the other. A betrayal isn't involved, rather the sparing of feelings. At the start, Holofcener plunges us into the familiar world of couple's therapy. Carolyn (Amber Tamblyn) complains that her husband Jonathan (David Cross), arms folded and at the other end of the sofa, cannot bear to look at her. Their marriage is in the mutual contempt phase. Listening and providing prompters is psychiatrist Don (English actor Tobias Menzies). Don looks as though he developed an interest in mental health via a career in the SAS – the scar on his face tells you something. Who knows – maybe they still duel in New York City for parking spots. Don is not proficient at getting the couple to achieve a breakthrough, but Holofcener immediately puts us on his side. These are two self-obsessed neurotic New Yorkers. Why the heck should their marriage work?
Don is married to Beth (Julia Louis-Dreyfus, in her second film with Holofcener) who when we first meet her is on her way with a box of donuts to her writing class but stops by at the cannabis store where her son, Eliot (Owen Teague) works. Eliot's co-workers, including one who identifies as an 'Executive Producer' – a movie in-joke, as executive producers defer income and attach their name for percentage points, contributing little to the creative process – help themselves to Beth's donuts. 'They're for my students,' she pleads, though we suspect that she is glad that her son is eating something, albeit with collateral damage. Beth doesn't want her son to work in a weed shop. 'I mean, look at the security,' she complains waving at a man who has perfect the look of a living statue – minus the movement. She is also keen to know how his writing is going. 'I didn't know you were a writer,' a colleague remarks, as if that somehow made Eliot more interesting. The assumption is that writers say more on the page than they do in real life, but the opposite can also be true. Beth has five students who need to be coaxed to tell stories. Writing instructors are in vogue in movies at present, with Brendan Fraser playing the reclusive Charlie, an online tutor, in The Whale. Or maybe it is just in A24 Films – hey, readers like to read about readers. Celine Song's Past Lives, another A24 release, also features an aspiring writer.
Beth and Don celebrate a wedding anniversary with a meal. Don gives his wife leaf earrings. Beth gives her husband a V-necked sweater. 'It's soft,' she adds, for emphasis. Beth mentions that her agent, Sylvia (LaTanya Richardson) isn't keen on her novel. 'Change your agent,' suggests Don. Beth is the moderately successful author of the memoir, 'I Had to Tell It', which deals with the emotional verbal abuse she received from her father growing up. 'Verbal abuse is just as bad as physical abuse,' we are told. There's a queasy payoff, when Beth's book is quoted back to her by a man who repeats her father's abusive words. We feel Beth's every grimace. Similarly, she endures the title of her book being misquoted as 'I Had to Tell'. 'It,' adds Beth, 'I Had to Tell It.' Eliot joins his parents and takes exception to Beth's assumption that his work will be terrific. 'Why do you say that?' he asks, not wishing to be burdened by expectation. The inference is that parents who express a belief in their children can also damage them.
Holofcener contrasts Beth and Don with Beth's sister, Sarah (Michaela Watkins) and her actor husband Mark (Arian Moayed). Sarah and Beth volunteer to give away what in the UK are now known as pre-loved clothes to the homeless and poor, placing a restriction 'one item per day'. When one woman asks for some pants (trousers) and some boots, Sarah refuses the second item. The woman in the queue curses. Beth's volunteering is not so very different from her son working in a cannabis store; they are both trying to make vulnerable people feel better. It is ironic that good will is more regulated than the sale of Class Two narcotics. The two sisters tap their mother (Jeannie Berlin) for dresses that she doesn't care for – 'post-loved', if you will. Lunch banter focuses on Beth's book (naturally). Beth wants to take home some potato salad. 'Hang on, I'll get some foil,' Mom tells her. Beth opens a cupboard. 'Why can't I take it in one of these?' she asks, pointing to a collection of Tupperware containers. Mom grimaces. Beth adds, 'I can't take potato salad home in foil. Don't be ridiculous.' Holofcener excels at the conversations we have with loved ones, where relatives are driven by irrational but firmly held beliefs, like Beth not returning a Tupperware container after use. Beth glowers under her mother's unspoken judgment, but at least Mom expresses her feelings in so many indirect words.
The inciting incident occurs during sock shopping, because naturally in New York City, men shop for socks together. Beth is out with Sarah while Don is shopping with Mark. Mark is recognised for the 'Pumpkin' genre film he made way back Wednesday by a passerby. 'Did you want a selfie?' Mark asks. The man walks away – he's not that obsessed. Of all the professions, actors are the most thin- skinned. Maybe dermatologists work with more thin skin, but they are governed by confidentiality agreements. Mark is hyper-sensitive. He has been fired in the past. In the course of this film, he is fired again. Mark asks Don about Beth's novel and Don tells him that he does not care for it. He expresses this opinion just at the point at which Beth and Sarah are going to surprise them. Beth recoils in a state of shock. It didn't occur to her that her yet-to-be published mystery thriller isn't any good.
The remainder of the film explores the fallout, with some amusing developments. Eliot returns home at the point at which his parents are at odds with one another. Of course, in front of their child, they attempt to hide their disagreement, to which Eliot responds by going to the refrigerator. Eating is a natural response to truth bombs. Beth shows Don the many pairs of earrings that he had bought her; they are all basically the same. 'You wore them,' Don replies. 'To please you,' Beth retorts. Don counters by complaining about V-necked sweaters. 'I don't have cleavage,' he explains, as if V-necked sweaters were only suitable for women. Mark's birthday meal ends in disaster. The actor gets a part in a play, then loses it after the director takes him to one side. In the creative process, you have to express your feelings because the work ultimately comes first. There is, of course, the adage that there is no bad acting, only bad casting. We've heard a lot about that recently in relation to Wonka, Timothée Chalamet being insufficiently impish.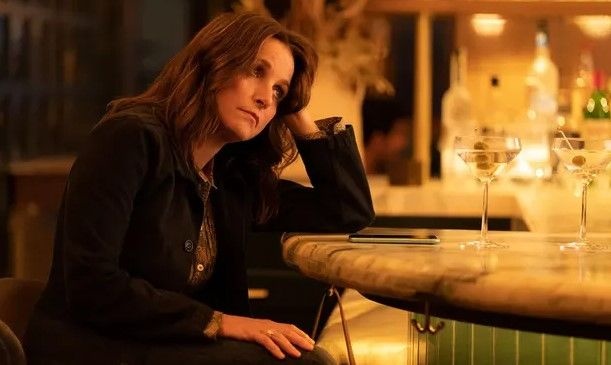 Pictured: Truth hurts. Beth (Julia Louis-Dreyfus) salves her sorrows with a sip of wine in a scene from the New York City-set comedy, 'You Hurt My Feelings', written and directed by Nicole Holofcener. Photograph: Jeong Park. Still courtesy of A24 Films (US) / Sundance Institute
The comedy comes from Beth exploring her outrage, initiating an inappropriate conversation with two women in a bar, as if acting as a catalyst to split them up. Don faces his own outrage from patients Jonathan and Carolyn. They want to know why they don't feel helped. By this time, Don feels addicted to truth. 'You've been coming here a long time. Why don't you just break up?' 'No,' yells Jonathan. 'We don't want that.' Essentially the couple attend therapy to unlock the source of their differences. In response to Don's failure to help them – to offer advice – they quit the session and send him a demand (putting the nomenclature 'Dr' in inverted commas) for $33,000. Don tosses it into the garbage.
Beth takes Don's advice about changing her agent. It proves to be the right choice, though she relives verbal abuse quoted back to her atonally by her new agent. Mom asks for one of her donated dresses to be returned to her; Beth saves it from a good will customer, offering the woman an inferior alternative. We are slightly surprised that Don doesn't offer his collection of V-necked sweaters to good will. The area of sensitivity is the provenance of the garment; you shouldn't give away a gift. The social convention is, however, illogical. The big climax – in relative terms – takes place in the cannabis store, when Beth has cause to smother her son. Her point is proven.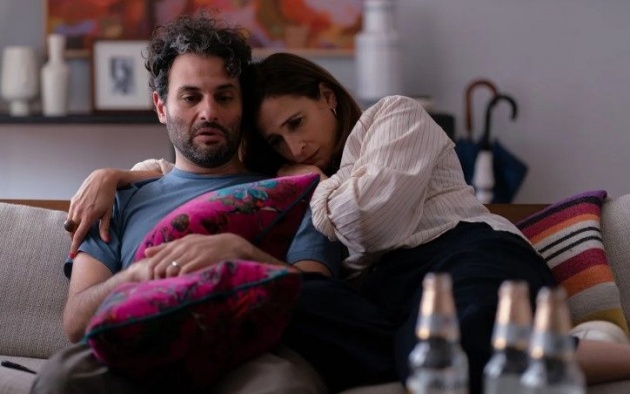 Pictured: 'You'll get over it.' Actor Mark (Arian Moayed) is consoled by his wife Sarah (Michaela Watkins) in a scene from the New York City-set comedy, 'You Hurt My Feelings', written and directed by Nicole Holofcener. Photograph: Jeong Park. Still courtesy of A24 Films (US)
'Did any of you join this class because you knew who I was?' asks Beth to her students. They shake their heads in the negative. Demonstrating her narcissism, Beth finds her memoir in a bookstore and places it in a prominent position. After she leaves, we hear the snickering of shop staff. Beth encourages her students to write truthfully, but they don't always stick to their suggested topic. Beth's enthusiasm, 'what a great bunch of students I have', isn't borne out by the results. Eliot hands Beth a copy of the first draft of his play, sullenly without enthusiasm.
Is there a happy ending? Mark gets another role and is well received. As for Beth and Don…
The six central performances are terrific; Holofcener is very good at casting. As Beth, Louis-Dreyfus is adept at suffering humiliation as well as making others feel uncomfortable. She doesn't embody the moral high ground, rather the fragility of all artists. Menzies is a good foil. Don has grace notes. He does assist one of his patients who has issues with his extended family. When patients can't arrive at an answer by themselves, he intervenes. We cringe because we know that's not his role. Moayed embodies an actor's vanity; we understand Mark's insecurities and his compulsion to perform. Berlin steals the scenes she is, having no problem expressing herself.
In the end, the characters aren't transformed in a deep way. Rather they become more self-aware, and more aware of their limitations. Holofcener doesn't make films watched by tens of millions, but she has her niche and sticks to it. She worked on the script of Ridley Scott's box-office flop, The Last Duel, and thanks co-writer and star Ben Affleck in this movie. The tragedy is that Holofcener isn't better known internationally. In the UK, You Hurt My Feelings is heading for release on Amazon Prime's home streaming service. Given women directors ought to be able to prove themselves at the box office, that hurts my feelings.
Reviewed at Sundance London, Tuesday 4 July 2023, 11:30 screening, Picturehouse Central Screen Three.