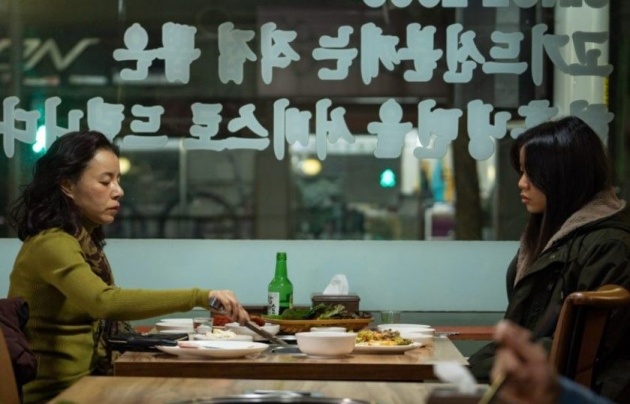 Pictured: Not so much sharing her meal, Yoon Su-kyung (Yang Mal-bok) allows her insular daughter, Kim Yi-jung (Lym Ji-ho) to pick off her plate in the Korean mother-daughter drama, 'The Apartment with Two Women', written and directed by Kim Se-in. Still courtesy of Finecut (Kr) / Korean Academy of Film Arts
Few films have depicted the brittle love-hate relationship between a mother and a daughter as vividly as Korean writer-director Kim Se-in in her debut feature, The Apartment with Two Women. For Yoon Su-kyung (Yang Mal-bok), her twenty-something, emotionally insular daughter, Kim Yi-jung (Lym Ji-ho) is an encumbrance. They share a cluttered apartment with little privacy. When Yi-jung disappoints her mother, she is beaten, receiving a series of swiping blows from which she shields herself when not able to restrain her mother who, in spite of age, is stronger. Yi-jung doesn't have a saviour on the horizon.
The film put me in mind of any number of Hollywood melodramas where a mother sinks her hopes, dreams and finally frustrations in her daughter, who yearns to escape emotional blackmail. But Kim Se-in takes the drama to physical extremes – Yoon Su-kyung drives the family car at her daughter during one such row, claims it as an accident and attempts to sue the car company, asking her daughter to accept this version of events.
The Korean title translates as 'two women who share the same underwear', a title that has a lot more resonance given Kim Yi-jung's outlet of frustration, cutting up her mother's briefs. Certainly, Yoon Su-kyung has more than her fair share of male admirers, chief among them Yong-yeol (Yong Heung-ju) who blows hot and cold. In an early scene he cups Su-kyung's face in his hands for the longest time, then hails a cab. He sends her gifts. He also has a teenage daughter, whose bedroom is the setting for another set piece.
I would hesitate to describe any scene in the film as ordinary. It is rooted in the rich pain of maternal disappointment - motherhood as grief minus acceptance. Cultivating resentment is a form of self-harm, like wrist cutting. It is a form of validation; I live because I suffer.
The film begins with an intimate moment. Yi-jung is washing clothes in the bathroom sink. Next to her Su-kyung is on the toilet. Without saying a word, Su-kyung removes her briefs and passes them to Yi-jung to wash. Yi-jung does so, wringing them out. Su-kyung gestures to pass them back to her. She puts them back on. When she leaves the bathroom, she walks into a café (where I assume she works), raises her skirt and dries her briefs by a heater whilst wearing them. In the bathroom, Yi-jung removes her own briefs, spotted with blood from her period. She retrieves a hot water bottle from the microwave, lies on the sofa and places it on the stomach. She telephones her mother, asking her to buy Tylenol. Mother – of course – forgets.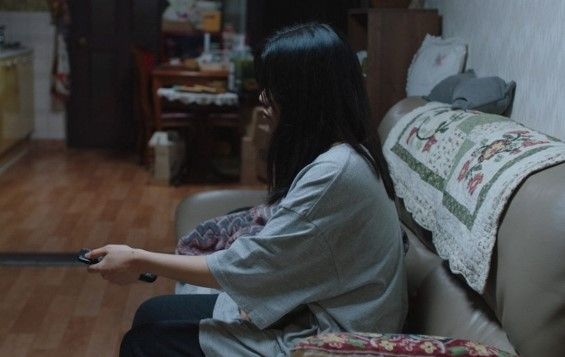 Pictured: TV is no comfort when you need Tylenol. Kim Yi-jung (Lym Ji-ho) in a scene from the Korean mother-daughter drama, 'The Apartment with Two Women', written and directed by Kim Se-in. Still courtesy of Finecut (Kr) / Korean Academy of Film Arts
For someone with such a barbed tongue, Su-kyung has a coterie of friends, including Yong-yeol. Group conversation (about nudist beaches in Bali) is flirtatious. Su-kyung doesn't talk about her daughter, except to say that she cannot remember whether she attended her graduation, a comment that elicits gasps of incredulity from the group.
When Su-kyung arrives back at the apartment, disappointed by not being invited back by Yong-yeol, she criticizes Yi-jung for lying on the sofa. Needless to say, Su-kyung forgot her daughter's Tylenol.
Su-kyung thinks nothing of striking her daughter. Depicting this, Kim Se-in places her camera at a distance. Yi-jung vents her anger by cutting up her mother's underwear.
Tension boils over. Carrying two bags of shopping and a resentful expression, Yi-jung barges past a family. A young girl is crying, her silver balloon having floated to the store ceiling and popped. Attending to her, her family give her a red balloon. By contrast, Yi-jung receives no such consolation. Getting into the car with the shopping, she bears the brunt of her mother's anger. Yi-jung gets out and stands in front of the car, looking at her mother face on. Su-kyung drives the car at her. The scene is shocking; Su-kyung is so determined to have the last word that she is willing to severely injure her own daughter. Her anger has no filter.
An investigation begins at the scene of the incident. Su-kyung tells an insurance agent that the car moved forward by itself. 'It is a dangerous weapon.' Whilst Yi-jung is recovering in hospital, her mother asks her to sign a declaration that it was an accident, so that she can take legal action against the car company. Yi-jung refuses to do so. When approached in hospital to testify against her mother, she agrees.
She returns home on crutches. Su-kyung is still trying to get her to declare that it was the car and not herself who was at fault. There is a court hearing; Su-kyung's case is thrown out. Yi-jung returns to work, where she works in accounts. She takes the car. Upon learning that her daughter is still using it, Su-kyung covers the entire chassis with post-it notes, each one declaring the car to be dangerous. Discovering this, Yi-jung removes just enough of the post it notes – but not all of them – to be able to drive the car without her visibility being impaired.
Yi-jung is told by her employer, an educational supplier, that she has been moved to sales. She is asked to move to another desk in the far corner of the room. She is replaced in her role. Yi-jung steals a USB stick from her replacement's desk. She then asks her replacement if they can swap chairs, Yi-jung having set hers at the correct height. The wordless chair swap is shown in a medium close up showing the chairs passing one another like ships. We don't see the faces of the women pushing them as if shielding their embarrassment. The shot of the two chairs passing shows Kim Se-in's control of the visual medium. So much is implied through this short but telling gesture.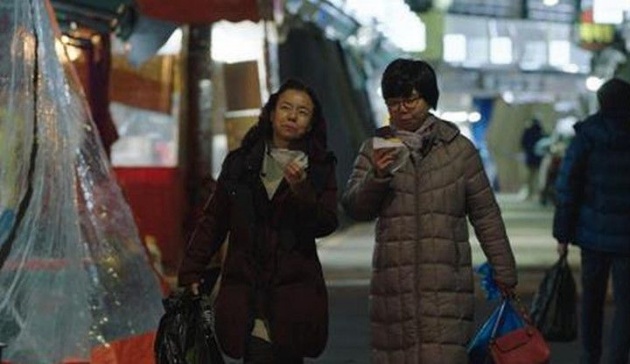 Pictured: Yoon Su-kyung (Yang Mal-bok, left) bonding with a friend over a bun in the Korean mother-daughter drama, 'The Apartment with Two Women', written and directed by Kim Se-in. Still courtesy of Finecut (Kr) / Korean Academy of Film Arts
Yi-jung's demotion to sales is a form of humiliation. During an interaction with a potential customer in which a male colleague is present, Yi-jung says nothing. She is assured that she will do better.
Meanwhile, Su-kyung's relationship with Yong-yeol develops. They look at an apartment together. Su-kyung is surprised to learn that Yong-yeol wants her teenage daughter to live with them. Su-kyung appears to be trading one daughter for another.
There is a flashback in which Su-kyung attends a graduation ceremony with a teenage Yi-jung. Yi-jung's friends complement her for having such a beautiful mother. 'But I'm not her mother,' Su-kyung explains. The teenage girls apologise for their mistake.
What is the source of Su-kyung's anger? She tells Yi-jung that she sacrificed her life for her, that Yi-jung demanded too much breast milk. In reality, Yi-jung is the product of a failed relationship, a reminder of that Su-kyung doesn't have a man in her life. Su-kyung continues to imagine herself as a desirable young woman. She can't accept any of the joys of motherhood, closing herself off to them. She also bears a scar from Caesarian delivery. Su-kyung also complains that her daughter never moved out. 'She doesn't have enough money,' she complains.
For her part, Yi-jung remains socially awkward, befriending her replacement and returning the USB stick to her. 'It was in my box of things,' she lies. Yi-jung helps her colleague with the accounts and stands up for her when their employer discovers mistakes. Yi-jung is told to keep out of the conversation; she isn't at school. The colleague allows Yi-jung to stay with her overnight but doesn't not react when Yi-jung suggests that they could be flatmates.
In a particularly striking scene, Su-kyung receives a coat from Yong-yeol, whom she is due to meet for dinner. She decides to turn up wearing her coat, negligee, underwear and shoes – and nothing else. In the restaurant, Su-kyung discovers that Yong-yeol's daughter has the same coat. Su-kyung removes the coat, revealing her red negligee, and leaves, walking home defiantly attracting stares but repelling them with a fierce expression.
Yong-yeol's daughter is not so keen on Su-kyung either after Su-kyung entered her room to find a pen and picks up a pink vibrator. After the initial shock, Su-kyung finds it humorous. Yong-yeol's daughter is less than pleased, regarding this discovery as an intrusion.
In the end, Yi-jung is forced to return home, finding her mother in a restaurant and helping herself to Su-kyung's food. There is an extraordinary moment in the apartment when there is a power cut, Yi-jung illuminating her mother with her mobile phone. She finds that they have vanilla ice cream, melting with the loss of refrigeration. 'When did you get this?' Yi-jung asks. Su-kyung cannot remember.
Kim Se-in doesn't offer a cathartic finish. However, she has captured something real. There is a sub-plot in which Su-kyung falls out with a friend, eventually buying her a bun and sharing a grocery order. She is capable for forgiveness even after extreme behaviour. Kim Se-in portrays a societal problem inherent in one-parent families, mining it for well-observed drama. The Apartment with Two Women will sear itself onto the viewer's memory, just as it did on mine.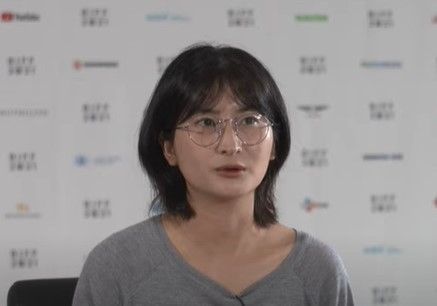 Pictured: Kim Se-in, the writer -director of 'The Apartment with Two Women'. Courtesy of Busan International Film Festival
Reviewed at Edinburgh International Film Festival, Filmhouse Screen Three, Princes Street. Sunday 14 August 2022, 15:30 screening