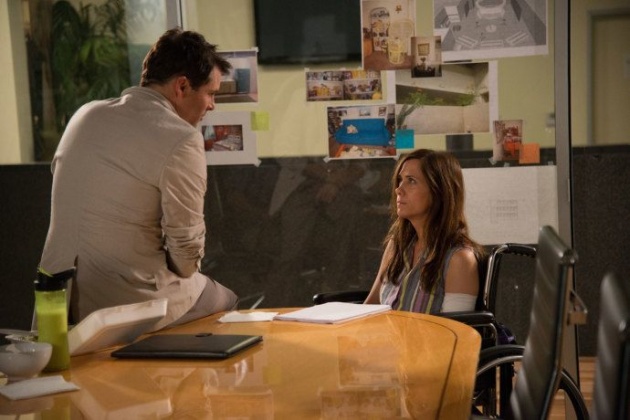 I wasn't that familiar with 'borderline personality disorder' prior to seeing director Shira Piven's film, Welcome to Me, so I had to look it up. Sufferers experience:
impaired emotional control, with oscillating mood swings, long term feelings of emptiness or loneliness;
harmful impulsivity, gambling or an excessive intake of alcohol or drugs;
impaired perceptions and reasoning, doubting one's self-image, having a poor sense of identity, difficulty with reasoning under stress; and
disrupted relationships, unable to sustain close emotional involvement with an individual
With thanks to www.bpddemystified.com – take an online test now.
Talk therapy like dialectical behaviour or transference focused therapy is normally the first course of treatment before medication. Exercise and omega 3 fatty acids are reportedly useful. I'm pretty sure my downstairs neighbour has this condition – she once emailed whilst I was working in Germany saying that I kept her awake the previous night. A miraculous feat – actually it was my son. Still, the neighbour throws herself into decorating projects – painting her front door black is the latest - and has moments of gaiety before descending into her default mode of inarticulate door-slamming.
One thing is clear: 'borderline personality disorder' is no laughing matter.
I am absolutely sure that Shira Piven, wife of Adam McKay and sister of Jeremy Piven, did not intend to make Welcome to Me as a comedy. Nevertheless she cast comedian Kristen Wiig (Bridesmaids, Zoolander No 2) in the leading role, which must have confused audiences.
The film isn't exactly a drama either. It has an absurd ('high concept') premise: a woman with borderline personality disorder wins $87 million in the California lottery and decides to finance her own cable channel talk show, the so-called 'Welcome to Me'. The calibre cast includes Wes Bentley, James Marsden, Jennifer Jason Leigh (barely recognisable) and Joan Cusack as the crew.
As films about media ambitions go, Welcome to Me is on a par with The King of Comedy. For an hour and forty minutes we are in the company of desperately unhappy Alice Klieg (Wiig) whose comfort food is old episodes of 'Oprah'. Oprah talks directly to her audience and passes on homilies that make her audience feel connected, feed good, feel whoop-whoop! You tell it, Lady O.
Alice was once a veterinary nurse, now unable to practice. She is in therapy - her shrink is played by Tim Robbins. Alas, she is off her meds. She has one friend (Linda Cardellini), whose life she doesn't think to transform with her millions after her big win.
It is only when she appears in the audience of a cable TV show and is called to the front that she hatches the idea that a life in front of the camera is for her. She is the answer to the production company's prayers and – at some cost – they indulge her whims. Alice wants to be seen dismounting from a swan. Then as her live show opens, she freezes; fortunately, her desire to communicate kicks in.
There is intentional humour in Eliot Laurence's screenplay. In session, Alice reads from a prepared statement. She is sexually frank and takes up residence in a casino, a logical place for a woman worth $87 million to live. What she doesn't get is an entourage, though her ex-husband offers financial advice.
Welcome to Me is about the relationship between the media – communicating through a live show – and a mental condition. It posits, if you like, the talk show cure. The TV show is marked by re-enactments from Alice's life. She is both on-screen narrator and director, corrector of her own story. She really wants to drive her point across.
That said there is no sure-fire way of dealing with borderline personality disorder. Sex won't fix it. Money won't fix it. Friendship won't fix it. Not even ratings will fix it. It is a condition to be managed, one day at a time, and through astute handling, good days might outweigh the bad.
So it is wrong to expect Piven to provide a cathartic ending: she doesn't. The film has a big finale in which Alice, having alienated everyone around her, tries to make things right with a telethon. Prior to this, Alice had neutered dogs on screen. Now they need a home: she is waiting for your call.
Alice's telethon is a parody but it is also a way of appearing to be important – to do something good. In as much as you want Alice to do something, you wish her to be there for her friend, who lost her job. You want less 'me' time.
Welcome to Me is as marginal as the talk-show it presents – it only grossed $625,000 at the US box office. That doesn't make it uninteresting. One of the twists is that Alice gets a fan who is writing a critical study of her work. Alice wants to have sex with him -see 'harmful impulsivity' on the bpd list. At no point is she a victim. She has a certain level of control, even though it drives others to distraction.
At one point, Alice walks naked through a casino (see 'impaired perceptions and reasoning') and Wiig, who has never appeared in a nude scene in a movie, goes for it. Her nudity is completely desexualised - a statement of vulnerability.
If Welcome to Me were a song, it might be 'Blood Makes Noise' by Suzanne Vega, one of her so-called 'mental health' numbers, in which the singer says to her doc 'I think it's really cool that you're concerned' but would rather wait until 'the silence has returned'. Some mental health conditions defy narrative, the logic of cause and effect. To depict them requires a different vocabulary. Piven achieves this in her film. It may be misconstrued by large swathes of her audience, or invite indifference. But it is right. It is there. It is palpable.
Reviewed at ArtHouse Cinema, Crouch End, London, Thursday 31 March 2016, 18:35 screening