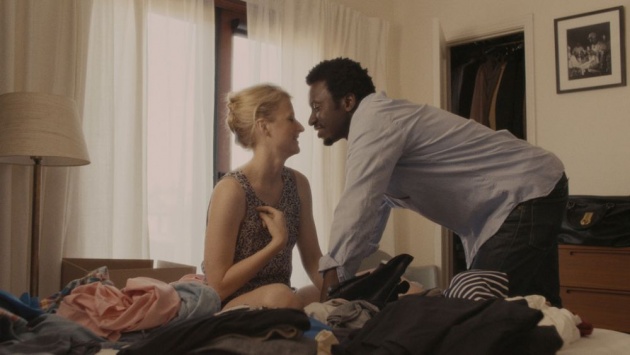 Like me, you might remember that Echo Park is not just a suburb in East Los Angeles but also the title of a 1986 film starring Tom Hulce (National Lampoon's Animal House, Amadeus but not alas National Lampoon's Amadeus). Director Amanda Marsalis' Echo Park (2014) is not a remake rather an inter-racial relationship story set in a neighbourhood where there is no shame in playing soccer, drinking coffee and digging on vinyl. Heck, this could be Finsbury Park – with a lot more sunshine.
Echo Park nominally stars Mamie Gummer, inescapably and I would imagine proudly the daughter of Meryl Streep. Gummer not only does not want to compete with her mother but wants you to know that she's not competing with her mother. She's a bit like Princes Harry and William, so obviously related to an icon that she can scarcely move without someone saying, 'you're just like...' I would like Spike Jonze and Charlie Kaufman to make a film inspired by her, Being Mamie Gummer about a young woman who discovers that turning into her mother isn't even a choice. You sense she wants to be her own person but doesn't know what that is – born into being a celebrity lookalike, what is that like? Gummer is unmistakably the most fascinating thing about the movie, so much so that when Helen Slater (the original Supergirl) turns up as her mother, you are suddenly jerked out of the movie.
Gummer is utterly convincing as Sophie, who leaves an unsatisfying relationship to live under the radar in the afore-mentioned Echo Park. Sophie, who designs handbags but doesn't appear to wear much make up (that's not a criticism), opts to buy a sofa from Alex (Tony Okungbowa) who is an aspiring music supervisor about to give up on his dream. In real life, Okungbowa is a music supervisor who hasn't given up on his dream. He produced the film, coaxing a screenplay from Catalina Aguilar Mastretta based partly on his own experiences, though I imagine he didn't really date a Meryl Streep lookalike. He is the resident DJ for the Ellen DeGeneres show, a fact he singly failed to mention at the Q and A I attended; mind you, Gummer didn't mention her mom either. I don't know if playing records for a rich white lady is living the dream - mine mostly involve dwarves and ice cream.
Marsalis is a photographer and resident of Echo Park making the transition to feature film directing. This might be a one-off – photographer Cindy Sherman only made one movie, Office Killer (1997), before returning to photographic murals. Marsalis is a good choice for the subject – she doesn't try to elicit performances but gets her cast to relax in front of the camera whilst they deliver the dialogue. One of the reasons Slater's appearance disrupts the flow is that she is a proper actress determined to dominate the scene. Why not, she played someone from Krypton.
Alex has a best friend, Mateo (Maurice Compte) who gets his attention by playing loud music in the street. If I had a friend like that, I would probably buy them a pay-as-you-go phone with $10 credit. Mateo is frequently left minding his young son, Elias (Ricky Rico) by his generally-thought-to-be-unsympathetic-but-we-don't-really-know-why girlfriend, Rachel (Robinne Lee). I felt sorry for the kid having to spend time with grown-ups – we never see him with children his own age. Sophie meets him when Mateo and Alex deliver the sofa, and before you know it, she joins them for a game of soccer in the park. Alex has never been in a serious relationship, because he's from England (Okungbowa studied at Middlesex University) and no one really wants to date a man without serious credits in LA. (This is purely my interpretation.) Sophie is repelled by her ex-boyfriend having taken her for granted. They will marry at some point, but their relationship has no trajectory.
After soccer Sophie showers at Alex's flat and wears his shirt, which is traditional visual shorthand for 'I want to feel something that has touched your body, ooh, baby, baby' and other expressions that look silly when I write them. Alex takes Sophie to his record shop, which is practically like inviting her to meet his parents – whom he doesn't talk about, by the way. Can you trust someone who never says where they came from? They fall into some sort of boyfriend-girlfriend thing, risk-free because he's leaving in a month, if only he could sell his apartment.
Reality check: how does an unsuccessful British guy get to buy an apartment in East Los Angeles? Really, I could use the tip. At a certain point he must have had success. Maybe he even scored a movie, or a successful daytime television chat show. I know Brits don't like to talk about inherited wealth (or being ginger – practically the same) but Alex must have done something good. He and Sophie drift into a sexual relationship until her mother tracks her down – couldn't she have phoned her at work – and tells her to go back to Simon (Gale Harold).
I happen to think Sophie is happy about her conscious uncoupling – like the train that divides at Ashford - apologies for the Southern – well, South Coast – reference. Then Rachel takes Mateo back. Alex is upset, and the sale of his apartment has fallen through.
Second reality – or should that be realty – check: why doesn't Alex just leave the sale to a realtor? He does however get an unexpected buyer and there are further complications. Somewhere in all of this, Elias starts using the Polaroid camera that Sophie bought him and puts together enough for a show.
The ending is about whether love is really worth the alteration of a career trajectory. Alex has a job in London. He was not supposed to stay. It is also about the amazing number of people who come to look at Polaroids – if you ask nicely. The Polaroid is a metaphor for Echo Park. It is neither hip, trendy nor great to look at. You notice the narrow view. But it still has something. I half-expected Guy Pearce's character from Memento to turn up looking for further clues – in a remake they would just be on his cell phone. At one point, Simon declares, 'Echo Park is not reality'. Marsalis aspires for a reality in the storytelling. Not an economic one – no character worries about paying the bills, much less for a wasted latte. But in the way people lift and separate, like a well-known garment. Echo Park is likable and has no tricks. Its biggest achievement is to show an inter-racial relationship in an uncomplicated and under-stated manner; if we could all just play soccer together and get along.
Reviewed at IFC Center, 6th Avenue at 3rd Street, New York City, New York, Saturday 16 April 2016, 19:40 screening with Q and A with Gummer and Okungbowa