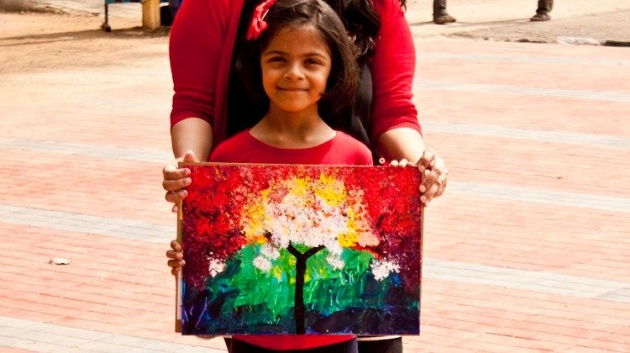 At times, a child's imagination and creativity can make things, which even adults cannot perceive. And, if they get a platform to showcase their talent, explore their thoughts and pursue their dreams, their creativity can be channelized to create wonders. And, proper support, motivation and nurturing from parents is the backbone of such talented young minds to thrive and flourish in their field of interest.
One such example of a young and budding artist is Aditi Rao. This talented girl from Bangalore is just about 7 years old and she is already creating ripples in the field of painting. Her creativity comes out, not only through the beautiful abundance of colors, she uses in her painting, but also through the conceptualization of the art, she creates on the canvas. Her fingers play with palettes and brushes to create amazing artwork of hues and shades. Aditi beautifully depicts her thoughts of her mind on the white paper with crayons, oil and water colors, pastels, tempera, acrylic and others.
She has won various appreciation and accolades for her painting. Her talent at this young age is just remarkable. Recently, she became the winner of the Colorthon Contest (Bangalore edition) for the second consecutive year. She came out with flying colours among more than 10,000 participants.
One more feather in her cap got added when she became the Mega Winner of the ICICI Bank Creative Masters Contest 2015 at the National level. More than 15 lakh people from across the country participated in this, belonging to the age group of 4 to 60 plus years. Aditi's painting 'It's A Beautiful World' was voted the best by a jury of renowned artist, including the Dean of J.J. School of Arts.
Not only this, Aditi was felicitated by none other than Madhuri Dixit and the CEO & MD of ICICI Bank, Chanda Kochhar, in a grand event in Mumbai in the presence of senior executives and renowned artists from across the country. Her painting was auctioned and the proceeds were donated to charity. Aditi also won herself a trip to Hollywood, CA along with her family. Such amazing feat at a young age is truly inspiring.
But, this is just the beginning for Aditi and she has a long journey ahead of her. And, she is definitely not alone in this. Her extremely talented mother, Ashwini Rao, who happens to be an amazing artist herself is one of her greatest motivation. Apart from her regular job as a consultant of financial services, she teaches painting to a sizeable number of young people. She has groomed Aditi to unleash her creativity in the right way. Ashwini and Hrishikesh Gopal Rao are proud parents of Aditi, who wish to see her excel in her talent and fulfil her dreams and ambition.
This is the story of a young girl, who chose a path for herself and will continue to learn and shine in her own way. As a parent, have you understood what your child wants to do in life or have you helped them find their dreams?
You can help them choose, let me free and they will walk their own journey to reach their destination. Encourage many more Aditis in your house or your neighbourhood to chase their dreams and you will see how they paint this world colourful and bright.