The Cricket World Cup season has just begun and our awesome site, bitLanders, has welcomed it with great treat for the members. Members of the site will be ecstatic to know that they can now customize their avatars with costumes of their favorite cricket team. The bitLanders' cricket costumes are accurate digital representations of the real thing. Avatar costumes have the right color, outfit combination, and even the team markings and name.
To see the entire available uniforms offered to members, please visit the site's SHOP! However, before doing so, here is a list of what a player's cricket uniform usually have.
• Cricket cap (or any form of baseball cap / sun hats)
• Helmet (for batsmen and fielders)
• Safety glasses (recommended for wicket-keepers)
• General body protective gear (arm guards, thigh guard, chest guard, elbow guards, etc…)
• Jumper that is used as a vest. If a woolen pullover is available, it is much preferable.
• T-shirt with collar. Although, collared long-sleeved shirts are also accepted
• White long trousers (other trouser colors are also allowed)
• Abdominal guard and leg pads (advisable for batsmen and wicket-keepers)
• Jockstrap (one with so-called protective cup is recommended)
• Gloves (allowed only for batsmen and wicket-keeper. Although the type of gloves for the two positions may vary)
• Spiked shoes for better traction while in the field
Now that you have a general idea of a cricketer's outfit, here are photos of the real thing and cricket costumes available for a member's avatar.
Avatar Cricket Costumes


These photos are screenshots taken from the shop. Please visit the link above to see the full assortment of available costumes.
Actual Cricket Unfiform Designs

(Image Source: Wikipedia.org – a player wearing Cricket Whites otherwise known as a flannel)

(Image Source: Google.com)

(Image Source: Google.com)
Here is actually a cool clip showcasing how Indian cricket uniform design have changed through the years
(Video Source: YouTube.com)
Note:
bitLander's cricket costumes cost 2 gems. For an inexpensive price, you'll receive the cool costume and a buzz bonus for 3 days. Read the full mechanics here: Blog about Cricket and Avatars and Earn Double Rewards
The Importance of Cricket Uniforms (Particularly Protective Gears)
Speaking of uniforms and getup, there is actually more to these uniforms than just visual appearance. Sure, the color and design represents the team and its country, but other measures have to be also considered carefully – a very important one is safety and protective gear. For instance, cricket laws indicate that batsmen are allowed to wear gloves and visor-equipped helmets while batting for safety measures.
Protective gear might seem trivial as it is a necessity any type of physical sports, but cricket takes this matter seriously. Some people may not now this (but loyal cricket enthusiasts probably do) – there have been 15 cricket-related tragedies. So far 14 players and one umpire have died. There are players who died right at the game, and there are those who died during treatment or recovery.
Cricket Related Deaths
This post will list cricket-related unfortunate accidents. After going through the list, the reader will have a better understanding why protective gear (specially the helmet) has a crucial role in a cricket uniform.
The list will show the person's name as well as the year and cause of death. In this way, the reader will know how safety measures have been incorporated in the cricket uniform through the years.
Additionally, if you haven't visited the SHOP yet, NOW is a good time to have a quick look to compare the current uniform with the former ones.
Without further ado, listed below are unexpected fatalities that happened to cricket players – most are from an injury sustained while playing.
Struck on the head by a ball
• George Summers – 1870
• Bill J. Griffiths – 1928 (happened while practicing)
• Raman Lamba – 1998
• Alcwyn Jenkins – 2009
• Darryn Randall – 2013

(Image Source: Wikipedia.org - photo of Raman Lamba)

(Image Source: Google.com - photo of Darryn Randall)
Struck on the head by a bat
• Jasper Vinall – 1624
• Henry Brand – 1647
Struck on the neck
• Phillip Hughes – 2014 (although Hughes was wearing a helmet, the ball hit an unprotected left area between his ear and neck)

(Image Source: Wikipedia.org - photo of Phillip Hughes)
Struck near the eye
• Ian Folley – 1993 (Folley actually died of a heart attack during treatment/operation because of the injury)
Struck on the body
• Zulfiqar Bhatti – 2013 (struck on the chest)
• Abdul Aziz – 1959 (the exact part of the body where Aziz was hit is just above the heart)

(Image Source: Google.com)
Heart Related Deaths
• Raymond van Schoor – 2015 (stroke)
• Richard Beaumont – 2012 (collapsed)
• Wasim Raja – 2006 (heart attack)
• Wilf Slack – 1989 (collapsed)
• Andy Ducat – 1942 (heart failure)
• Claude Wilson – 1881 (sunstroke)

(Image Source: Google.com - photo of Raymond van Schoor)
There will be Risk
After reading the list above, one may ask, "Is cricket dangerous?"
Cricket is not exactly dangerous per se. It is not a contact sport like boxing or MMA – but still, it is a physical sport where unavoidable accidents may happen. Despite the best safety protocols, fatal accidents may still happen at any game and to anyone in the field.
When talking about these 15 people, it is important to note that they have fallen but not forgotten. Their deaths are remembered to serve as awareness and reminder that cricket is enjoyable but the hazards are still there.
Even though their deaths have been immortalized as tragic in the record books, it also shows the passion that these men have for cricket. They are aware of the risk and dangers, but this did not stop them from honing their skills, playing the sport they love, and experience the thrill with excitement and enjoyment.
Here is a tribute video to these passionate cricket players who died doing what they love.
(Video Source: YouTube.com)
What is being done to improve safety?
As mentioned, no one can predict when an accident will occur. It is exactly because of this that preventive measures and safety protocols are always being evaluated and considered in the game.
In modern day cricket, various protective gears are utilized like shin guards, leg pads, abdominal guard, etc… However, uniform safety has always been focused on more sensitive areas like the head, back/side of the neck, and heart (according to a study done by researchers from Loughborough and Cardiff University, cricket injuries are mostly coming from balls hitting the back of the helmet and the neck)
Below are some photos of modern day cricket protective gear.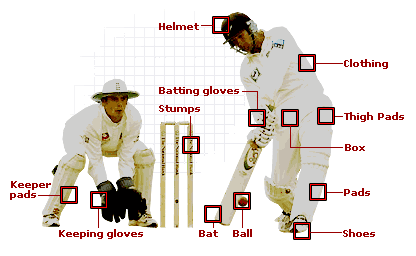 (Image Source: Google.com)

(Image Source: Google.com)

(Image Source: Google.com)
That's just about it, if you had fun reading this post, then you'll surely love to know 7 Interesting facts and things about Cricket