Our entire team at work decided to hold our first-ever team building. This is the first for our current alignment and the second in our entire account. Due to time and budget restrictions, we all opted for somewhere near the metro, an affordable getaway in Antipolo called Boso Boso Resort.
(Image Credit: easywed.com.ph)
Boso Boso Highlands Resort and Hotel
I am not so much fond of swimming, but I still went along. I was thinking this would be fun, considering most of these people are newfound friends.
I was not wrong. We totally enjoyed the entire trip. We availed of their day tour swimming which started as early as seven in the morning. We could stay up until six in the evening, but we already packed up by past five.
(Video Credit: Nikka Ballesteros via YouTube)
I personally loved Boso-Boso Resort, and given the chance, I want to bring my family and loved ones there. Here are the five reasons why.
1. Budget-friendly
(Image Credit: http://gazing-the-world.blogspot.com)
◈ Entrance Rates
As I mentioned, one of the reasons we chose Boso-Boso for our team building destination, of all othe possible options of resorts, was its rates. Yes, they offer relatively low rates. Their day swimming is priced at 170 pesos per adult and 150 pesos for kids, three to seven years old. Their night swimming is at 20 pesos more, 190 pesos per adult and 170 per kid.
Entrance Fees:

Day Swimming: 170 (adult), 150 (child); from 6am-6pm

Night Swimming: 190 (adult), 170 (child); from 6pm-6am
◈ Lodging and Cottages
Although one might think differently for their lodging and cottages. Their small nipa hut good for 10 pax is priced at 800 pesos, while a good for 15 pax is priced at 1,000 pesos. Just to set your expectation properly, these might really not accommodate the said number of heads. They are relatively small and can just be a good shelter to safeguard all the group's belongings.
(Image Credit: www.travelbook.ph)
They also have beautiful, but pricey, rooms for those who are planning to stay over night or longer. The lodging can range from 3,000 to 17,000 pesos which is also highly dependent on the number of pax that will check in.
Just a note, if you are thinking of staying overnight (that is, from 7PM to 6AM), don't worry. It's okay if you don't want to avail of their pricey rooms. They don't require customers unlike other resorts.
Oh, and also, before we forget. They also have corkage fee for soft and hard drinks customers will bring inside the resort.
(Image Credit: http://gazing-the-world.blogspot.com)
2. Beautiful View
Antipolo is situated in the province of Rizal. As we know, the province is mountainous, having many hiking spots. When you go to Boso-Boso Resort, they will let you choose where you would want your cottage near the pool or overlooking the mountains. But either way, just walk around the resort and you will get to enjoy the scenery.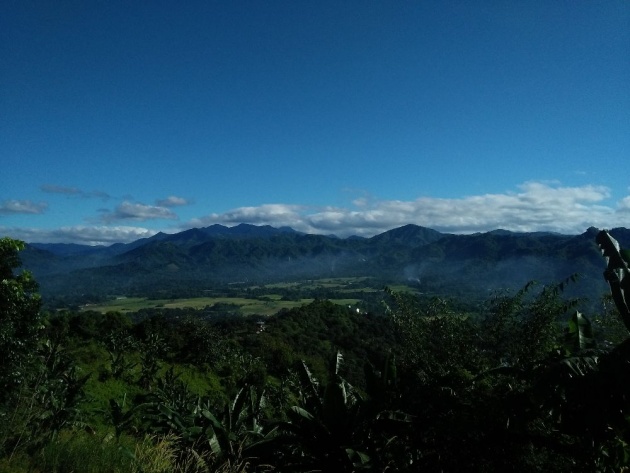 (Image Credit: JustAGirl)
I didn't actually went to the pool to swim for long. In fact, I just soaked in there for like half an hour. The rest of my day, I spent enjoying the beautiful mountains of Rizal Province which can be overseen in Antipolo. The are also other resorts nearby and one fellow here in BitLanders actually went there. See her blog about it here.
3. Accessibility
(Image Credit: http://gazing-the-world.blogspot.com)
◈ For Commuting
Rizal Province might look like it would take you forever to reach, but it's already very accessible today. Since many public vehicles with routes going back and forth to Antipolo available now, one can get to the place just by riding a public jeepney and tricycle.
Commuting might be more hassle for travelers, of course. So, if you have a personal car or can rent a private one, you will not have any problems at all getting at the resort.
(Video Credit: Favorite Resorts via YouTube)

◈ For Private and Rental Cars
For those who might be wondering, we rented a van (L300) which costed us 2,500 pesos for a group of twelve, excluding the driver's fee and diesel. I'm not that knowledgeable though about the total fare to commute since it was also my first time going there. I didn't have the time to do my research as well. And oh, if you are also thinking about Grab, their six-seater can cost about 500-600 pesos from Rosario, Pasig.
4. The Hidden Paradise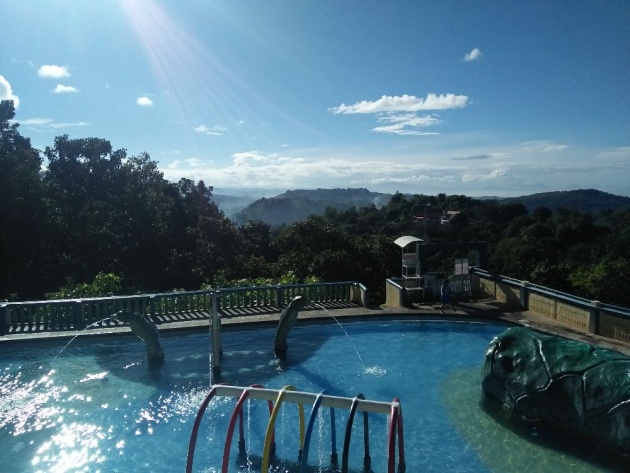 (Image Credit: JustAGirl)
It was a bit odd to me to come across a resort whose pool is not readily accessible. Don't get confused. They have several pools ready to plunge. But Boso-Boso has this popular spot they call The Hidden Paradise.
◈ Only for Summer days
The Hidden Paradise is somehow located in the bottom part of the resort. Since the layout of Boso-Boso seemed like a mountain itself, you can expect lower parts in the place.
When we arrived at the resort we were told that the Hidden Paradise is close and under renovation. It was off because we really wanted to experience it. But it came to our knowledge that they only open it during summer days. Bummer!
(Image Credit: https://insights.looloo.com)
◈ Olympic Pool and Wave Pool
But going back, the Hidden Paradise consists of a large olympic pool and a wave pool. It takes a very long walk down the concrete stair to reach it. And I mean it is really very long. How do I know? Well, we snuck into the place just to get a view of how it looks. But before we even got halfway to it, we were already very tired.
Approximately 300 steps into the main location where the pools are located, and that is actually not that hard because it's going down. But prepare yourself when you go up, back to your cottages or rooms, because you might even need help to pull you up. Haha! I seriously felt as if I was climbing up an obstacle course.
We didn't get to see the Hidden Paraside up close. We just got a glimpse of it halfway down. Because it is under renovation, of course, it wasn't that pleasant-looking. But I can tell from the view that had it been open and good to go, it would be such a wonder to see.
(Image Credit: https://pinkmountains.wordpress.com)
5. Replica of the Statue of Liberty and Activities
From the location of our cottage, we could overlook the cool replica of Statue of Liberty. It is also located at a lower part of the resort. We werw able to come close to it but it was a lot better to see it from a higher location.
◈ Volleyball, Billiards and Table Tennis
Aside from all of these, Boso-Boso Resort also offers other activities such as volleyball, billiards and table tennis. These are not for free, but all of them come in affordable rate of 150 pesos per hour. Don't think it is pricey because you might not even finish an hour of table tennis because you'd get tired. Yes, I played table tennis with one of my colleagues.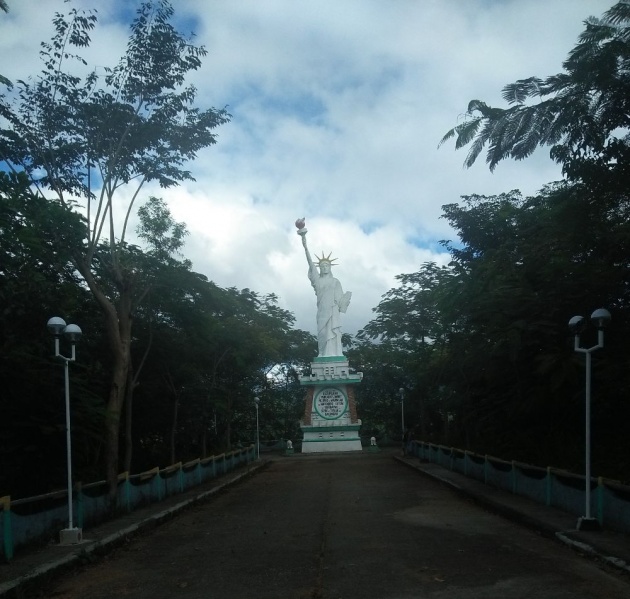 (Image Credit: JustAGirl)
Overall, Boso-Boso Resort is a great place to add to your list of recreational spot. It is perfect, not just for team buildings, but also for personal trips and vacation.
How about you? What place have you last visited?
------
For more of my blogs:
♦ The BitLanders Film Series Introducing Disney Animated Film FROZEN: A Tale of Sister Love and Women Empowerment
♦ The BitLanders Film Series Featuring Jennifer Lawrence's "RED SPARROW" A Movie Review: Of Women Empowerment or Female Objectification?
♦ The BitLanders Film Series Featuring ENCHANTED: A Comic Modern-Day Fairytale of a Brave Damsel Finding Her True Love's Kiss (A Movie Review)
♦ The Hunger Games Movie Review: Face of Hope Amidst Post-Apocalyptic Dystopia
♦ The Hunger Games: Catching Fire Movie Review
♦ MOANA Movie Review: Empowered Young Girl from the Island of Motonui