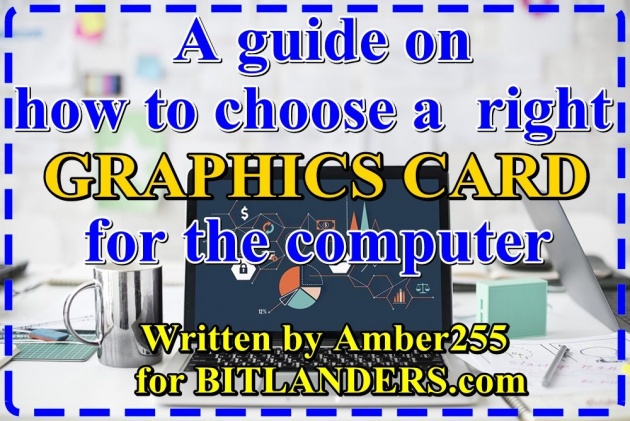 A Guide on How to Choose a Right Graphics Card For the Computer
Photo credit: pixabay.com - Edition by Amber255 via Bitlanders.com
Hello fellow readers. While managing our everyday deals, we increasingly use our smartphones, but we do not imagine still our life without a computer at work or at home. What the computer you use? Is it a laptop or stationary computer? I have both at home, but mostly I love working on my laptop. Unfortunately, it looks like it becomes less powerful, so I am looking for a new one. But how to choose the best computer? I must say that I am not a computer geek and I mostly rely on professionals' advice. Fortunately, I have one computer geek next to me. It is my brother. So, all the knowledge I will use in this guide on how to choose a right graphics card for the computer I got from my brother. But why do we talk about the graphics card?
The processor and graphics card are two of the most important elements that have the greatest impact on your computer's performance. The value of the graphics card is higher when we talk about computer configurations for games. The graphics cards (it also can be called video cards) market is changing rapidly, and less experienced customers often encounter a problem when trying to understand the essential parameters. For this reason, I want to write some tips on how to choose a right graphics card for the computer, and I hope that will helps you in the future when sooner or later you will need a new computer.
At first glance, everything seems very simple - the buyer need just to choose a manufacturer, and then a specific model according to his needs and budget. But there are many other factors we should be aware of. Let's talk about them.
Graphics Card: The Basics - Video credit: NCIX Tech Tips via Youtube.com
How To Start?
Before answering the question of which type of computer is most suitable for you, think about what you can do with it, how useful it will be for you, and what problems for you will resolve this purchase. I would distinguish four categories of computers: for the work and study, for the work and entertainment, for the mobility, for the intensive work and games.
Computers for work and study
These are computers designed to carry out simple daily tasks, browse the web or socialize on social networks. The computers in this category are suitable for seniors, students or schoolchildren who do not need additional features or speeds and who want to save because computers in this category are among the cheapest.
Computers for work and entertainment
Computers of this category are designed for both intensive work and entertainment, such as viewing high-definition movies and are suitable for lower requirements asking computer games. People in this category are those who want to surf or chatting online, work without interruption, and occasionally play games or watch high-quality movies.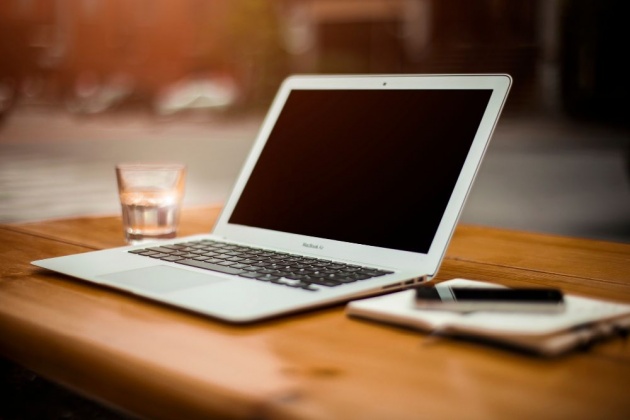 Choose right graphics card for the computer - Photo credit: wallpaperplay.com
Computers for mobility
These are computers that are lightweight, easy to carry, have longer power batteries, often touching screen, and are designed for people living an active lifestyle. Such computers are often chosen by entrepreneurs, who often travel or people who like comfort and mobility.
Computers for the intensive work and games
These are computers designed to play not only the latest games but also for editing photos and video or 3D programs, watching high-definition movies or performing other extremely intense work. These computers feature additional features or high-performance technical parameters, and they are often used by game enthusiasts, photographers or video editors, designers, or people who enjoy exceptional quality and functionality.
Now you decided what the computer you need for. Get's go to choose a correct graphics card.
A video card (also called a display card, graphics card, display adapter or graphics adapter) is an expansion card which generates a feed of output images to a display (such as a computer monitor). Frequently, these are advertised as discrete or dedicated graphics cards, emphasizing the distinction between these and integrated graphics.

Credit: en.wikipedia.org
Why Does The Graphics Card Is Needed?
The main responsibility of the graphics card is video generation. It should be borne in mind that in the case of games, the process of animation generation is much more complex than, for example, when working with e-mail or office applications, so if you need a high definition and detailed image, the graphics card should be of adequate performance.
The main features of the graphics cards:
Graphics generation.
Support the generated processes of the processor.
Boost your computer performance (speeding up your tasks).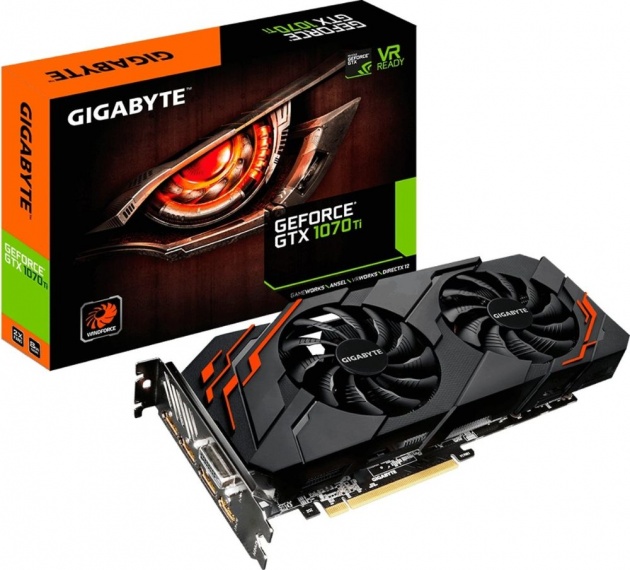 Gigabyte Graphics card - Photo credit: twitter.com
How To Identify The Performance Of Graphics Card?
How to choose a graphics card, how to identify what kind of generation it is and what level of performance it offers? Manufacturers use appropriate tags that should help to even less experienced users to evaluate the performance of a particular graphics card model.
First of all, look at the first letters and numbers' combination that you see in the name of a particular model. True, sometimes you may encounter special authorization models. The specifications of such variants are more difficult to identify.
Currently, AMD and NVIDIA products are dominant on the graphics card market.
Which GRAPHICS CARD Should you Buy? | Nvidia vs AMD - Video credit: Trusted Reviews via Youtube.com
AMD Graphics Cards
AMD graphics cards are divided into:
Radeon - Shared models;
Radeon RX - Models for gaming.
The first number of the name describes the generation of the video card (for example, the Radeon RX 580 is more recent than the Radeon Rx 480). The other number describes the performance segment (for example, the Radeon RX 570 is more efficient than Radeon RX 560). In addition, the manufacturer's offer also includes special permission models: Radeon RX Vega 56 and Radeon RX Vega 64.
Regarding older versions, Radeon Nano, Fury and FuryX models should be distinguished. Special designs usually have the highest level of performance, but at first glance, it's difficult to determine which series they belong to, so when choosing, it's worth looking at their specifications.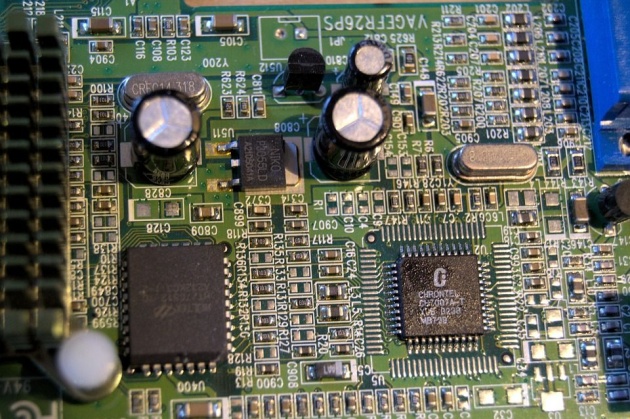 Graphics Card for the Computer - Photo credit: pixabay.com
NVIDIA Graphics Cards
NVIDIA graphics cards are divided into:
GeForce is the simplest model;
GeForce GT is a mid-low-performance segment;
GeForce GTX - advanced game-adapted models.
The first number defines the graphics card generation (for example, the GeForce GTX 1080 is a newer model than the GeForce GTX 980). The second number shows its performance segment (for example, the GeForce GTX 1070 is a better option than the GeForce GTX 1060). Part of the NVIDIA graphics cards is marked with a Ti tag, which means a faster model (for example, the GeForce GTX 1070 Ti, of course, is more efficient than older GeForce GTX 1070).
Nvidia GeForce GTX 1060 is far and away the best graphics card on the market when it comes to sheer value. For a modest sum of cash, this GPU allows users to experience full HD 1080p and – maybe with a bit of overclocking – 1440p and even 4K gaming. However, the gTX 1060 doesn't support SLI, so you're limited to just one card.

Credit: techradar.com
Kernel Timer and Tactical Frequency Of The Graphics Card's Memory
The kernel timer frequency and memory tactical frequency parameters should be compared when looking at the same series graphics cards, and in the case of looking for advanced models with somewhat higher performance than standard graphics cards can offer.
Usually, the graphics cards models with an increased kernel timer and memory's tactical frequency have additional tags on the product name: OC, Overclocked, Superclocked, or special names that describe better graphics card's parameters such as AMP, DC Lightning.
A larger kernel timer and memory's tactical frequency mean a much higher level of gaming performance. A larger kernel timer and memory's tactical frequency mean a much higher level of gaming performance.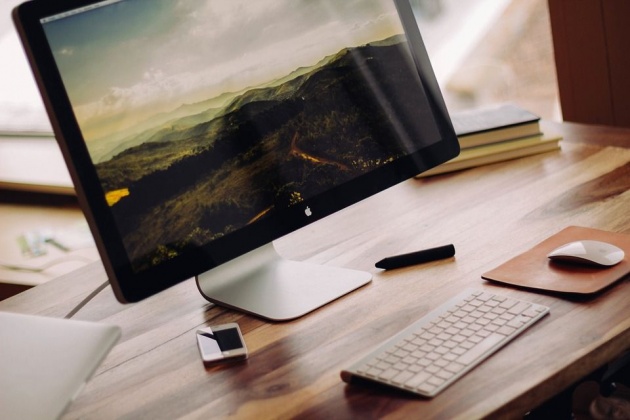 NVIDIA Graphics Cards - Photo credit: pixabay.com
Graphics cards with Turbo or Boost technology
The graphics card can be equipped with Turbo or Boost technology, which automatically increases the tactical frequency of the graphical kernel when it is needed. As a rule, the higher tactical frequency of kernel and memory is accompanied by more efficient graphics card cooling.
Integrated Or Dedicated (External) Graphics Card?
Most processors feature an integrated processor graphics card system. This decision results in lower computer costs and lower power consumption. However, integrated graphics cards offer a weaker performance level and only justify themselves in tasks that demand less power.
What does the dedicated graphics card mean? Simply put, this is an external graphics card that allows you to expect a much higher performance level. This is a solution for games and complex graphics works.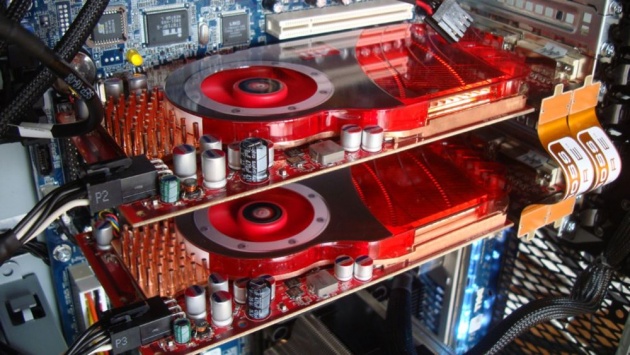 Two graphics cards - Photo credit: appslankaa.blogspot.com
What To Look For When Choosing A Graphics Card?
When choosing a graphics card, it's worthwhile to pay attention to the native resolution of the screen. The screen resolution is important for those who work with graphics and want to enjoy the sophisticated visual experience of computer entertainment.
Purchasing or upgrading a video card to a newer and more powerful device may prevent the old power adapter from delivering the required power or load. For this reason, it's worth paying attention to the power consumption of the new graphics card and the power of the power adapter. In the case of the most powerful graphics cards, they may require a more powerful adapter with a minimum output power of 600 W.
Not only memory capacity but also its type is important. Video cards can accept the following types of memory:
1. DDR3
2. GDDR3
3. GDDR5
It is recommended to choose video cards with GDDR3 or GDDR5 memory. Greater performance is also affected by memory throughput. The higher the number under the name is, the higher the bandwidth of the graphics card. This is especially important in games and always when sending large amounts of data.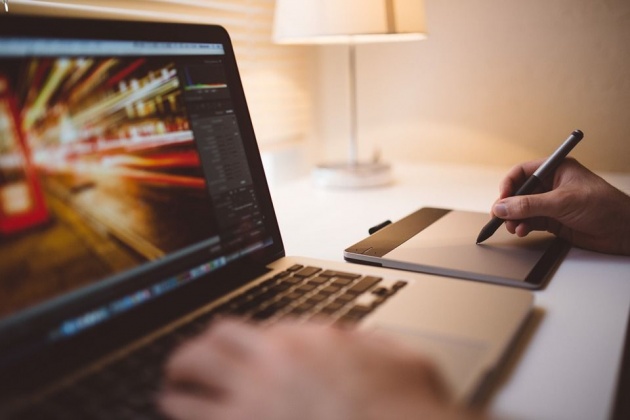 Graphics card - Photo credit: pixabay.com
Graphics Card Cooling
This is a very important element in terms of powerful graphics cards. Manufacturers are trying to use solutions that prevent the graphics cards from reaching very high temperatures. When choosing a specific graphics card model, it is worth paying attention to what coolness is applied to it and is it enough for the graphics card power.
What kind of graphics card should you choose if you want a quiet computer activity?
Choose such graphics card model which is provided with the manufacturer's cooling. Such graphics cards cost more, but they are characterized by much quieter performance. Each graphics card manufacturer has its own cooling solutions. For ASUS video cards (this is DirectCU, MSI) the company has Twin Frozr. The Gigabyte its cooling system named as Windforce.
While reading my new blog, please check the QUERLO CHAT:
How To Choose a Graphics Card For a Stationary Computer?
In the case of stationary computers, the video card is mounted on a PCI-Express x16 (less often with a PCI-Express x8 or PCI-Express x4) port. This solution makes it easy to upgrade your computer because when a particular graphics card is too weak, it can be changed with the more advanced car. In addition, you can combine multiple video cards in Nvidia SLI or AMD CrossFire mode.
Depending on the performance of the graphics card, you may need an appropriate power adapter and special power cords. The most common options are:
6-pin - An additional power supply from a 6-pins (6-pin) plug.
6-pin - 2-wire power supply with a 6-pin connector.
2 x 8-pin - dual power supply with 8-pin (8-pin) plug.
More powerful models of graphics cards require additional power, usually, the 6-pin or 8-pin (500 to 600-Watt power adapter will be sufficient), and 6 + 8-pin or 8 + 8 pins (without a 600-700 W power adapter). Before choosing a specific graphics card model, check if the power adapter you have is of adequate power and has the required connector set.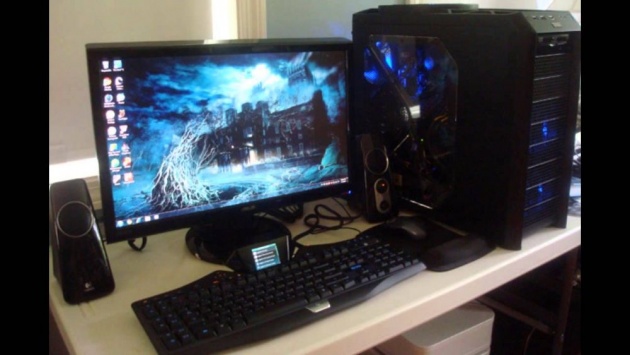 Graphics Card For a Stationary Computer - Photo credit: tapirkomputer.blogspot.com
How To Choose a Graphics Card For a Laptop?
The situation with the laptops is somewhat different because here the graphics system is usually located on the motherboard or embedded as a special expansion card (MXM), which complicates the possible renewal of the laptop. Cooling and available connectors are already dependent on the design of a particular laptop.
The portable graphics cards' performance is also important. The advanced technology made it possible to create more sophisticated designs that make mobile graphics cards today virtually identical to those for stationary computers in terms of power.
How To Choose a Graphics Card For Games?
For games of full HD resolution, a model with 2 or 4 GB GDDR5 125-bit memory will be sufficient. For higher resolutions, it is recommended to choose a 4 or 6 GB GDDR5 192 or 256-bit model.
For 4K resolutions or multi-screen entertainment, you should consider at least 8 GB of GDDR5 model: GDDR5X 256-bit, 384-bit or HBM/ BM2 2048-/096-bit.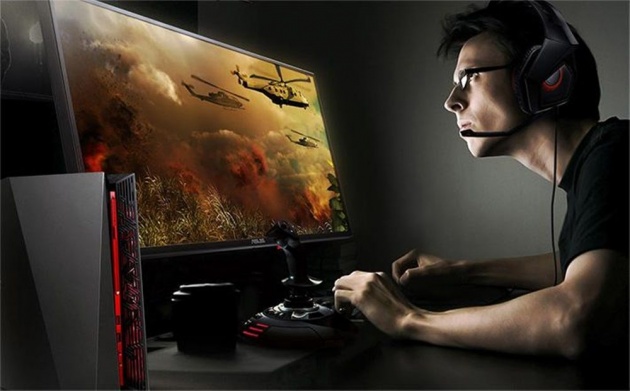 How To Choose a Graphics Card For Games - Photo credit: wordpress.com
How To Choose a Graphics Card For Working With Design Programs, etc.?

Graphics cards designed for professional design, projections, and 3D modulation programs are different from other models not just by their layout but also by its specifics. Interestingly, despite the fact that they are high-powered, they are not the ideal option for gaming. Such video cards are optimized for other purposes.
For 3D modulation, video editing, animations, photo processing, and design applications, it is recommended to choose specialized graphics cards such as Nvidia Quadro or AMD FirePro. Those cards will allow you to get maximum performance in 3D modulation and similar programs.
On The Final Note
Modern computers are lightweight, easy to use and best suited not only for browsing the web, writing letters or social networking but also for working with editing programs and for the highest levels of entertainment or even the latest games. And the graphics card seems to be very important there.
There is an opinion that graphics cards do not improve and do not progress, but this is not true. Owners of older and weaker graphics cards may update them and will be pleasantly surprised.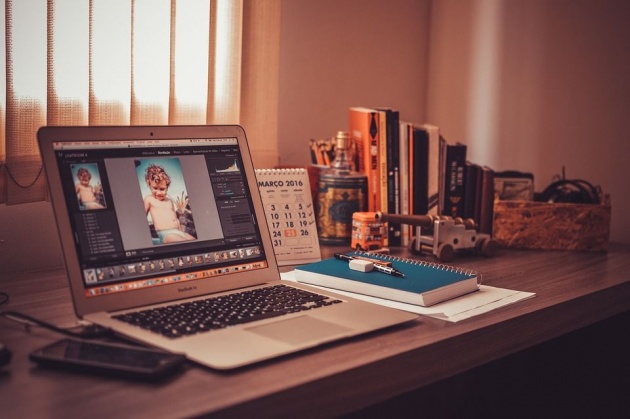 Graphics Cards (Video Cards) for the computer - Photo credit: pixabay.com
So far, no significant amount of advanced hardware has been released in 2018. RAM memory costs are rising, the cost of new Intel processors is constantly high and productive graphics cards are massively purchased by cryptocurrencies miners.
For the average consumer, it is sufficient to buy a computer with Intel's graphics capability because the graphics cards mounted in Intel Core processors of the latest generation are sufficient for both intensive work and entertainment such as high-definition movie viewing or games with medium requirements. Buying a computer with a separate video card is good if you are planning to play serious games or seriously working with video material, 3D graphics.
***************************************************************************************************
Thank you for stopping by and reading my blog.
2018, All Rights Reserved.
You are very welcome to join Bitlanders and share your valuable knowledge and opinion.
***************************************************************************************************
You can check my other blogs :
1. Best Seven Smartphones for Business Users
2. Some Tips On How to Protect Personal Data Online
3. Importance of Graphic Design for Business Promotion on Instagram
Come back to find more...
***************************************************************************************************