Life without smile, laugh or gag is just like a tea without sugar. Being serious in mood all the time makes a man rude and lonely too. People prefer to talk with a fun person instead of rude and serious one. The fun person is always gathered with people around him. If some one is comedian then most of the people try to spend some time with him.
I am going to write about a Legend Comedian, his name is Umer Sharif. Umar Sharif is well known personality and celebrity in Pakistan and south east Asia. He has also called with different titles related to his performance. Some people entitle him as King of Comedy, some call him Legend. All the people who entitle him are totally big fans of this Legendary Personality and his work.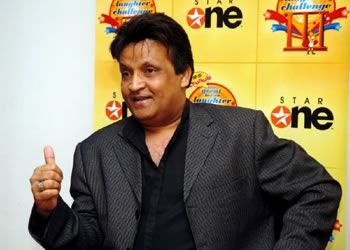 Image Source http://fmfolio.com
Life and Career.
Umar Sharif was born in Karachi Pakistan. Umar Sharif started his career in 1974 from stage. He was God gifted from childhood and he showed his talent on stage by performing many stage shows in Karachi. He is also named as King of Stage. He actually got fame from the stage shows. His style of delivering his dialogue is absolutely matchless. He is also a Poet, Singer, Director, Writer and Author. He has written many his outclass stage shows and Dramas for tv.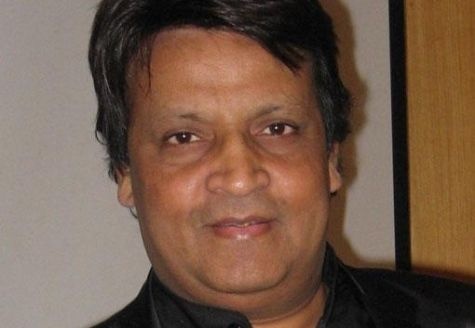 Image Source http://www.ataaso.com
His most famous and sidesplitting Comedy Stage Show is Bakra Qiston Pe (Goat on Installments). He has written and performed in many stage show, which were amongst his super hit stage shows counting the names Naee Ami Purana Abba (New Mom Old/ Former Dad) and there is long list of his hit work in stage. I present here few clips of his tremendous work.
Bakra Qiston Pe Clip
Bakra Qiston Pe
Naee ami Purana Abu
The proof of his outclass work can be examined by his presence as a Chief Guest in the Grand Finale Great Indian Laughter Challenge. The Judge Shekhar sumon and Navjot Sidhu praised him alot. This describe the hardship of Umar Sharif in his field.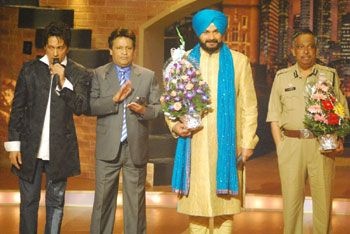 Great Indian Laughter Challenge Finale
He had also changed the format of Pakistani Dramas from a traditional track to mix it up with comedy just to entertain people with some sadness, thrill, excitement and suspense. He also presented a drama Umar Sharif Hazir Ho at the 50th Independence day. In this show Umar Sharif performed multiple characters in the form of different politicians, traders, workers, employees and much more. That was also one of his most entertaining shows.
Umar Sharif Hazir Ho as Traffic Police
Apart from this show there is also long and wide list of his show, i am mentioning some names of his Tv shows, counting from Fifty-Fifty, Parda Na Uthao, The Sharif Show, Umar Sharif Vs Umar Sharif.
Fifty-Fifty
Parda Na Uthao
Sharif Show
Umar Sharif Vs Umar Sharif
These were only his Tv shows, he had acted, written and directed many of stage show as well. Now counting the names of these stage shows include, Coolie 420, Dulha 2000, Eid Aashiqon ki, One Day Eid Match, Umar Sharif In Jungle, Petrol Pump, Akbare Azam, Baby Samjha Karo, Chand Barae Rarokht and it continues to many numbers. Now i am presenting few clips of these shows.
Coolie 420
Dulha 2000
Eid Aashiqon Ki
One Day Eid Match
Umar Sharif In Jungle
Petrol Pump
Akbare Azam
Baby Samjha Karo
After being a celebrity he also started Omer Sharif Welfare Trust and established Hospital with the name of MAA (Mother). This is charitable hospital specially for the people who can not afford the medical expenses working in Art field.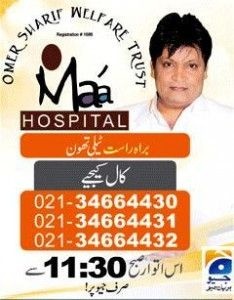 Image Source www.google.com
Video Courstesy By www.youtube.com