A Little Taste of Cafe:In House
How We Stumbled Upon Cafe:In House
Yes, it was our first day (as in when the sun came up) in Kuala Lumpur that time. We were exhausted from climbing up and down the flight of stairs at the Batu Caves and packing up our things to relocate to Mercu Summer Suites. I was sweating all over. I felt like a vegetable. I had a headache. Good thing there was an eatery at the foot of the hotel!
It was Cafe:In House.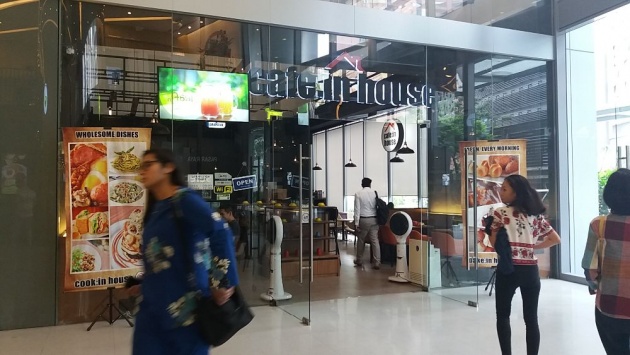 Photo credit: lapiz-lazuli
Now, from my quick research pre-flight to Malaysia, I thought this cafe was only a little kiosk where you would either be the lucky early bird to sit at their makeshift dining spot or the unlucky one to stand whilst eating your munchies. I think I've included this on our initial itinerary, breakfast go-to to be exact because it IS a cafe and it looked like they only serve pastries and other well-known morning meals. Good thing I was wrong at that time because my energy was draining out and I've none left to look for a McDonalds (as I also wished to try their BCB).
Name and Location
The name may sound misleading because aside from pastries, sweets, and coffee, they also offer fulfilling meals (viands with rice). The options were a little few though, nonetheless, the portion sizes were very large that I wasn't able to finish mine. What's surprising is that their food selections don't represent Malaysian cuisine, rather they have one from other countries like Korean and Hungary.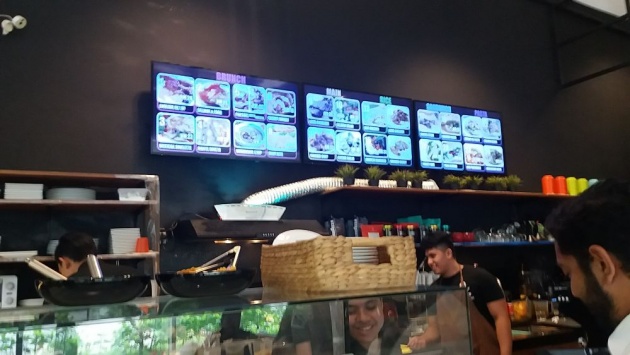 Photo credit: lapiz-lazuli
This cafe is situated just beside the side entrance of Mercu Summer Suites (Hotel on the outskirts of the capital) so it has a very convenient location. There are a number of people coming and going in this place, a nice indication of satisfying food and service in this eating lounge. It is also not intimidating to go in.
Look and Feel of Cafe:In House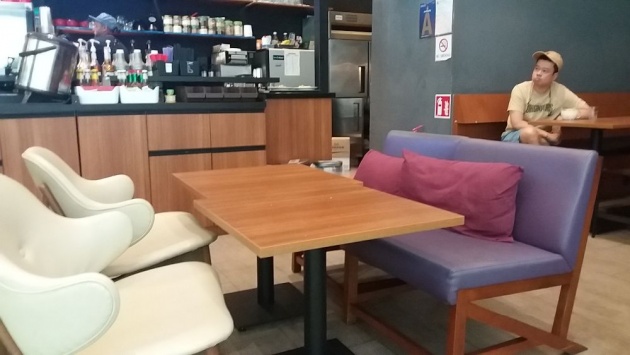 Photo credit: lapiz-lazuli
The cafe-restaurant has a nice cozy modern-industrial look and feel. There were stools where you're looking for a nice and fast sip off your coffee. If you want to stay longer, you can opt to dine at a table with sofa chairs as seats. I only find the furniture a little crowded.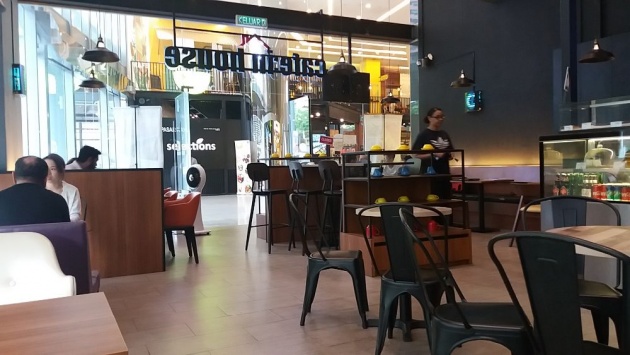 Photo credit: lapiz-lazuli
The whole room is adequately lit, though I find their lighting somewhat "cold," from bluish hues. One side is facing the sun around lunchtime, but they have fabric blinds to take care of that. I did feel a OK temperature (not too cold nor hot) in their cafe, but others might prefer it that way.
Get a glimpse here:
Video credit:
lapiz-lazuli
Food and Drinks
Chicken Chop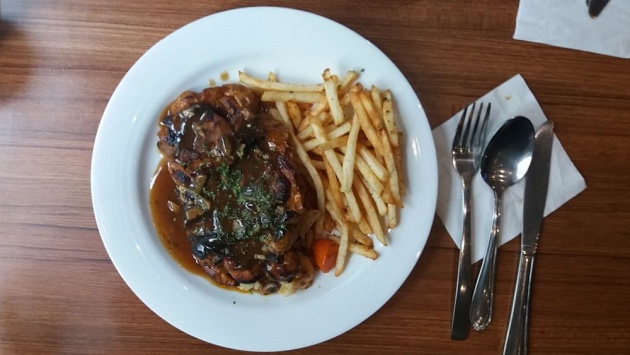 Photo credit: lapiz-lazuli
Mom's order. It has french fries included. I took a few bites and I honestly found it very bland. I don't know if it was supposed to be peppery or herby or even spicy, I didn't taste any of those. But mom did say she likes their Chicken Chop, somehow she's sensitive to flavor—a pinch of this and that is traceable to a senior's palate.
See a: Chicken Chop Recipe.
Beef Bulgogi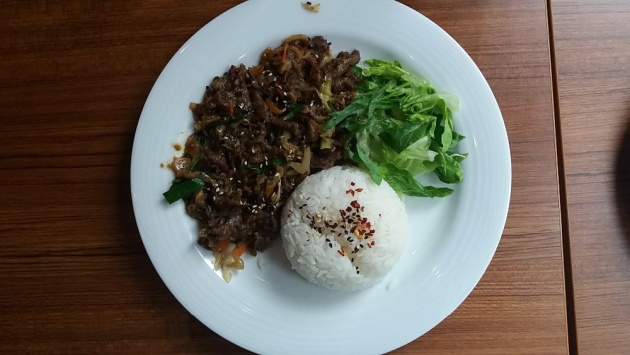 Photo credit: lapiz-lazuli
Sister's order. Rice is also included in the meal. I honestly liked this than my order but I never regretted mine because it's new to me. I absolutely like Cafe:In House's Beef Bulgogi! It has the right combination of seasonings and the meat was very tender. I think you will not get bored over time with the taste.
See: Beef Bulgogi Recipe.
Lamb Goulash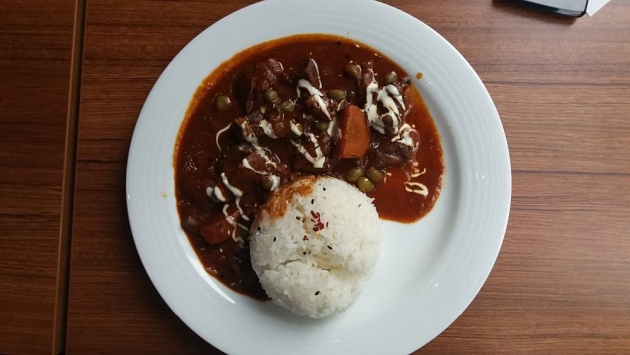 Photo credit: lapiz-lazuli
My order. It is paired with a cupful of rice. I've ordered Lamb Goulash because it's new to my ears. Seriously, it tastes like Chicken Afritada, with bits and pieces of organs other than lamb flesh. The sauce was a bit thick for my liking but it was OK when mixed with rice. Yum!
See: Lamb Goulash Recipe.
Beverage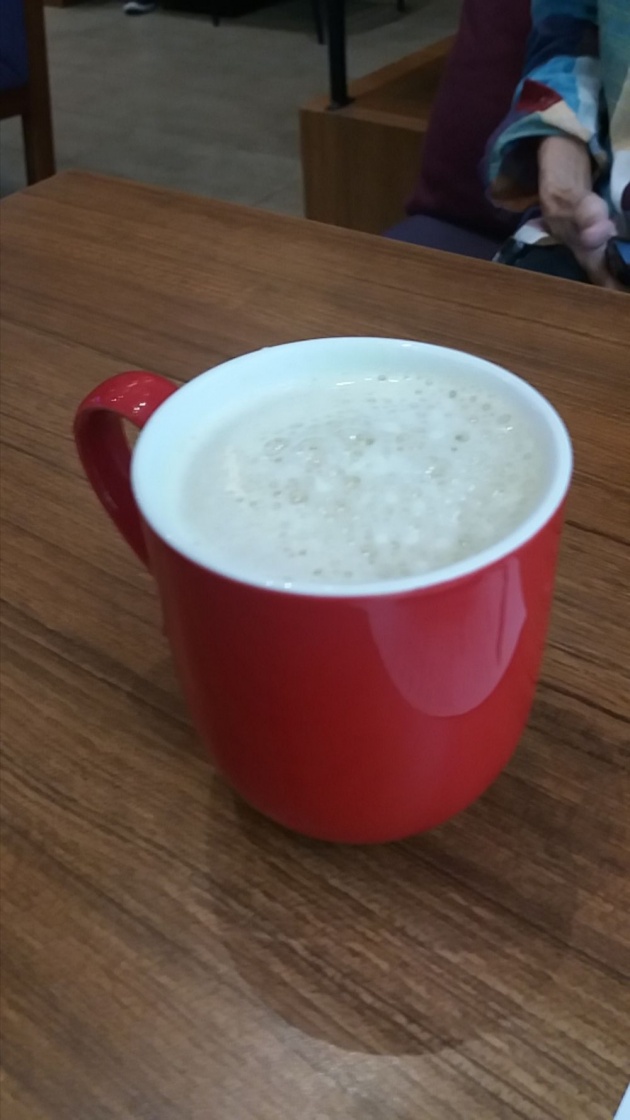 Juice in a cup. Photo credit: lapiz-lazuli
We only had service water (fill your own) and Pineapple Juice. The juice was more frothy and had a heavy texture. Both didn't disrupt our guts.
Service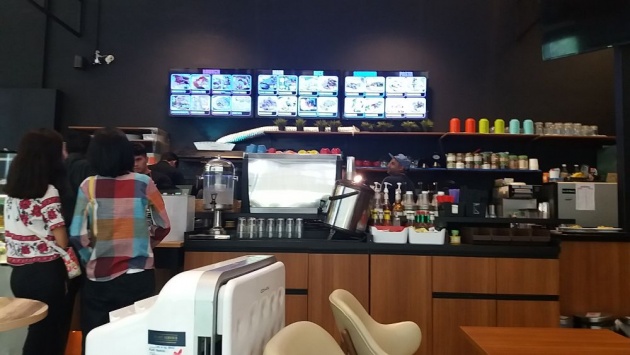 Photo credit: lapiz-lazuli
You order as you pay but they would give you a little device to know when your orders are ready. We asked a few stuff from their waiters and were accommodated with glee and respect. The staff was very cordial and had a bit of funny bone on them. We were taking a groupie and one of them photobombed our picture. We were also speaking to him in English at first until he broke the truth that he's a Filipino who can speak Tagalog. Small world indeed.
Impression
Cafe:In House is a very nice eating place if you feel the need to unwind from your overlapping itinerary when visiting Kuala Lumpur. You can take your time in there and nobody will shoo you away. Food is on par with the price, especially the serving. Although you can count the menu with your fingers and toes, you will be satisfied with your plate because of their huge serving sizes. It's not how many but how much.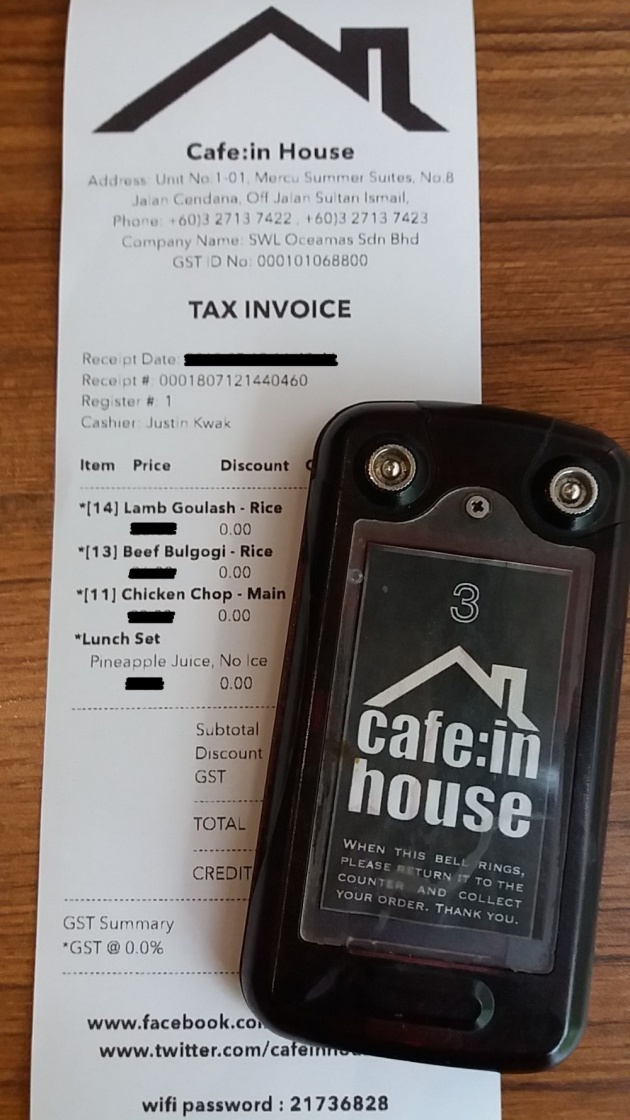 Photo credit: lapiz-lazuli
It is strategically located in a hotel where rates are very affordable without compensating price for convenience. You can dine at the cafe even if you're not booked at Mercu Summer Suites. It isn't intimidating and the prices aren't that steep, considering it is located below a big inn.
Slideshow:
Video credit:
lapiz-lazuli
Side Note: The Road to 350
Here I am, recalling what happened last year, in another country. I've finished writing my insight about the topic at hand but I'm still short of 350 words (annexed: this side not originally planned as an introduction was not made yet when word count was done). I need to make sense other than ramble on about how will I reach the ideal word count to reach better rating. But somehow, in the back of my mind, I want to gamble on this post as a 4-star rating was done before without 1000 words.
I really want to try but I need to increase my buzz score as I've been lazy these past few months. But 3-stars ain't that bad too, now that every Bitlander can view all blogs with any rating (and with or without). Yay!
Jeez, I should have done C-blogging instead! XD
Thanks for clicking read and buzzing!
Related Topics:
A Tale of Two Accommodations in Malaysia
Country Day Tour in Kuala Lumpur
Conti's Bakeshop and Restaurant at Robinson's Magnolia, Philippines
Disclaimer: pictures, videos and write up are originally shot/written by lapiz-lazuli, unless otherwise stated. Views and opinions on this blog post are truthful, but subjective, and are not influenced by sponsorship of any sort.