Video credits: Jean Beltran-Figues via bitLanders.com
Today, I opened our window curtain, and to my delight, a beautiful clear blue skies with few white bumpy clouds welcomed me to November's first Saturday. It is indeed a perfect time to get out of the house. I am all pumped to get ready and start this epic day!
Of course I got to prepare breakfast and get our things ready, I have not yet packed because I know this won't take long as it's just an overnight at the neighboring city or town, whatever it is.
I cooked "ginataang manok" which is one of my favorites and one of the many chicken recipes I have learned to cook lately. I knew a few others such as tinolang manok, chicken bistek, chicken adobo of course and halang-halang. Please don't judge me when I say I had learned it lately because I am not used to cooking. When I was small, I am not a kitchen person so I really am still learning these days because I have to cook for my husband.
Anyways, this was a late breakfast because we woke up a little late at seven. I usually wake up at six. After breakfast, I had to clean up everything as well as packed our stuffs. But James had to finish something in the computer so we postponed it for a little bit.
Quarter to twelve, we were finally on the road. Check in time was supposedly 12 noon but we can definitely be late for this, nothing to worry about, our plan was to just enjoy this day and chill.
En Route to Liloan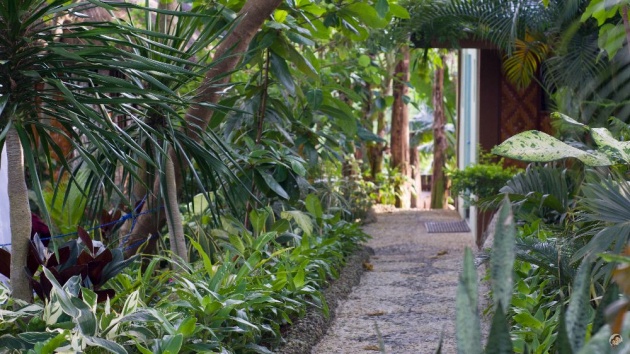 I didn't get to take a photo of our trip towards the location, I have instead a mini pathway to one of the resort's family rooms.
Image credits: Jean Beltran-Figues via bitLanders.com
Actually, this reservation was done few weeks ago. I found this Ibabaw Mountain Resort through their social media page and immediately contacted their customer service. Originally, the inquiry was for our company's team building but we didn't pursue because the resort can't be used privately, I mean we can get rooms but there's a great possibility that there will also be other guests around.
But since our team building won't happen here, I decided to book a room for me and my husband so we could have a time with each other away from the city.
Going back, we were already on the road, very less traffic which made us glad because there's of course less stress. We also reached the intersection where we need to turn to to get to the resort.
Unfortunately, the road was bumpy and very dangerous. We were really worried we might end up having flat tires because the rocks seemed spiky. But nonetheless, we were able to get through that and reached the resort at 1:30pm. Going to Liloan took us only around 30 minutes or so but the travel time from the intersection towards the resort itself was hard because of the rocky and uneven road plus, we were relying solely with Google Maps.
First Impression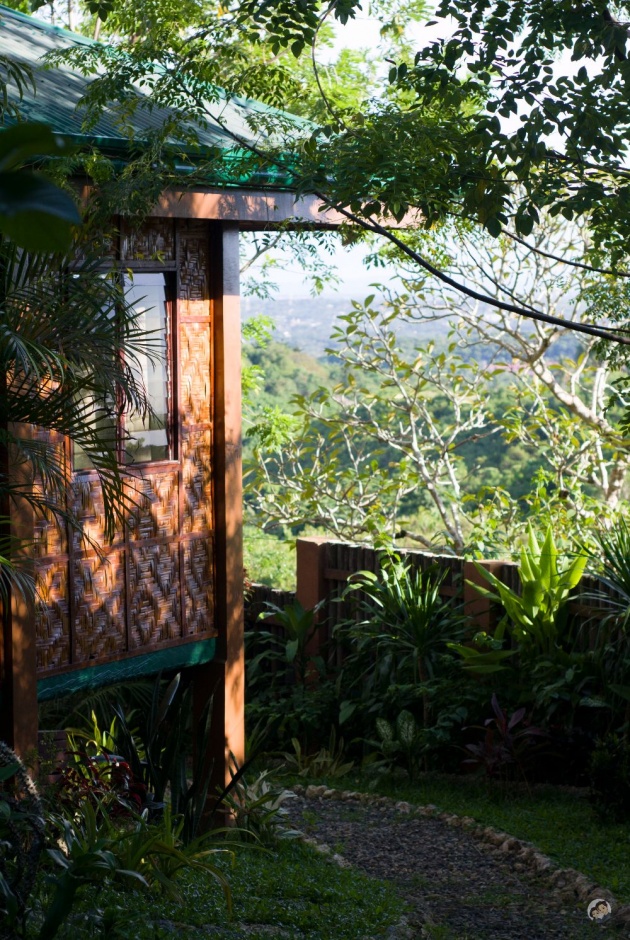 One of their family rooms, native again.
Image credits: Jean Beltran-Figues via bitLanders.com
Upon entering, I noticed there were lots of guests! I can see from my peripheral vision that the pool catered a lot of heads today which was really inevitable given that the day was perfect for a family outing. But I definitely love the fact that it was not hot in there. The wind was blowing graciously and there were lots of trees here and there that just by looking at them swinging their branches made me feel happy as well, I was just glad we asked for our original reservation to be moved.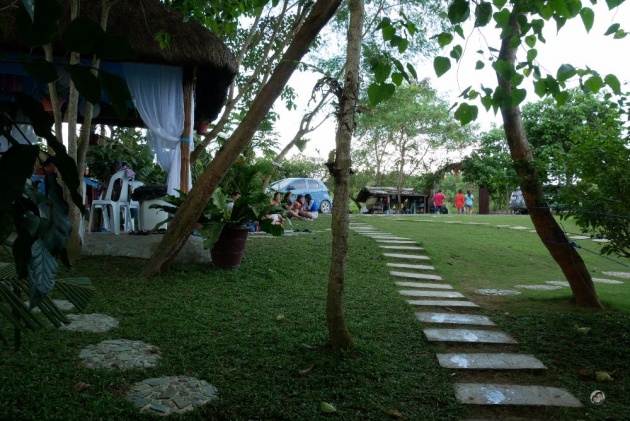 It was supposed to be a "Keep off the grass policy"
Image credits: Jean Beltran-Figues via bitLanders.com
From the main entrance, one can spot the tropical nipa cottages at the right side, there were around four or five but later on I found more. Then on my left is the restaurant and the front desk.
Bermuda grasses cover the pathway towards the pool area. There's also a nipa room just right beside the pool.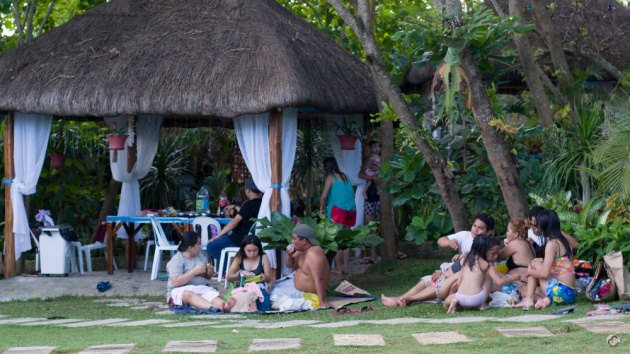 Because all cottages and rooms were full booked, other guests were just sitting on the grass.
Image credits: Jean Beltran-Figues via bitLanders.com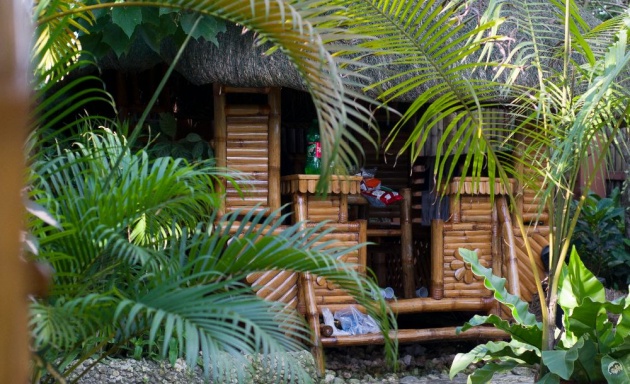 Here's one of the native bamboo cottages of the resort.
Image credits: Jean Beltran-Figues via bitLanders.com

The Ibabaw Mountain Resort seems clean, I didn't find any garbage on the grounds, vehicles were properly parked and there were visible staffs around, one was obviously tasked to be the life guard and others were at the entrance area. At my back I noticed a tiny store which sells all kind of junk foods and other snacks, sodas and juices as well.
It was sunny, cloudy and windy at the same time so I totally believe we were blessed to have this weather and this beautiful view.
Staff
Staff were really nice and polite. They helped us with the parking, then we were directed to the front desk to confirm our booking.
It was obvious that there were lots of guests who came using their car. I actually wondered how they got here when the road was really hard and I thought only two wheeled vehicles can pass that. I will definitely ask the staff about it later on or perhaps tomorrow once we are about to go.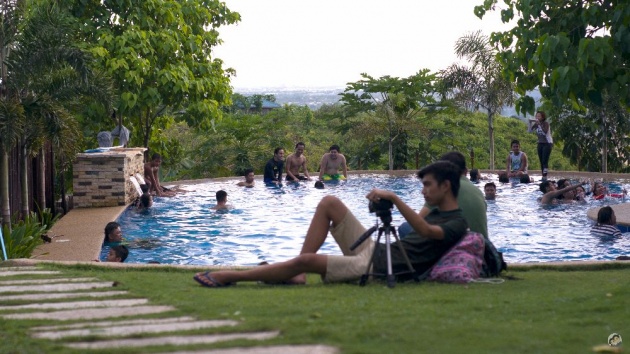 Image credits: Jean Beltran-Figues via bitLanders.com
One very courteous staff who was entertaining other guests at the front desk asked about our reservation and confirmed we are staying at room 3. He called out another staff from the house keeping to show us the way to our room. It was the air conditioned room located below the restaurant and front desk.
I like that they were very accommodating and approachable. When we dined in for our late lunch, they served real hot and yummy Tinolang Manok and were very caring, he spilled a bit of the soup and he courteously apologized for it and even went far to cleaning the tables and offering us drinks.
Room
We have been to different resorts before but upon reaching at our room, it was evident that James and I love its simplicity and even were both inspired to make our future house look like this, at least the master's bedroom.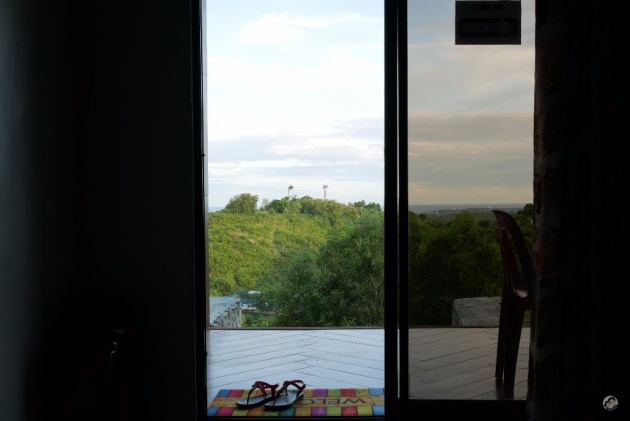 Here's our view from the room.
Image credits: Jean Beltran-Figues via bitLanders.com
I will have to create a separate blog about our room and how our second day went. This blog is solely for the first day experience and the en route happenings.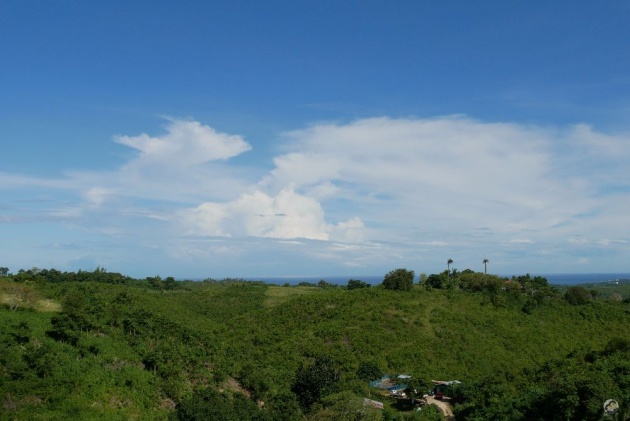 A better view from the outside. Spot the two trees facing each othrer.
Image credits: Jean Beltran-Figues via bitLanders.com
We had power down time for around five minutes before six in the afternoon. It came back pretty quick but James also told me he saw the resort's generators so there was nothing to worry.
Restaurant
Ibabaw Mountain Resort's in house restaurant serves meals and even drinks. They operate from six in the morning until 10pm. They offer Filipino dishes, they have the list printed in a whole page of laminated letter sized paper.
The prices range from Php 90 to 300. I ordered their Tinolang Manok or Chicken Soup and their rice platter which costs Php 90, this option was better than ordering one serving of rice which was at Php 40.
When served, it was steaming hot which is a delight for the two of us. Of course, picture and video opportunities are there, I even made a timelapse video of the two of us while eating. Check it out below:
Video credits: Jean Beltran-Figues via bitLanders.com
Burp! We were both full but there were still chicken pieces and rice left. We asked the staff if we could bring them to our room in which they agreed. They even sent it in our behalf.
For dinner, we ordered Bam-i which is a noodle type of viand. The serving again was huge, it is good for 3-4 persons so we ended up keeping a few left over at our room while we eventually didn't order rice because we still had a few left from our lunch.
I should state that their chef cooks really good!
First Day's Overall Impression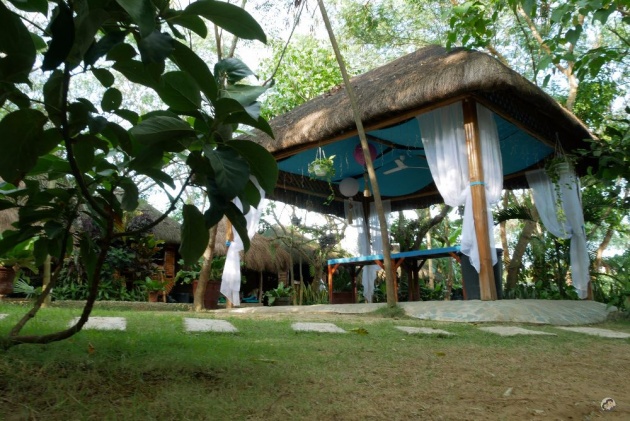 Image credits: Jean Beltran-Figues via bitLanders.com
Ibabaw Mountain Resort is a perfect place to go for couples and even families but be sure to have your own vehicle when coming over, the road may become challenging so you got to be extra careful. If I could state one thing that might be a downside of the resort, that would be the road coming over here but I still have to clarify that thing with the staffs tomorrow if they do have an better alternate road.
Staffs are great, their service and their room rates are considerable, they offer great food and they have a nice overlooking view of the city, its glittering lights were a good sight at night.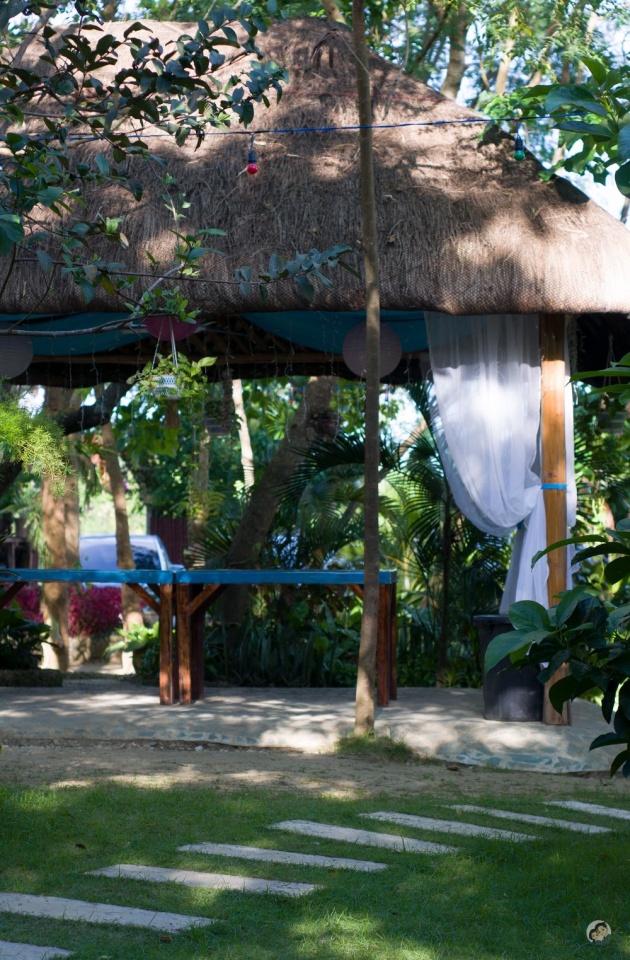 Image credits: Jean Beltran-Figues via bitLanders.com
Our first day ended with James and I having dinner under the full moon light at our room, we even took a time lapse video of the moon rising from the East, which made us excited for sunrise. Sunset was not really impressive for us because there was no direct view of it from our room but sunrise will definitely be great.
Also, we had fun with our long exposure shots before we call it a night. We however didn't swim at night because James has bad experiences with swimming at night and I don't want to swim alone. Perhaps we will do so tomorrow morning after sunrise.
Watch out for my blog entry on how our second day at Ibabaw Mountain Resort went.
Blog entry written and published by Jean Beltran-Figues, A Pinas traveler and photography hobbyist, find more travel blogs in my blog section, click here.