I attended The Metropolitan Museum of Art's Punk: Chaos to Couture exhibit on May 15, 2013, six days after it's debut to the public. As a student at the Fashion Institute of Technology, you can be sure there was buzz around campus from both design and business students alike. Two months prior to the opening, teasers and rave reviews spewed from virtually every major news and fashion publication, noting the infamous pieces that would be on display. (Bravo, Vogue and Moda Operandi.)

Upon first arriving, guests were greeted by oodles of security guards, some in uniform, some not, and were forewarned that photos were not permitted in this exhibit. Fair enough. 
Moving on, I proceed to the slightly out of place bathroom stall. I suppose this is my introduction into the world of punk. An article written by Suzy Menkes for the New York Times notes, "...the only moment the show gets faintly down and dirty is in the re-creation of grimy and gritty toilets of the 1970s East Village club CBGB. Even that comes minus any tawdry signs of vomiting or drug-taking..." My company says, 'What is this?' I reply, 'Not sure, but I saw this last weekend downtown.'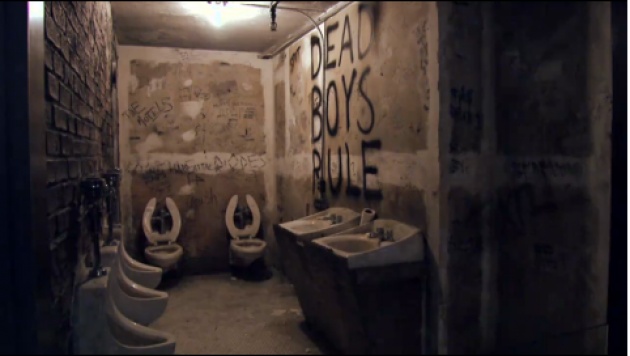 Still confused, we follow the throng of people to the next gallery where we are greeted by a slew of pieces from the fashion archives of Vivienne Westwood, mannequins donning multi-colored afros, and screens featuring fashion films that slightly resemble GIFs. All of this is set to heart pumping music that seems to keep the crowd flowing at a rapid pace.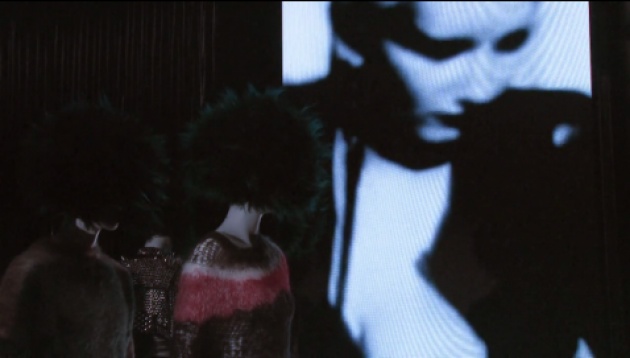 Throughout the following galleries, we encounter more fashion films that illuminate the rooms in pink in white. Mannequins sporting looks from Westwood, McQueen, Burberry, and even Michael Kors and Calvin Klein, line the walls of the exhibit. When it comes to the fashions, we aren't disappointed. Trash bags, studs, safety pins, you name it, this exhibition has it. And we love it.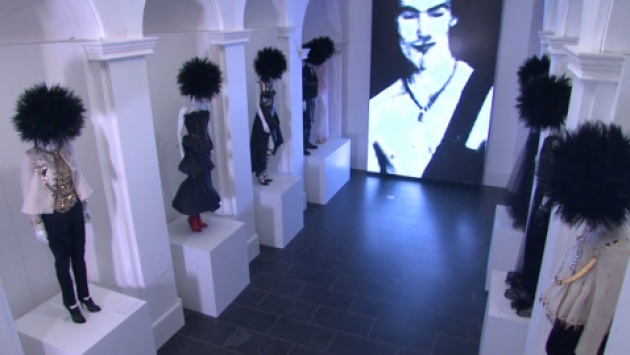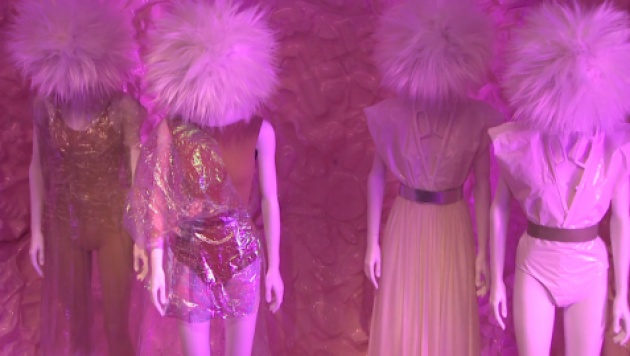 The rapid procession through the exhibit leads us to the gift shop, where virtually each patron makes a purchase. Exiting the museum, my company and I mull over our experience and I develop my conclusion. 
I was in no way a contributor to the era of punk, rather a product. (My peers and I were 90's kids and are more apt to name the Spice Girls than 1970's punk rockers, so I will never fully understand the lamentations of bloggers from prior generations.) The exhibition was meant to focus not on punk, rather highlight the fashion that evolved from it. So what do we make of the CBGB replica, the authentic punk videos, and Vivienne Westwood's shop that transported viewers? It seems that the exhibition was stuck somewhere in between the fashion and the punk, resulting in two parallels that never fully meshed together. In a word: chaos. @KeelySheaSmith
The Punk: Chaos to Couture exhibit will be open until August 14th, 2013.
All images from The Metropoloitan Museum of Art