The day was still early after we visited "Hermitage and Court Garden in Bayreuth". We were going to visit the town centre of Bayreuth, but we changed our plan and we decided to go to Bamberg instead. Bamberg is a big city on the west of Bayreuth, about 65 km and 1 hour away.
The historic city centre of Bamberg is one of the UNESCO World heritage sites. What is a "UNESCO World heritage site"? According to wikipedia page: "A UNESCO World Heritage Site is a place (such as a forest, mountain, lake, island, desert, monument, building, complex, or city) that is listed by United Nations Educational, Scientific and Cultural Organization (UNESCO) as of special cultural or physical significance." If you are interested in, you can click on this link to see the list of World Heritage Sites.
Bamberg is famous for its "seven hills". Do you know what are "The seven hills of Bamberg"? - "Bamberg extends over seven hills, each crowned by a beautiful church. This has led to Bamberg being called the "Franconian Rome" - although a running joke among Bamberg's tour guides is to refer to Rome instead as the "Italian Bamberg". The hills are Cathedral Hill, Michaelsberg, Kaulberg/Obere Pfarre, Stefansberg, Jakobsberg, Altenburger Hill and Absberg." (Source: Bamberg on wikipedia)
Here are some pictures of The seven hills of Bamberg.
(1) Cathedral Hill - Bamberg Cathedral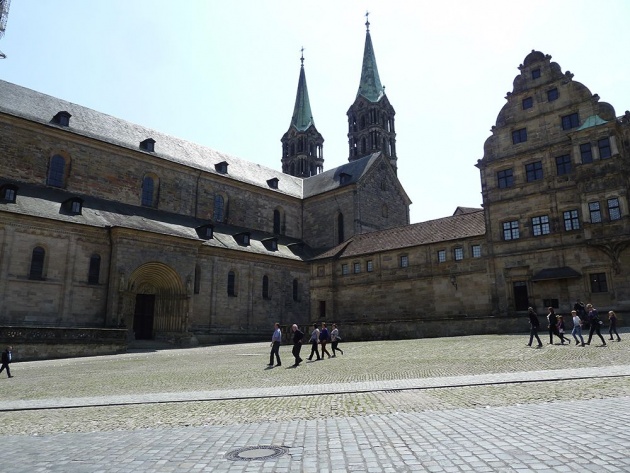 (2) Michaelsberg - St. Michael's Abby, or Michaelsberg Abby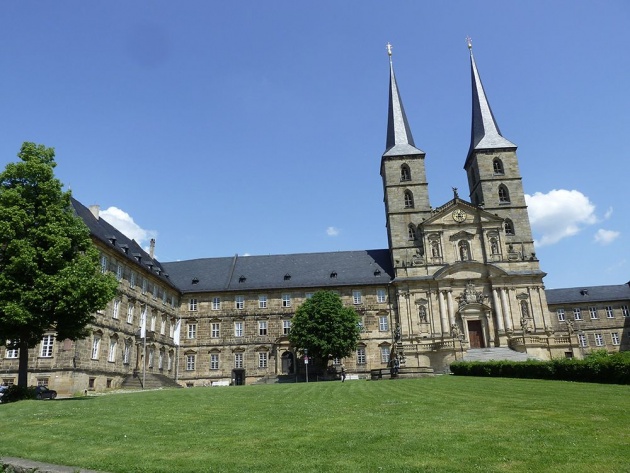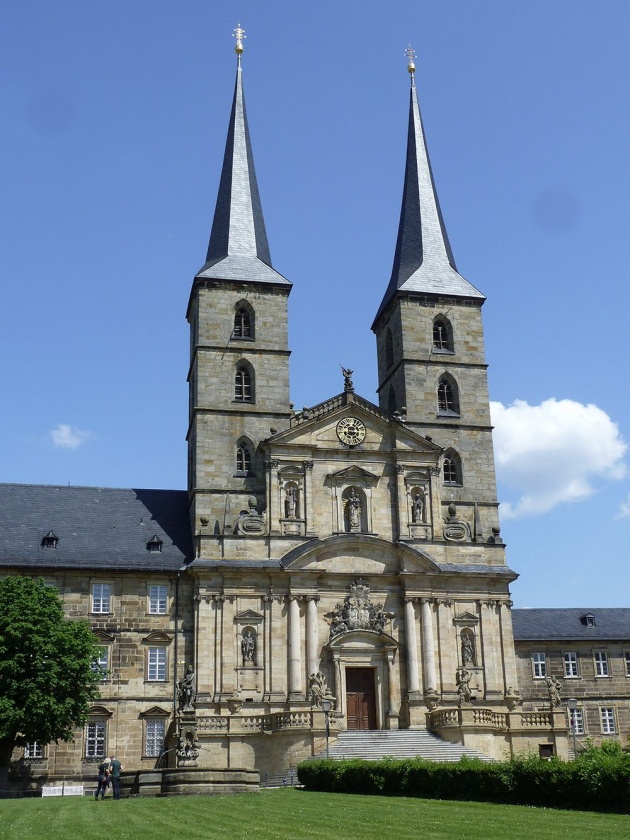 (3) Kaulberg/Obere Pfarre - Church of Our Lady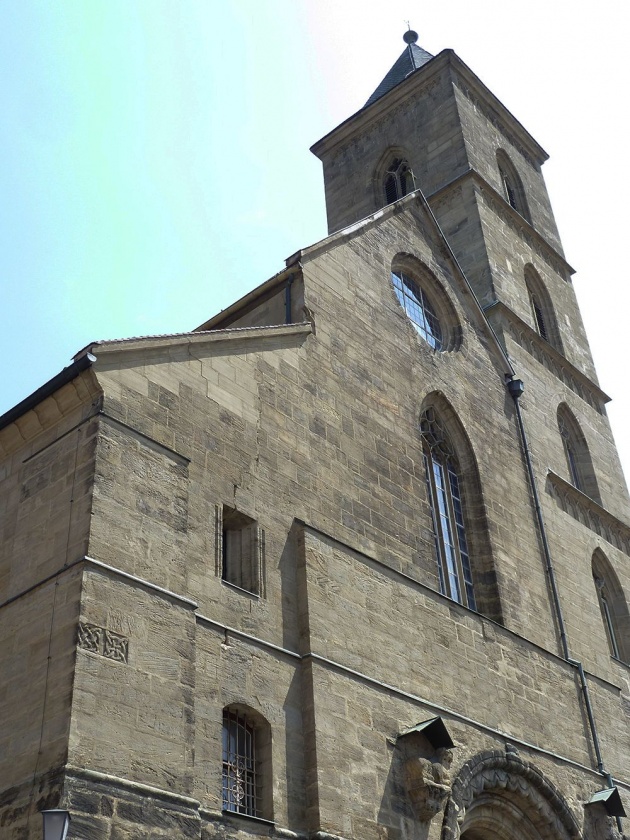 (4) Stefansberg - Church of St. Stephan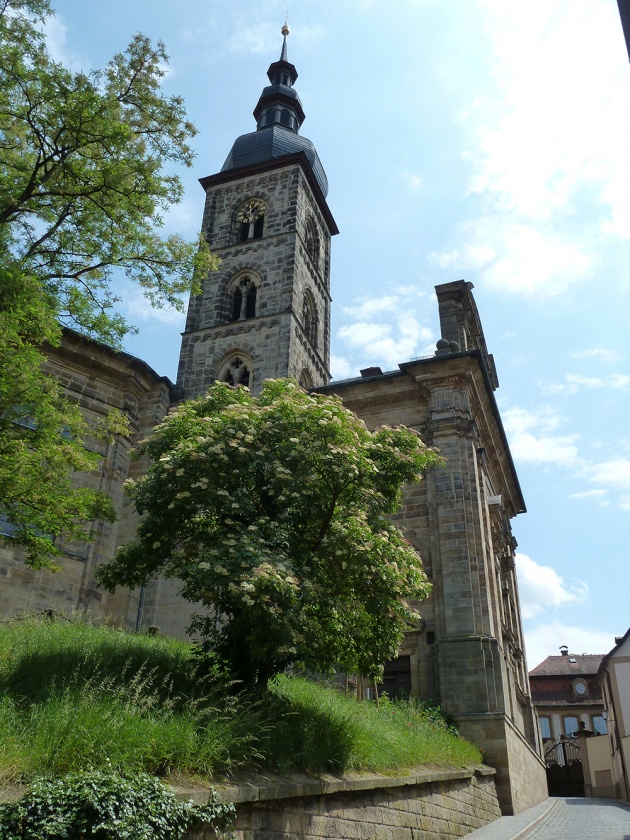 (5) Jakobsberg - Church of St. Jacob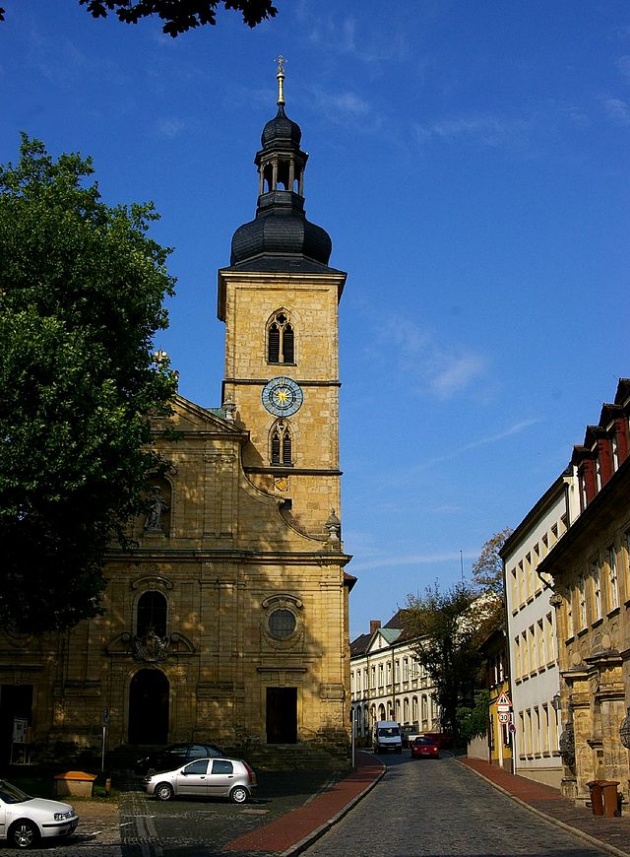 (6) Altenburger Hill - Alte Hofhaltung (Old Palace)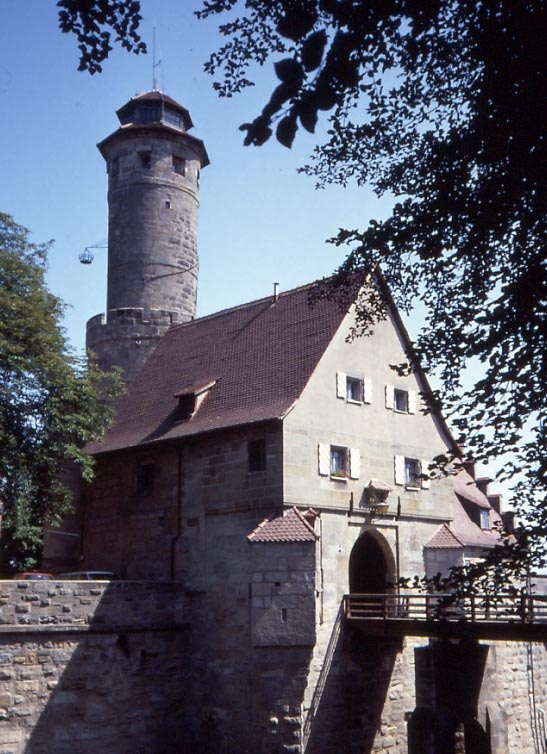 Luckily, nearly 2 pm we found an outdoor restaurant right behind the St. Michael's Abby for lunch. We ordered one of the renowned German cuisine dishes: Sausage with Sour krauts and of course Wiessbier :) You could see that we were fitting in German's custom: Drink beer and get drunk! :D Anyway, you can also see the panorama of the city of Bamberg from the restaurant, it was amazing! We really enjoyed both the view and the food.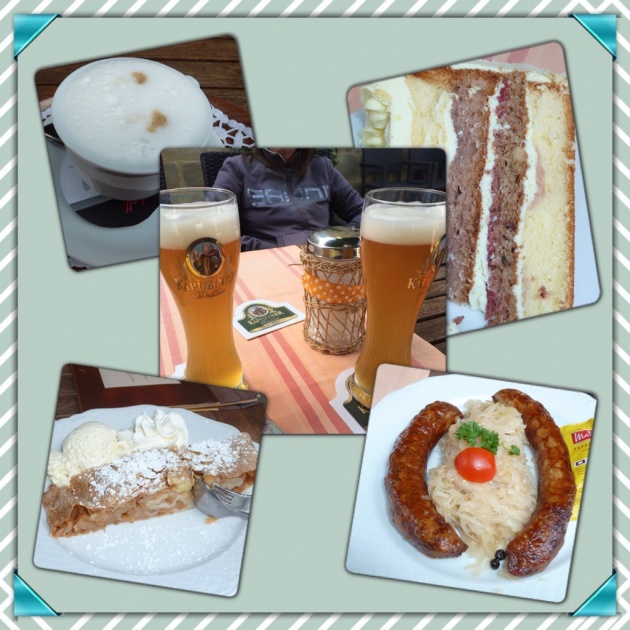 Time to consume some calories, let's continue visit Bamberg :)
These are some other main sights in Bamberg:
- Old Town Hall (1386), built in the middle of the Regnitz River, it is listed as a UNESCO World Heritage Site.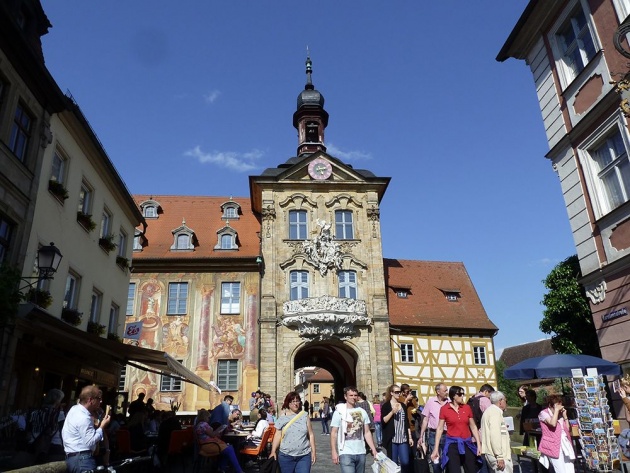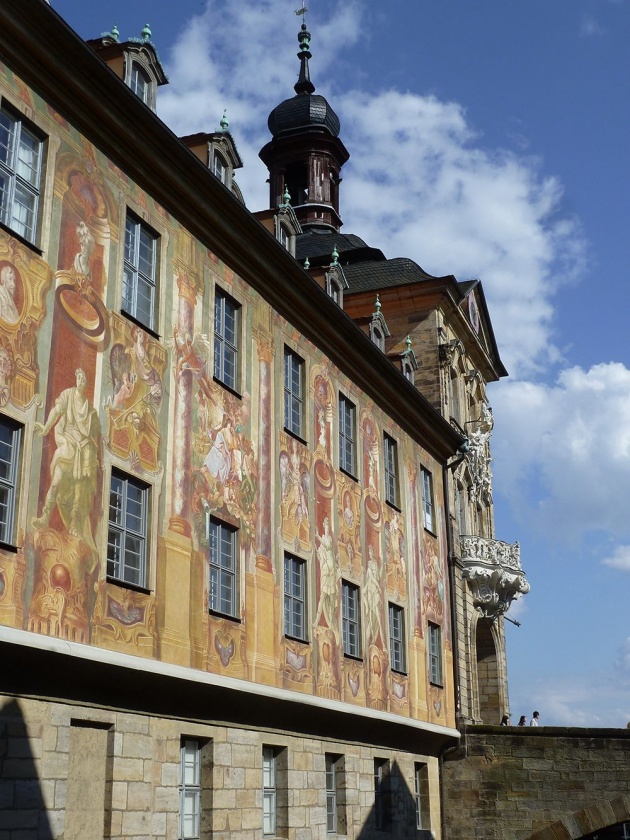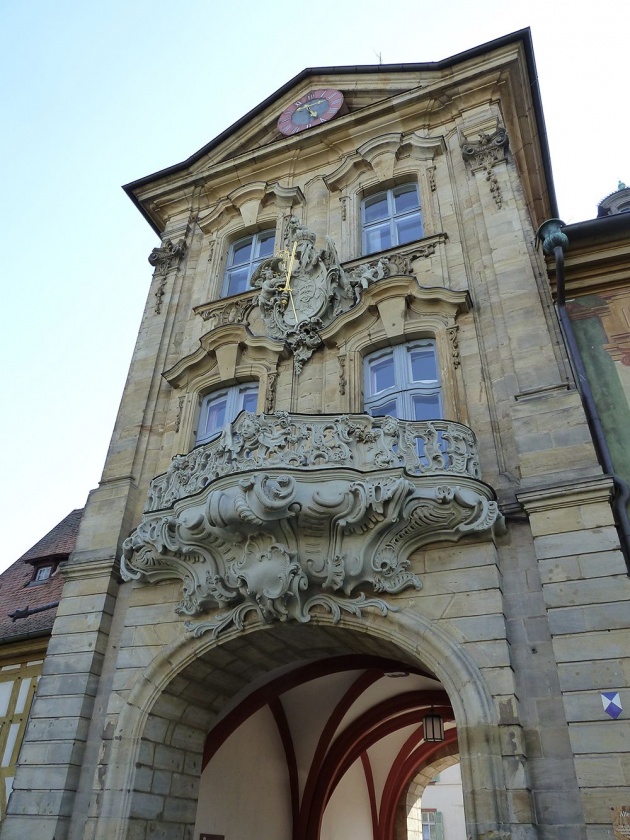 - New Palace(in German: Neue Residenz) and the Rose Garden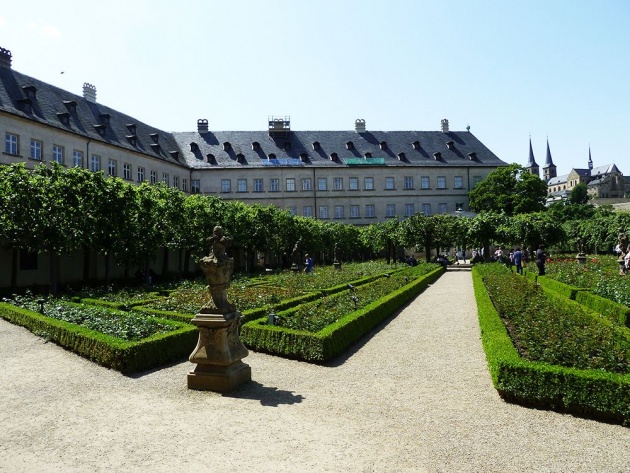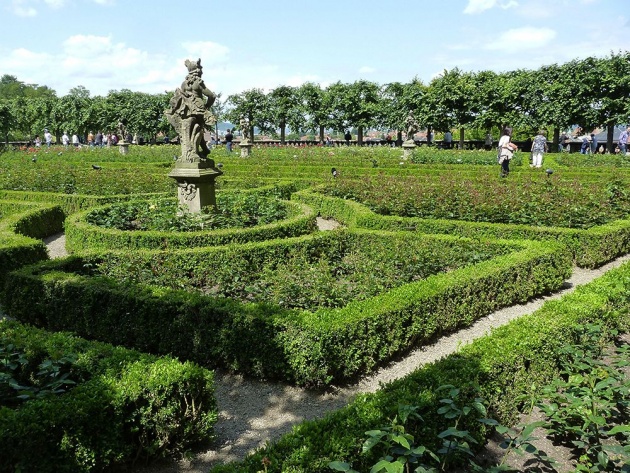 - Church of St. Martin
- "Little Venice"(in German: Klein-Venedig), they are a group of distinctive fishermen's houses located along one side of the Regnitz River.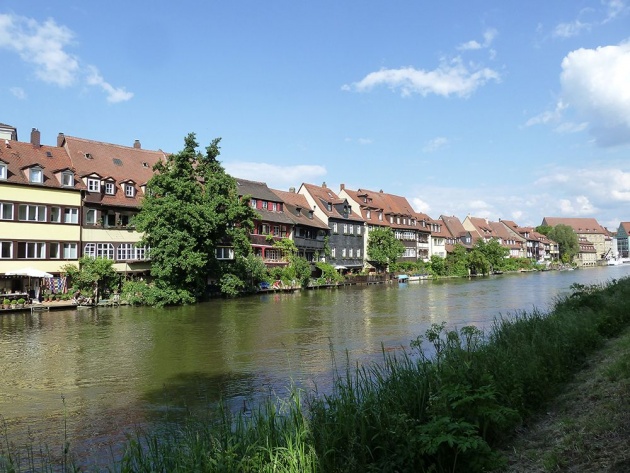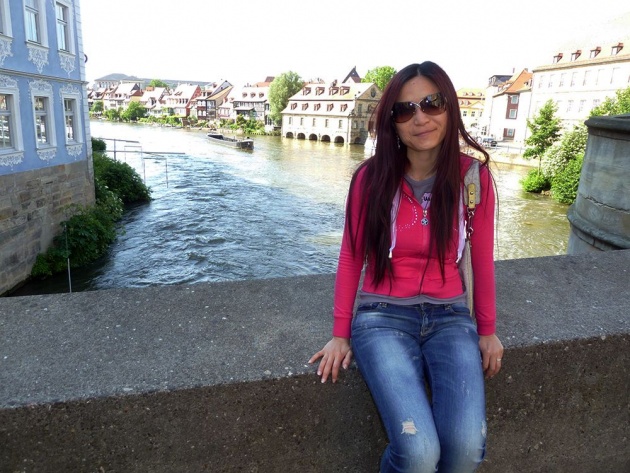 Wanna see more pictures of Bamberg? please check my galleries, or see this Video "Photo slideshow - Bamberg, Germany"
You can also read theses related articles:
A weekend in Germany - Day 1: Nuremberg
A weekend in Germany - Day 2: Hermitage and Court Garden
- Ellyn