"Film doesn't have to worry." If Aaron Sorkin says so, then it has to be true.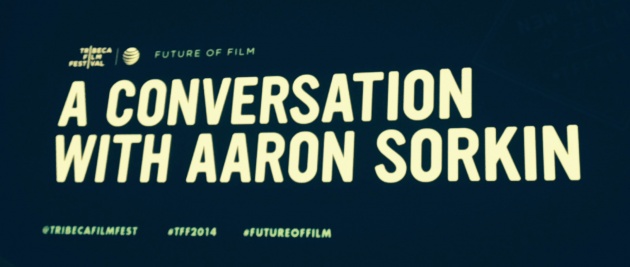 On Monday night, Aaron Sorkin, the Academy and Emmy-award winning American screenwriter, met with Jon Favreau ("the other one"), Obama's former speechwriter, for a talk about storytelling and the Future Of Film. The event kicked off Tribeca Film Festival Innovation Week, "a place for Gamers, Coders, Hackers, Screenwriters, Futurists, Directors, Financiers, and anyone who has a story to tell."

I was lucky enough to have taken my ticket in advance as the talk was sold out and the theater full of Sorkinese fans and Tribeca regulars.
"One day I hope I'll be here with a film", Aaron Sorkin started. But this year he was at Tribeca to discuss his work as a screenwriter and his view on the current state of films and television. A few things we learned about Sorkin last night: writing for fictional presidents must be easier than for a real one ("right, Jon Favreau?"), he was drawn to writing because he grew up seeing plays and just loved the sound of dialogue, and he doesn't know how to write bad guys.
About The West Wing, he also added that he had no political agenda when writing the show. He also cleared a misunderstanding, this time about The Newsroom, and explained that he set up the show in a recent time simply so he doesn't have to make up fake news, and not to teach journalists how their job should be done. On a lighter note, he added that it was the first time he wasn't on the set of an episode of one of his shows (as The Newsroom is shooting right now) and that he hated it.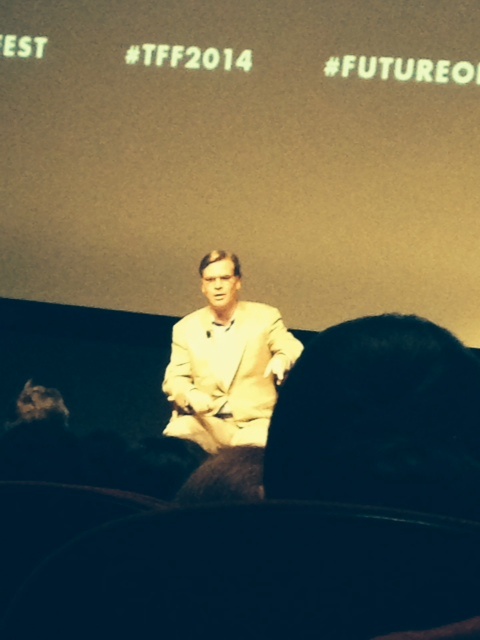 He passed quickly on the news about the Steve Jobs movie, and simply said it wasn't a biopic and he hoped we would like the movie.
He also confessed that he binge-watches House of Cards like anyone else, but when asked by someone in the theater how binge watching changes the way people watch and perceive a TV series and specific episodes, he asked his assistant to take the person's email so he can get back to him later after he thinks about it more.
Lastly, he explained that his writing being mostly about the worlds of television and politics comes from the fact that he likes to write idealistically (which he couldn't do for a crime show for example) and to give a sense of family in his shows.
Simply put, Aaron Sorkin is a real pleasure to listen to (even though he said himself he isn't "as articulate as his characters") and a man obviously passionate about what he does and the world of television and entertainment. Great guest for the Tribeca Film Festival!