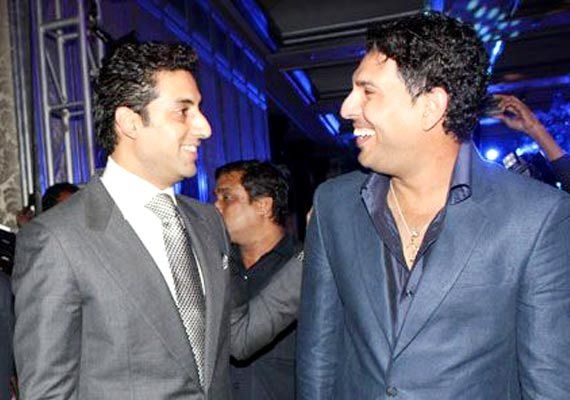 Abhishek Bachchan said if he will get any opportunity to do a biopic of someone, then he would like to do the biopic on the great cricketer & cancer survivor, Yuvraj Singh, whose cricketing career graph as well as his fighting fortitude as the cancer survivor, Abhishek believes, can make an inspirational tale.

The 38 year old was present in the press conference for introducing his new Kabaddi team known as Jaipur Pink Panthers, which is the franchise of Pro Kabaddi League. When he was asked by the reporters that which sports person's biopic would he like to do, then Abhishek Bachchan said that he would like to do the biopic of Yuvraj Singh. He thinks Yuvraj Singh has had an incredible life. He has been a warrior & an inspiration for everyone. He said, he would have said Kapil Dev, MS Dhoni, Sunil Gavaskar, Sourav Ganguly or Sachin Tendulkar, but he loves Yuvraj's career graph. He is having an amazing career graph.

Yuvraj Singh became a superstar overnight the moment he hit 6 sixes in just one over against England in World Twenty20 in the year 2007. His journey is not less than any adventurous movie. He started his cricketing career from Punjab team of Under 16s at an age of thirteen years; he got the chance to play in the Indian cricket team in 2003. In recent times, Yuvraj smashed an explosive century in bicentenary match in Lord's, England.

Abhishek added that he thinks as a character, Yuvraj's role will be ideal. Abhishek is a sport-buff himself.