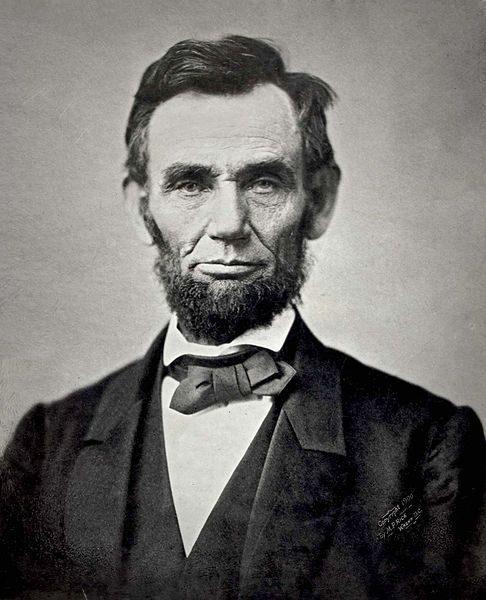 Abraham Lincoln (February 12, 1809 – April 15, 1865) was the 16th President of the United States, serving from March 1861 until his assassination in April 1865. Lincoln led the United States through its Civil War—its bloodiest war and its greatest moral, constitutional and political crisis. In doing so, he preserved the Union, abolished slavery, strengthened the federal government, and modernized the economy.
Lincoln grew up on the western frontier in Kentucky and Indiana. Largely self-educated, he became a lawyer in Illinois, a Whig Party leader, and a member of the Illinois House of Representatives, where he served from 1834 to 1846. Elected to the United States House of Representatives in 1846, Lincoln promoted rapid modernization of the economy through banks, tariffs, and railroads. Because he had originally agreed not to run for a second term in Congress, and because his opposition to the Mexican–American War was unpopular among Illinois voters, Lincoln returned to Springfield and resumed his successful law practice. Reentering politics in 1854, he became a leader in building the new Republican Party, which had a statewide majority in Illinois. In 1858, while taking part in a series of highly publicized debates with his opponent and rival, Democrat Stephen A. Douglas, Lincoln spoke out against the expansion of slavery, but lost the U.S. Senate race to Douglas.
In 1860 Lincoln secured the Republican Party presidential nomination as a moderate from a swing state. With very little support in the slaveholding states of the South, he swept the North and was elected president in 1860. His election prompted seven southern slave states to form the Confederate States of America before he was sworn into office. No compromise or reconciliation was found regarding slavery and secession.
Lincoln has been consistently ranked both by scholars and the public as one of the three greatest U.S. presidents.
Abraham Lincoln was born February 12, 1809, the second child of Thomas and Nancy Hanks Lincoln, in a one-room log cabin on the Sinking Spring Farm in Hardin County, Kentucky (now LaRue County). He is a descendant of Samuel Lincoln, who migrated from Norfolk, England to Hingham, Massachusetts, in 1638. Samuel's grandson and great-grandson began the family's western migration, which passed through New Jersey, Pennsylvania, and Virginia. Lincoln's paternal grandfather and namesake, Captain Abraham Lincoln, moved the family from Virginia to Jefferson County, Kentucky in the 1780s. Captain Lincoln was killed in an Indian raid in 1786. His children, including six-year-old Thomas, the future president's father, witnessed the attack. After his father's murder, Thomas was left to make his own way on the frontier, working at odd jobs in Kentucky and in Tennessee, before settling with members of his family in Hardin County, Kentucky, in the early 1800s.
Lincoln's first romantic interest was Ann Rutledge, whom he met when he first moved to New Salem; by 1835, they were in a relationship but not formally engaged. She died at the age of 22 on August 25, 1835, most likely of typhoid fever. In the early 1830s, he met Mary Owens from Kentucky when she was visiting her sister.
Late in 1836, Lincoln agreed to a match with Mary if she returned to New Salem. Mary did return in November 1836, and Lincoln courted her for a time; however, they both had second thoughts about their relationship. On August 16, 1837, Lincoln wrote Mary a letter suggesting he would not blame her if she ended the relationship. She never replied and the courtship ended.
In 1840, Lincoln became engaged to Mary Todd, who was from a wealthy slave-holding family in Lexington, Kentucky. They met in Springfield, Illinois, in December 1839 and were engaged the following December. A wedding set for January 1, 1841, was canceled when the two broke off their engagement at Lincoln's initiative. They later met again at a party and married on November 4, 1842, in the Springfield mansion of Mary's married sister. While preparing for the nuptials and feeling anxiety again, Lincoln, when asked where he was going, replied, "To hell, I suppose.