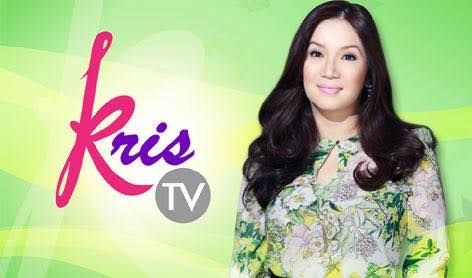 ( Image: The show's inital cover photo in 2011 ) ​
KrisTV is a Philippine morning Lifestyle-Magazine Talk Show that debuted in June 17, 2011 produced by ABS-CBN hosted by one of the Philippines' well-respected celebrity and well-known for her showbiz title "darling of the press" and "Queen of All Media" Ms. Kris Aquino. This show is her comeback stint after her last showbiz talk show that last aired in 2009 entitled "Today with Kris Aquino". A program that showcases hot topics, Pinoy trends, practical home solutions, celebrity conversations, music, family and relationship stories done the fun and engaging "Kris Aquino" way. It is a show that goes back-to-basics, wherein a talk show is first and foremost, a talk show. But it will still have some elements of variety for the viewers' entertainment needs. KrisTV is claimed by some as the country's local version of The Oprah Winfrey Show. The show airs weekday mornings 7:30 AM- 9:00 AM local time.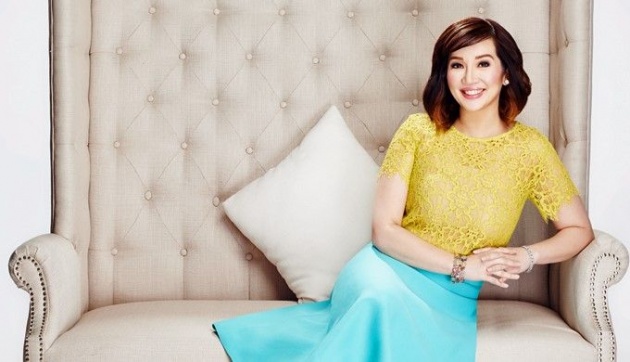 About the Host:
Kristina Bernadette Cojuangco Aquino (born February 14, 1971), professionally known as Kris Aquino, is a Filipino television personality and actress who gained prominence and numerous endorsements from her talk shows, game shows, horror movies, massacre movies. She is the youngest daughter of former Philippine senator Benigno S. Aquino, Jr., and Corazon Cojuangco-Aquino, who served as the 11th President of the Philippines, and sister of Benigno S. Aquino, III, the 15th President of the Philippines.
About the Show:
Initially, the show's format was just a studio set-up where shows are taped earlier before it would be broadcast and be shown on air. The show airs from Mondays to Fridays 9:30 AM to 10:30 AM, local time. It talks about various topics and segments not only limiting to interviews, but also to daily life and close bonding moments among the audience and the special guest(s). The program aims to focus on everyday lifestyle, and educational places to go that housewives, husbands, and kids can relate to. On its pilot episode her very first guest co-host was one of the Philippines' senator Chiz Escudero.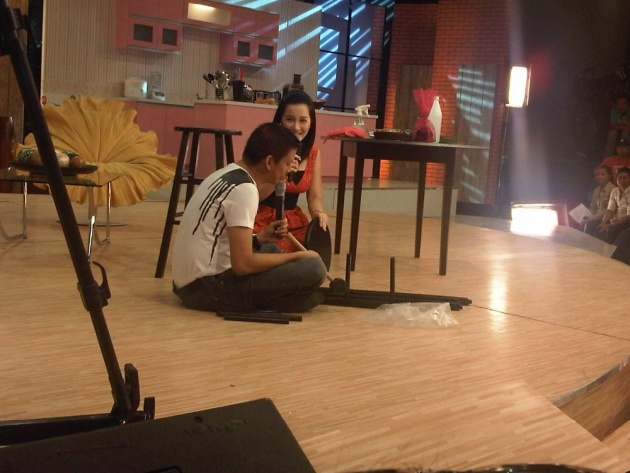 Co Hosts : Darla Sauler (2011-Present), Bimby Aquino Yap (2011-present; for Kris TV / Kris RealiTV) (2015; for Kris & Bimby Summer TV) and Chiz Escudero (2012)
The show's original theme "KrisTV" was sung by Angeline Quinto.
Summer of 2015 theme "Kris and Bimby Summer TV" by Darren Espanto
Writers: Darla Sauler (Headwriter), Marc Edward Noveloso, Airene Aicah Sopeña and Gian Carlo Isidro.
Directed by: Richie Garcia, Pinggoy Generoso and Erick Salud
Number of Seasons : 4
Number of episodes : 1,132 (As of October 22, 2015)
Executive Producer : Jasmin Pallera
Producer(s) : Dianne Ifchelle Cruz, Ermie Mambatac, James Cantos, Liza Madrienes, Elaine Marie Garcia, Krissa Donida, Shereen Ghalya and Niño Soriano
Production company : K Productions
Regular Guests : Erich Gonzales, Daniel Matsunaga, Claudine Barretto, Iza Calzado, Isabelle Daza, KC Concepcion, Vice Ganda, Karla Estrada, Jolina Magdangal, K Brosas, Pokwang, Pooh, Cacai Bautista, John Lapus, Melai Cantiveros-Francisco, Carmina Villaroel-Legaspi, Kim Chiu, Toni Gonzaga, Darren Espanto, Erik Santos, Jed Madela, Kyla, Angeline Quinto and Bianca Gonzales.
Some Season's Highlights:
Like any other TV shows, KrisTV has its own share of memorable, significant and remarkable moments that really made Philippines' audiences share ratings high for the network. In fact, KrisTV is the most-awaited and after sought lifestyle television show every mornings.
KrisTV 1st Year Anniversary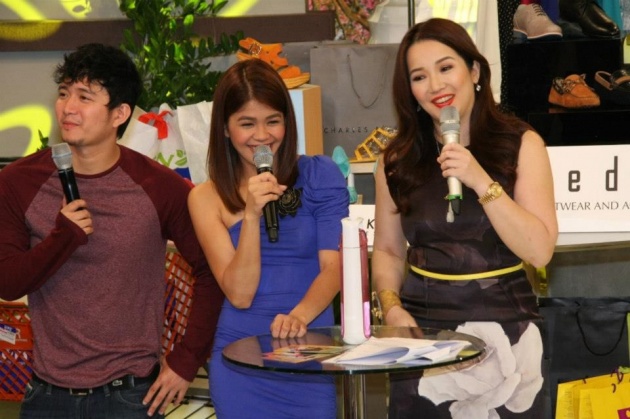 ( Inset: L-R, real-life couple Jason and Melai Cantiveros-Francisco, Kris Aquino )
As Kris' way of giving back the gratitude to her loyal fans and show's followers, she had share a lot of her blessings during the two-part series of the show's 1st year anniversary special, in which, she had given some of her slightly used designer's brands personal belongings for those names who would be luckily picked that day, plus a lots of generous prizes and presents from her sponsors and friends in showbiz.
The presents and giveaways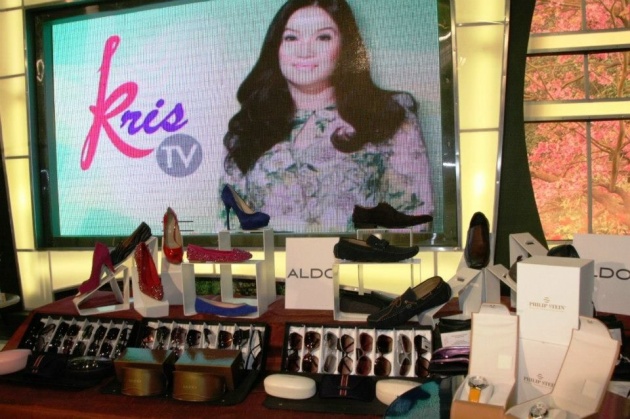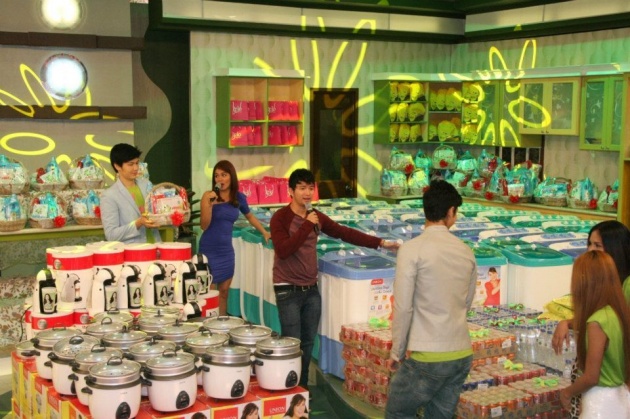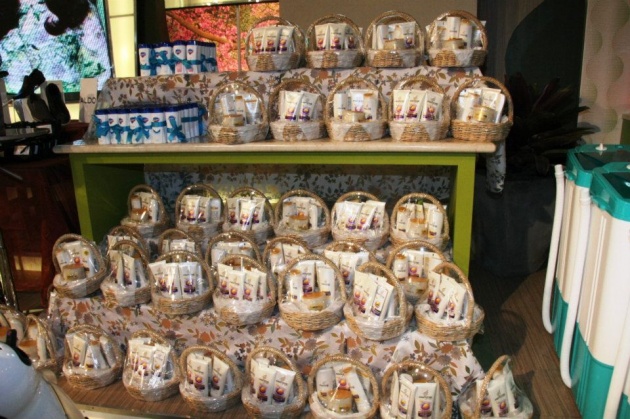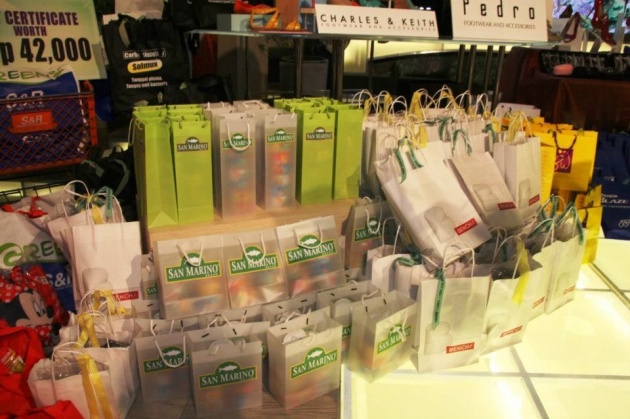 The lucky fans who got the special prizes
Winner of Philippe Stein's Couple's watch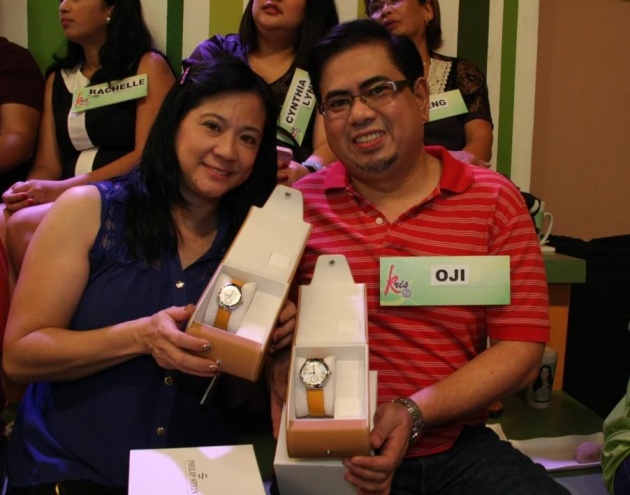 The winner of Louis Vuitton bag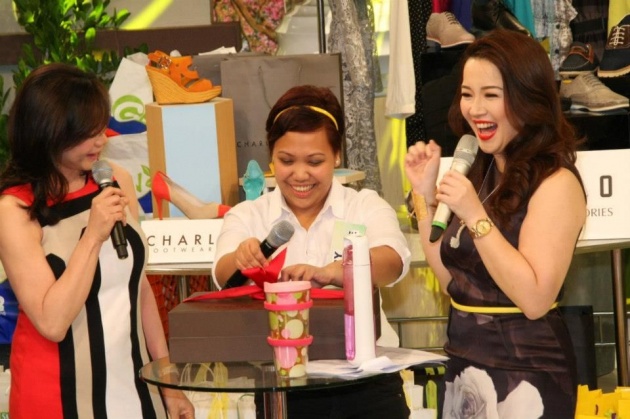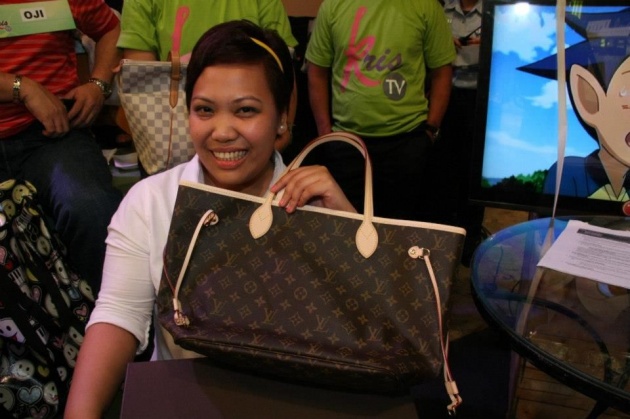 The winner of Gucci shades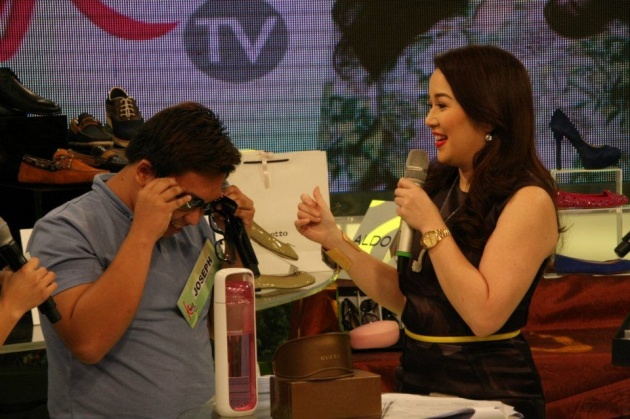 And of course, no one is left empty handed and without a smile painted on each and everyone's faces because everybody got their share of their own presents.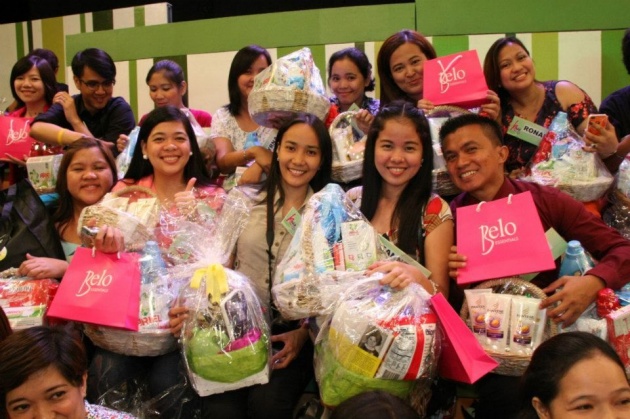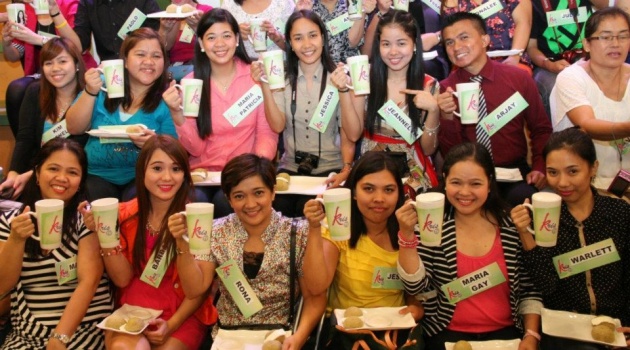 Kris' documented personal travels/vacations abroad:
Filipinos love to travel if they have the time and the means, but unfortunately many of them cannot go to places which they really been dreaming of to go. KrisTV had found way that even through watching on TV, Filipinos may able to enjoy seeing different places on the comfort of their own living rooms. That's why the show conceptualized on some of its segments to even film Kris' (the host) personal family vacation, bonding moments and escapades. To mention few of her travels with her sons Joshua Aquino (eldest) and Bimby Aquino-Yap (youngest) were in Osaka, Japan, Gangnam in Seoul, Korea and Legoland Malaysia.
Osaka, Japan Trip
Seoul, Korea
Legoland, Malaysia
KrisTV fund raising episodes for Typhoon Haiyan victims:
One among the most significant episodes made by the show during the height of the after math of typhoon "Haiyan" was the fund raising for its victims. All of Kris Aquino's sponsors have donated generously while friends from show business and outside have brought their shares as well on the show. In the video below, is Congressman Lucy Torres-Gomez of Ormoc, Leyte one of the many towns in Leyte devastated by the typhoon, and her husband Richard Gomez appealing for aid.
In the photo, Aquino showing and reading the amount of checks being donated by some private organizations, companies whom she has connections with, while on the background are already packed, organized donations that came from private individuals as well.
Regular and Recurring Segments:
Kris RealiTV
Since 2012, Kris TV does not only feature on-studio and live programs, they started to travel around the country to showcase its beauty to the viewers be it Filipinos or foreigners, Kris RealiTV was officially launched as one of their regular spin-offs.
One of the best place the show had featured is no other than the island of Palawan, specifically the new private island resort situated in the island of Coron, Palawan, the "Two Seasons Island Resort and Spa".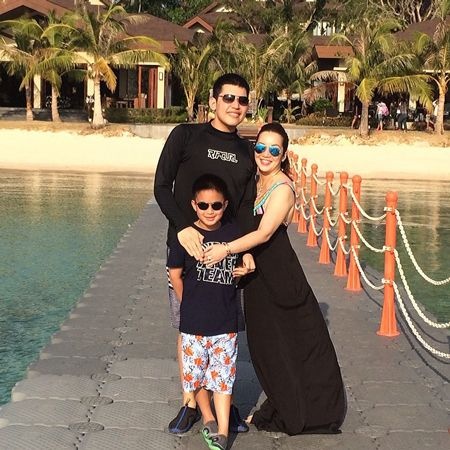 Kris & Bimby Summer TV
During the 2015 Summer Season, Bimby Aquino Yap joined her mother in their Summer Spin-off entitled Kris and Bimby Summer TV. It was aired from late March to early June of 2015. It shows a mother and son bonding as Kris and Bimby share us their summer adventures, foodtrips and roadtrips. It was said to be a seasonal spin-off. The video below is the official video soundtrack for just the segment Kris and Bimby Summer TV sung by Darren Espanto. Herein, were the different places in the Philippines the mother and son have went to during summer school break.
Kris TV Foodtrip
Since 2011, Kris, often accompanied by her guests (friends), her sons, and Kris TV headwriter-Darla Sauler, they go to restaurants in and out of the Metro to showcase delicious and mouth-watering dishes that the viewers can try. They showcase not only Filipino authentic dishes but also Foreign dishes.
In the video, featuring the Spiral Restaurant Buffet of Hotel Sofitel, Manila.
Kris TV Takeout
This segment started in 2015, after they do their Kris TV food trip, they will order takeout dishes and give it to their chosen family, and will serve as a bonding treat for them.
Awards and Nominations
Year
Event
Category
Result
2012
2012 PMPC Star Awards for Television
Best Celebrity & Showbiz Oriented Talk Show
Nominated
2012 PMPC Star Awards for Television
Best Celebrity & Showbiz Oriented Talk Show Host - Kris Aquino
Won
3rd Golden Screen TV Awards
Outstanding Lifestyle Program
Won
3rd Golden Screen TV Awards
Outstanding Lifestyle Program Host - Kris Aquino
Won
2013
2013 PMPC Star Awards for Television
Best Celebrity & Showbiz Oriented Talk Show
Won
2013 PMPC Star Awards for Television
Best Celebrity & Showbiz Oriented Talk Show Host - Kris Aquino
Won
4th Golden Screen Awards for Television
Outstanding Lifestyle Program
Won
4th Golden Screen Awards for Television
Outstanding Lifestyle Program Host - Kris Aquino
Won
9th USTv Students' Choice Awards
Best Talk Variety Program Host - Kris Aquino
Won
2014
10th USTv Students' Choice Awards
Student's Choice of Talk Show
Won
10th USTv Students' Choice Awards
Student's Choice of Talk Show Host - Kris Aquino
Won
5th Golden Screen Awards for Television
Outstanding Lifestyle Program
Won
5th Golden Screen Awards for Television
Outstanding Lifestyle Program Host - Kris Aquino
Won
Asia Rainbow TV Awards
Outstanding Female Program Host - Kris Aquino
Won
PMPC Star Awards for Television
Best Lifestyle Program Host - Kris Aquino
Won
2015
TUA-Platinum Stallion Media Awards
Best Talk Show Host - Kris Aquino
Won
11th USTv Students' Choice Awards
Best Magazine Program
Nominated
11th USTv Students' Choice Awards
Best Magazine Program Host - Kris Aquino
Nominated
6th Golden Screen TV Awards
Outstanding Lifestyle Program
Won
6th Golden Screen TV Awards
Outstanding Lifestyle Program Host - Kris Aquino
Won
SKAL Tourism Awards
Tourism Hall of Fame TV Host - Kris Aquino
Won
SKAL Tourism Awards
Tourism Hall of Fame Travel Show
Won

Photo credit: KrisTV.net
Follow them on, just click on the icon:
KrisTV Official