Photo Credit: www.querlo.com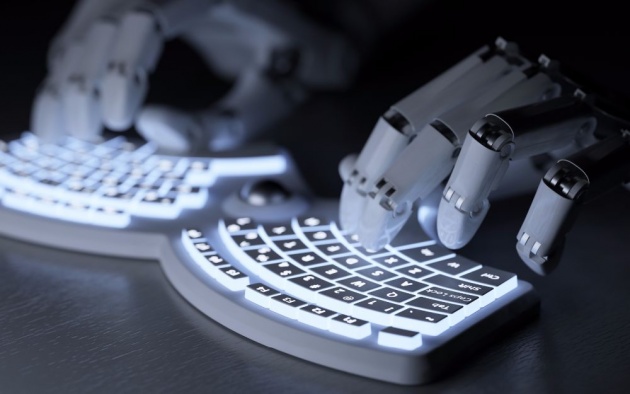 Photo Credit: letzgro via http://letzgro.net/blog/google-chatbot-can-answer-questions-we-cant/
Hello everyone, here I go again with my second QUERLO related article, please visit my first blog about QUERLO if you haven't read it yet. Honestly I am hoping I could get the same rewards as my first although I am not expecting to get a 5 star rating this time, but I will do my best, actually 4 or 3 stars is also good because you will still get an additional buzz bonus. Anyhow, in this stage I will put more emphasis about things that we can find in the QUERLO website itself, I'm pretty sure there are a lot of people who haven't visited the site yet, this will serve as a simplified explanation/quide on how QUERLO really works. This will include a discussion about the essence or the principle of QUERLO, to the benefits/advantages it could offer to its clients up to how we could become an ambassadors and earn loyalty points and rewards. All of the information I will be sharing will be coming from the QUERLO website, I will just add my own humble ideas based on my own understanding, hoping I could impart a substantial knowledge to people who are not inured to QUERLO just like me before I get to research and learn things about it.
The screenshot below is how QUERLO site homepage looks like through a smart phone.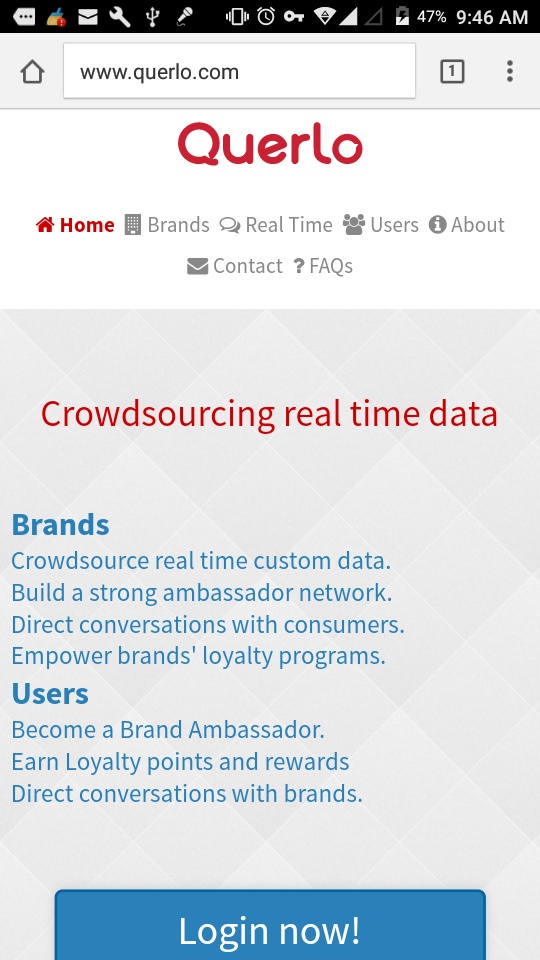 Photo Credit: Screenshot via www.querlo.com
Let me start by showing you the homepage of QUERLO site. What we can find there is the brand and users enumerated separately and the log in button. I used to log in using my bitLanders log in details although I think anyone can create an account in that site without a bitLanders account. Wanted to try this to discover it myself but maybe I'll do it some other time. I still strongly recommend that if anyone wants to become an ambassador of QUERLO in order to earn bitmiles he or she should create an account with bitLanders too so as to maximize his or her potential daily earnings. I understand and as per experience surveys are not available at all times and the rewards isn't that promising or big enough for us to easily or quickly accumulate 10 dollars. Although maybe soon when they will add more surveys and increase the rewards then perhaps we could depend on it in so far as earning a good amount of money online.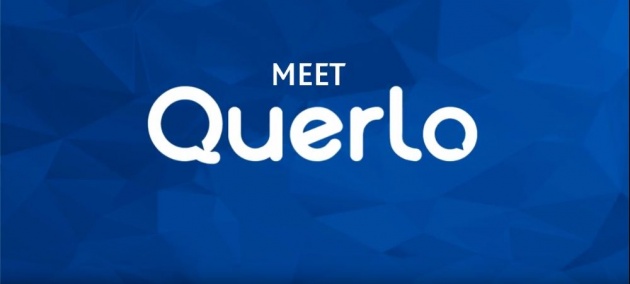 Photo Credit: Screenshot Sky High Advertising via www.youtube.com
Aside from the definitions of QUERLO given by those who have submitted blogs like a chatbot with a human touch, a real time interactive survey chat, a new technology of reaching out to users or customers etc, I find this one also significant, and it's very important for us to know.
"QUERLO is a customizable API that can be implemented on any website or mobile app, offering an easy-to use 24/7 interface with customers now recognized as critical for the enduring value of global brands." – taken from www.querlo.com
As I understood since the technology is still patent free, anyone can actually use or embeds it in any website whenever he or she wants too or where someone finds it useful to himself or the organization as a whole. And I expect that when MTI USA the owner of this technology will finally get the patent, it will be a paid technology already, I mean if we want to use it we need to pay for it.
Please find below a photo of the Querlo Team, good to see people behind this great platform.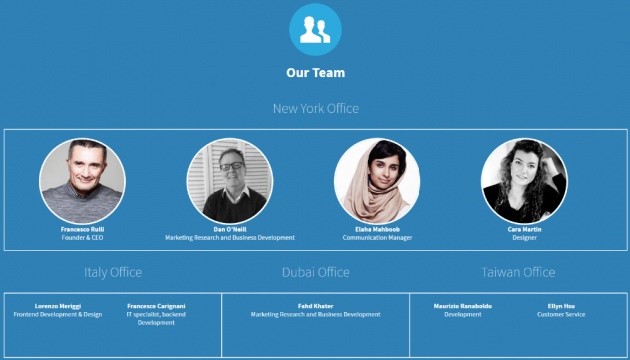 Photo Credit: Screenshot via www.querlo.com
These are the two main functions of QUERLO that we should not forget to consider, detailed functions or benefits can be drawn out from these two:
1. Collect data concerning to a particular brand, for example, a customer's decision or reason why he continue to patronize a particular brand or why he stop patronizing it. This could give the business owners the idea on how to improve their products and services more so as to ensure continuous customer's patronage.
2. Disseminate relevant information about a particular brand, educating customers to become knowledgeable enough about a particular product or services, this will make them a wise and practical buyers. On the other hand business owner could expect a loyal customers from those respondents.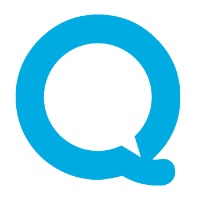 Photo credit: https://www.linkedin.com/company/querlo
Anyone found or read this in the QUERLO website?
Flexible Subscription Plan:
I learned that there are actually 2 types of plans, a client or user may opt to choose a one-time survey chat option or a monthly/yearly subscription for unlimited survey chats. This is not very clear to me but as I understood it, QUERLO is already out for a paid subscription. I thought subscriptions or plans will only be available once the company obtain their patent already. Now the question is how much? For those who are interested to try this technology and to know more about how QUERLO can help you, you may contact QUERLO's customer service through this email add: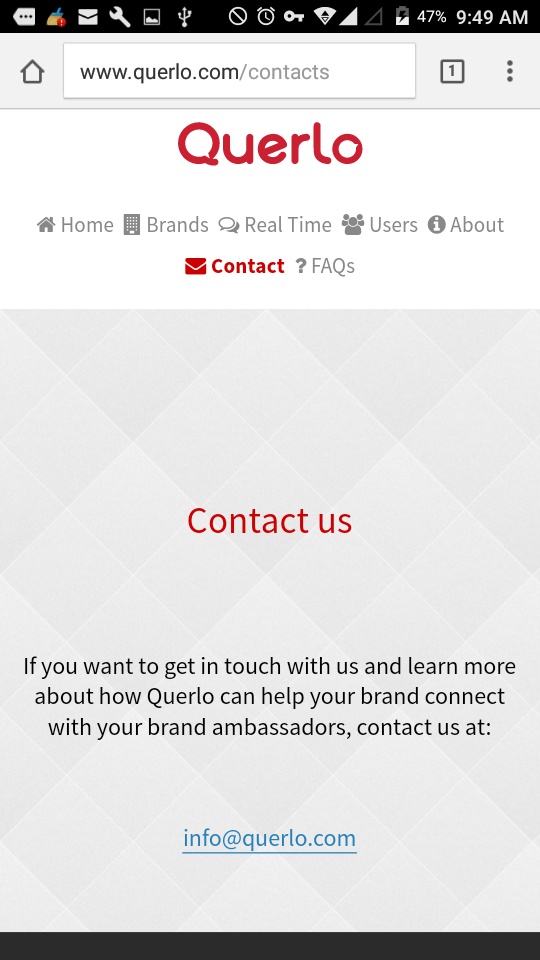 Photo Credit: Screenshot via www.querlo.com
QUERLO Real Time Chat
Since the survey is interactive, companies will have direct contact to their customers, gather data in a timely manner and be able to draw innovative solutions in case of problems or issues that needs improvement or perhaps total revamp in order to keep and maintain loyal customers. The good thing with this technology is that, we can actually personalize, modify or customize it depending on our individual needs and preferences.
Please check sample of a real time chat below.
(embedded sample of QUERLO interactive chat)
When is the best time to use real time chat and where?
Real Time Chat survey can actually be used during company's events and presentation, meetings or conventions wherein participants can actually accomplish the survey all at the same time. And the good thing about it is that everyone can participate with the survey regardless of where they are located at that moment.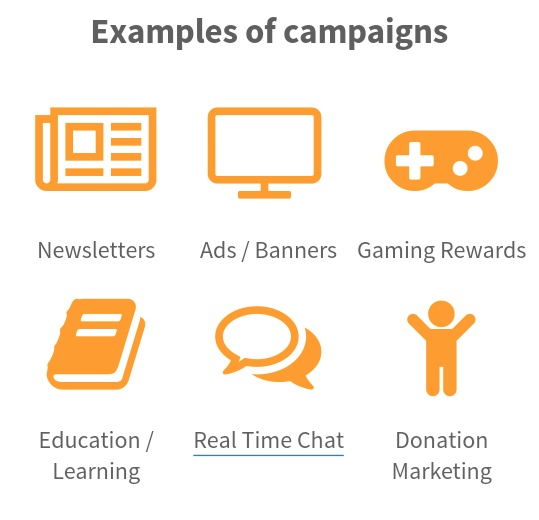 Photo Credit: Screenshot via www.querlo.com
How to create a survey campaign?
I think I will not talk about this anymore in this blog since it was explained by the top bitLander's member @Jean-Beltran in her QUERLO blog, you may click HERE if you want to know how to create your own survey chat. Or you may watch the video below to know more:
Video Credit: QUERLO via www.youtube.com
To learn more about QUERLO and its amazing benefits, you may read the blogs below: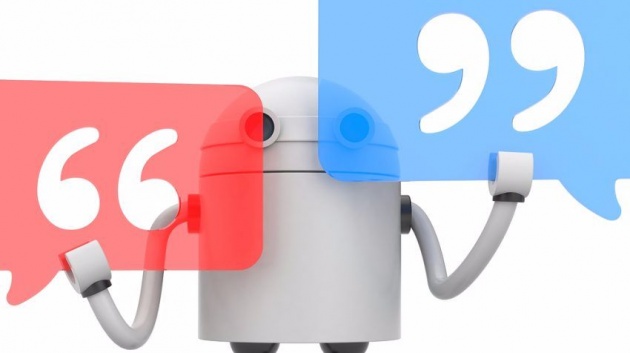 Photo Credit: https://plus.google.com/+NashRiggins
I hope you have learned something from this blog and see you in my 3rd QUERLO blog if and when I am still allowed to submit another one. (:
Finally, even if I posted this video in my previous blog, I would like to share it here again for i find it very helpful in understanding QUERLO and how it could help us in many ways we can't imagine. Please watch the video below:
Video Credit: Sky High Advertising via www.youtube.com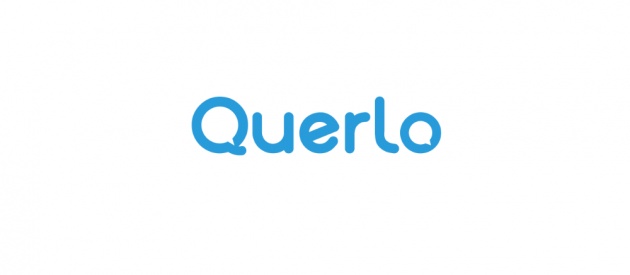 image credits: www.media.licdn.com
God bless!