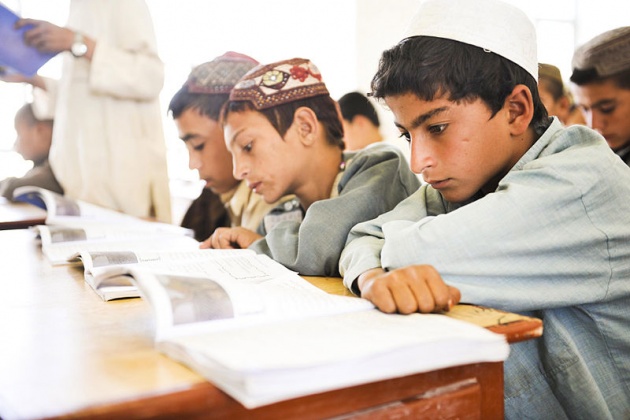 Beyond the tanks, some distance away from gunfire, and devoid of wreckage, the schools of Afghanistan are buzzing with modern technology. Laptop computers have become increasingly available for Afghan students thanks to national and international organizations.
Previously, I've written about the lack of education and the unfairness of education women Afghanistan, but what about the cities of Afghanistan that have already risen above it all and have taken action in educating its people? A video featured on Film Annex discusses the improvements and benefits of technology available in Herat, Afghanistan's third largest city.
It was approximately three years ago that the Afghanistan Ministry of Education took one step towards bringing the technological revolution to schools in Afghanistan. By joining fellow initiatives, such as the U.S.'s One Laptop Per Child and Afghan Small and Medium Enterprise Development (ASME), they supplied schools of the eastern province of Nangarhar with new laptop computers.
In 2010, the numbers of laptops distributed to schools in Afghanistan reached over 3,700 units. One Laptop Per Child provided Afghan children with a special laptop called 774 XO, which meets the specific needs for limitation of resources the children may have. These laptops are made to use less energy than the average laptop for longer use. Included in the software is word processor programs, educational games and programs, and an anti-theft deactivation system.
What does this mean for the education system of Afghanistan? Their education has become less limited. Modern technology improves the speed of information received and the quality of information is more accessible. College students at the University of Herat have the opportunity to study computer science (video below). With this computer science program, it opens doors to enhance the country by educating students with the newest technology and strengthening their connection with the rest of the world. Better education means better jobs. Better jobs leads to better communication and a better chance in re-unifying their country. And if unification isn't in the cards, the important thing is that the availability of laptops will lead to a brighter future for the children of Afghanistan.
While I hope for the best for the education system in Afghanistan, I can't help but wonder if this effort will be as long lasting as they hope. War is still happening around them, and at a very close range. Every school doesn't have this kind of technology available or them to use either. How many of the children, men, and women well be able to continue on with their education and use it towards a fulfilling career? As Afghanistan pushes for education for a broken country, are we taking just initiative as a developed country?
For more information on the laptops used, read the article here.
Keisha Douglas is an independent filmmaker who specializes in music videos. When she is not filming, she spends much of her time blogging and freelance writing. She is the voice behind Mito Vox, an entertainment & etc. blog. To learn more about her freelance services visit her website. View all her Film Annex posts on her WebTv Channel.
Image: Source