Thousands of years of history teach us that art is the vehicle to development. Art is the key factor to world changing events like the Renaissance. What I have done in my life is directly connected to the art and history of my hometown, Florence, Italy, the cradle of Italian Renaissance. Art is the vehicle to Afghanistan Renaissance as it was for Italy and the rest of the world. Can thousands of balloons help this process? Read on...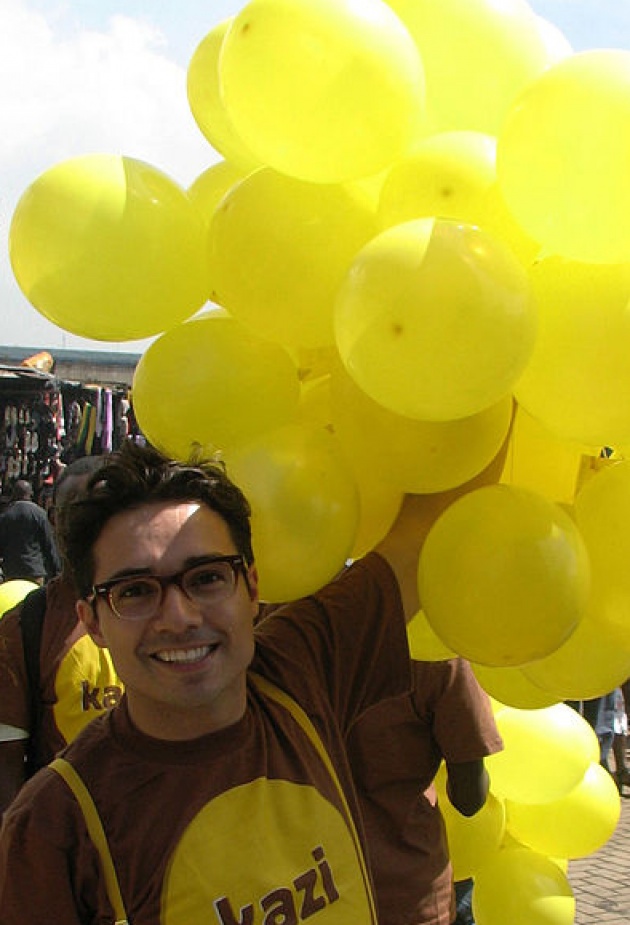 Yazmany Arboleda photographed during his Monday Morning installation in Nairobi, Kenya.
This week, Film and TV production expert and TV/Film/Video & Multimedia Producer at United Nations Assistance Mission in Afghanistan (UNAMA), Ariadna Alvarado, introduced me to Colombian American multimedia artist Yazmany Arboleda, the creator of the 10,000 balloons project for Kabul, Afghanistan, following the same concept in Kenya, India and Japan. The initiative is called We Believe in Balloons, and the tag line is "A campaign to share 10,000 pink balloons with the people of Kabul, Afghanistan." This Spring, one Monday morning, 100 volunteers will handout 10,000 hot pink biodegradable balloons to the people of Kabul. It will change the architectural landscape of the city and make the city and its population part of the multimedia art project, by projecting its architecture and people in the world of contemporary art.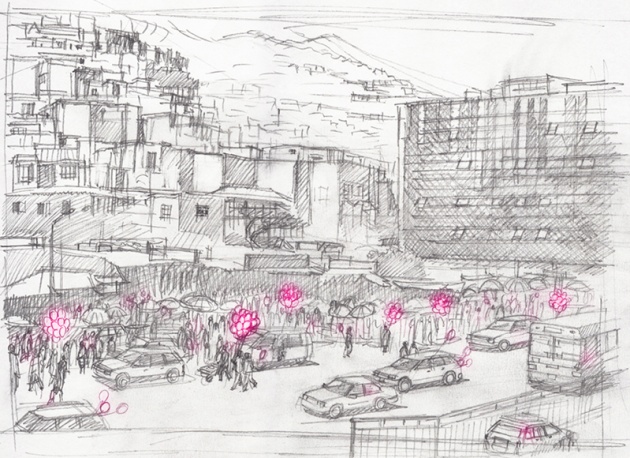 Monday Morning concept, Glassless Glasses Studio.
Yazmany Arboleda's project motivates me and Film Annex to create a direct connection between our community of artists, film fans, writers and business people, and Afghan women and men. Ideally, each person can express their thoughts through articles, blogs and video interviews associated with this project and other forms of art. They can populate the World Wide Web with their vision and educate each other by opening a constructive conversation on arts, human rights, creativity, gender identity and humanity. This is a fundamental part of what I would call Afghanistan Renaissance. Just like balloons will be part of the Kabul architectural landscape, once released in the air, they will become part of a broader World Wide Web of opportunities and inspirations.
Film Annex is an online platform with over 300,000 register users, and of those, 40,000 are professional artists and creators, including 4,742 film directors, 9,782 actors, 2,739 film editors, 1,892 cinematographers, 251 make up artists, 761 photographers, 1,252 musicians and composers, 1,988 sound experts and mixers, 1,577 costume designers and 4,309 writers. Professional and independent artists are the engine of Film Annex with their ideas, creations and digital content.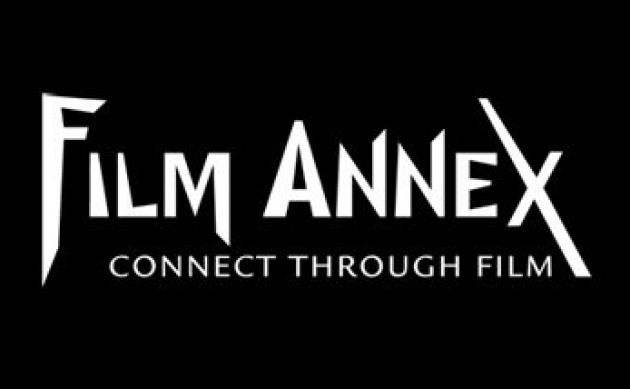 This week, one more artist influenced me with his ideas and thoughts. His name is Ignacio Ruiz Alvarez and he is a Chilean filmmaker. Check my separate article on his initiative.