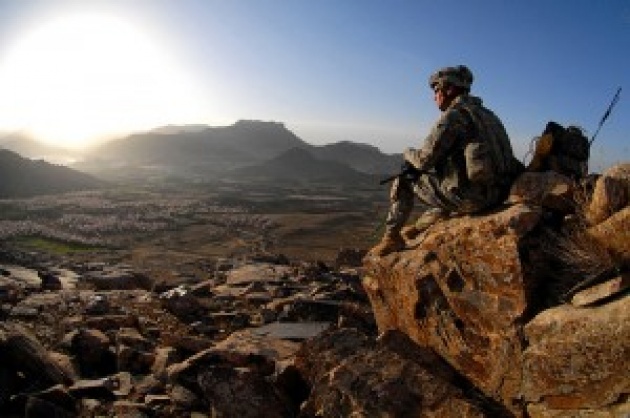 Let's go back a decade and remind ourselves of what Afghanistan was like then. It was the regime of Taliban- a period when human rights had no existence, darkness had replaced education, misery had taken over hope and extremism had taken away the true meaning of Islam.
In 2001, Afghanistan entered a new phase and basically started from scratch. It was the time when the international community joined hands with Afghanistan and was talking about building a new Afghan government, army and police force.
Now, we are seeing a totally new Afghanistan. We are talking about the rule of law, human and women's rights, the ability of the Afghan National Army and having them take over the security of the country. We have clearly come very far from where we were a decade ago.
Afghanistan has now made an identity. Today, Afghanistan is recognized as a democratic country with a parliament, a constitution and institutions. Today, the media, the civil societies and the private sector are provided a platform to come together and discuss political and social issues, something never done before.
The concern now is not only about Afghanistan's survival but about helping Afghanistan to stand on its own feet in terms of its economy. Efforts are being made to improve the energy and mineral sectors- the key sectors that are believed to turn around the economy of Afghanistan. However, international assistance and expertise is needed to extract the untapped minerals of Afghanistan. Afghanistan will certainly need assistance with the management of these natural resources to prevent the resource curse finding its way. A transparent management of these resources can be obtained by the coalition of the government, the extraction companies (the private sector) and the civil society (representatives of the general public). And, it is worth to mention that Afghan government has successfully established the Extractive Industries Transparency Initiative (EITI) to ensure transparency in the management of these resources. The Initiative requires the government to report its revenues earned from the natural resources and requires the companies to report their tax payments to the government. The reports are then compared and reconciled. The EITI aims to mitigate this risk by promoting greater transparency over payments made by companies to government, and revenues received by governments; and by improving the accountability of governments and companies to local civil society groups. http://eiti.org/Afghanistan).
Very recently, we established Afghanistan's first ever soccer premier league- Afghan Roshan Premier League. The league just had its first season that ended on October 19th. The nationwide football premier league consisted of selected eight teams from eight zones including Greater Kabul, Center, Northeast, North, south east, West, South West and East. The league is fully supported by the international football federation FIFA and the Asian Football Confederation. All playing rules and regulations are in accordance with those set forth by International Federation of Association Football (FIFA) and Afghanistan Football Club (AFC). Who would even imagine Afghanistan would have a soccer league??
The education sector is progressing, with majority of the girls now having opportunities to go to school. We now talk about seeking higher education, development and regional cooperation. These long terms and strategic objectives are a sign of progress.
Of course there is a long way to go for us. As Mohammad Shafiq Hamdam, Chairman of the Afghan Anti-Corruption Network wrote: "Many things are new for this country. Democracy is not very mature in Afghanistan and concepts like human and women's rights are still not well-developed after more than three decades of dictatorship and extremist and communist regimes. So it will take time for the people of this country to adopt the new culture of democracy, peace and stability."
But, if we have come this far starting from zero, the future should not look that bleak! The international community has pledged to stand by Afghanistan post 2014-the period of transformation and transition for Afghanistan. Afghanistan has signed partnership agreements with France, Italy, Germany, Australia, the United Kingdom, theUnited States, India and Nato, and there are many other countries with which Afghanistan will sign bilateral agreements.