It was all for the Mother's day that I got the lunch surprise set up for mama. As I have mentioned in my previous blog post. Read the story here below:
Mother's Day Surprise at Aioli Cafe and Restaurant
I did research for the best place to set the lunch surprise. There were several websites where I personally checked and considered the pricing, the ambiance, the food and a lot more to ensure that mama will love this surprise.
I considered the following:
Smoque Bar and Bistro
Aioli Cafe and Restaurant
Payag
Jj's Seafood Restaurant
After much thinking, I finally decided to arrange a reservation at Aioli Cafe and Restaurant because the reviews online state they offer tasty yet affordable food options.
Aioli Cafe and Restaurant Review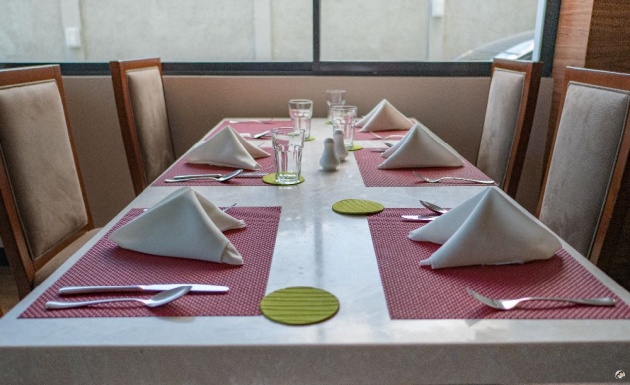 Image credits: Jean Beltran via bitLanders
Contacting Aioli Cafe and Restaurant was not difficult. I messaged them on Facebook and by the early morning the next day, they responded. But actually, the message was about their buffet as they posted about it for Mother's Day but unfortunately, it was only for dinner on the 13th and nothing for lunch.
But it was a little disappointing that when I asked them for a reservation, they didn't reply anymore so it looked like they only reply once.
Anyway, I didn't message them anymore thinking it might not be very busy by that Saturday and I was right thank goodness!
Location
From the Tagbilaran City port, it only took around 11 minutes to reach 717 Cesar's Place Hotel which hosts Aioli Cafe and Restaurant. It is always tricky to get a ride from the port, these tricycle drivers would try to ask more money from the passengers rather than the recommended fare.
Video credits: Jean Beltran via bitLanders
In just a few minutes, we reached the hotel, the three-story building with the hotel's name printed in green outside it and I knew that we were at the right location.
The 717 Cesar's Place Hotel is located in C.P.G. North Avenue, Tagbilaran City, it's just near the high way so it is easy to find.
Ambiance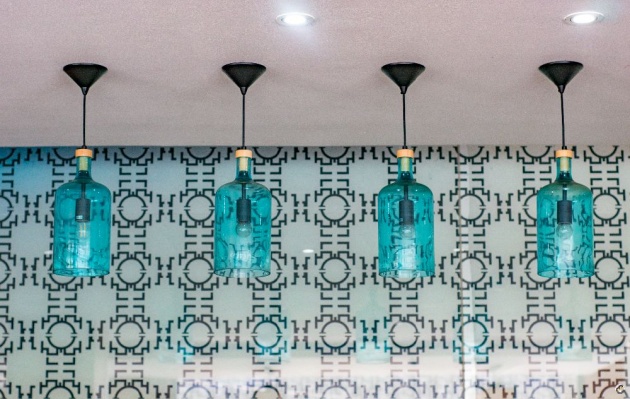 Image credits: Jean Beltran via bitLanders
Its glass walls and windows made the interiors of the restaurant visible from the outside. But one has to get to the hotel to gain access to the restaurant or get to the adjacent door for its second access door.
Since I came through the hotel's front desk to ask where their restaurant is located, I used the door from the hotel inside. It was 11:30 in the morning and although there were only a few heads around, the chairs and tables seemed messed up. Perhaps there were customers around earlier during breakfast.
I chose a table good for six in the middle so we can have space enough with the right lighting and coldness from the air conditioning.
The chairs are comfortable to sit on but I was a little disappointed with them being pulled out rather than pushed into the table, the OCD part of me was screaming I should fix all of them.
I don't see much decoration in the restaurant as well, only a few lights hanging with blue covers, there were no center table designs, no music too although there was music at the hotel lobby.
Food
The food selection on their menu was quite many and they don't stick to a specific theme. They have options from Asian to Mediterranean and Italian. I felt like I had too many options I was having an issue selecting from the list.
In the end, I opt for the appealing ones. Here below were our orders:
Bagoong Rice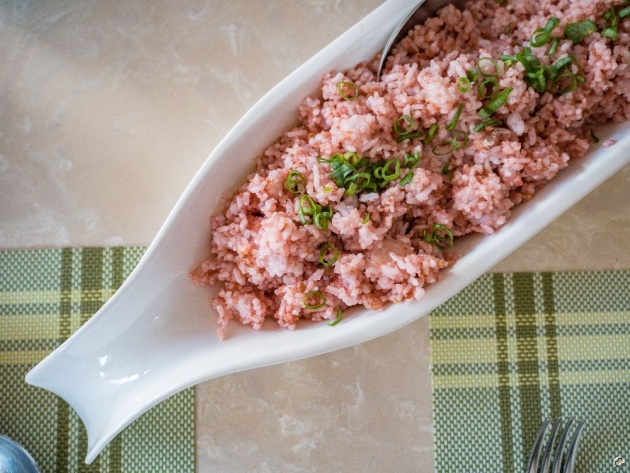 Image credits: Jean Beltran via bitLanders
Price: Php 107
This Classic Bagoong fried rice with flaked Tinapa tapped with red egg salsa.
My mother didn't like this because as per her, it was too salty while my father liked it. But we didn't finish the whole platter. Still, it was a generous serving!
Cesar's Fried Rice
Price: Php 99
This was the Aioli Cafe and Restaurant's signature fried rice with minced pork, sweet soy and shrimp topped with Julienned egg.
The description seemed a little complicated but the truth is this was just fried rice with scrambled eggs. Since there was pork, I didn't eat this but as per my husband, it tastes okay. Nothing extraordinary but the serving was really generous.
Chopseuy Guisado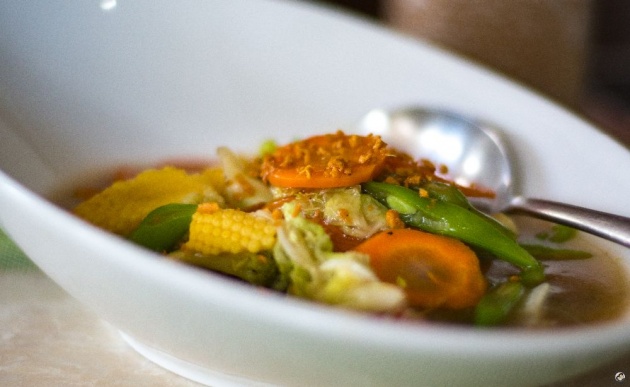 Image credits: Jean Beltran via bitLanders
Price: Php 165
Sauteed assorted vegetables with quail's eggs, pork strips, squid rings, chicken liver and white shrimps.
Although it has pork strips, I ate a few spoons because Chopseuy is my favorite. It was tasty and has a lot of vegetables rather than meat so I loved it.
Mediterranean Seafood Bowl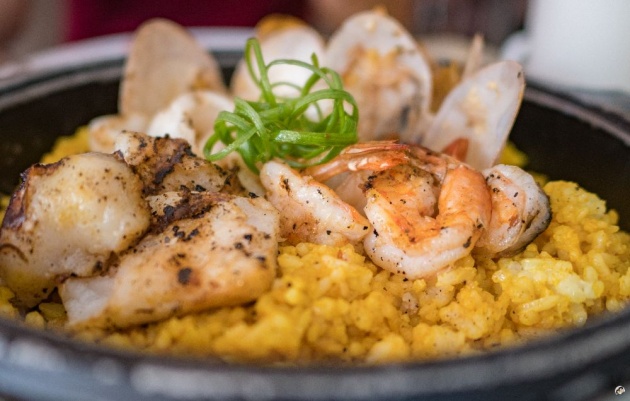 Image credits: Jean Beltran via bitLanders
Price: Php 206
This was my personal choice. It's grilled Mediterranean marinated seafood topped with Aioli, served with Curried-scented rice, baked tomato, and onion with Yogurt on the side.
The rice reminded me of biryani and I loved it! I even had a few spoonfuls of the rice plus the great combination of grilled seafood was a winner! We all loved this!
Seafood Pasta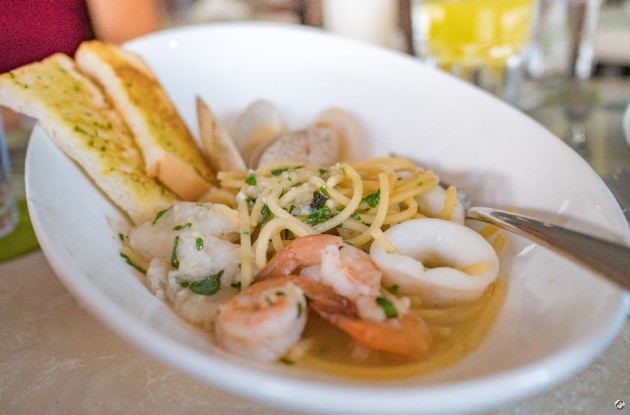 Image credits: Jean Beltran via bitLanders
Price: Php 151
Spaghetti pasta with shrimps, clams, and squid sauteed in garlic, white wine and olive oil topped with basil and served with garlic toast.
I love pasta and when merged with seafood is definitely a must order for me. I love the taste of basil in this plus the seafood which was cooked perfectly although I wasn't able to eat the clams because my brother grabbed then before I could.
Considering the amount of serving and the price, this is a sure hit plus the garlic toast was a perfect combo.
Tofu Cups with Shrimp Mango Salsa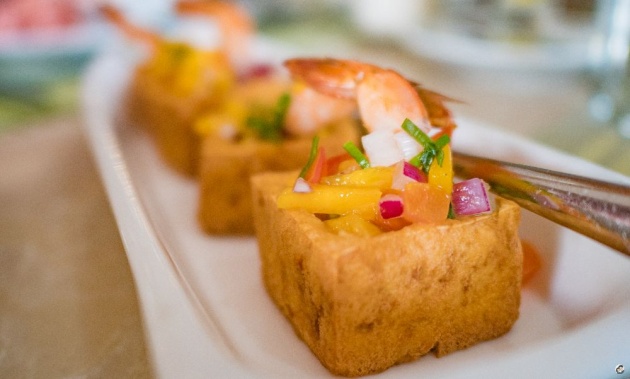 Image credits: Jean Beltran via bitLanders
Price: Php 125
This crispy tofu was filled with poached shrimp with mango salsa made me feel excited because I thought the tofu would be crispy like that tofu which I usually order at Chowking. Plus thinking about mango was already a delight. However, when it was served, I got disappointed that the tofu was cold, there were a very few mango salsas and the shrimp was not tasty, I don't know if it was really meant that way but I didn't seem to like it.
My companions didn't like it either even James said no after his first try. I guess it was just reheated but I am not sure about it. I guess I just had been expecting a lot of it which was why when it was served, it didn't reach the expectation I set for it.
Calamari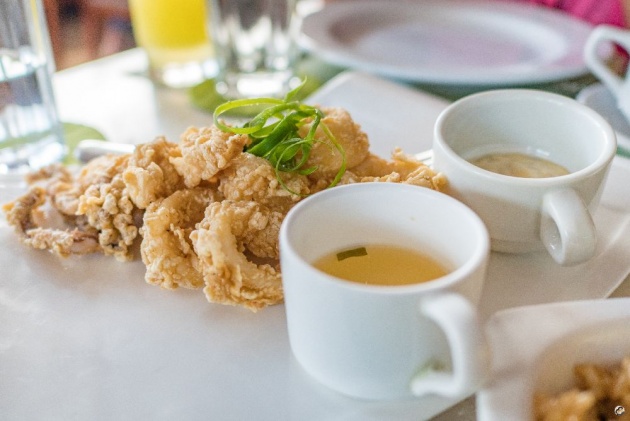 Image credits: Jean Beltran via bitLanders
Price: Php 165
Homemade fried squid with garlic vinegar and crunch dressing on the side. The dressing was actually a surprise. I knew calamari would be filled with taste but with the dressing, I have to rate it with added points. The serving was understandable too.
Beef Salpicao
Price: Php 216
My father requested for this, a marinated beef tenderloin sauteed in garlic and glazed with red wine topped with roasted whole garlic.
Of course, I didn't have a taste on this but he loved it and so did my older brother. The meat as per them was tender and the serving was still good enough for its price. The plate design was awesome too!
Sugba-Tula-Kilaw Combo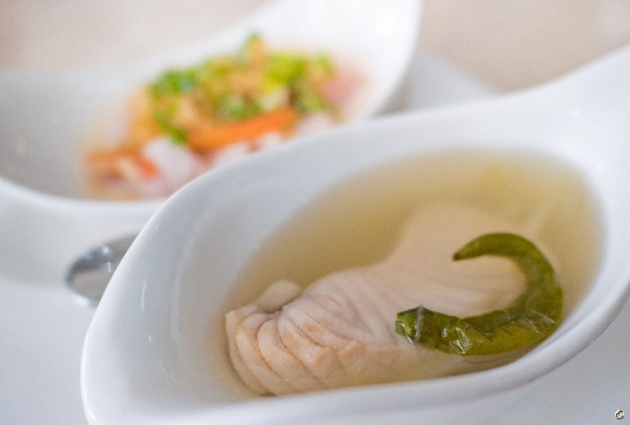 Image credits: Jean Beltran via bitLanders
For Filipinos, lunch is always good with a combination of fish Sugba or grilled, Tula or soup and Kilaw or ceviche. The restaurant has their own version of this fish dishes and so we have to have this on our table as well.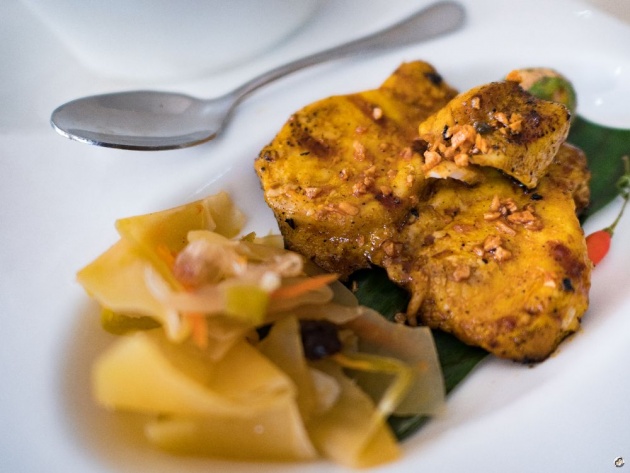 Image credits: Jean Beltran via bitLanders
The only problem was that it arrived pretty late. So we didn't get to enjoy the fish soup (Tula) but nonetheless, it was tasty and they had given us a good amount of soup enough for the six of us.
We also ordered our fruit shakes and juices. I got my lemonade, James opted for a hot Calamansi juice, my parents had their own Pineapple fresh juice while my older brother had a Banana Chocolate Smoothie while a Buko shakes for Gecell, my sister in law.
Video credits: Jean Beltran via bitLanders
All of these had almost filled our tables that the staff added another table extension. But I was really surprised that the bill only totaled less than Php 2000!
Overall, we had a great time with its food and good temperature except for the long wait. We were told it would only take around 15-20 minutes but it took an hour of waiting. Plus it didn't help that there were some noisy guests right at our side who were talking really really loud, they were not very considerate to the other guests.
But to consider the good food with a little waiting time, I truly believe I had selected the right place for this surprise lunch.
This blog entry was written and published by Jean Beltran-Figues for bitlanders.com.