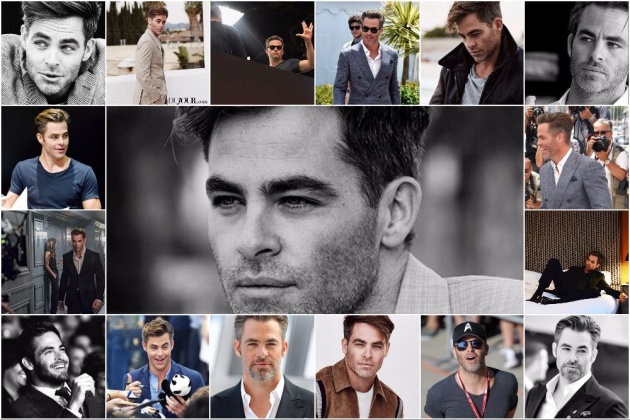 "ALL ABOUT CHRIS PINE"
Image source: Photo Collage is mine. Images are from Twitter and Facebook.
Okay, first of all, the title might seem a little odd -- or no... really very odd, especially for those who do not know or haven't even heard of the name Chris Pine (by the way, that really hurts my heart to know that my dear Chris Pine is so unrecognizable and underrated). Anyway, let me start this blog post off by saying that number one: Chris Pine is a talented Hollywood actor; and number two: his dear PINE NUTS are his very dedicated and loving fans... that includes me technically. *giggles*
Anyway, I know that is not enough information so I'd be elaborating on those two points further before I proceed with writing about all these threads Chris' pine nuts made dedicated only for him.
"Wonder Woman Cast Photo Op - Chris Pine as Steve Trevor"
Image source: From JustJared.com
CHRIS PINE and his PINE NUTS
Chris Pine (or Christopher Whitelaw Pine, in real life) is an American actor in Hollywood most popularly known for his role as the younger version (kelvin timeline) of Captain James "Jim" T. Kirk (originally played by William Shatner) in the 2009 (also reprised in Star Trek Into Darkness 2013 and Star Trek Beyond 2016) reboot of the famous sci-fi franchise Star Trek. Aside from these, he's also appeared in several films, Princess Diaries 2: The Royal Wedding (with Anne Hathaway) and Just My Luck (with Lindsay Lohan) being his first major projects.
Recently, Chris Pine has been in a lot of movies starring in Horrible Bosses 2 with Jason Bateman, Charlie Day and Jason Sudeikis, and the star-studded musical Into the Woods in 2014. In 2015, he also starred in Z for Zachariah in 2015 with Margot Robbie and Oscar-winning actor Chiwetel Ejiofor. Jimmy Kimmel even joked that Chris Pine is in all the movies in 2016, as he starred in three films: Disney's The Finest Hours with Casey Affleck and Ben Foster, the third installment of Star Trek reboot Star Trek Beyond, and Hell Or High Water with Ben Foster and Jeff Bridges.
"Chris Pine is in All the Movies"
Video source: Jimmy Kimmel Live Youtube channel
In 2013, Chris made an appearance in The Ellen Show and talked about his devoted fans who, according to him, had designated themselves as "pine nuts". Pretty much I can attest that this whole pine-nuts thing has existed for years, way before that interview, but it was definitely a great thing that he had acknowledged us pine nuts from that time. *flutters*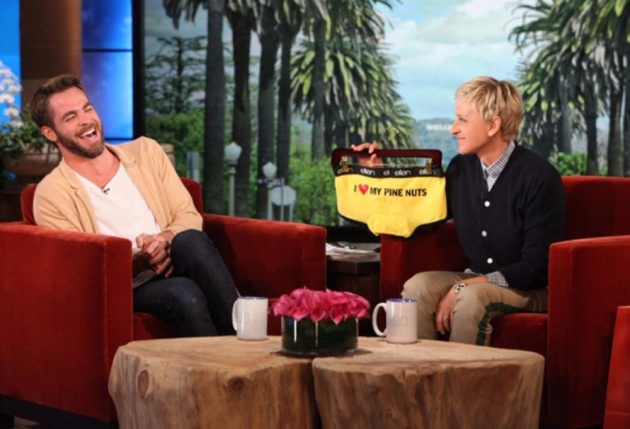 "I LOVE MY PINE NUTS - Ellen's gift is a yellow-mustard brief with funny print on it"
Image source: NYDailyNews.com
The name (Pine Nuts) is hilarious. You can associate it with a bag of nuts, and another one with something sexual. I think it's best to leave it at that. *grins* All I can say is fans nowadays have grown really witty and funny to that extent.
Going back to the funny interview, Ellen asked Chris what do his pine nuts do, and of course there was some really dark funny ring to it so the audience, and even Chris himself, laughed with him saying "They... they... are just a nutty bunch!" Hmm, witty comeback!
They are just a nutty bunch!

- Chris Pine, when asked about "his pine nuts"
In the same interview, Chris talked about how sensitive he is and admitting he was single. Well, at least at that time. The interview was made in 2013, but I believe he is single right now, so take that. Video clip of the interview below.
"Ellen Tries to Make Chris Pine Cry"
Video source: The Ellen Show Youtube channel
Anyway, let's now proceed to the main topic of discussion in this blog: fan-made threads and social media accounts dedicated to the very handsome and talented actor Chris Pine.
CHRIS DOING THINGS - @pineactivities
I believe this started in a very lively thread in Twitter until someone so graciously took the initiative and created its own Twitter account dedicated to Chris Pine doing several activities and stuff that are so lovely and cute and funny that these got to be celebrated by fans *in a very fangirl voice*.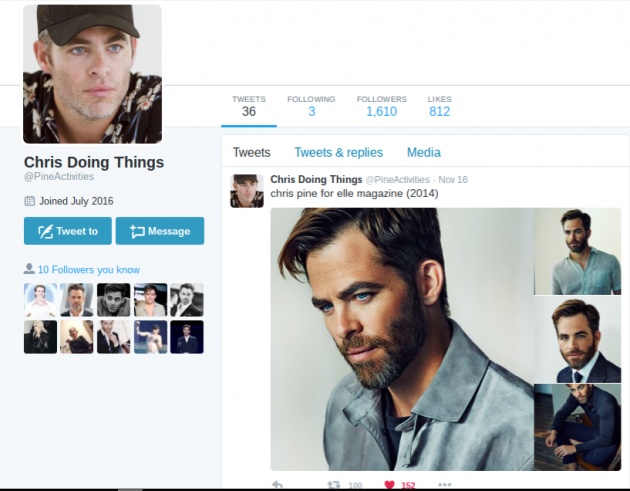 "Chris Doing Things Twitter Account"
Image source: Screenshot is mine.
Although this blogpost, at first, had to be solely dedicated to fan-made "threads" and this one is totally unqualified to be one since it's obviously an account, I still feel the need to include this in the list. In fact, I feel the need to put this in the top spot! because I believe it sparked all other fan-made threads made after it. But, just in order not to compromise terminologies, I had this blogpost's title revised a bit and included "accounts" to pertain to social media accounts made by pine nuts, in addition to the threads I'd be presenting.
Anyway, just a quick and brief description as to what Chris Doing Things is all about... It features photos of Chris, most of the time from pap shots because it is basically about Chris Pine doing normal, day to day activities in life, and of course, you won't see that on red carpet or photo shoots. You can see Chris doing: running, drinking coffee, hugging, eating, with dogs, being himself, stuff, and stuff.
"Chris Pine Attempting to Take Pictures on Phones"
Image source: Screenshot is mine.
THREAD OF THINGS CHRIS PINE INVENTED
This is put up by one of the pine nuts I always see in Twitter named maheen. I don't know if it's right to put her in this blog as I have not asked her permission to be honest, but then Twitter is a public platform unless you wanna go private. So I think it will all be okay if I will put this really aesthetic thread of Chris Pine, presenting all the beautiful features of him. (This is how "stans" exaggerate things about their idols)
According to the thread, Chris Pine invented: eyebrows, eyes, hair, jawline, beard, arms, wearing suits, caps, floral prints, singing, 40's/50's fashion, white suit, being adorable and soft, eating, and choking. But then again, according to Maheen, "the truth is that chris pine invented everything so this thread will never die". L-O-L! As a pine nut, I agree. I agree.
Oh. My. Golly. Chris Pine can't really stop eating. I wanna feed him always. What a baby!
"Chris Pine Can't Stop Eating"
Image source: From The Late Late Show with James Corden. Screenshot is from Maheen's Twitter.
THREAD OF CHRIS PINE TALKING WITH HIS HANDS
Because, as per emgel (@buckyfucky) - the very beautiful lady who put up this thread said, she is in it too deep. And I can't blame her. No one can. So I just enjoy every single gif she put up in this thread. If you're interested to look at every gif, you can click it here: https://twitter.com/buckyfucky/status/776204110848663552
"Chris Pine Talking With His Hands"
Image source: originally posted by emgel in Twitter (@buckyfucky)
For those who know of Chris Pine, he has this very cute mannerism of talking with his hands in a really playfully cute motions. I can't even handle that it adds cuteness to him being already cute. Anyway, I am already enjoying writing this blogpost now since I have a very great excuse to pine over a lot of Chris Pine stuff over the internet. L-O-L!
There are still a lot of threads out there made for Chris Pine but if I'd be including all of them, I might get my account suspended for submitting a very, very lengthy blogpost (I'm exaggerating, of course. That can't be a reason for account suspension. Just a low content rating LOL!) So I think it's best to leave it all at three threads.
MAJOR TWITTER ACCOUNTS DEDICATED TO CHRIS PINE
As if it's not enough of me to present the three threads above, here are other Chris Pine stuff pine nuts made just for him. These are Twitter accounts that are best sources of all things that is Chris Pine.
#1: CHRIS PINE NETWORK - @ChrisPineNetwrk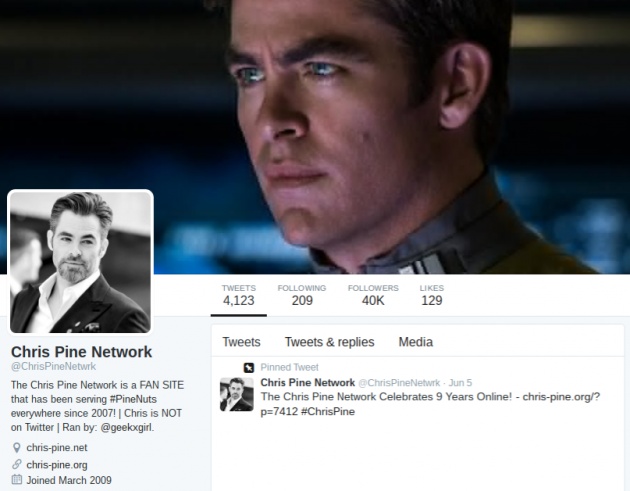 This is probably the oldest one I know of. It includes articles, photos and other stuff that have Chris Pine as its main subject matter. I am not sure of who runs this but I am pretty sure one of the oldest pine nut there to date. I love her!
"Chris Pine Network Twitter Account"
Image source: Screenshot is mine.
#2: TREKKIEKINDTREKKER - @tracking_ontrek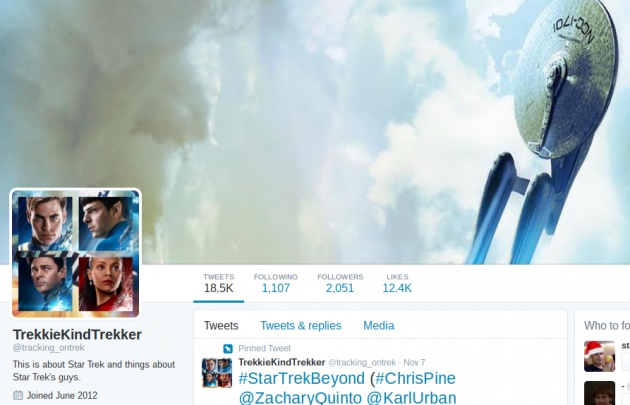 This one account is more broad as it is dedicated for all things trekkie. So it basically does not only involves Chris Pine, but also other cast members. I still do enjoy it a lot since I love the other cast members too. Plus it does not fall short of feeding pine nuts of things about Chris Pine. Rejoice!
"TrekkieKindTrekker Twitter Account"
Image source: Screenshot is mine.
#3: BEST OF CHRIS PINE - @bestofpine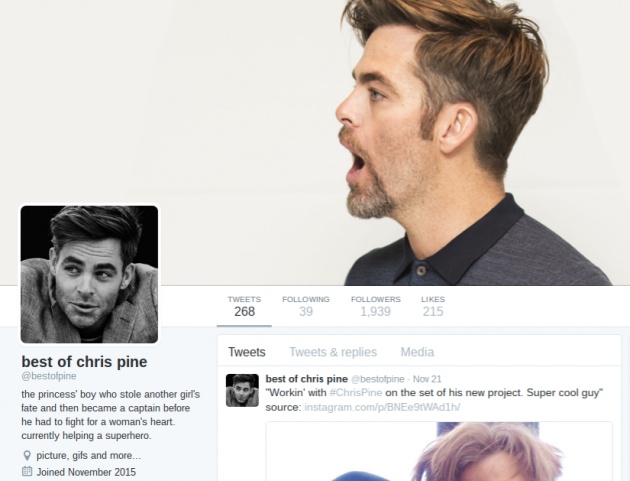 This one I think is relatively knew but one of the best out there. It tweets mainly of photos of Chris Pine. And of course, photos could be the best things in the world, right? What more if these are Chris Pine photos? What do you think would happen to the hearts of pine nuts? Flutters.
"best of chris pine Twitter Account"
Image source: Screenshot is mine.