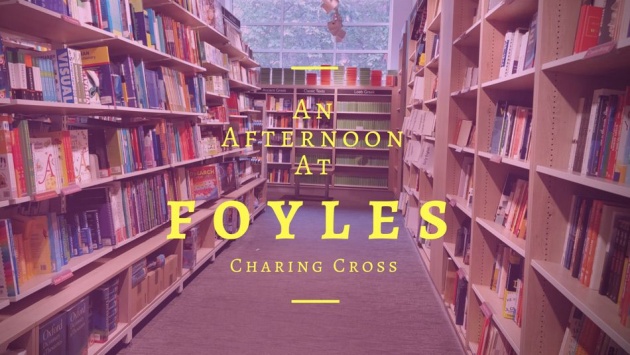 Image credits: An afternoon at Foyles by Naotalba via bitLanders
Even though I'm trying to downsize in terms of paper books, due to the lack of space in my flat, it doesn't mean I've stopped loving them—nor have I stopped enjoying going to bookstores to see what's new, and have look for novels that I may then get on Kindle.
One place worth visiting (although perhaps not as exceptional as it used to be) is Foyles on Charing Cross. If you don't find anything to buy there, then I don't know what gives!
The closest Tube station is Tottehham Court Road, with Leicester Square just a little further. Smaller London stores are also located near the Royal Festival Hall and at Waterloo Station on the South bank, and further east, near Queen Elizabeth Olympic Park in Stratford.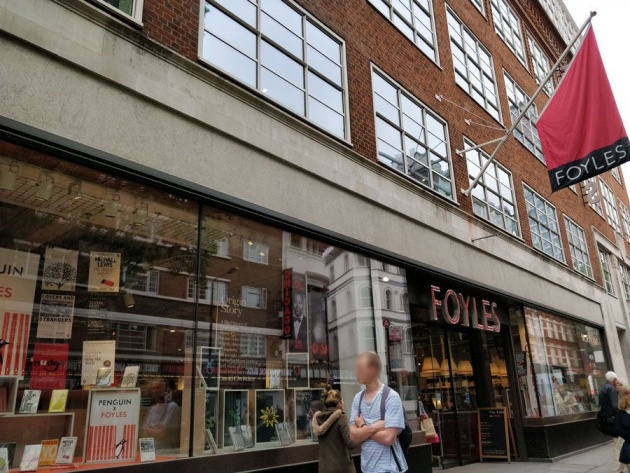 Image credits: Foyles' entrance by Naotalba via bitLanders

An (in)famous place
While the current version of Foyles doesn't look too different from what you'd expect from a typical bookstore chain (not as big as Waterstones, though: they 'only' have seven stores in the United Kingdom), I wish I had been able to visit London earlier in my life, so that I could've seen the place back when it was still famed for both its second-hand books and its appearance:
The multilevel store, now the flagship of a seven-strong chain, once resembled a part of the Soviet Union. Nearby Collett's might have been the left's favoured bookshop but it was Foyles that retained the extraordinary Moscow-style triple queueing system: customers had to line up to receive a chit, then again to pay at an Edwardian-style till, then once more to collect the book from where they had started.
— From Foyles' new flagship bookstore in London via Financial Times
Which is something my uncle once mentioned to me, because he got to be in London in the 1970s and 1980s, and still remembered how Foyles was, to put it mildly, eccentric. I can only imagine it would've looked like many of these tiny second-hand bookstores, where books are everywhere, sometimes in piles threatening to fall at the slightest sneeze... only on a much, much larger scale, one that spanned several floors. I suppose there must've been order in all this chaos; where is the question!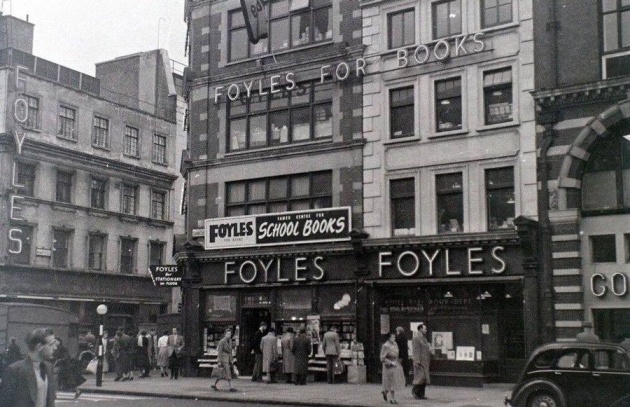 Image credits: Foyles in 1955 by Old London via Twitter
Nevertheless, this made Foyles a fairly known touristic attraction, and I can't help but think about it when I go there now. Apart from those peculiar business practices, see what I also missed:
Foyles was once listed in the Guinness Book of Records as the world's largest bookshop in terms of shelf length, at 30 miles (48 km), and for number of titles on display.
— From Wikipedia
I still got to shop at the former store, back when I first visited London in 2008, although that, too, was the modern version, and not the one that made the place famous in the previous decades. Since then, Foyles has moved to 107 Charing Cross Road, in a building that formerly hosted the Central St Martins College of Art and Design.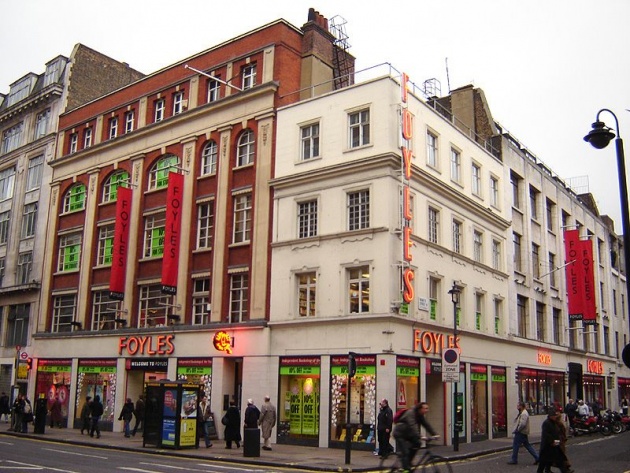 Image credits: Former shop at 111-119 Charing Cross via Wikipedia
So many books!
Let it be said that if you go to this store without a specific book to buy in mind, and you happen to be a book lover, your visit is likely to feel like you fell in a hole in the space-time continuum: hours will go by before you get to walk out again. (Make sure you've taken a dimensional bag with you.)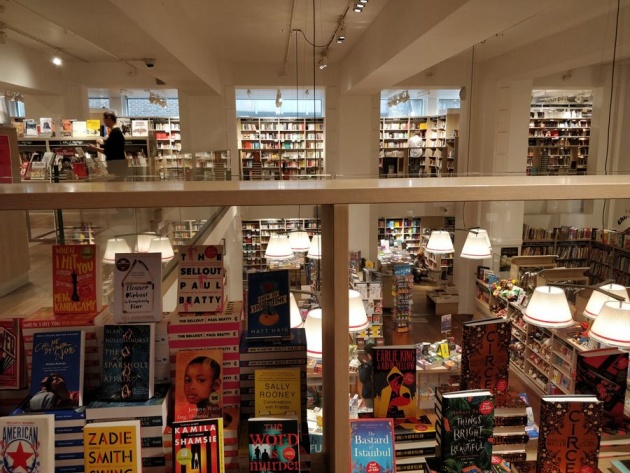 Image credits: Foyles by Naotalba via bitLanders
Foyles has aisles for pretty much every genre of fiction: general fiction, young adult, children, science fiction and fantasy, crime... as well as non-fiction: activism, linguistics, history, travel books... As you can see from the pictures below, which only represent a few shelves among many, you name it, they probably have it (including ebooks, much to my wallet's discontent).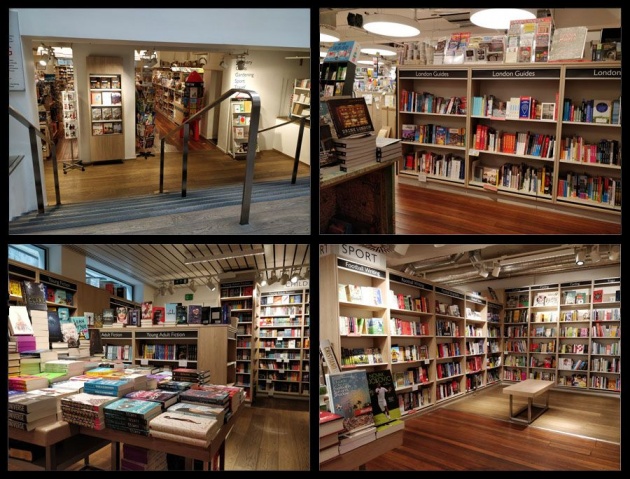 Image credits: Foyles by Naotalba via bitLanders
I spent a fair amount of time in that specific aisle recently, looking for my monthly fix of science books. Don't ask me why, I don't care anymore about owning paper versions of the novels I read, but non-fiction books, especially when it comes to genetics, physics or gender studies, now that's something I still want to hold in my little greedy hands.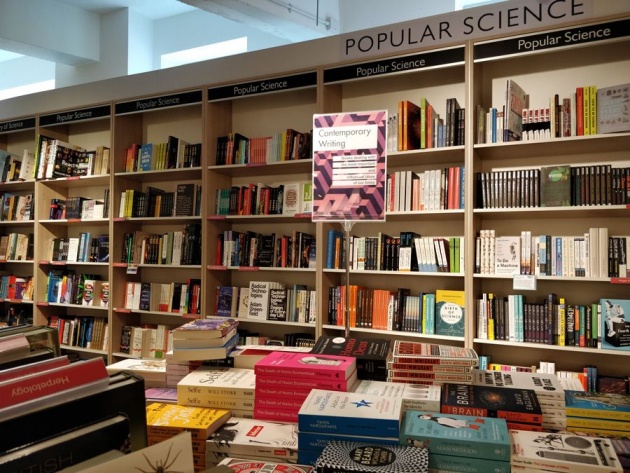 Image credits: Foyles by Naotalba via bitLanders

And let's not forget either the music store, on the 4th floor, or the event space on the 6th floor.
Video credits: Level 6 at Foyles by Foyles via YouTube

Finally, this being current news this month, you couldn't miss the part devoted to the royal wedding, at the entrance, next to the stationery aisle: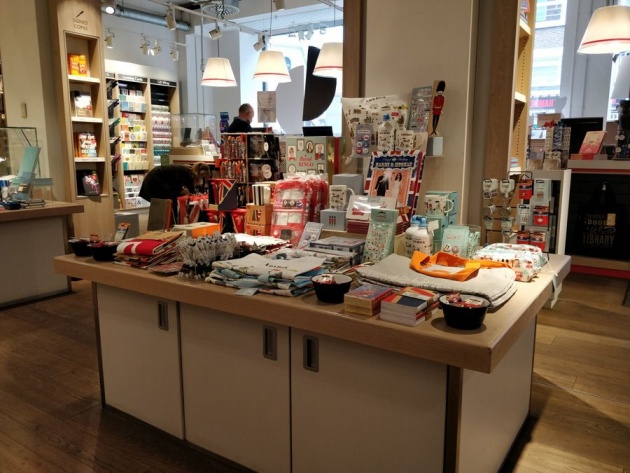 Image credits: Foyles by Naotalba via bitLanders

Have a break...
As is often the case in medium and large bookstore chains (think Waterstones), Foyles also has a cafe, aptly named The Cafe at Foyles, where you can enjoy tea, coffee, various pastries, and lunch food... and read your books, of course! (I suppose that you have to buy the books before bringing them there, but let's be honest, not doing it would be so crass that I won't even consider it.)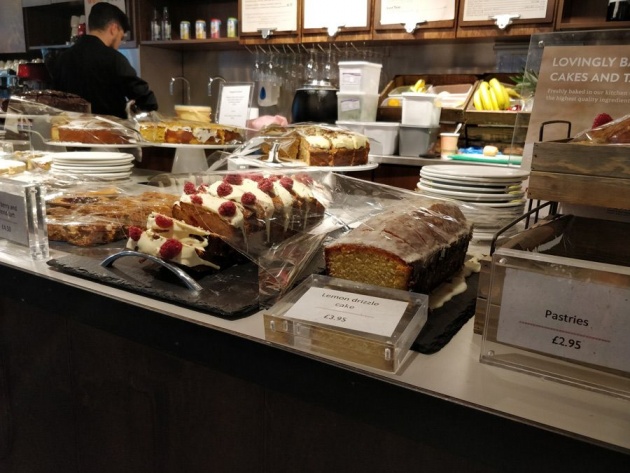 Image credits: The Cafe at Foyles by Naotalba via bitLanders

To celebrate the end of an afternoon of basking in the sweet smell of books, there came the moment to relax at the aforementioned cafe with a well-deserved treat: rooibos (redbush) tea, carrot cake, and my loot of the day. (I'm particularly satisfied about finding that book by Nick Lane about mitochondria, since I've wanted to read it for years.)
Please note that I'm particularly proud of myself for being reasonable, and only buying two books... although I noted down many titles that I'd like to get soon, either in ebook format or at my the local library.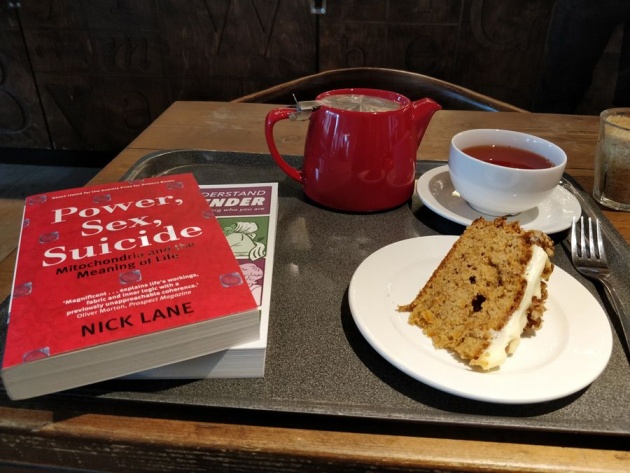 Image credits: The Cafe at Foyles by Naotalba via bitLanders

Video credits: Lex Let Loose in Foyles by Penguin Platform via YouTube
Written by Naotalba for bitLanders
Want to join us? It's here!