As she has done in so many other situations, from Bosnians ethnically cleansed, to displaced in Ecuador to African migrants in Italy to those still displaced by conflict in Afghanistan, Angelina Jolie has again returned to re-focus global attention on the ever regressive human rights and humanitarian plight of Syrian refugees with thousands added to the ranks of displaced every week, especially during a brutal summer. Photo Below Angelina visits with Syrian refugees in Jordan. Angelina Jolie had journeyed to Turkey last summer to visit with what was already a significant refugee issue back then but has geometrically exploded since. See our Film Report: "Angelina Jolie Eyelevel with Syria Refugees in Turkey".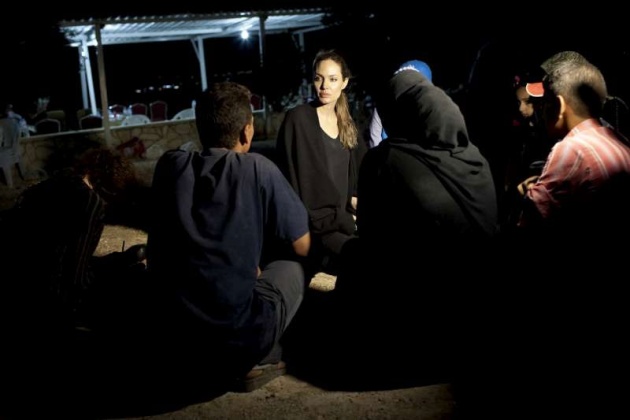 Also see:
Angelina Jolie with African Migrants in Italy
See our Blog for Film –"Angelina Jolie Directorial Debut-Tears & Raves in Sarajevo"
Exploding Refugee Flow:
High Commissioner António Guterres and Ms. Jolie visited the Za'atri refugee camp, located in a desert region near the Syrian border, and currently holding some 28,000 refugees, out of a total of 85,000 Syrians who are currently registered or awaiting refugee registration in Jordan. "I am grateful to Jordan and other border countries for keeping their borders open, for saving these people's lives. They are dying in Syria. If they were unable to escape with their families many of the people here, many of the people I met today would in fact be dead. It's an extraordinary thing that they are doing," offered Ms. Jolie.
Syria Security Forces Targeting Refugees?
According to the Office of the UN High Commissioner for Refugees (UNHCR), the actual number of refugees in Jordan is thought to be much higher, and, overall, more than a quarter of a million people have now been registered with the agency, or are awaiting registration in countries around Syria. "Refugees tell us that artillery and air attacks are continuing in villages and towns close to the Jordanian border. There are reports of thousands of displaced people in Syria's south, moving from village to village seeking safety before they can cross the border. (UNHCR Spokesperson Adrian Edwards). " Read Syria Refugees Targeted by Assad Forces".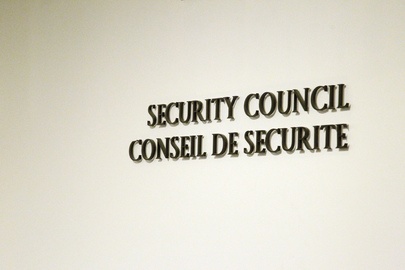 According to UN News Centre: Last night, Ms. Jolie visited Jordan's border with Syria, where she met newly-arriving families – some 200 families made the dangerous crossing that night; shelling could be heard in the distance. According to Ms. Jolie: "It's been a very heavy experience because often times you come to these camps. We have all been around and met with people in conflict situations, but rarely do you come when you meet them as they cross the border and you get to know people the moment they become a refugee, the moment they have lost their home, their schooling, their livelihoods, their education, everything that they have been is gone. And when I asked them, 'what did you bring?' they say this, and they show [their] back." According to UNHCR, some refugees report being displaced five or six times before finally leaving the country. While the number of people crossing the border tends to fluctuate depending on the security situation in Syria, on average, some 2,000 new arrivals occur daily, with most people crossing the border at night. See our Film Report: "Syrians in Lebanon".
"The Conflict is Growing" & Winter is Coming:
"We do encourage the international community to do everything it can to support these people and to support them here until they can go home one day. There is much that needs to be done. It's a very, very difficult situation and of the appeals that came out – which still have not been met – [they] weren't even prepared to take into account the extent of what was going to happen, how many people. It grows. The numbers are growing. The conflict is growing."
Ambassador Muhamed Sacirbey - FOLLOW mo @MuhamedSacirbey

Facebook-Become a Fan at "Diplomatically Incorrect"







Twitter – Follow us @DiplomaticallyX







"Diplomat-Artist" Channel - http://diplomaticallyincorrect.org/c/diplomat-artist