In this article we read about some archaeological treasures of Pakistan. we throw light on the civilization,culture,religion and art of antiquity in the subcontinent.The discovery of monuments and seals belonging to different ages of the past give us precious information about the various aspects of the ancient world. The most important archaeological treasure of Pakistan is Taxila. It is situated at a distance of thirty miles from Rawalpindi. Taxila is important as an archaeological site because of its association with Alexander and Asoka who were the greatest persons in the ancient history. There are four sites at Taxila contains some of the oldest relics of our civilization and the world's artistic treasure.It throws light on the Gandhara Art.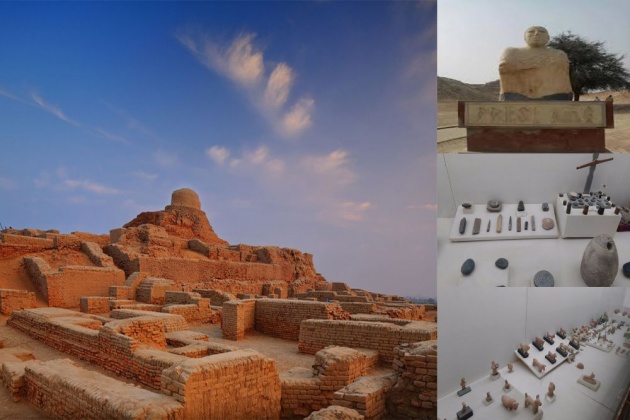 Image Source: Google Edited by Nadar khan
The second important archaeological treasure of Pakistan is Mohenjo Daro.It is about sixty miles from sukker in sind. The most important aspect of this discovery is the Indus Valley Civilization.It carries us five thousand years back in the history of the world to prehistoric sites of Mesopotamia.This discovery proved that here existed a civilization before the arrival of the Aryans. The skulls dug out from here show that four different types of people lived here.
Video Courtesy: You Tube
The third important archaeological treasure of Pakistan is Bhambore. It is situated at a distance of forty miles from karachi.Its archaeological interest lies in the fact that it is probably the same place where Muhammad Bin Qasim landed for the first time in 712 A.D. It is perhaps debal. Here the signs of a mosque have been found which dates from about a hundred and fifty years after the commencement of the Muslim era. The archaeological treasures that belong to the Mughal period are compared to the other are important because they are nearer to treasure.
Video Courtesy: You Tube
Their archaeological treasures lie scattered all over Pakistan. The most important of them are the Lahor Fort, the Badshahi Mosque and the tomb of Anarkali etc.The beauty of the Hindu stone carvers and masons.The people of the subcontinent have an emotional attachment with these archaeological sites. Some of the sites such as the tomb of Anarkali have romantic appeal for the people.
This is the end of my blog. If you like comment below
WRITER NADAR KHAN