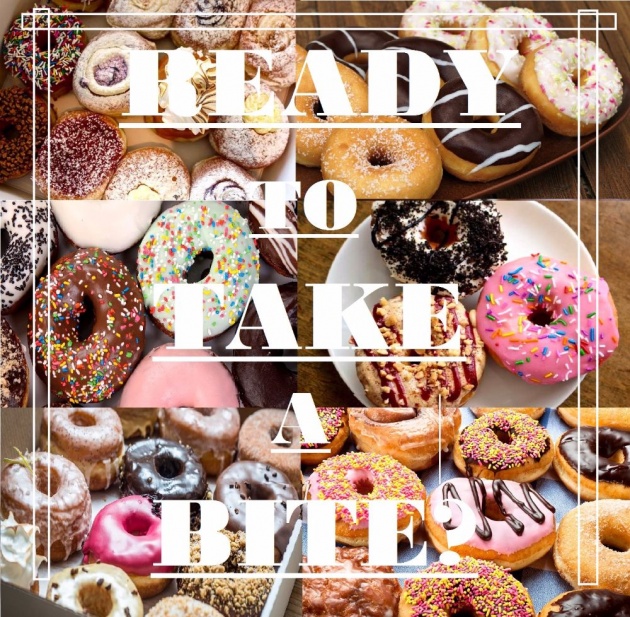 Image Source: Google and Edited by Me (NellShaOza)
Een hap nemen! Eet Smakelijk!
Hello to all the people out there! NellShaOza again! ~ To celebrate my 5 stars blog on my Ready to Take a Bite - Pizza Goodness I'm back with another Food Blog, Well I've decided to make a food blog once in while and I'll call the segment as Ready to take a Bite. Before we start, I want to inform you that you can tell whatever food it is and I'll blog it as much as I can on the next blog hehe So thats all, Sit back, relax and feel the DOUGHNUT COMA. Ciao!
WHAT IS DOUGHNUT OR DONUT?
Doughnut is somehow related to Pizza, Is just that it is Sugary and sweets and has a lot of colorful flavors in it. If Pizza is for Main Course, We'll surely need a dessert for it. Doughnut is ready for the job, Personally I love Donuts too, The satisfaction it gives is just like Pizza especially I'm a sweet tooth person.
Doughnuts is a type of fried dough confectionery or dessert food. It is usually deep fried from a flour dough, and typically either ring-shaped or without a hole, and often filled.
Fluffy and Tasty, If I say Tasty, It really does! You can eat it with a glass of milk or a cup of coffee which does compliment the taste and give you more satisfaction. What inside of a Doughnut? Let's watch this..
Video Source: How It's Made Doughnut via Youtube
THE ORIGIN AND HISTORY OF DOUGHNUTS
Before anyone of you was born yet, The making of the sensational Doughnuts is on the run. Its history has a lot of debate included, a lot of people claim to be on the first make and that make Doughnut History disputed.
First one said that Doughnuts we're invented by Dutch settles in North America. in 19th Century, Doughnut also reffered as a Dutch word Oliekoek's kind which means "oil cake", a sweetend cake fried in fat.
Doughnut does have a convoluted past that involves Dutch immigrants, Russian exiles, French bakers, Irving Berlin, Clark Gable and a certain number of Native Americans. And, yes, in its democratic ethos, its optimism, and its assorted origins, it does seem rather quintessentially American.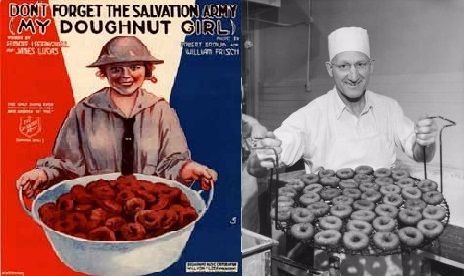 Image Source: Doughnut Girl and Dean of the Doughnut Men.
Since 1917, when a cheerful Salvation Army lassie handed a fresh doughnut to a homesick doughboy in France. The Salvation Army doughnut has symbolized loving concern for those in the armed forces.

-Doughnut Girl via Mr.Breakfast

In 1947, Ernie Rice who started at Hoyt Doughnuts in 1911, Ernie developed his own recipe for the doughnuts. Ernie made doughnuts for the Hoyt Doughnut Company for 48 years. Referred to as "The Dean of the Doughnutmen" Ernie was believed to be one of the few remaining career doughnut-makers when he retired in 1959
Some also says that the cooks would fry strips of pastry dough which is very usual even in other place and after frying, they coat them with honey or fish sauce History is such a weird thing and that place would be on in Ancient Rome and Greece while some where in Medieval, They started to fry a unsweetend dought and yeast to make a whole fried pastries which is drenched later in sugary and sweet syrups.
If I would state all the given claimed history, It would take time and this blog would be consider as Origin and History. But I think the making of this Donuts are easy to start with, especially of the availability of flour, yeast and such ingredients at that time and they would just add flavors to make it appetizing to eat.
CHEAP DONUTS
As time come, Many people made their own versions of Donuts and some made it as a business. Not a lot of us can buy the premium one. So as summarize to which is practical to buy. I'll stated some of my Favorite Cheap Donuts that is on the Market, Tell me if you like one of it ~
1. Local Bakeries' Donut
Here in the Philippines, Prices are cheap. but what makes it more cheapier? This Donuts is available in a lot of places, They made it in their little bakery shop and sell it, The ingredients are essential and doesn't apply any special powder its basic content are Flour, Yeast, Salt, Sugar, Butter and etc. Its Cheap so its cheapier!

Image Source: Sugar Donuts and My Malabon Bakery
for only 6 php (0.34 dollars) You can enjoy this simple and hunger passing donuts. If you crave and there's no premium donut available around your area. This might change your game. ~
2. Simply Donuts
Expect the Unexpected Doughnut. Yep! Simply Donut? Nope! It is not Simply it has the sense of Premium Donuts! The Price is Cheap but the Donut is on the level of a High Class Donuts. Good news is - When you buy it, you'll surely have the Super Satisfaction. but the bad news is the availability is very frequent or should I say, branches is only achievable in Central Luzon, Pampanga, Philippines. it has only 3 branches - San Fernando, Pampanga -Dolores which is in San fernando and San Matias, Sto. Tomas Pampanga. I don't why, but their donuts is the best for me. The Price and fulfillment of the product is justified haha! ~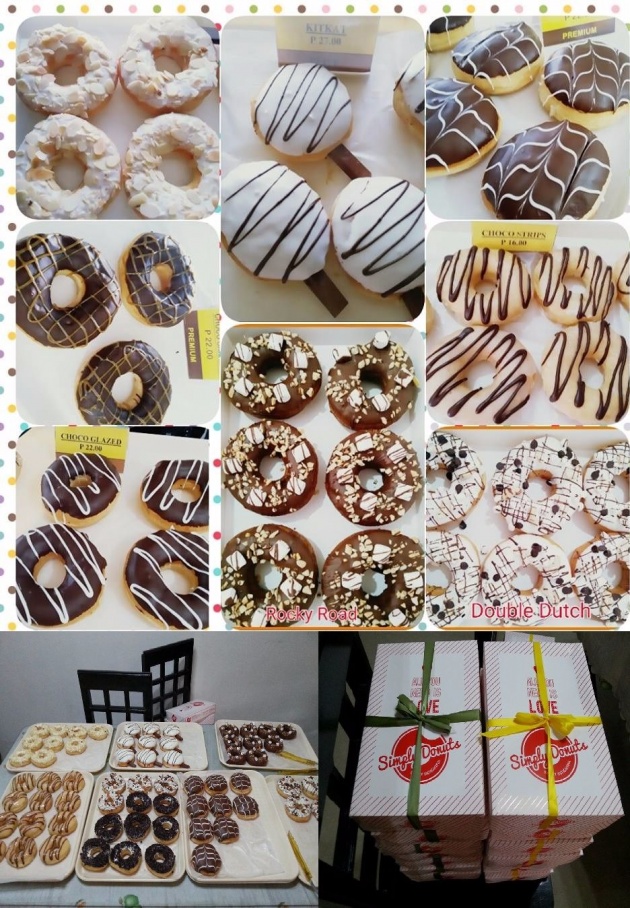 Image Source: Simply Donuts via Facebook
You might not believe me if I would say the prices of this Gorgeous Donuts. Well They are come into 'Per Boxes Selling' and I'm not familiar with their prices individually. However Simply Donuts have 3 different kind of Selection, The Regular, Premium and Elite. The Regular doesn't have a lot of toppings but it is reasonable for it price. 6 donuts in 1 boxes, As far as I remember this are the prices:
6 regular is 80 to 90 php (1.58 to 1.78 dollars only)

3 regular donuts and 3 Elite donuts is 100 to 130 php (2 to 2.57 dollars)

3 elite donuts and 3 premium donuts is 150 -160 php (2.96 to 3.17 dollars)
See?! Its Cheap! Super Cheap! if you want half box, you'll only pay 80-150 php (1.58 to 2.97 dollars) not like in other premium donuts' stores which cost 230-250 (4.55 to 4.95 dollars), for us who like donuts, it's not practical. Don't be in doubt, This has a Cheap Price but the taste can pace with the high quality one ~
MIDDLE COST DONUTS
Not so fond of these Middle Cost donuts for the reason of it's out of the budget for a student like me. People would tend to buy this if they really like the flavors and quality, but for me, I'm Happy with Simply Donuts hehe ~ Going back, I would list down the Middle Cost Donuts that I've tasted and have a fun eating it. Here we go..
1. J.CO DONUTS
Bet you are familiar with this Donut Store, Not just here in the Philippines but also in Asia. J.CO Donut was originated from Indonesia which is specialized with their Donuts of course coffees and frozen yogurts.
J.CO opened its first branch in Malaysia in 2007 with a total of 17 stores opened as of 2017. In Singapore, they opened their first branch in 2008 with a total of 6 stores opened as of 2017. In 2012, J.CO entered the Philippines with now 44 stores opened as of 2017. In December 2016, J.CO opened its first branch in Hong Kong

-J.CO Donuts via Wikipedia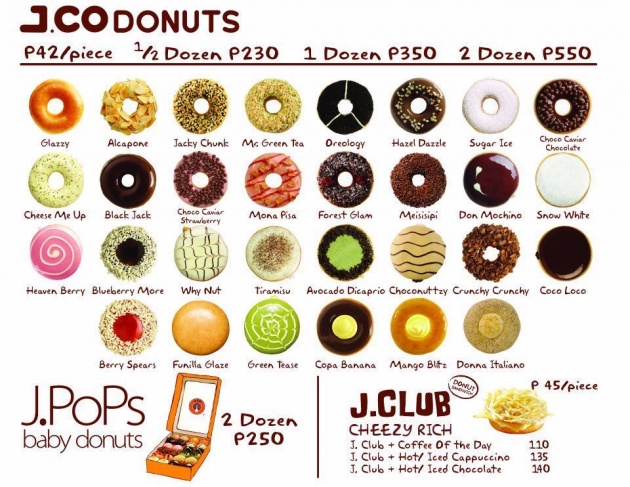 Here in our place, J.CO donuts is not that active in some places. It is only located in some Malls and it is not reachable for other people who want to buy a Donut instantly, but if you can reach it. Why not try to buy one right ~
J.CO's donuts are also known for their high quality toppings and fillings such as toasted almonds, premium dark and white chocolate, matcha, and other ingredients.

-J.CO Donuts via Wikipedia
2. KRISPY KREME
All I know in Krispy Kreme is their Famous Glazed Donut, If J.Co is known for their different toppings and a lot of flavors. Krispy Kreme is for their Plain Donut, I've tasted it before and it is surely will melt in your mouth, it is best for with coffee and milk. Its like a breakfast thing. and as what I see and observe, They have a tasty donuts but has a simple decorations or toppings on it.
Krispy Kreme Doughnuts, Inc. is an American doughnut company and coffee house chain based in Winston-Salem, North Carolina

-Krispy Kreme via Wikipedia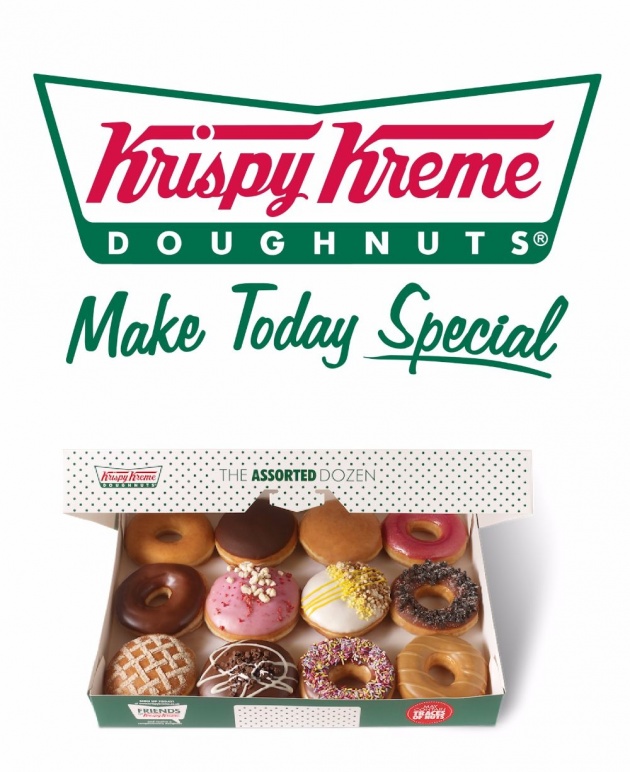 Image Source: Krispy Kreme via Wikipedia
Why it is on my list? Because as far as I can remember, Almost all of my friends bought a dozen whenever we go out and take it home. I've tasted before and because of my reminiscing blog, I've decided to bought again one.
Nothing beats the original krispy kreme.

-According to him, Jason Behr
So for you, What is you're favorite among the Cheap ones and Middle Cost one? Comment down below ~
Watch this Buzz feed Presents - Worth It Doughnuts.
Video Source: Worth it Dougnuts via Youtube
So here it is, Which is Worth it? I'll still choose Simply Donuts
Keep in mind those delicious sweet round full of flavor Donuts
and
Remember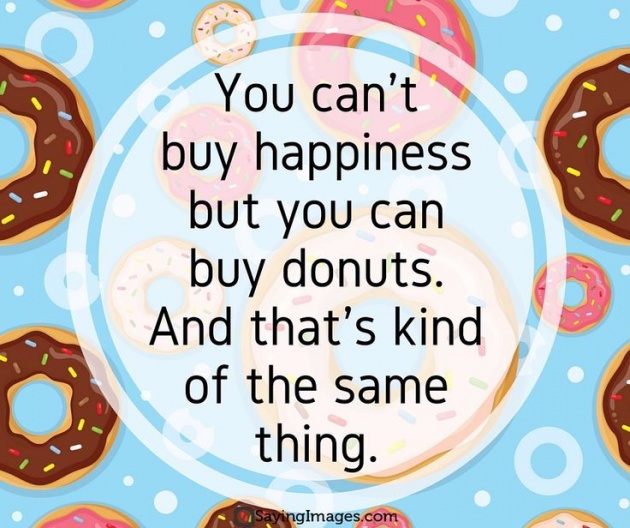 Image Source: Doughnuts via Pinterest
Yep! See you on the next "Ready to take a bite"
KEEPSAFE
and
THANK YOU
Best Regards,
July 2017