Hey guys!! Today on @Yannn's Artsy Journey will be all about Art Fair Philippines. Do you have any idea about it? Have you heard it before? If yes then I'm happy for you! If not well, I'll give you a peak in this blog about the said event. Brace yourself because one of the biggest Art Exhibit in the country is here! Introducing "Art Fair Philippines 2019!"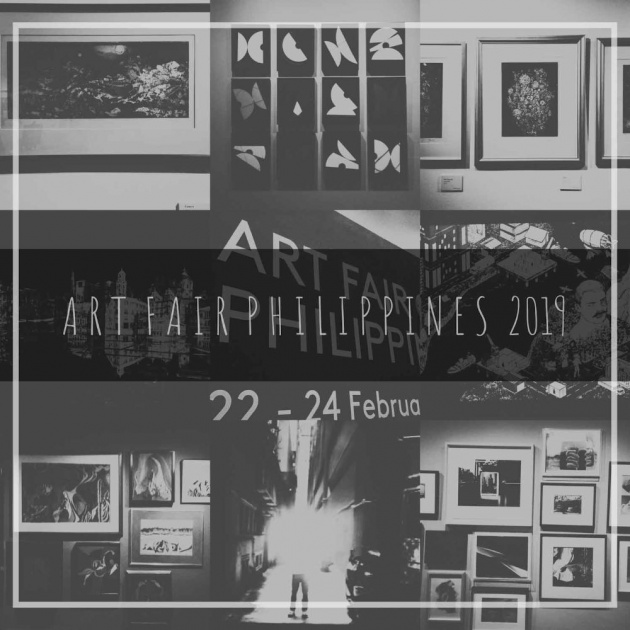 Photo Credits: @Yannn via bitlanders.com
I am so honored to share stuff about Art Fair Philippines in this blog. I might not cover everything but surely, I'll give you awesome ideas and Artworks that really caught up my attention. This is my first ever experience to attend such a huge exhibit so I am excited to write and talk about it! I decided to write 2 different blogs about my 1st Art Fair Philippines experience. The 1st blog (which is this blog), I'll focus on the piece that really amazes me and the 2nd blog will be more of personal experience with my best friend. So shall we?
WELCOME TO ART FAIR PHILIPPINES 2019

(MONOCHROMATIC EDITION BY @YANNN)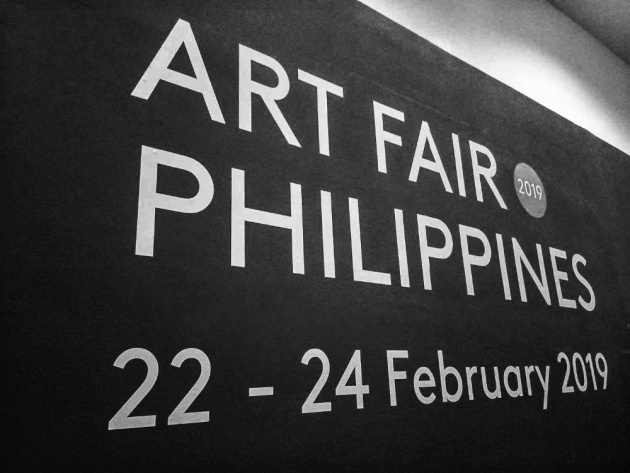 Photo Credits: @Yannn via bitlanders.com
What is Art Fair Philippines?
THE ART FAIR


Founded in 2013, Art Fair Philippines is the premier platform for exhibiting and selling the best in modern and contemporary Philippine visual art. The fair aims to mirror the vibrant local art scene and continues to generate support for Filipino art practitioners. Set in an alternative urban venue, Art Fair Philippines makes art accessible to enthusiasts and to those who want to discover one of Southeast Asia's most exciting art landscapes.

-Source: Art Fair Philippines
February 24, 2019, It was my first time to attend such prestige Art Exhibit called "Art Fair Philippines". To be honest, even though I proclaim myself to be an Artist I wasn't aware of the said exhibit. It's true. So how did I discover ArtfairPh? It was through a friend. My best friend, Nancy who is also an Aspiring Artist invited me to accompany her to the said Art fair. At first, I was hesitant to go. (I don't know why, but I used to be energetic when it comes to such events). But in the end, I accept her invitation.
Here are the highlights of Art Fair Philippines 2018
Video Credits: Art Fair Philippines
Art Fair Philippines 2019 happened last February 22-24, 2019 in The Link, Makati. We decided to go on the 24th because that is our common rest day. It was also the last day of the said event, so we expected a bulk of people will visit the said exhibit that day.
It was a nice and fine Sunday before we went to the Art Fair Philippines we dropped by at one of the biggest book sale known Internationally, it's the Big Bad Wolf book sale! It was their year two in the Philippines already. But unfortunately we weren't able to buy any books (a week before this happened I already went to National Bookstore book sale and was able to buy 3 books within P500.00! Yay!) After strolling around for 2 hours, we travel back to Makati for the Main event!
Around quarter to 5:00 PM we successfully arrived at The Link and went directly to the Registration Area which is on the 4th floor of the building. And did I mention that this Art Fair has 4 floors full of Masterpiece? I know, it's huge!! So we finished at the registration and started to go around on the same floor. (Well good thing Nancy bought a Manual together with a Map! Yay!!) So let's proceed?
Oh just a commercial break, all featured artworks are not mine and owned by the amazing Artists of the said exhibit. All photos are personally captured and edited by @Yannn. Photos are edited to show Monochromatic effect (But originally, all Artworks posted in this blog are in Black and White).
FUNDANCION SANSO ARTWORKS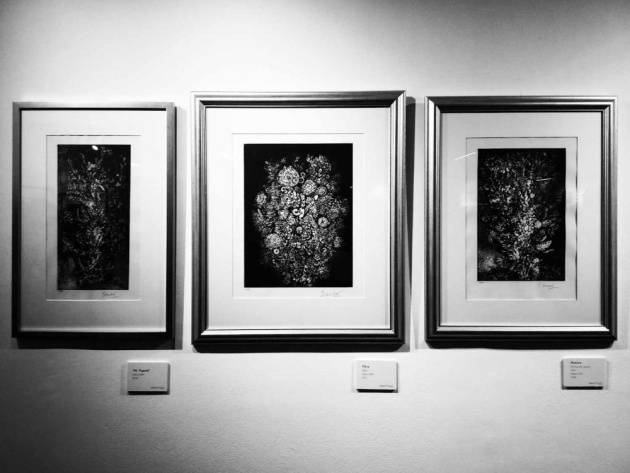 Photo Credits: @Yannn via bitlanders.com
Mr. Sanso's post was one of the first galleries that we visit. And as expected, it blew us away from that easily. Most of his works are in the form of Black and white, you might think that having such choice of tone is dull and boring. Surprisingly, having it black and white makes it stand out.
Most of his works are called "Etching and Aquatint" which is totally new to my vocabulary. (Well, It is actually my first time to attend an Art Exhibit and to be honest I only thought of Oil and Acrylic Artworks). I and Nancy don't have an Idea about it, but whatever it is we knew that it was good!
Leuers by Fundancion Sanso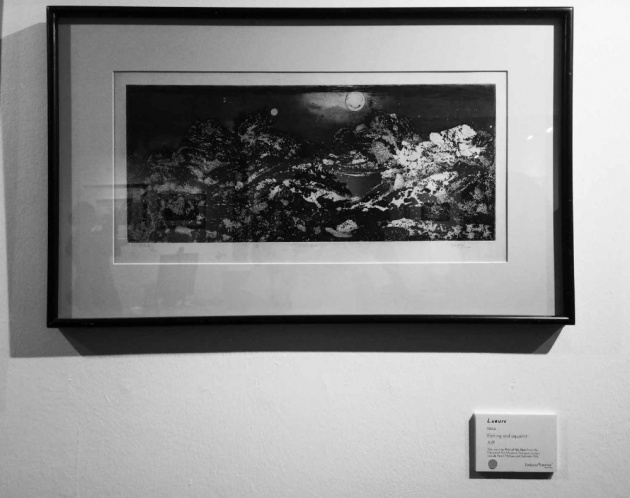 Photo Credits: @Yannn via bitlanders.com
This Artwork of Sir Sanso won the "Print of the year" from the Cleveland Art Museum.
What is Etching?
It is the act or process of making designs or pictures on a metal plate, glass, etc., by the corrosive action of acid, instead of by a burin.

-Source: dictionary.com
What is Aquatint?
It is a technique of etching copper with acid to produce an effect resembling the flat tones of wash or watercolor. The tone or tint is obtained by acid (aqua) biting through the pores of a ground that only partially protects the copper

-Source: dictionary.com
I learned in his Artworks that sometimes you don't have to understand the process of the piece to appreciate the uniqueness and beauty of it.

ABSTRACT STRUCTURE ARTWORKS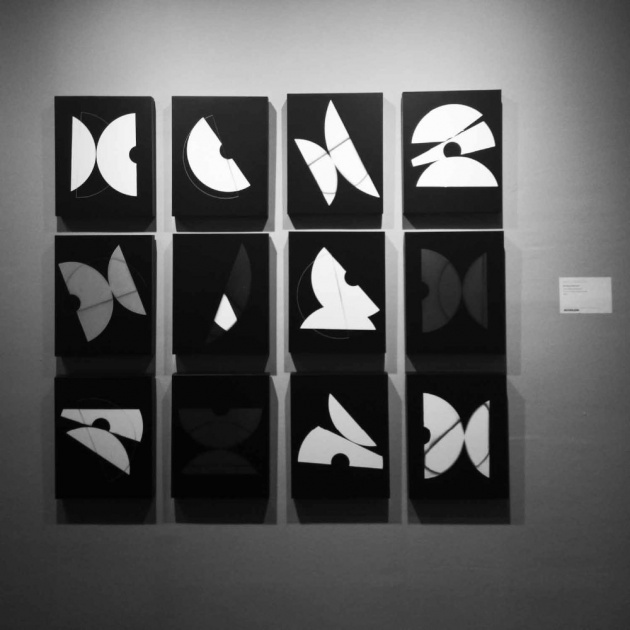 Photo Credits: @Yannn via bitlanders.com
I cannot clearly recognize what kind of Artwork is this but just upon looking at them made me realize one thing. Aside from I personally pick these piece to be included in my Monochromatic Blog of Art Fair Philippines because it was all black and white, this piece made me realize that being different is not that bad. That sometimes going against the flow is the right thing to do. Being different makes us stand out. And always remember that despite our differences, we are beautiful in our own way.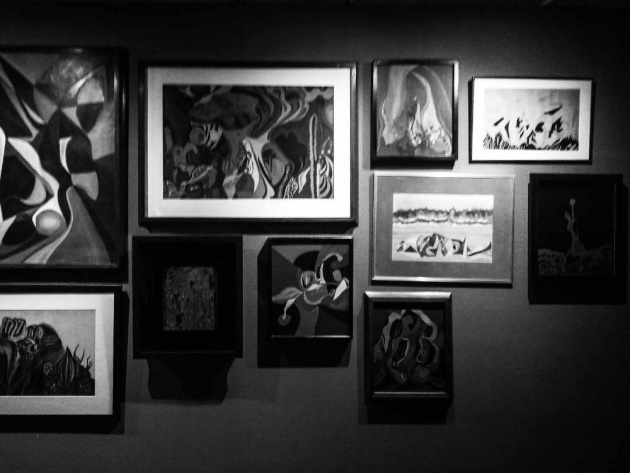 Photo Credits: @Yannn via bitlanders.com
Another abstract/expressionist works in the fair. The wall is composed of a mixture of Oil and Acrylic painting on canvas. Pretty confusing right? Because at first glance it really looks like a bunch of photographs in the wall. The fair consists of several media of Art, even those things that I didn't imagine were considered Art! (Well that leads me to a conclusion that I really need to dig deep when it comes to Art in general).
I can still remember where these paintings were posted. It was in a square type room (not that big, not that too small), several paintings were posted in a dark orange wall with dim lights contribute huge impact upon presenting masterpiece.
DIGITAL ARTWORKS
Video Credits: British Council Arts via youtube.com
As our generation discover new things such as technology, Art also evolves through time. Although traditional Artworks like Oil, Watercolor and Acrylic Paintings are still on trends, Digital Artworks are emerging as well.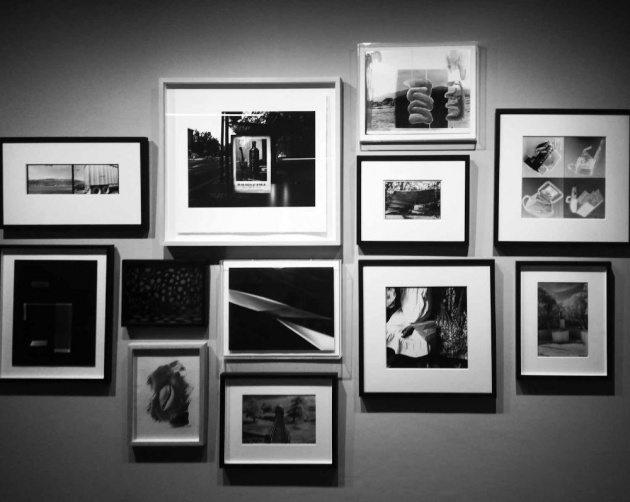 Photo Credits: @Yannn via bitlanders.com
Let's start off with these walls full of Digital Artworks also knows as Photographs. Photos are considered Art too you know? And I might not be a professional photographer but I am pretty sure that a Black and White theme is famous in this field. It's overwhelming and in just one hue, it can tell us so many stories about the subject of the photograph. I've seen tons of photographs in the Art Fair, it's weird but even just a simple shot can mesmerize me and left me in awe.
And now we're talking about photographs, the next piece is my favorite photograph in the Fair.
BEAM OF LIGHT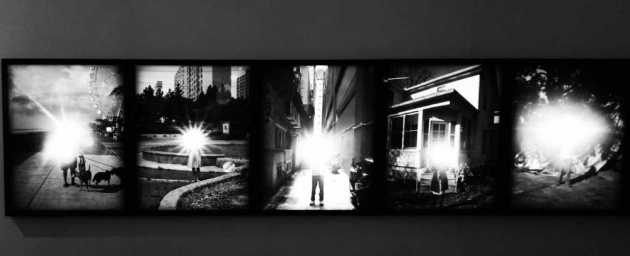 Photo Credits: @Yannn via bitlanders.com
I and Nancy are discussing this specific piece. How it was perfectly done. I mean just look at the photo closely, usually, upon capturing a photo with a flash it will completely reflect on the photo itself. Resulting in a blurred or just flash of light in the photo, but this one is different. It seems unreal and just photoshops. Not to mention that the setting of each photo gives so much value to the finished product. At first we thought it was in Manila Bay, but in the end, we really don't know where it was captured.
I once dreamed to be a good photographer too! Maybe someday I could capture such a masterpiece. Yay!
The next piece is my favorite Digital Artwork in the fair.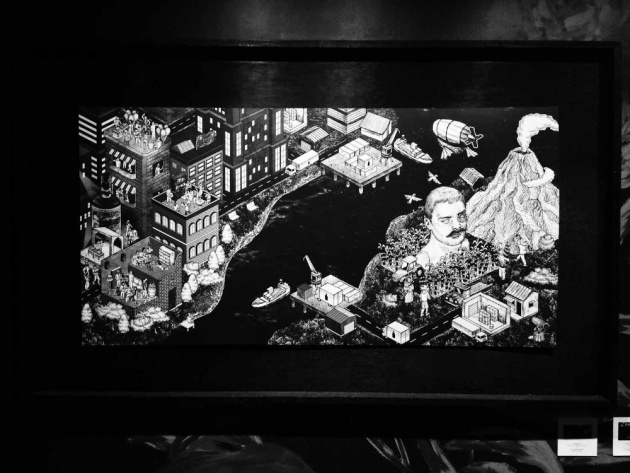 Photo Credits: Yannn via bitlanders.com
This Artwork is a mixture of Digital, Graphite, and photoshop. (Funny that most of the Artworks that caught my attention are related to Cityscape. Maybe this is the result of watching Historical movies like Heneral Luna and Goyo: Ang Batang Heneral, where I was fascinated by how the Animators made the city to look a real-life setting).
Seeing this Artwork for the 1st time, I already knew that it was made by graphite. I must admit that once in my life I also attempt this kind of medium. (My cousin gave my brother a gift consists of graphite pencils) But unfortunately, I am no good in sketching so everything was put into waste. Okay back on the Artwork, I admire it so much especially the details of the piece. And how it resembles two or more types of cities. Obviously, one shows the typical city-life. People are enjoying their time with their friends or family members, having a good time of their life. While the other one is the Rural-type of life, where they focus more on working for their living. Two different cities that have their own story.
And now we are down to the last Artwork for my Art Fair Philippines (Monochromatic Edition) Blog!!
BEHOLD A CITY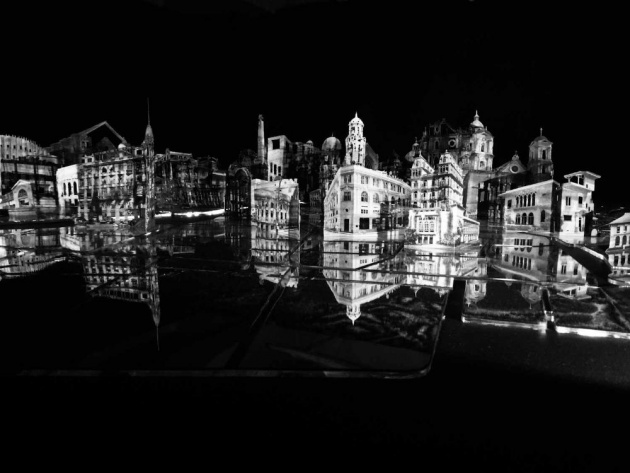 Photo Credits: @Yannn via bitlanders.com
And this is my favorite Artwork among hundreds of Artworks in the fair. (I told you, cityscapes really caught my attention).
"Behold a city features an entirely new topography and arrangement. The previous work was caught in the fire, eerily repeating the fate of Manila when it was carpet-bombed by Japanese forces, becoming the world's Most devastated city after wars during world war II. Just like its predecessor, the current work is an Epistolary address to the country's seat of power, Villamael's "love letter to the city"."

-Art Fair Philippines
I love how Sir Ryan made a reimagined the City of Manila through his Art. It really amazes me to see that we have a beautiful city such as Manila. It was a rich city. But throughout the years, it was greatly affected and resulted in destruction. But I still believe that there are still treasure in our city.
This is one great experience for me and nancy. This masterpiece was located in a certain dark room and has only one light. The map of Manila was standing in the mirror allowing the buildings to have a good reflection. (Unfortunately, because of numerous people in the room I wasn't able to capture a decent photo of the whole work.) But it was beautiful. Trust me.
And there you have it!! That's my Monochromatic Edition of Art Fair Philippines! Do you want to see more about Art Fair Philippines 2019? Fear not because my next blog will be my unique experience in the fair! So stay tuned!
Thank you for reading everyone!! Have a great day!