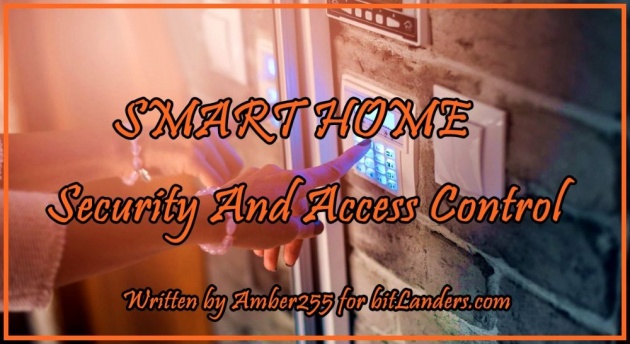 [Artificial Inteligence] Smart Home: Security And Access Control - Photo credit: shipmansecuritysystems, edition by Amber255 via bitLanders
In childhood, many of us were read in science fiction novels, trying to imagine the future described in them. What will our life be like? What will be clothes, cars, and houses? Not much time passed, and we did not notice how we ended up in that very future.
Of course, humanity has not yet conquered distant worlds and galaxies, but our homes, of course, have become smarter. Technologies are developing so fast that we do not have time to master and even realize many of them.
Today, human life is greatly simplified by a variety of equipment. Many devices have surrounded us since childhood and seem to be a natural component of a comfortable life. More and more it includes smart devices, the price of which is reduced to the level accessible to everyone.
We are already used to the fact that our cars are equipped with various systems: on-board computers, rain and light sensors, parking sensors, cameras, alarms, etc. But not everyone knows that you can equip your homes with similar systems, only more complex ones. Thanks to them, you can manage all the parameters of a house or apartment from your smartphone. Such systems make your home secure as nothing else.
Nowadays, no one considers security costs to be a waste of money. On the contrary, for many, security and fire alarms, video surveillance, etc. are natural and necessary.
Home security systems are a complex and multifaceted complex of various sensors, monitors, detectors, video cameras, and other safety system equipment.
Learn the Basics of Access Control - Video credit: youtube
Until recently, burglar alarms, and other security systems were installed mainly in banks, shopping centers and other enterprises whose work was related to the storage of large tangible property. However, attackers can encroach on any territory and building, regardless of its status and purpose. And therefore, home security today is becoming no less common service.
Even the owners of small homes, who preferred to save on the installation of security systems, long ago realized that the costs of providing security systems can not be compared with the possible losses from the visit of attackers.
The situation in the house can be monitored from a phone or tablet online using security cameras. Entries from them are immediately duplicated in the cloud, so it is simply impossible to fake or deletes them.
Your smart home will easily adapt to your habits with the help of scripts and will become much more comfortable and safer. Each scenario can be configured for a specific time, for a specific switch or button in the application. Your smart home can predict what is important to you and your guests at a particular point in time.
In the Querlo chat Smart Home: Security And Access Control (the link will open chat in a full-screen mode), you will find info about:
1. Personal guard for your home.
2. How the security system works.
3. Components of a smart security system:
a) Access control; b) Video surveillance;
c) Security alarm; d) Accident-prevention;
e) Sources of backup power.
4. Benefits of Security System.
Please, chat with me for more detailed info about these topics:
The Power Of security System
The security complex contains a complete set of tools to automate control of the situation both inside and outside the premises. Information can be displayed on any device.
The security system of a smart home is the future that has become the present. It allows you to monitor the condition of the house from almost anywhere - you only need any device with Internet access: a tablet, smartphone or laptop. Control within the system is carried out around the clock, and the signal is transmitted to the owner and the security control panel as soon as an emergency occurs.
Access control is a security technique that regulates who or what can view or use resources in a computing environment. It is a fundamental concept in security that minimizes risk to the business or organization.

Credit: searchsecurity
With the help of modern and effective security systems, it is possible not only to catch criminals but also to prevent crimes, so they should be installed at any facility where there is, albeit, not a very significant risk of unauthorized access.
By the way, it is also possible to check remotely if the burglar alarm is on. If necessary, it is very easy to turn it on remotely. In addition to the security function, the smart home system with the help of special sensors monitors the state of the fire, gas, and water systems, detects emergency situations and notifies the owner, and also, depending on the programmed capabilities of the security system as a whole, sends a signal to turn off the water or turn off the gas.
With the help of a smart home security system, the hosts can even answer calls on the intercom, open gates or doors, of course, if the guest is welcome.
The key feature of many home security systems is the use of video, which can be viewed through various interfaces, but the confidentiality of such data is in question.
Ensuring an increased level of security at home by connecting technological equipment, creating various intelligent scenarios, monitoring security, integrating with standard security systems, and fire safety systems- that is what security system will do for you.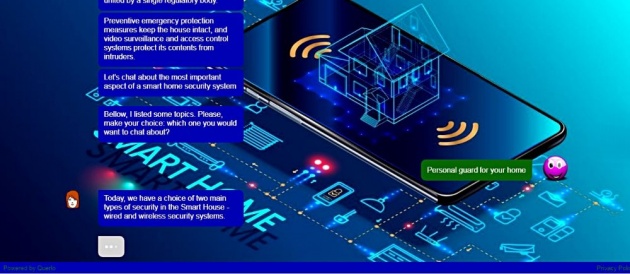 [Artificial Inteligence] Smart Home: Security And Access Control - Photo credit: querlo
The smart security concept is constantly evolving, so that security systems within its framework will become more sophisticated and more reliable. But now you can with a high degree of reliability protect your home and safely go on a business trip or vacation.
If you want to install apartment security, video surveillance installation, or fire alarm as well as other security systems at home or anywhere else, find a company that will become your faithful assistant. They will provide reliable protection for your property, you, and your family.
Comfortable and untroubled life depends on many elements, and security of people living in the apartment or house is the key one.
************************************************************************
****************************************************************
******************************************
I invite you to participate in Bitlanders AI-themed Blogging and create your own AI-themed blogs and C-blogs on artificial intelligence theme:
bitLanders AI-themed blogging
After the successful launch of "The bitLanders C-blogging", conversational AI blogging by Querlo powered by IBM Watson and Microsoft Azure. bitLanders continues to support its joint venture Querlo. We believe in our mission to promote our future - Artificial Intelligence (AI) - and build AI conversations via blogging, here we are to introduce "bitLanders AI-themed blogging!"

Credit: quote from bitLanders
Always welcome back to check more Querlo Chat blogs on Artificial Intelligence theme.
***************************************************************************************************
Thank you for stopping by and reading my blog.
2019, All Rights Reserved.
You are very welcome to join Bitlanders and share your valuable knowledge and opinion.
***************************************************************************************************