Video Credits: Querlo Team via YouTube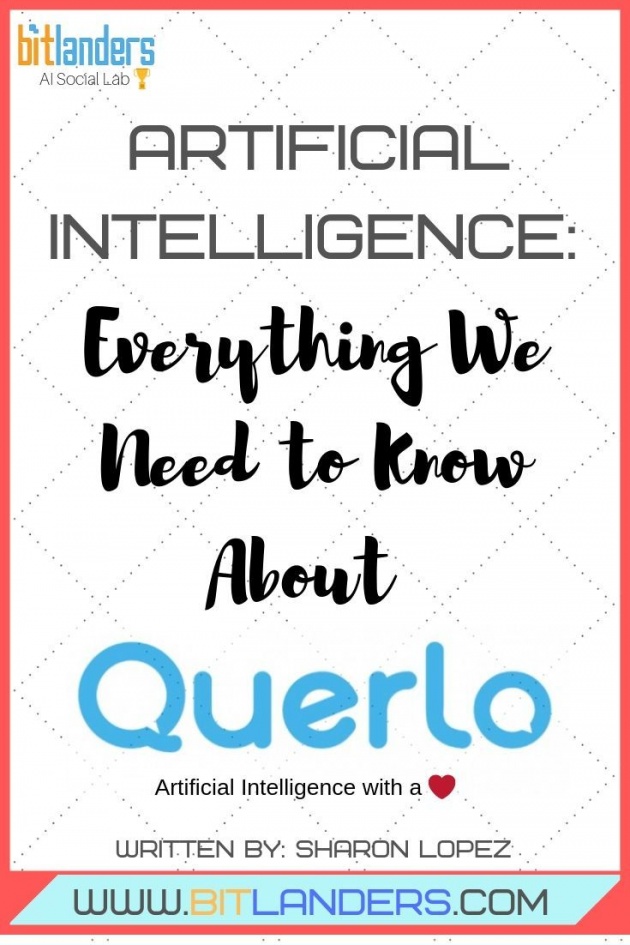 It's been a few months back since we started talking about technology and artificial intelligence seriously. During this short period, we can say that we learned a lot of things about artificial intelligence. Relevant and timely information has been continuously shared, companies and their important contributions to the new technology has been unveiled, and most importantly, our understanding of AI has increased. Such knowledge acquired through Bitlanders, the AI Social Lab not only helped members of the site with our aim to come up with high-quality contents and earn some amount but we also able to use the knowledge in our everyday lives. Being ahead of the game oftentimes boosts our morale, well, at least for me.
Related Post: Benefits of a Querlo Chat You're Probably Not Aware Of
As part of our continuing education about artificial intelligence, I deemed it necessary to take a second look at the company behind these wonderful things, Querlo. In this blog, I aim to present a comprehensive presentation of the company, the people and their products and services. Enjoy the presentation and please interact with me on the C-blog.
QUERLO, THE COMPANY

Image Credits: Querlo.com
Querlo is composed of a team of technologists, data scientists and business consultants with a mission to unleash the power of AI to improve business performance and build a new era of business efficiency. Querlo is a consulting and marketing technology firm that provides "artificial intelligence" solutions and data management.
Related Post: How Artificial Intelligence Can Help in Lead Generation for Your Business
The company was established in 1995 and after more than 20 years, it is continuously reigning in the field of technology. At present, it has more than 1200 AI solutions created working with more than 35 brands worldwide. The company designed and launched more than 6,000 conversational AI solutions collaborating with different clients such as HSBC, Tetra Pack, IBM, Forbes and many more.
The second quarter of 2019 opened a new challenge for the company when they launched the AI-Themed blogging in its gamified site, Bitlanders, the AI Social Lab. This move of concentrating mainly on AI-related topics has caused some confusion to its members but that was only a short-term effect. After several months, the site was able to recover and is now continuously gaining popularity in the online field.
CLIENTS AND PARTNERS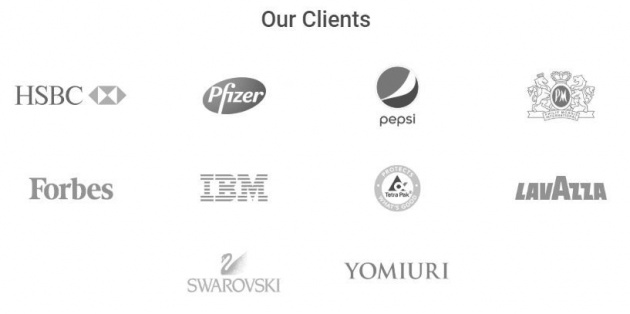 Image Credits: Screenshot from Querlo.com Homepage
Querlo's clients include HSBC, IBM, Unilever, Tetra Pack, Pfizer, Pepsi, Swarovski, LavAzza and Philipp Morris.
At the current time, Querlo is in partnership with ForbesInsights with their project, Forbes Insights Content + Querlo Conversation AI = Conversion.
THE FOUNDER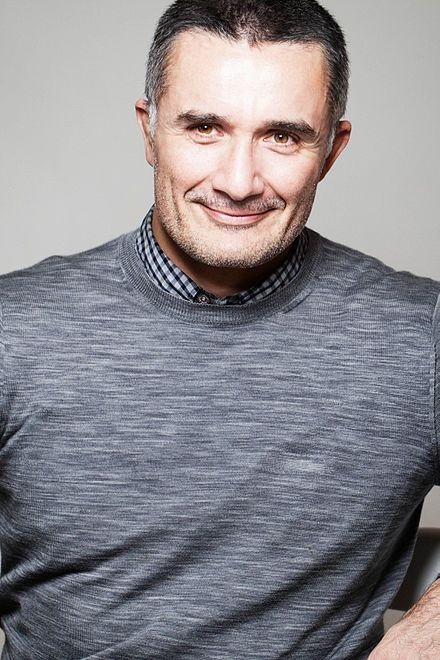 Image Credits: Querlo.com
There is nothing greater in life than empowering others to succeed. Artificial Intelligence is my tool of choice to help people achieve their personal aspirations.
Francesco Rulli, Founder, and CEO of Querlo
Francesco Rulli is an Italian businessman, philanthropist and black belt Judo instructor at the New York Athletic Club. He founded MTI USA Inc. in 1995 and serves as the President. Source
He started FilmAnnex, a company which has promoted independent and foreign language films with revenues generated through a custom-designed ad-server and player in 2004.
Other business ventures have been introduced including Bitlanders, a social media platform with more than 1 million users. Bitlanders continuous its popularity among bloggers and writers because of its unique rewarding system which includes content ranking system, Buzz Score, and BitMiles rewards.
The opportunity brought to us by this platform is something that we Filipinos are truly thankful. Having this kind of platform where we can share our knowledge, gain more skills, and earn rewards from every activity is worth a treasure.
Today, Querlo is a reality, and the main focus of Francesco Rulli's work, having reached more than 1 million users, 35 brands, and 1,000 conversational solutions.
Know more about Francesco Rulli
PRODUCTS:
The company has diverse products being offered to its clients. We will talk more about these products in this Querlo C blog.
CLICK HERE FOR A FULL-SCREEN VIEW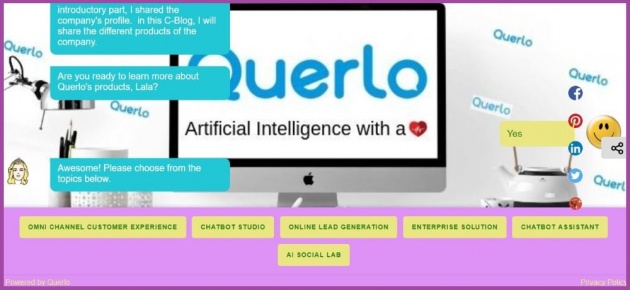 Image Credits: Screenshot of Everything We Need to Learn About Querlo C-Blog
Please interact with me in this C-BLOG:
ON THE FINAL THOUGHT
QUERLO is more than just a chatbot. It is indeed more than an artificial intelligence application because it is an artificial intelligence with a heart.
Thank you for interacting with me in the c-blog. I hope you learned something new from this post that you may use in your future endeavors.
You may also find the following interesting:
How to Get High Rating on Your Next AI-Themed Blog
Artificial Intelligence: Introduction to TensorFlow
Artificial Intelligence: Everything About Google
Would you like to earn more from Bitlanders? Join Bitlanders AI-Themed blogging! Learn more about this from Micky-the-Slanted-Salerno's post:
Important Update: BitLanders AI-themed Blogging!
★★★★★★★★★★★★★★★★★★★★★★★★★
Do you need help in creating your c-blog? Let me know and earn more from Bitlanders. You can connect with me on MY SITE and other social media accounts below.
★★★★★★★★★★★★★★★★★★★★★★★★

DISCLAIMER: The views and opinions expressed in this c-blog post are that of the author and does not in any way represent the agency or department she currently belongs.
ADDITIONAL NOTE: The sites mentioned in this post are for information purposes only and links are provided for easy access. The author does not receive any remuneration from the said companies or sites.
★_★_★_★_★
Written for Bitlanders
by ★Sharon Lopez
Date: August 12, 2019
Connect with me!
★ IDEAL CAREER IDEAS★FACEBOOK★TWITTER★PINTEREST★LINKEDIN ★
All Rights Reserved 2019