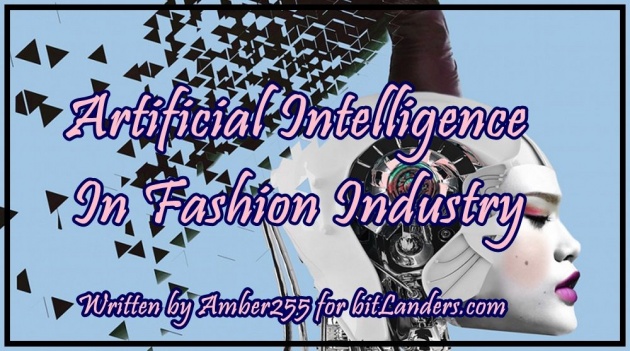 Artificial Intelligence In Fashion Industry - Photo credit: ua.linkedin, edition by Amber255 via bitLanders
Science fiction is gradually changing our approach and stopping to be fiction. A few years ago, we could not imagine that unmanned equipment and the Internet of things would be available to us, and for this, we don't need to join the ranks of the military.
The company Stitch Fix sells models of clothes created using artificial intelligence. It created a new collection of Tommy Hilfiger. Virtual girls-models appeared on Instagram, and they are already involved in cosmetics advertising and fashion shows at Milan Fashion Week. Sewbo and SoftWear have launched artificial intelligence robotics. The virtual fitting rooms services make it easier to shop at online stores, and bots-stylists will offer you new items based on an analysis of your purchase history or even likes on social networks.
It's clear that the future of fashion will be shaped in large part by advancements in AI and machine learning technology. Retailers will likely continue to leverage artificial intelligence to increase efficiency, save on costs, and, ultimately, create a best-in-class shopping experience for customers.

Credit: cpcstrategy
Not only authors of books and directors of films turn to sci-fi ideas. Designers also turn to technology, post-humanism, and all sci-fi to tell their stories. Not long ago, we have already seen references to the film The Matrix, alien creatures, cyborgs, and dystopia of the 21st century at Fashion Weeks.
Industrial robots and developments in the field of artificial intelligence really threaten to destroy millions of jobs around the world. Estimates of future losses vary, from an optimistic 9 percent to a catastrophic 47. Discussions about guaranteed base income are not in vain. So, should designers, stylists, consultants, and other fashion industry professionals beware?
Although the fashion industry is not yet a leader in the application of AI, the most daring and far-off companies are already using its services. Some were pushed for this by need; others decided to play a proactive way to break bonuses. Those who use neural networks in business or invest in their development will easily earn trillions.
Will Artificial Intelligence Replace Fashion Designers? - Video credit: youtube
Employees Of The Future
In the coming years, AI in the fashion industry will become so wise that it will go beyond the usual machine tasks. It already works on design and interacts with clients. And it becomes able for creative thinking, creativity, and independence.
This attitude is understandable because artificial intelligence changes the very approach to creativity. Moreover, AI fashion from the category of incomprehensible and given only to the most talented moves to the banal world of numbers and algorithms.
Dolce & Gabanna, instead of the usual runway on the catwalk, launched a drone show, which caused a lot of discussions that even the most powerful people in the future would lose their jobs.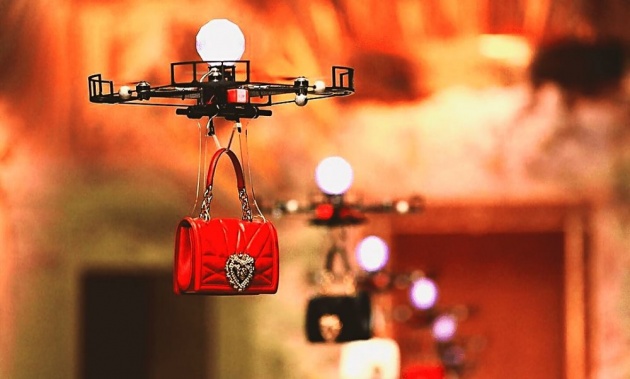 AI Fashion Employees - Photo credit: pakistantoday
Small drones carried in their plastic hands the handbags created last season. Of course, it was quite difficult technically, and the show had to be delayed for 45 minutes until the organizers got convinced that all guests had turned off their Wi-Fi devices.
On Youtube channel, there is a short Gucci and Beyond advertising film about defile. Its director was Glen Latchford, who had previously collaborated with a fashion brand, and the actors were models in the images of humanoid aliens, robots, and space travelers.
The scale of fantasy in the advertising campaign of Gucci collection rolls over. The video clip is filmed in the style of Sci-Fi movies of 1950-1960s. This time, Gucci outfits tried on not only models but also humanoids. In addition, dinosaurs, spaceships, robots, and unknown creatures appear in the frame.
Gucci Fall Winter 2017 Campaign: Gucci and Beyond - Video credit: youtube
Alessandro Michele has been at the post of creative director of the brand for a few years already, and during this time, he won the love of not only Gucci clients, but also fashion critics. While the first crowd in the queue for brand new products, the latter ones predict to Michele a fabulous success.
His collections always are amazing and do not leave people indifferent. This is a modern and progressive vision of fashion that is impressive and surprising.
Brazilian ELLE has placed on the cover a photograph of Sofia, one of the most famous anthropomorphic robots. The theme of the magazine was the future of fashion, the reinterpretation of style, luxury, and beauty in the age of new technologies and materials. According to the publication, Sofia best illustrated these problems.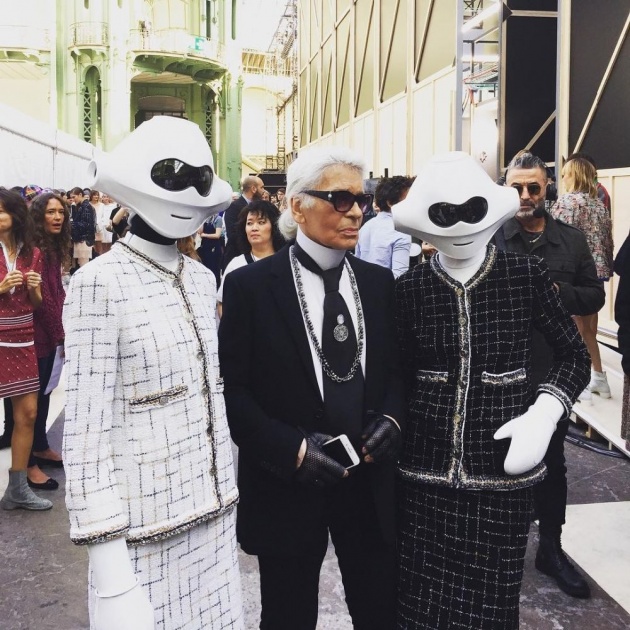 AI designer - Photo credit:guapasalamoda.wordpress
Sophia not only appeared for the cover of ELLE but also answered a few questions of a journalist about the fashion, for example, said what her favorite color is.
From the point of view of the rationality (as well as cost reduction and optimization of logistics), artificial intelligence will give odds to the natural. To analyze several thousand advertising campaigns over the past thirty years, and on the basis of this analysis, to give out models for a new collection - it is hardly possible to the human mind, but the Lab26 AI designer copes with this. If you add to the calculations also the sales data, the result can be stunning. The virtual model will not sleep, and the artificial intelligence's stylist will offer a basic wardrobe, having studied only a couple of your photos.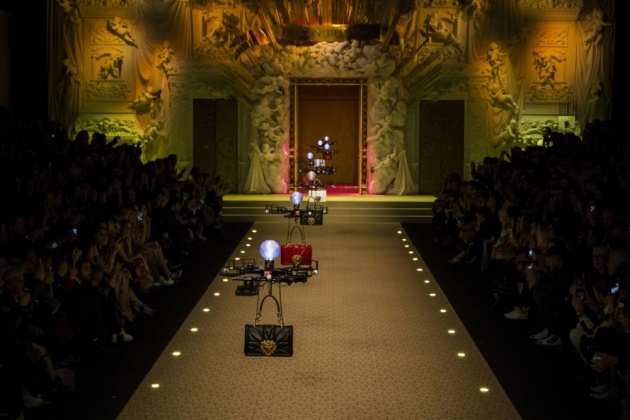 AI Fashion Employees - Photo credit: fashionista
Robots, Humanoids, And Aliens: A New Gucci Ad Campaign
Alessandro Michele, who created the Cyborg Manifesto for Gucci, was the most startling example of a change in major trends. In the original, this is a text where the idea of abandoning the concept of identity is revealed: cyborgs, monsters, and hybrids blur the lines.
Michele literally created his own Gucci-cyborg - a biologically indefinite creature with an alien personality. The show resembled an operating room, where the models defiled with small dragons and held replicas of their own heads. Some of the models also got horns and another pair of eyes.
Operating also indicates scientific progress. Although the creation of Alessandro Michele is absolutely invented, the recent successes in the field of cloning and the emergence of the robot Sophia are vivid examples of post-humanism to which we are rushing.
Gucci brought diversity to a new level in the fashion world.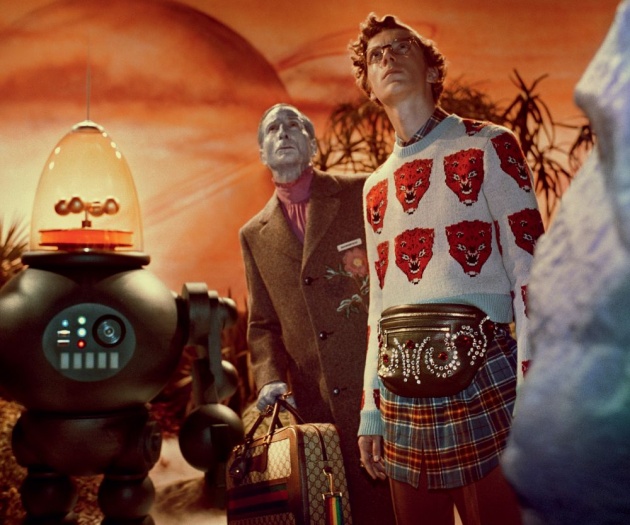 BitLanders AI-themed Blogging: Artificial Intelligence In Fashion Industry - Photo credit: nathjrose.wordpress
Virtual Influencers-Robots
Fashion shows are often shocking the public with their new collections. But in the era of social networks, it's not quite clear who sets the fashion: the regular collections of famous designers or the Instagram stars, which loyal subscribers try to copy?
Now opinion leaders bring brands a sizeable part of the profits. Influencers are celebrities or simply charismatic personalities with millions of subscribers in social networks. It is worth one of the influencers to post a photo from the morning run, as thousands of her fans lose sleep in search of the same sneakers or sports pants.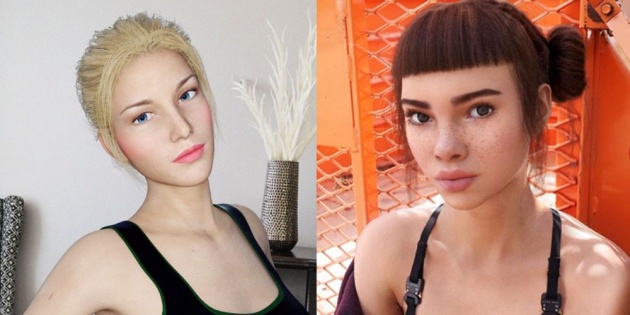 Virtual influencers robots - Photo credit: elle
And some are looking for the original, while others - the most similar copy. Therefore, manufacturers give clothes and pay extra to Internet stars for putting on their thing and posting photos on the social network.
There are also so-called avatars among the social networks influencers. The most popular is the virtual girl Lil Michela.
The Instagram description says Musician, change-seeker, and robot with the drip.

Credit: instagram
She has 1.1 million fans on Instagram. She wears Chanel, Prada, speaks out about politics, makes tattoos, attends festivals, and even meets a guy who is just as virtual. His nickname is Blawko22. In general, leads the lifestyle of the star. And recently Lil also started singing.
The virtual blogger also uses her own Instagram to support social initiatives, including the fight against racism and transgender rights. It is not known for certain who is behind this project. But it doesn't bother people as much as the fact that fictional avatars can really influence the consciousness of the masses.
I'd like to be described as an artist or a singer or something that denotes my craft rather than focus on the superficial qualities of who I am. - @lilmiquela

Credit: theweavingthreads
Such attention to the virtual celebrity suggests that the digital character is interesting to people and affects them. So, the creators of the avatar can constantly receive income by choosing the wardrobe and the places that the avatar visits.
A Virtual Stylist With Artificial Intelligence
For those who treat clothes like functional clothes, such a future may seem fine: no agony with the choice of a pair of jeans and a T-shirt, everything recommended fits existing clothes. It will also be easier for those who need to dress up for a formal event or simply buy exactly the same dress as the actress in a movie.
Saving of time, narrowing the space of choice to the utmost necessary minimum, full compliance of the recommendations with our established preferences - what more could you want?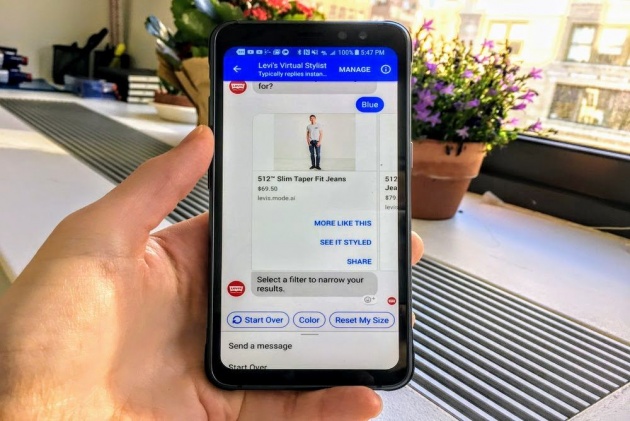 Stylist With Artificial Intelligence - Photo credit: wikitrend
The Turing test determining if the machine is able to think does not in vain check for the presence of unreasonable behavior. Irrational emotions, insight, inspiration - the properties of the individual, and the machines have not them.
A virtual stylist can pick up a rational wardrobe, but cannot, guided by intuition, suggest a thing that makes the client's eyes shine. An AI designer can create a good-quality and even well-selling collection, but it has not insight allowing AI to grab the idea that is floating in the air and create something fundamentally new on its basis.
Perhaps someday artificial intelligence will learn both creativity and unpredictability, but until then the absolute advantage will remain of all natural.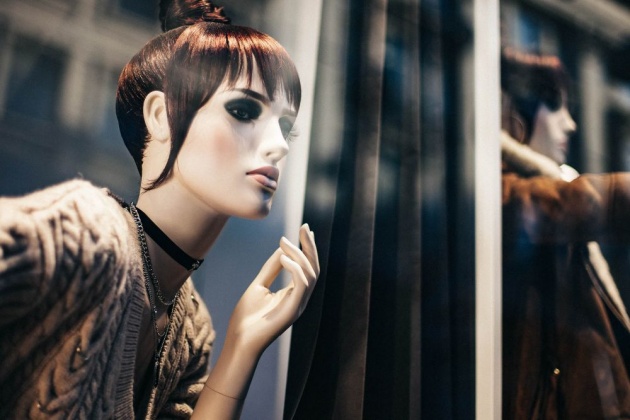 Artificial stylist - Photo credit: medium
Are people ready to trust an artificial stylist? The success of Stitch Fix shows that yes. In addition, a survey on Facebook: "Which stylist choose: AI or person" showed that 55% of respondents are ready to give their wardrobe into the hands of a robot. The reasons are the lack of professional stylists or the high cost of their services.
A neural network can do a lot: it is ideal to match clothes according to shape and color, calculate a trend, and even add the handwriting of a famous fashion designer to any item of clothing. But to invent a new, its own style - this is beyond AI power still. And this is the main advantage of man. In addition, the robot will be not able to create so-called emotional irrationality when a person buys a thing on emotions.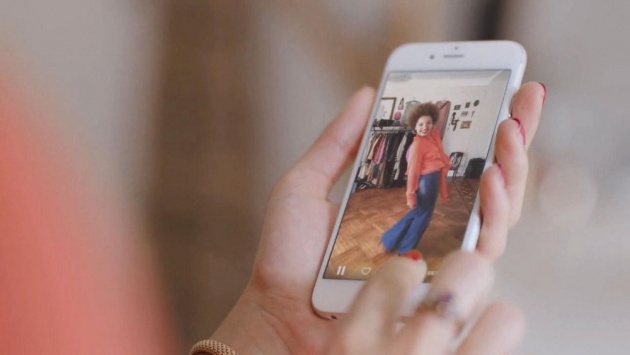 BitLanders AI-themed Blogging: Artificial Intelligence In Fashion Industry - Photo credit: abcnews
On A Final Note
In a fashion, for a long time, there were no revolutions. Perhaps, from the time of Coco Chanel, when she took the corset off women, she added men's clothes to their wardrobe and offered comfortable clothes in general. Only occasionally come new trends, but the whole is limited by the framework, exposed almost 100 years ago.
Futuristic directions are too bold and cannot be immediately applied in life. They are more shocking than clothes for a comfortable and beautiful life. Perhaps this revolution will make a neural network, having figured out what we are comfortable with and what brings happiness?
Whatever it was, but the AI is already penetrating into our lives. And in the fashion industry, including. Therefore, it is time to rebuild a business, create a brand using neural networks, or invest in their development in any direction - these are possible paths to trillions and worldwide fame.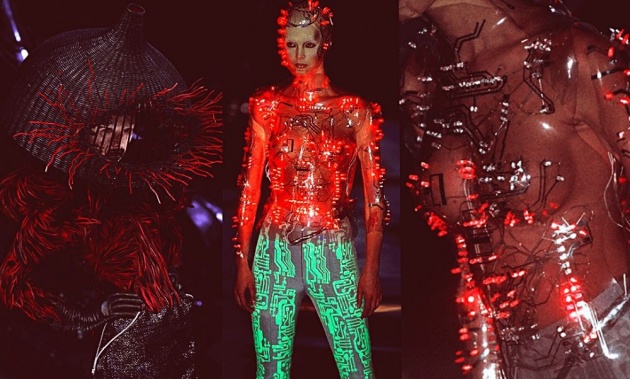 Artificial Intelligence In Fashion Industry - Photo credit: youtube
Robots are becoming more active in the industry and in our daily lives. The tireless, infallible, intelligent helpers who will fundamentally change the world and the human role in it. And as we see, robots come to the fashion trend also.
Fashion, of course, cannot correct the political situation in the country, but at least such fantasies can give good comments to the situation as a whole. It is difficult to ignore the fact that we are rushing towards a future in which unmanned vehicles will be driving everywhere, robots will replace models, and blogs will be filled with hyper-real avatars.
But perhaps this reality will be much more pleasant than the one in which we live now.
Chat with me on Querlo chat about Books on artificial intelligence:
HAVE FUN!
**********************************************************************************************
Thank you for stopping by and reading my blog
2019, All Rights Reserved.
You are very welcome to join bitLanders and share your valuable knowledge and opinion.
***********************************************************************************************