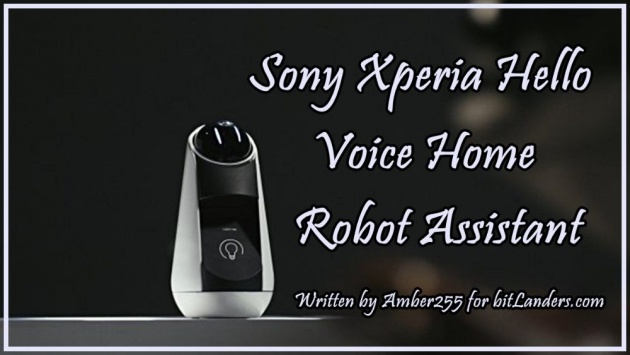 [Artificial Intelligence] Sony Xperia Hello Robot Assistant - Photo credit: blogs.sony mobile, edition by Amber255 via bitLanders
The world is actively experiencing a huge influx of diverse smart speakers with various assistants. True, the diversity lies only in the size, several microphones, power, and quality of the speakers. It is mainly the assistants that differ, and the shell is no longer so important. In this rather gray world of smart speakers, Sony showed off its communication robot - Sony Xperia Hello. It is an assistant with whom you can communicate. But unlike the soulless speakers, it got something like a head with eyes. The head can move, and the eyes wink. There is also a third eye, which is a camera.
Also, the display itself is located on the robot itself, so that users will have access to video calls and the ability to receive any other information, such as an article from Wikipedia. The robot itself, in addition to the movable head, can rotate around its axis, and turn face to the person who addresses him. While Amazon and Google release their budget solutions at $50, Sony wants $1300 for its Sony Xperia Hello. This is an impressive amount, but the thing itself is unique. Xperia Hello is sold only in Japan.
The Sony Xperia Hello voice assistant is Sony Agent Technology. It is equipped with seven microphones and four motion sensors to evaluate what is happening around it, including any movement of a person within three meters.



The Xperia robot runs android and responds to voice, gestures, and facial expressions. It also can take photos, make Skype video calls, check the status of family members each inside and outside the house, offer reminders, and alert you of news, weather changes, and road traffic.




Credit: webserveu



Thanks to a camera sensor mounted on its upper body and its ability to rotate 340 degrees, the communication robot can recognize family members and transmit any important message or information through its 4.6-inch LCD.
Besides, the robot can express various emotions, such as happiness, sadness, excitement or loneliness. All these emotions are transmitted through various movements, including through the eyes.
You can use the Skype or Line app to exchange messages or make calls. Of course, with the help of this robot, you can monitor what is happening in your home.
The novelty is more than just a smart speaker using the capabilities of a predefined personal assistant. Although Xperia Hello! performs the same functions as smart speakers, and can, for example, talk about the weather and much more, the capabilities of the Japanese company's device go beyond the functions of the smart speaker. Essentially, Xperia Hello! is a hybrid of a smart speaker, a tablet for video chat and an integrated security camera.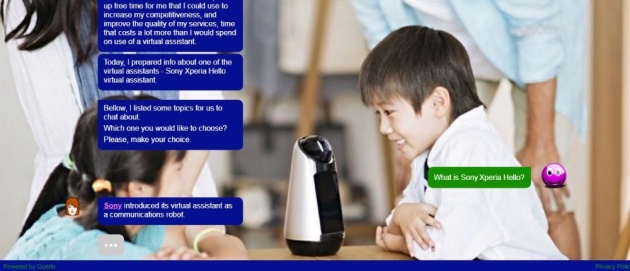 [Artificial Intelligence] Sony Xperia Hello Robot Assistant - Photo credit: querlo
Yet Sony Xperia Hello! cannot boast of a built-in personal assistant. The communication robot of the Japanese company does not use existing technologies such as Alexa or Google Assistant, even though it supports the Android platform (Android 7.1 Nougat OS). It uses the same user assistant as the Sony Xperia Ear smart earphone.
Conical Xperia Hello! has a screen on the front panel, oriented vertically, which can be used for video calls.
You can check Querlo chat, prepared by me, and get more details about Sony Xperia Hello communicative robot. There you will find info on these topics:
1. What is Sony Xperia Hello? 2. Features of Sony Xperia Hello.
3. How does Sony Xperia Hello work? 4. Why Sony Xperia Hello is so expensive?
5. Why we need a virtual assistant?
a) Siri b) Alexa c)Google Assistant D) Sony Xperia Hello.
Please, chat with me about Sony Xperia Hello Voice Home Robot Assistant (the link opens chat in a full-screen mode):
Xperia Hello! is equipped with one speaker and seven microphones. The gadget can rotate the body (340 degrees) and the neck (left-right); it can also lower and raise the head. The USB port is used for data transfer; there is a connector for connecting to a network and a battery. The height of the device is 216 mm, diameter - 111 mm, weight - 1085 g.
With Sony Xperia Hello! we can communicate via Skype or in the Line messenger, make video and audio calls. The robot can recognize family members. It learns and adapts to the interlocutor's habits. Many people use the device also as a remote camera to monitor the situation in their homes.
Sony Xperia Hello can take pictures, make video calls via Skype, check the status of family members both inside and outside the house, make reminders and report news, and warn about changes in weather and traffic situations. And since the robot was created for Japan, it can also send and receive messages from the country's most popular social networks.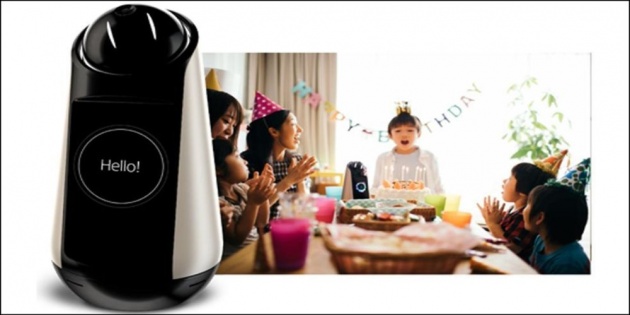 [Artificial Intelligence] Sony Xperia Hello Robot Assistant - Photo credit: slashgear
The robot can move spontaneously to mimic a living creature. To attract the attention of users, you have simply say: Hello, Xperia!. The robot can also communicate using gestures and expressions that Sony hopes will make it look more like the rest of the family.
In the modern world, there are a lot of different kinds of voice assistants and virtual assistants, but only a few are the most popular. Voice assistants have become a part of our daily reality. It happened so quietly and invisible but they firmly entered our life. Don't stay without a virtual assistant for long - choose the best one.
************************************************************************
****************************************************************
******************************************
I invite you to participate in Bitlanders AI-themed Blogging and create your own AI-themed blogs and C-blogs on artificial intelligence theme:



bitLanders AI-themed blogging
After the successful launch of "The bitLanders C-blogging", conversational AI blogging by Querlo powered by IBM Watson and Microsoft Azure. bitLanders continues to support its joint venture Querlo. We believe in our mission to promote our future - Artificial Intelligence (AI) - and build AI conversations via blogging, here we are to introduce "bitLanders AI-themed blogging!"




Credit: quote from bitLanders



Always welcome back to check more Querlo Chat blogs on Artificial Intelligence theme.
***************************************************************************************************
Thank you for stopping by and reading my blog.
2019, All Rights Reserved.
You are very welcome to join Bitlanders and share your valuable knowledge and opinion.
***************************************************************************************************