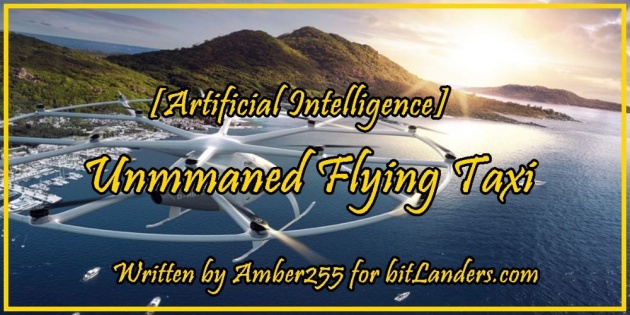 [Artificial Intelligence] The Future Is Already Today: Unmanned Flying Taxi - Photo credit: peaklife, edition by Amber255 via bitLanders
The idea of using an air taxi in modern megalopolises instead of ground or underground transport, as they say, has been in the air for a long time. Creators began to think about unmanned flying vehicles at the beginning of the XXI century, as new problems appeared. Traffic jams and traffic congestion in megacities have long become an insoluble problem. The environment has worsened as aircraft increasingly pollute it. Airlines are trying to make them more environmentally friendly and safe, but this is not always possible to achieve. The solution is offered by eco-friendly passenger drones with the possibility of vertical take-off and landing.
Flying cars - a real revolution. Cars above the road will allow you to quickly fly to another city, for example for shopping, and return back.
At the same time, in the case of air technology, all developments are divided into safe and dangerous. Flying cars must ensure that cyber attacks are prevented. After all, if the offender takes control, the passenger will easily be thrown down. Therefore, multimodal systems must work with rapidly changing modes. It can be both classic attacks over wireless channels, including attacks like DDoS, and physical.
Given the history of the space, there's a reason to be skeptical. But if consumer drone tech serves as a bellwether and that progress translates to passenger drones, then the prospect of autonomous flying taxis seems to be getting more practical every year.

Credit: singularityhub
Already, flying drones, and this is what essentially an unmanned taxi is, are sensitive to any interference. Random factors are added in the form of birds, wind, structures, and trees. So even without targeted attacks by hackers, such a technology is still quite raw and dangerous for transporting people.
UAE, Germany, USA, UK, New Zealand, Japan, and other countries suggest in the near future involve them as flying taxis. The Ehang 184 and Volocopter 2X are already the main bidders for the commercial contract in Dubai.
Flying Unmanned Taxi
The first public test of an unmanned flying taxi by the Chinese company EHang, which took place at a stadium in Vienna, made many countries recall plans to introduce the most unusual form of urban transport. The drone, created according to a quadrocopter with eight pairs of propellers in the corners and a passenger cabin at the top of the central building, promises to reverse the idea of movement.
The fact that the developers are no longer afraid to show their work to the public and even take people interested in the demonstration says a lot.
First flying taxi trial to take place in Melbourne - Video credit: youtube
For example, last year, an attempt by Russian startup Bartini to test a prototype unmanned taxi in Russia ended in failure. An unmanned electric plane with vertical take-off and landing crashed into a snowdrift after a few seconds. The plans, however, were grandiose.
Many are obsessed with the idea of seeing a flying taxi since 1997 when the movie The Fifth Element was released. It most clearly shows the model of flying transport. It is symbolic that the futuristic cars have the traditional yellow color of a taxi.
Today, this is by no means a dream, but a real reality. In addition to the Chinese company EHang, several large global corporations, including Boeing and Airbus, are working on the technology.
Successful tests of the first prototype of an air taxi model Ehang 184 passed back in 2017 in Dubai (UAE). There, the development of an unmanned flying taxi is part of the government program for the development of the emirate. Dubai is serious about introducing such vehicles.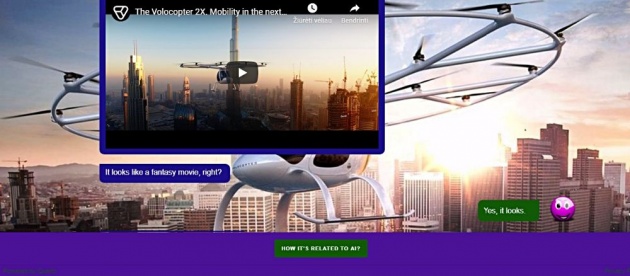 [Artificial Intelligence] The Future Is Already Today: Unmanned Flying Taxi - Photo credit: querlo
The first deliveries are planned for Asia, several hundred units have already been ordered there. Moreover, in Asia, a flying taxi will begin transportation within the next year. First, they will be used to deliver goods to oil platforms and rescue workers in hazardous areas. In Austria, a flying taxi service can start working in 2025.
Last year, this topic was addressed at the 6th World Government Summit. The government sees a flying taxi, first of all, as an environmentally friendly mode of transport, since it works on electricity. According to the project, the maximum flight duration will not exceed 30 minutes, and the maximum speed is 100 km/h. The ceiling of the flight altitude will be two thousand meters.
Dubai, like other megacities, is dying of traffic jams. Flying cars and multi-level airways will help radically solve this problem and save humanity from traffic jams. But even assuming the likelihood of proliferation of models that have passed successful tests, the urban space of the world is not yet ready to test such flights.
Check my new Querlo for more info about these unmanned flying taxis:
1. Volocopter 2x 2. Lilium Jet
3. Ehang 184 4. UberAIR 5. Sure Fly
Chat with me about Unmanned Flying Taxi (link opens chat in a full-screen mode):
For the rapid development of technology for mass application, the infrastructure must completely change, and government representatives from different countries must change the legislation.
Unmanned flying taxis are already being tested by the European aircraft company Airbus, Uber, and several startups. Their supporters argue that such taxis will help save time and reduce pollution. Opponents point to possible insecurity of unmanned vehicles
On A Final Note
The idea of using an air taxi in modern megalopolises instead of ground or underground transport, as they say, has been in the air for a long time. Traditional planes and helicopters are not very suitable for this: they require expensive infrastructure, airfields, helipads, a dispatching service and a staff of skilled workers - from pilots to mechanics. Not to mention the fact that traditional air transport is too noisy for constant use in cities.
Drones, unlike airplanes and helicopters, do not require airfields and even special sites. They are more compact, less demanding on infrastructure, much less noise and generally considered more secure. In addition, the development of drones began with small devices, initially controlled by amateurs, so manufacturers immediately began to introduce automatic control systems and all kinds of unmanned technologies into them, such as independent movement along the route.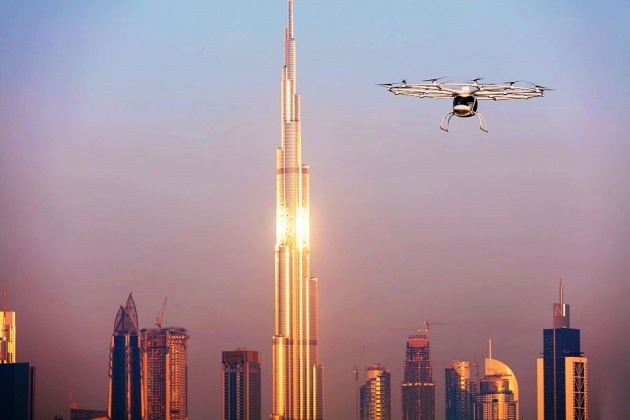 [Artificial Intelligence] The Future Is Already Today: Unmanned Flying Taxi - Photo credit: curbed
It remains to take only one step - to transfer these technologies from a small drone to a large one that can carry passengers. The future is clearly with such devices.
************************************************************************
****************************************************************
****************************************
I invite you to participate in Bitlanders AI-themed Blogging and create your own AI-themed blogs and C-blogs on artificial intelligence theme:
bitLanders AI-themed blogging
After the successful launch of "The bitLanders C-blogging", conversational AI blogging by Querlo powered by IBM Watson and Microsoft Azure. bitLanders continues to support its joint venture Querlo. We believe in our mission to promote our future - Artificial Intelligence (AI) - and build AI conversations via blogging, here we are to introduce "bitLanders AI-themed blogging!"

Credit: quote from bitLanders
Always welcome back to check more Querlo Chat blogs on Artificial Intelligence theme.
***************************************************************************************************
Thank you for stopping by and reading my blog.
2019, All Rights Reserved.
You are very welcome to join Bitlanders and share your valuable knowledge and opinion.
***************************************************************************************************