We all have that one friend whom we share the same passion and craft with. Well sometimes not just one, maybe we have two, three or even more. And surely having someone who has the same interests and hobbies as you is such a huge blessing to your life. As my virtual mentor always said, "Find your troop and love them hard". And as I explore through my craft, I solemnly seek for that "Troop". For that someone who will not just support what I'm doing, but for that someone whom I will grow with. Someone that truly will bring out the best in me as I bring out the best in them. As time passed by, and as I continue to search for the right people, I just found myself frustrated. I found none because the troop that I am looking for are already part of my life, I just failed to recognize them.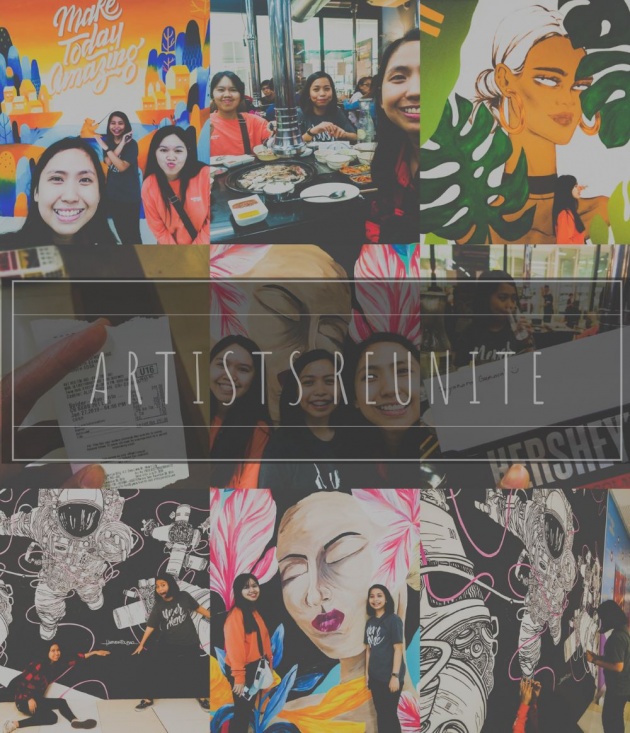 Photo Credits: Yannn via bitlanders.com
So last January 27, 2019, Sunday I was able to hang out (again) with my friends who's also an Artist. It's not every day nor every week that we saw each other. In fact, it took us months just to hang out again. (Particularly because we are so busy with our own career and with our own lives). But what I love about these two is the constant communication that we have (Thanks to technology!) The three of us planned to have an Art Meet that day. (Supposed it will be an Art meet but it turned out to be movie date with food trip! Not to mention how we geek-out when we saw the Art walk in North Towers).
Honestly, as we plan this bonding ahead of time we thought of trying the activity called "Breakout". It's a mind twisting game that you and your colleagues will surely enjoy. It's a game wherein you will choose a room (depending on the theme you want and what is available), you will be locked inside and you have to figure it out how will you and your friends get out of the room (of course with a specific given time). Exciting isn't it??
Immerse yourself in an interactive game where you need to find clues and solve logic puzzles while handling unexpected twists and turns brought about by uniquely crafted thematic elements.
To give you more Idea how the game works, here's a short clip for you to watch.
PLAN. SOLVE. ESCAPE
Video Credits: Breakout Philipines via youtube.com
Unfortunately, the one who initiates to book us forgot about it. We still not sure how it works but we believe you need to book or have a reservation before you will be able to play the game. (Being said, we have no idea if walk-ins are welcome) So instead of trying "Breakout", we decided to watch a movie instead.
But before we proceed with that day's activities, let me humbly introduced my troop.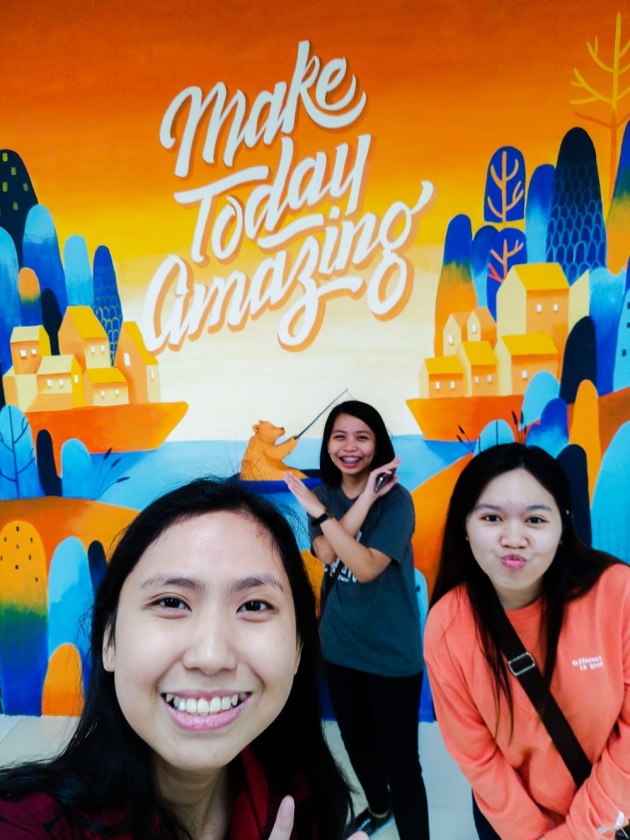 Photo Credits: Yannn via bitlanders.com
From left to right: Me, Jemima and Nancy
Okay, so Jemima is simply my little sister in the troop, we met a few years ago and we shared the same University and course. Mai had been an artist since then she focuses more on drawing and sketching, but she also do calligraphy and painting. I admire her for her patience when it comes to details. Then the one in the right is Nancy, she's my colleague and one of my best friend way back in college (not gonna lie though). We've been so close since our 1st year in university and to tell you honestly, she is really a true-born artist. She paints and do fashion illustration (and not to mention that her father is an Artist too, they have huge canvas of paints in their home and it's really beautiful. No wonder she's an Artist too) When I started to dig deep in Art after college, Nancy is one of those people who stood by my side, support my Art and encourage me to continue it. Doing Art has been our therapeutic activity every time we meet, we often do collaborations with our crafts. She usually draws an I will make the caption or lettering. Indeed the life of these two is such a blessing!
And now let the adventure begins!!
LUNCH AT SAMGYUPMASARAP
As we decided what movie to watch (and bought a ticket in advance) I asked them where could we eat, and it's like our minds sync with one another and thought of Samgyupsal/Samgyeopsal. (If you're a local Millenial you probably know this Korean fever in the country. As kpop and Kdrama rises, Korean food also has been a trend to everyone)
SamyupMasarap is a Korean restaurant who offer unlimited Samgyupsal (It could be pork, beef or chicken) together with some side dishes. Another interesting thing here (which I'm pretty sure everyone enjoys) is you will be the one who will cook the pork/beef/chicken strips. It's actually a new thing because we, Filipinos used to eat in some restaurants where our foods where being served to us. I don't know in other places but samgyupsal is such a huge trend in the metro. Like, everyone, I know really tried eating samgyupsal.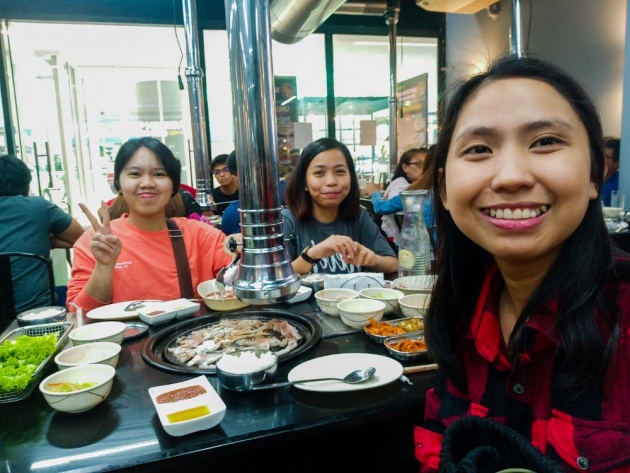 Photo Credits: Yannn via bitlanders.com
With limited time, we rushed to the restaurant as we get movie tickets. We barely have an hour to eat (and we're eating in an unlimited samgyupsal, such a crazy idea right?) but we still push through. Good thing, the odds were on our favor that day, usually, you need to line up and wait because almost all samgyupsal restaurants are full. This time we didn't line up because there's an available table. So we sit, started to order, cook our food and started eating. As for me who haven't had my lunch (it's already 3 pm by that time), I asked for rice because of too much hunger. (You can enjoy the samgyupsal either with rice or wrapped it in lettuce. It depends on you.)
As we enjoy our food, Mai picks up something from her bag and handed over to us.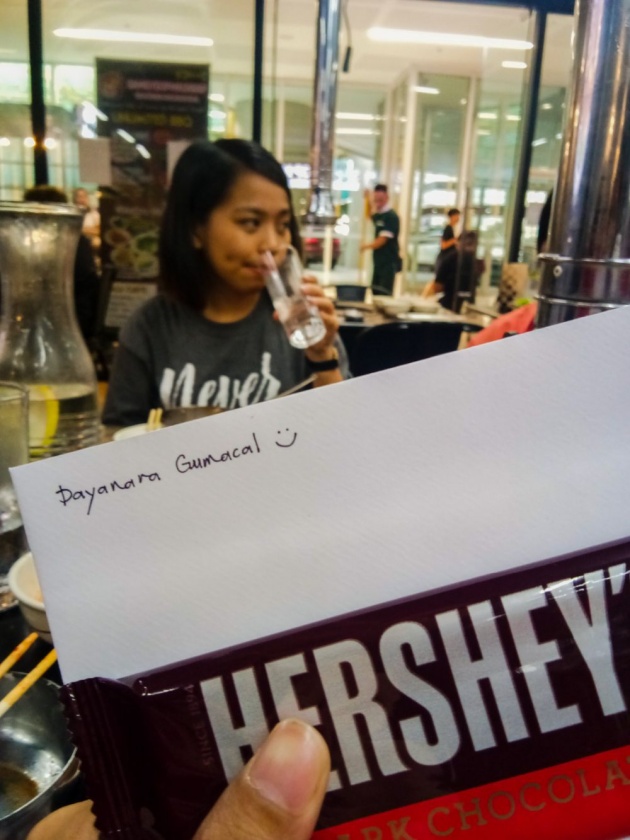 Photo Credits: Yannn via bitlanders.com
It was a sealed letter with dark chocolate. It was so sweet of her!! As I said earlier we weren't able to see each other that often so I guess that is the very reason why she gave something to us. And according to her, she got nothing to do the day before we met.
Not to be melancholic but I still do appreciate hand-written letters. It's not just because I used to do one and keep doing more because I do calligraphy, it's just I feel appreciated and valuable as I receive hand-written letters. I believe people who still do it exert effort and time just to write it. (I know I am such a traditional geek, whether it is about my art or not).
WATCHED SPIDER-MAN: INTO THE SPIDER-VERSE
It was 3:45 pm when I decided to take our bill because the movie will start on the next 15 minutes. We paid our bill and headed to the cinema. We arrived at the cinema just in time, and did I mention what movie we will watch? Well, it is Spider-man: Into the spider-verse.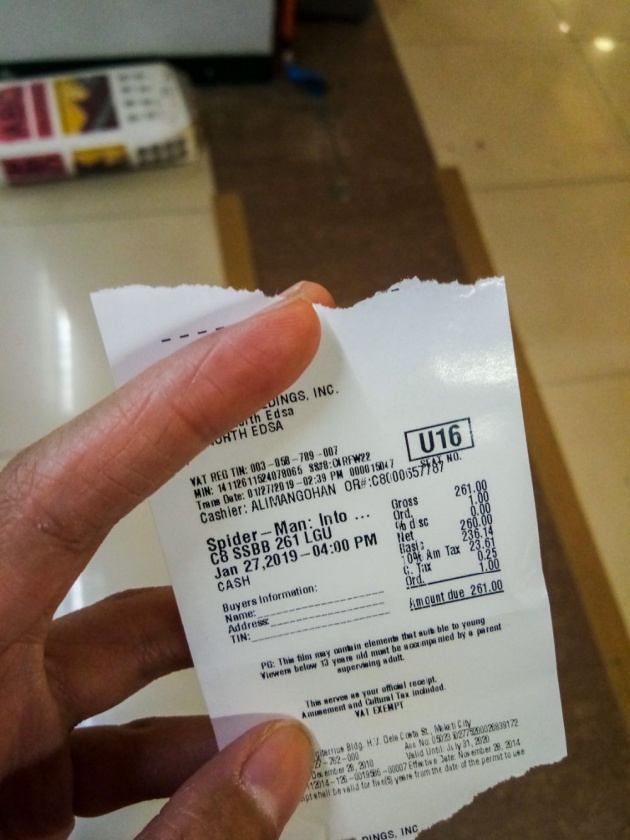 Photo Credits: Yannn via bitlanders.com
Just a quick recap with our conversation what movie we will watch, Nancy wanted to see the "The Possession of Hannah Grace", they also got curious about the movie "Glass". But before we met I've mentioned that I wanted to see spider-verse because I heard a great review of it. Also because I am an aspiring Animator (Yay! If God will permits). So they haven't decided what movie to watch so we ended up watching spider-verse. (YES I WON! HAHA)
To be honest, I was quite nervous thinking that they will blame me if the movie is a whole flop. But as the movie goes, I tried to ignore both of them and focus in the movie instead. (Also to hide my nervousness about the movie). But as the movie goes deeper, it began to become interesting. It wasn't your typical Spider-man movie. You have no idea how many spider-man movies I already saw (and for sure that's the same with Mai and Nancy) so I am expecting a lot in this movie saying to myself "This has to be good or else they will get mad at me" Hahahaha!!
The movie was interesting, although the title already gave me an Idea, still it doesn't fail to amaze me. Basically, spider-man from different dimensions was being dragged in one specific time. And during the said dimension, the real Peter Parker was killed and left a mission to the boy named Miles Morales (which became the new spiderman of his dimension) He met 4 spidermen and together they defeat the enemy who's trying to get revenge for his wife and daughter.
To sum it up, it was a worth it bunch! I can't believe I just saw it this 2019 but I am so glad that some cinemas still have it. Here's the official trailer of the said movie.
Video Credits: Sony Pictures Entertainment via youtube.com
I am really happy that they both love it! They said that the plot of the movie was Interesting! Phew! Good thing the movie turned out to be awesome and we don't have to complain that our money got wasted. LOL!
A TRIP TO NORTH TOWERS: ART WALK
After that epic movie date, we proceed to the Art walk to take a look and to geek out! The Art Walk has been a famous spot not just for artists like us but to everyone, aside from the awesome piece it is truly an instagrammable place! If you read my previous blog, I talked about the amazing works of my favorite artists who have been chosen to have a mural in this art walk. But if you haven't read it yet you can check it out here, North Towers: Art walk . (You will notice that the works I included here are not visible to my previous blog, I intentionally do that to give enough recognition each work)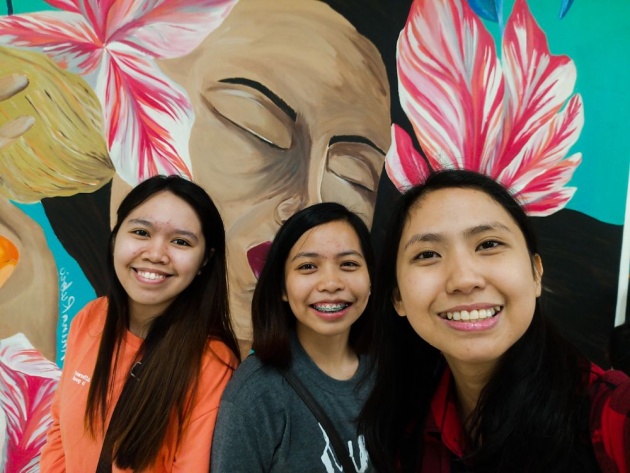 Photo Credits: Yannn via bitlanders.com
Here's my favorite photo of the three of us! And in the background was Anina Rubio's piece entitled "Breathing space". Her work was inspired by nature, and I can say that this work is very "Anina Rubio". Anina loves nature so much that she becomes an advocate. She travels around the country to spread awareness and have a collaborative mural with the local environment. I and Mai are huge admirers of Anina, aside from her works, she is really a down to earth person. Very human, I can say. And she keeps shinning her light to everyone as she does her art.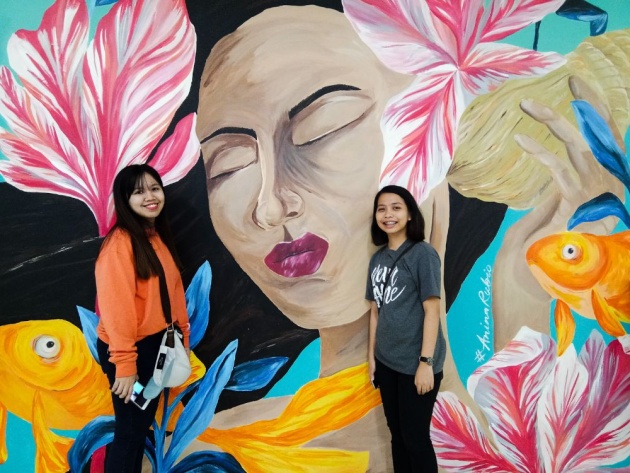 Photo Credits: Yannn via bitlanders.com
We even had a photo of three of us together with her name in this piece (Please we are not weird. We just love to admire such great artists. Hihi)
Aside from the work of Anina, another awesome work was the piece of Miss June Digan (which is the background of the 2nd photo attached in this blog) entitled "Make today amazing". Ms. June was one of my favorite artists since 2015, her detailed artworks always left me with awe. I even have a planner designed by her, it was a planner called "A year of positivity". It's a compilation of her works in one book. What I love about it was the postcards and it has even had tattoos. A reminder that even though your year doesn't run perfect, still you have to be positive and go on with your life.
Okay, going back to her mural, this was the first thing that caught up my attention, as Ms. June continue her positivity vibes, I believe she made this to remind us to be happy and keep every day of our lives amazing (though sometimes life is testing us so hard). And yes when we saw that, I said to my co-artists "We will really make this day amazing!!! " And I guess it turned out great as well!!
Moving forward, remember that I've mentioned to my previous blog that I have a friend who admired Soleil Ignacio and her style in fashion Illustration? Well, that friend is no other than Nancy.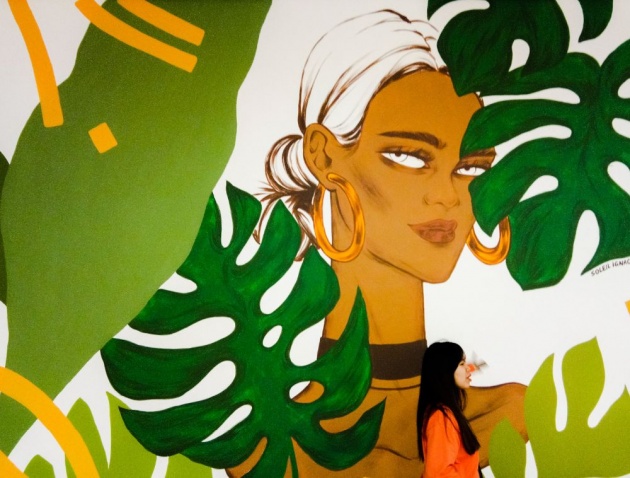 Photo Credits: Yannn via bitlanders.com
I call this stolen photo, "The masterpiece with the Artist in progress". She's been a natural born artist since then, this was I thought when I first met her. And eventually when I got to know her more, I learned that her father was an artist, so there's no doubt that it runs in their blood. I remember during our college days when she used to sketch in the back of my notebook. She used to say "this is you with this kind of outfit". She literally sketches me wearing something fashionable (which doesn't happen in real life because I have a bad taste in fashion, meh). From then on, I know she will be glad to see Soleil's mural and just like me, she was overwhelmed by the said mural. I just can't wait to see her grow more and achieve her dreams little by little.
After that astonishing work of Soleil, the three of us agreed how wonderful and amazing the work of Sir Harvey Tolibao called "Space between us".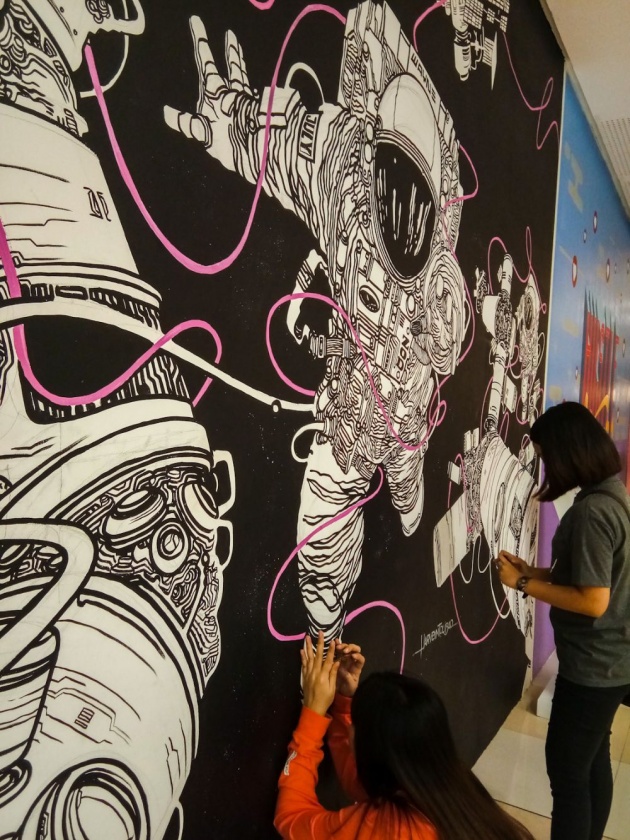 Photo Credits: Yannn via bitlanders.com
Look at them examining every detail of the mural! Hahahaha!! Well, I'm not sure if all artists do that, but for us we'd like to see the Artwork close up, see every detail (and geek out about it, I guess?) and think how it has been done. Seriously, I myself have done this so many times in different exhibits. (I sometimes secretly touch the piece to make sure if its a real deal and not just printed wallpaper) Weird isn't it? I guess that's how Artists work (or is it us?). No wonder this artwork of Sir Harvey is gorgeous. We can see his pencil outline how detailed and complicated it is. How he paint every corner and how he works with the colors. It's just so amazing!!
Finally, this is one of my favorite part of the visit to the Artwork. This is what I called "Give the Artist the appreciation they deserve"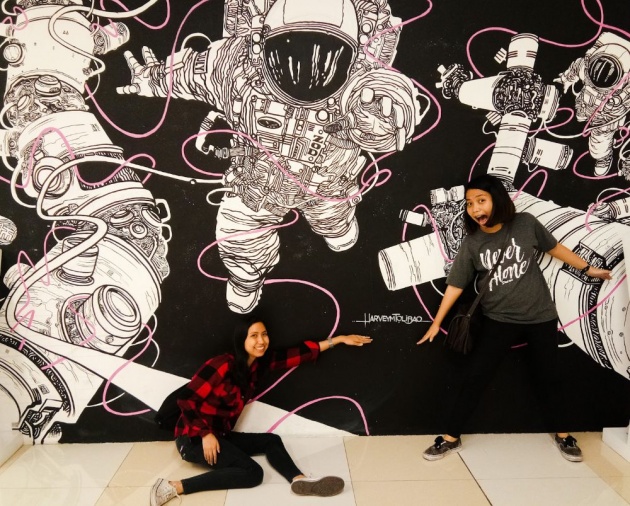 Photo Credits: Yannn via bitlanders.com
Yes, that was me sitting on the floor pointing the name of the Artist. Normally, when people see Artworks the one being appreciated was the Artwork itself. Then next to it is the Artist. But often time we focus how great an Artwork was, we forgot to give credits and appreciation to the one who makes it possible, and that's the Artists. Yes, in this Art walk the artists have their own spotlight because it was Zig Philippines who organizes it. But think of it if the artists are just ordinary people (who has definitely a talent but not famous just like the Zig Artists) do they get the appreciation that they deserve? I bet they were being ignored.
This photo is a reminder not just for me but to everyone that as we enjoy Art everywhere, there should also be a room for Artists to be appreciated. Besides we will not enjoy their works if it is not because of them, right? And lastly, as we acknowledge the Artists we should also give credits to the one who gave us this talent. I believe God is the one who enables us to do such things, it's just up to us how we will develop and explore it!
I guess that's it! We really had an amazing day together! Although not everything goes well with the plan, what's important is we're able to spend quality time with each other and was able to grow even just a tiny bit of progress.
Thank you for reading everyone and have a great day!